Grilled pound cake with peaches and mascarpone is a delicious summer dessert made right on the grill, the perfect ending to your cookout.
Welcome to Progressive Eats, our virtual version of a Progressive Dinner Party. This month we're featuring It's Grilling Time! hosted by Jane Bonacci, the author of The Heritage Cook. Today we are sharing recipes that are prepared on a barbecue or grill. Savory and sweet, you can cook your entire meal outside keeping your kitchen cool and perfect for hot summer evenings. We know you'll enjoy the kiss of smoke in every bite!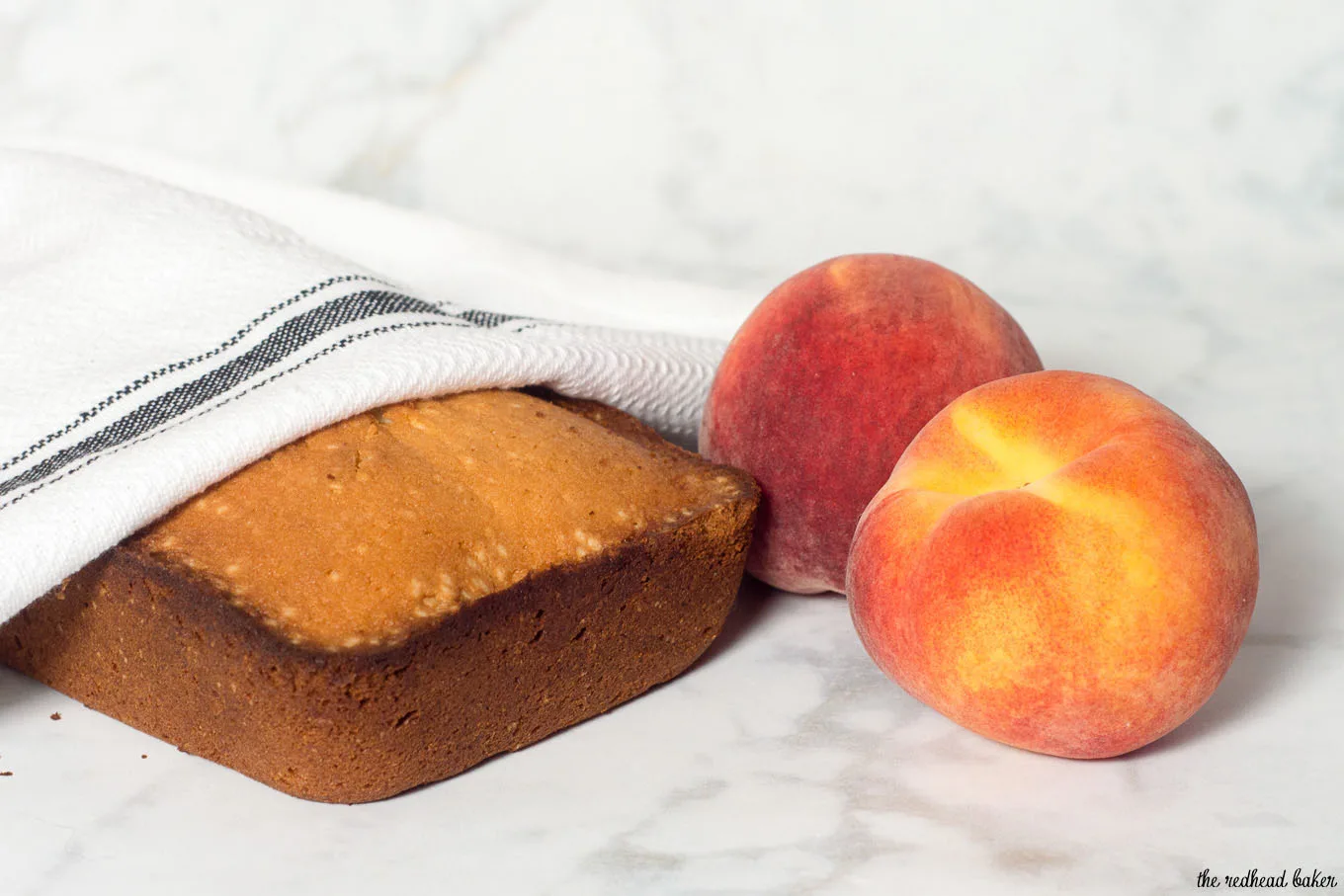 This dessert is the perfect end to your summer cookout. Slightly tangy buttermilk pound cake slices and fresh peach slices are brushed with melted butter and grilled just until the cake is toasted and the peaches are tender. Then everything is topped with mascarpone cream.
I've included a recipe below for the buttermilk pound cake, but feel free to use your own recipe. I think this recipe would be equally delicious with just about any grillable fruit — nectarines, plums, pineapple, or bananas, etc. Peaches are my favorite, and were what I had on hand, so that's what I used.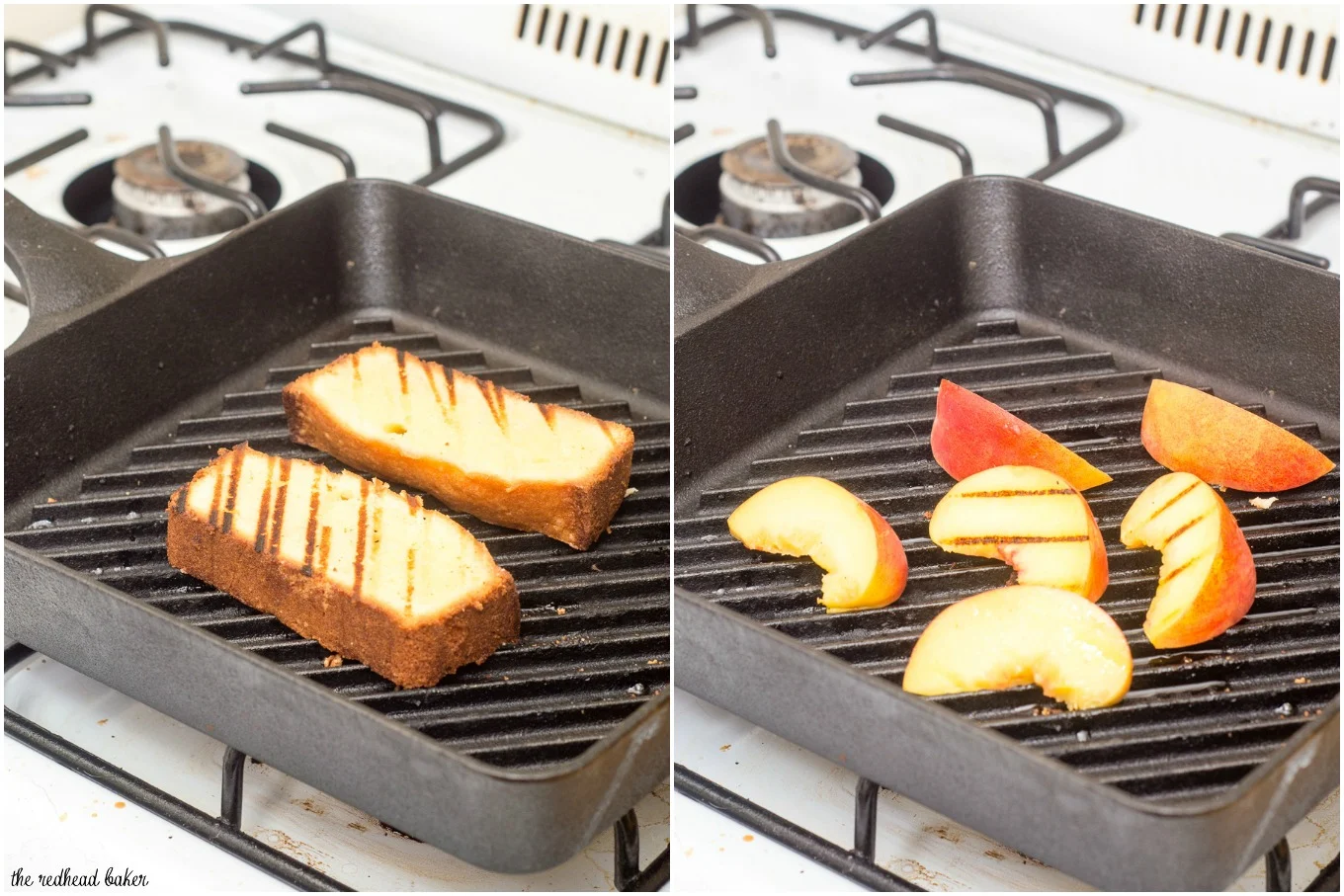 I live in a second-floor apartment, and I don't own a grill, so I used a cast iron grill pan on my gas stovetop. I kept a ramekin of melted unsalted butter next to the stovetop. I brushed the cake slices with butter, but found it easier to dip each cut side of the peaches before placing them in the pan.
As hard as it is, resist the urge to peek at the underside of the cake and peaches while they are grilling for at least two minutes if you want clean, straight grill marks.
Pin this recipe for Grilled Buttermilk Pound Cake with Peaches and Mascarpone for later!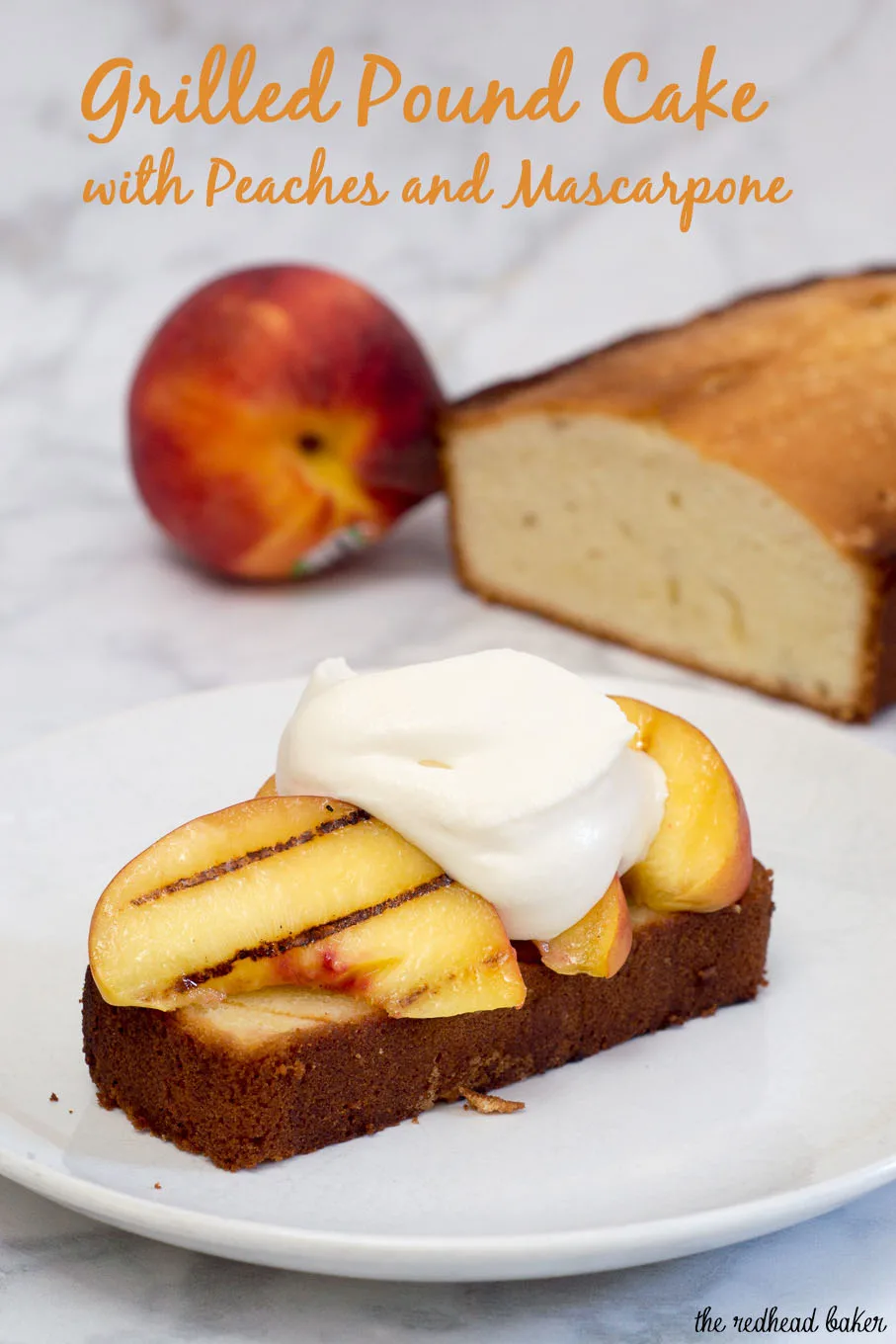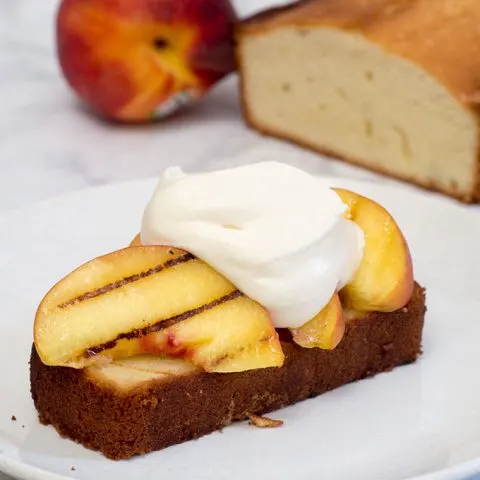 Grilled Buttermilk Pound Cake with Peaches and Mascarpone #ProgressiveEats
Ingredients
For the pound cake:
12 tablespoon unsalted butter, cut into pieces and softened, 6 oz
2 cups cake flour, 8 oz
1 cup + 2 tablespoon sugar, 8 oz
2 large eggs, room temperature
½ teaspoon vanilla extract
¼ teaspoon kosher salt
½ cup whole buttermilk, at room temperature, 4 fl oz
Melted butter, for grilling
For the mascarpone cream:
1 oz container mascarpone cheese, 8-.
¼ cup powdered sugar
2 teaspoons vanilla extract
1 cup chilled whipping cream
For the peaches
6 ripe peaches, pitted and quartered
Butter, for grilling
Instructions
Heat your oven to 375 degrees F, and grease a 9x5-inch loaf pan with nonstick spray.
Place the butter and sugar in the bowl of a stand mixer fitted with the paddle attachment and cream for 5 minutes on medium speed, pausing once halfway through to scrape down the sides of the bowl.
With the mixer running at lowest speed, add the eggs, 1 at a time, making sure each egg is fully incorporated and the sides of the bowl are scraped before adding the next. Add the vanilla and salt and beat on medium speed for 30 seconds.
With the mixer on the lowest speed add ⅓ of the flour mixture and mix just until incorporated. Add half of the buttermilk, and mix just until incorporated. Repeat with another third of the flour, the remaining buttermilk and the remaining flour. After the final addition, beat the batter for 30 seconds on medium speed.
Scrape the batter into the prepared pan(s), and smooth as much as possible. Bake for 50 minutes to an 1 hour, until the crust is golden brown and springs back when pressed.
Remove the cake from the oven to a cooling rack for 10 minutes. Remove the cake from the pan and cool completely.
While the cake is cooling, make the mascarpone cream: whisk together the mascarpone cheese, powdered sugar, and vanilla in a large bowl just until blended. Beat whipping cream at medium speed with an electric mixer until stiff peaks form. Fold whipped cream into mascarpone mixture. Keep chilled until needed. Can be made a day ahead of time and stored in the refrigerator.
Cut the loaf into 8 slices. Brush both sides of each slice with melted butter and grill over moderate heat until toasted, approximately 2 minutes per side.
Grease the grill again and grill the peaches over moderate heat for about 2 minutes, until tender.
Divide the peaches over the pound cake slices. Garnish with half a cup of the mascarpone cream.
Pound cake recipe from Alton Brown
It's Grilling Time! Progressive Eats Menu
Main Course
Vegetables/Side Dishes
Desserts
Welcome to Progressive Eats, our virtual version of a Progressive Dinner Party. This month we're featuring dishes made in a muffin tin ranging from individual desserts to savory entrees and/or appetizers. Our event is hosted by Laura Kumin who blogs at Mother Would Know. With built in portion control, these recipes are perfect, lighter-fare for your summer dining. You'll certainly find a delicious recipe to add to your repertoire!
If you're unfamiliar with the concept, a progressive dinner involves going from house to house, enjoying a different course at each location. With Progressive Eats, a theme is chosen each month, members share recipes suitable for a delicious meal or party, and you can hop from blog to blog to check them out.