Strawberry Cake Roll is a thin vanilla sponge cake rolled up with strawberry whipped cream cheese filling. It's a light yet satisfying dessert for Valentine's Day!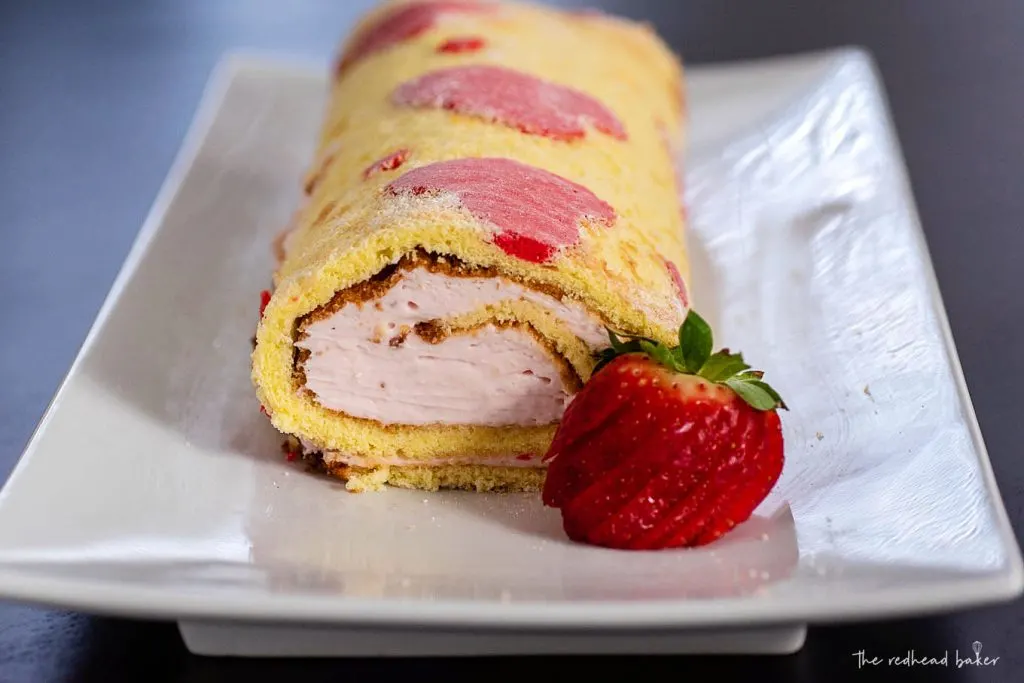 I'm very excited to be participating again in this Good Cookie Valentine's Day event with Julie from The Little Kitchen and Cookies for Kids Cancer. This is the fourth year for our event and we want to continue to make a difference in the fight against pediatric cancer.
Cancer is the #1 cause of death of children by disease in the U.S. There are 40,000 U.S. children actively battling cancer right now. The National Cancer Institute's budget for childhood cancer is less than 4%. It's such a small number and that's why I got involved.
Help us make a difference by making a tax-deductible donation to Cookies for Kids' Cancer!
Our goal is to raise at least $3000. Because three companies I love and work with a lot, OXO, Mediavine and Dixie Crystals have each pledged to match our donations raised through this campaign up to $3000! That means when we raise $1, it turns into $4!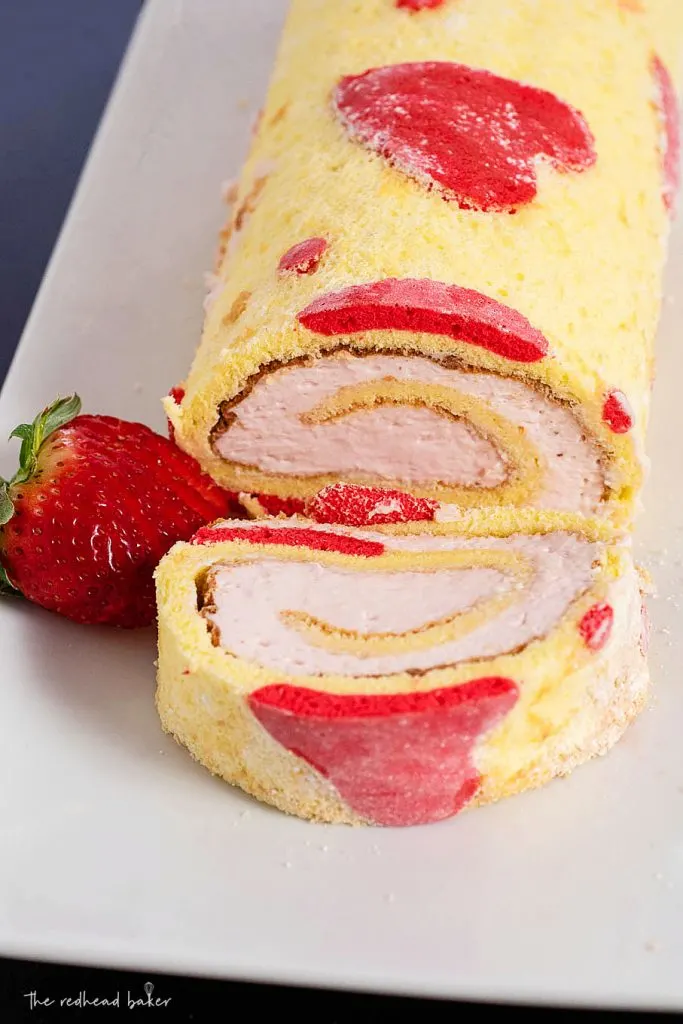 Since we're showing love for Cookies for Kids Cancer, and it's almost Valentine's Day, I'm sharing a Valentine's Day-inspired strawberry cake roll, aka a jelly roll cake. You can also adapt this tutorial for any holiday!
First, you make a small batch of cake batter and tint it with soft gel food coloring. I prefer Americolor. Use a squeeze bottle or piping bag to draw designs on a piece of parchment. Freeze the parchment, so that when you spread the sponge cake over the designs, they don't smudge.
As soon as the cake comes out of the oven, roll it up in a clean kitchen towel dusted with confectioners sugar. This prevents the cake from sticking to the towel.
I used a cream-and-cream cheese frosting flavored with strawberry puree to fill this cake. Why use puree and extract? Because to get a pronounced strawberry flavor with puree alone, the amount needed would make the filling too loose, and it would all drip out of the cake.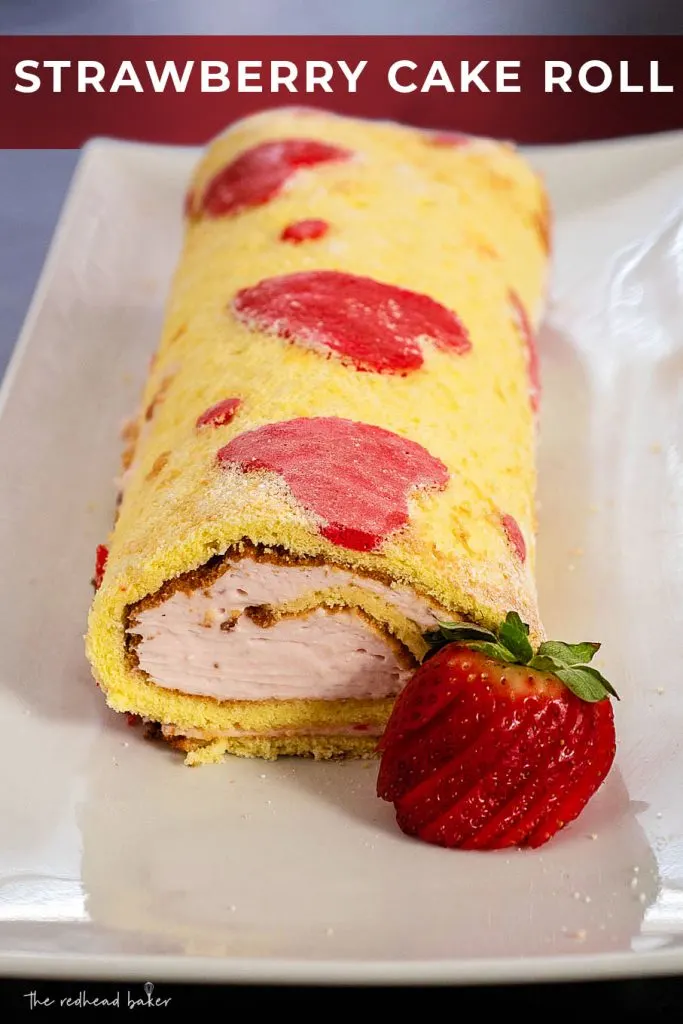 Any spreadable frosting or filling will work: buttercream, whipped cream, or even softened ice cream! Or, spread a thin layer of jam, then add a layer of ganache.
This is an ideal make-ahead dessert, because it needs a few hours in the fridge to firm up after filling and rolling the cake.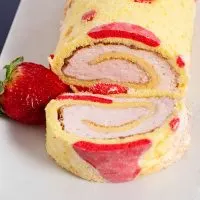 Strawberry Cake Roll
Total Time:
1 hour
37 minutes
Strawberry Cake Roll is a thin vanilla sponge cake rolled up with strawberry whipped cream cheese filling. It's a light yet satisfying dessert for Valentine's Day!
Ingredients
For the red cake batter:
1 large egg white
2 tablespoon sugar
1 teaspoon canola oil
2 tablespoon all-purpose flour
Americolor Super Red gel food coloring
For the cake
⅓ cup cake flour
3 tablespoon cornstarch
4 large eggs
1 large egg yolk
½ cup sugar + 1 tbsp, divided
¾ teaspoon vanilla extract
¼ teaspoon cream of tartar
For the filling
8 oz cream cheese, softened
1 ½ cups confectioners sugar
¼ cup strawberry puree (see notes)
1 teaspoon strawberry extract
1 cup heavy cream
For garnish (optional)
Instructions
Line the bottom of a 10-inch by 15-inch jelly roll pan with parchment paper.
Make the red cake batter: with a handheld mixer, whip the egg white and sugar until soft peaks form. Beat in the oil and then fold in flour with a spatula by hand. Add a drop or two of red food coloring at a time, stirring until evenly distributed before adding more, until desired color is reached. Scrape the batter into a heavy-duty zip-top bag and snip a small hole in one corner. Pipe hearts onto the parchment paper and freeze the paper on the pan 20 to 30 minutes.
Make the cake roll batter: preheat your oven to 450 degrees F.
In a small bowl, whisk together the cake flour and cornstarch. Set aside.
Place two large mixing bowls in front of you. Separate two of the eggs. Place the yolks in the first bowl, and the whites in the second. Add the remaining two eggs and the additional yolk to the first bowl. Add ½ cup sugar, and beat vigorously by hand or with a mixer on high speed for about 5 minutes, until the mixture is thick and fluffy, and triples in volume. Beat in the vanilla.
Beat the egg whites until foamy. Add the cream of tartar, and beat until soft peaks form. Add the remaining 1 tablespoon of sugar, and beat until stiff peaks form.
Sprinkle ½ cup of the flour mixture over the beaten egg yolk mixture. Fold it in, quickly but gently, with a rubber spatula or balloon whisk, until fully incorporated. Repeat with the remaining flour.
Fold in the egg white mixture, quickly but gently.
Retrieve the jelly roll pan from the freezer. Spread the cake roll batter over the frozen hearts, using an angled spatula to gently smooth it into an even layer.
Bake for 7 minutes, or until the cake is golden brown and springs back when touched. Place the cake pan on a wire rack.
Run a sharp, thin knife around the edges of the pan.
Dust a clean kitchen towel with confectioners sugar. Lifting one of the long edges of the parchment paper, flip the cake onto the towel. Gently peel off the parchment paper, and sprinkle a thin coating of confectioners sugar over the cake. Place a second kitchen towel over the cake and carefully flip the cake over again, so that the red hearts are on the bottom.
Remove the towel that is now on top. Starting at one of the shorter ends, carefully and gently roll the cake up with the remaining towel. Cool completely on a wire rack.
Make the filling: beat together the cream cheese, powdered sugar, strawberry puree and strawberry extract. Mix until blended. Slowly add the heavy cream and beat until fluffy. Cover and chill until ready to fill the cake.
Once the cake is cooled, carefully unroll the cake. Spread about ⅔ of the filling mixture over the cake, then reroll. Cover with plastic wrap and chill for at least two hours.
Trim the ends off the cake. When ready to serve, pipe or dollop the remaining filling along the top of the cake, and garnish with fresh strawberries, if desired. Slice and serve.
Notes
To make ¼ cup strawberry puree, hull and slice 4 ounces (5 to 6 medium fresh or frozen (thawed if frozen) strawberries, and puree with an immersion blender; or puree in a food processor or blender. Press puree through a fine-mesh sieve to remove seeds.
Recommended Products
As an Amazon Associate and member of other affiliate programs, I earn a small percentage from qualifying purchases.
Nutrition Information:
Yield:

8
Serving Size:

1
Amount Per Serving:
Calories:

416
Total Fat:

25g
Saturated Fat:

14g
Trans Fat:

0g
Unsaturated Fat:

9g
Cholesterol:

225mg
Sodium:

153mg
Carbohydrates:

40g
Fiber:

0g
Sugar:

29g
Protein:

8g
I am not a certified nutritionist. This nutrition information is automatically calculated by third party software and is meant as a guideline only.
Adapted from The Cake Bible
Thank you to so many of you who have already donated, please help us reach our goal so we can get the full matching donations and help us make an even bigger difference! Don't forget to donate today and spread the news!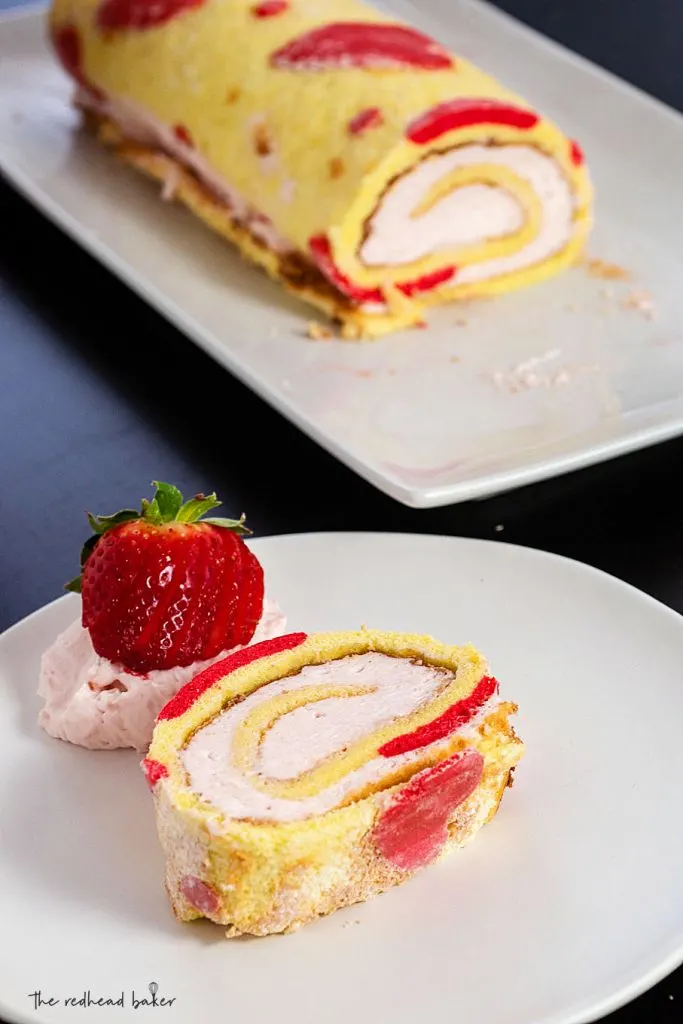 Be sure to visit the other bloggers participating in the Valentine's Day event and check out their recipes!