Although this post is sponsored by Keller's Creamery, all opinions are my own.
Hop into spring with strawberry-lemon eclairs, filled with fruit-flavored cream cheese filling then dipped in white chocolate ganache.
It's time to hop into spring! We finally are forecasted to have a stretch of nice, warm weather here in Philadelphia. It would be really nice not to freeze in my new Easter dress next week, too. Speaking of Easter, today I'm sharing a delicious recipe that would be perfect for Easter dessert, or any spring occasion, really. The fresh strawberries and lemon zest give a bright flavor and beautiful pink color to these strawberry lemon eclairs.
You might think that homemade eclairs are hard to make. But they're really not! There are no difficult techniques involved, as long as you can pipe the dough in a straight line. Gather a few basic tools and follow a few simple tips, and you'll have light and airy pastries bursting with creamy filling in no time.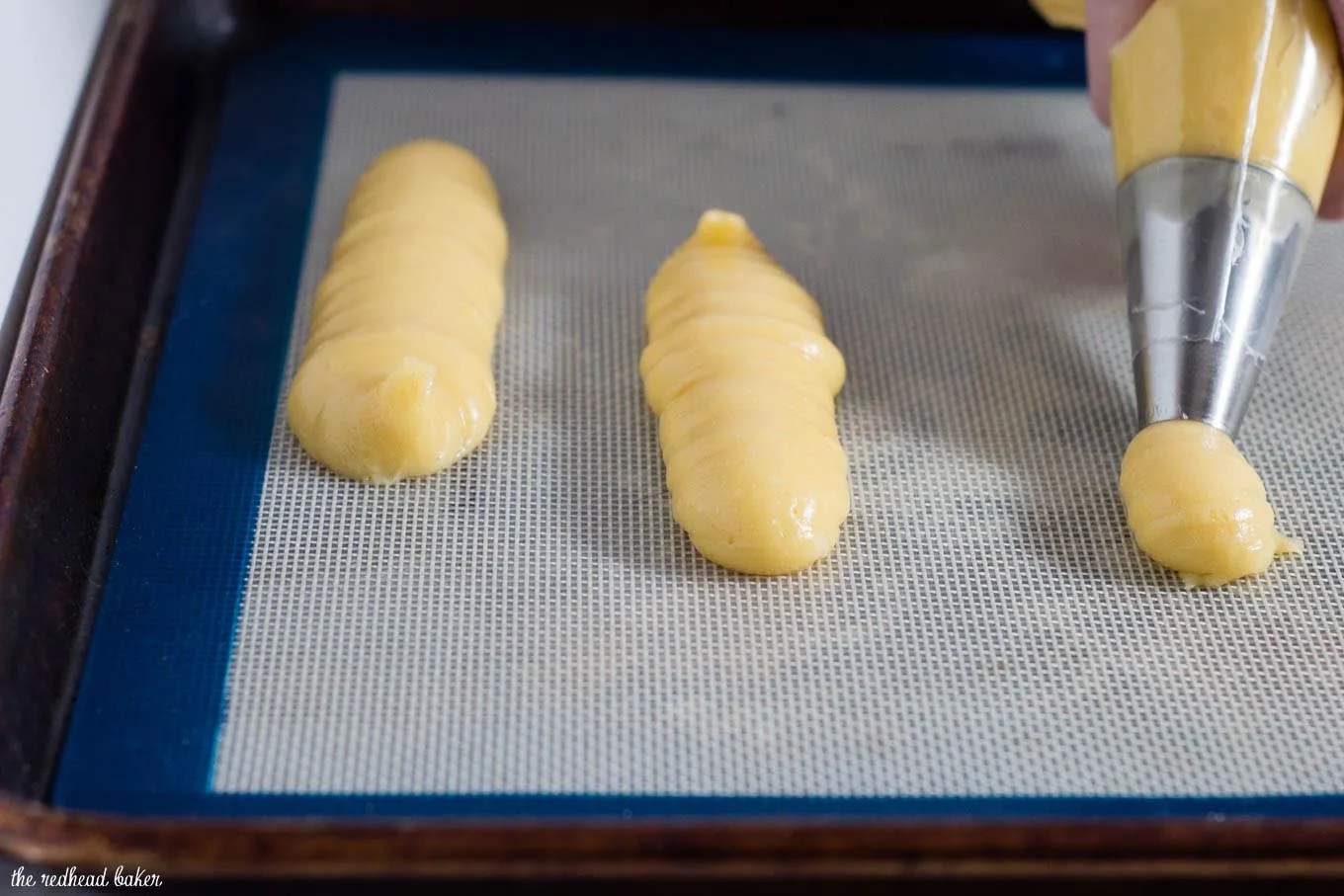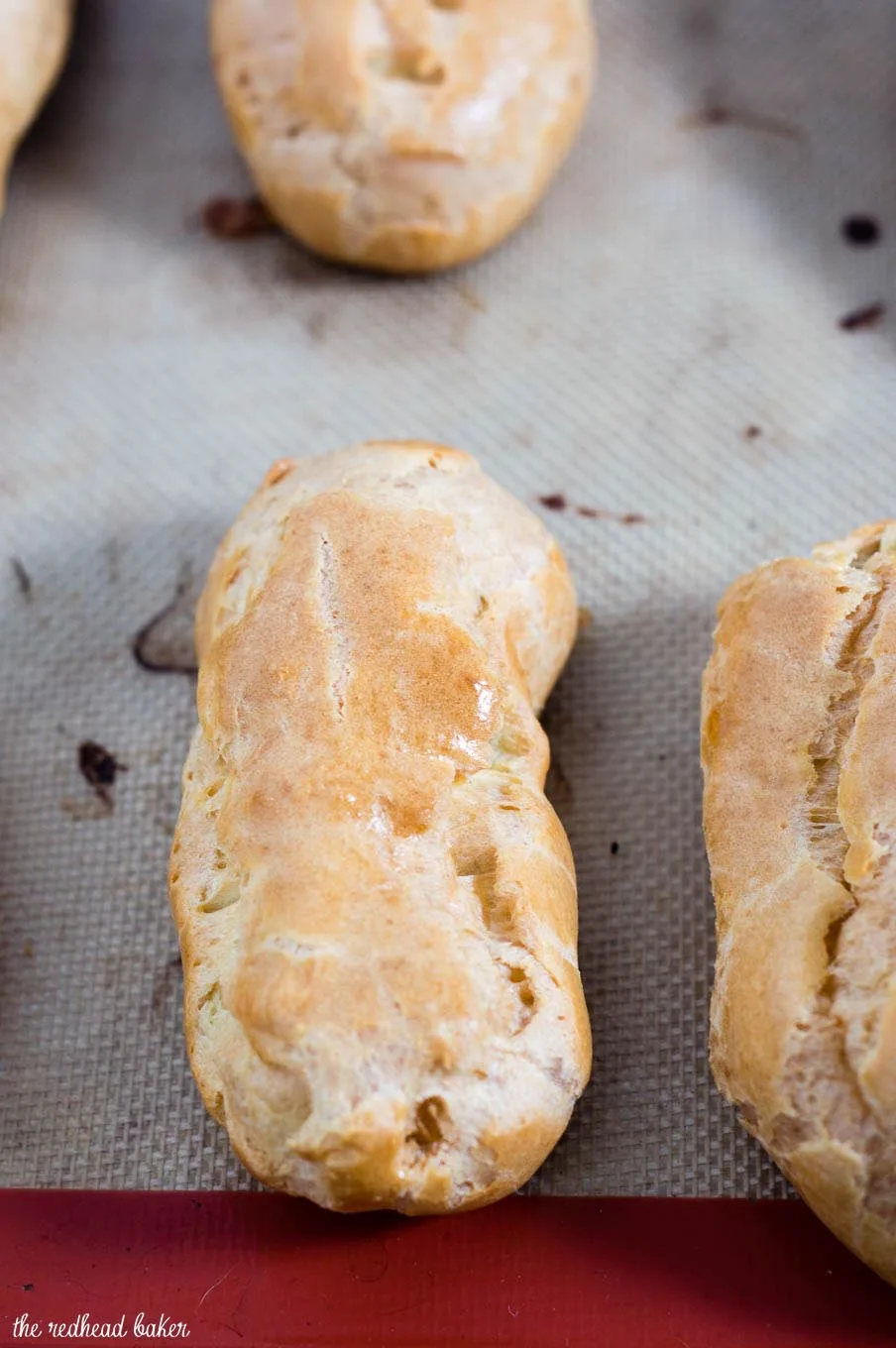 The eclair dough starts with a paste of water, Keller's Creamery unsalted butter, sugar and a pinch of salt. Flour is added and the water cooked out. Then eggs are beaten in using a stand mixer. To pipe the dough, you'll need a large disposable piping bag, and a large plain piping tip -- I used an Ateco #808. I prefer piping onto silicone baking mats, because they don't slide around, but you can pipe a dollop of dough on the underside of each corner of the parchment paper to keep it from sliding before you pipe out the eclairs.
First: do not rush stirring the paste on the stove top. Depending on the strength of your burner and how high you have the heat turned up, it could take five or even ten minutes to cook the water out of the dough. Next, you're not making cakes or cookies here. Beat that dough! You *want* to develop gluten in this dough. That helps the pastry keep its shape, even though the center is hollow. Finally, you cannot peek on your pastries as they are baking. Not allowed. Walk away from the oven. Opening the oven door will let out the heat, and you run the risk of your pastries collapsing.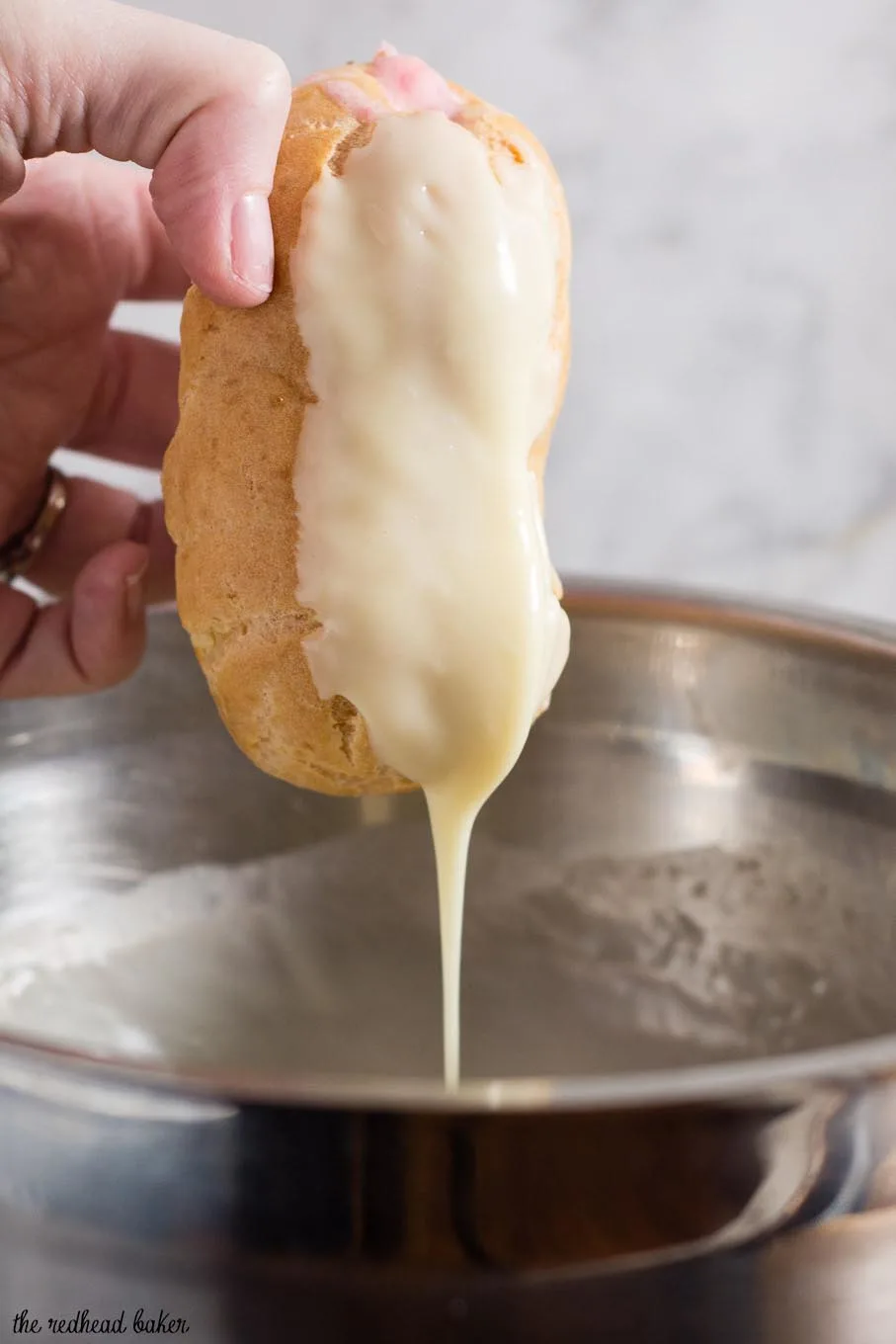 The traditional filling for eclairs is pastry cream, which is a delicious, if finicky custard to make. I tried making a strawberry lemon pastry cream and just wasn't thrilled with the flavor, so I couldn't in good conscience recommend you fill your homemade eclairs with it.
Instead, I went with a sweetened flavored cream cheese filling. It's a bit runnier than pastry cream, so it's essential to let these eclairs chill out in the refrigerator for at least an hour to firm up the filling. Otherwise you run the risk of cream leaking out as you're trying to tip your eclairs in the ganache topping.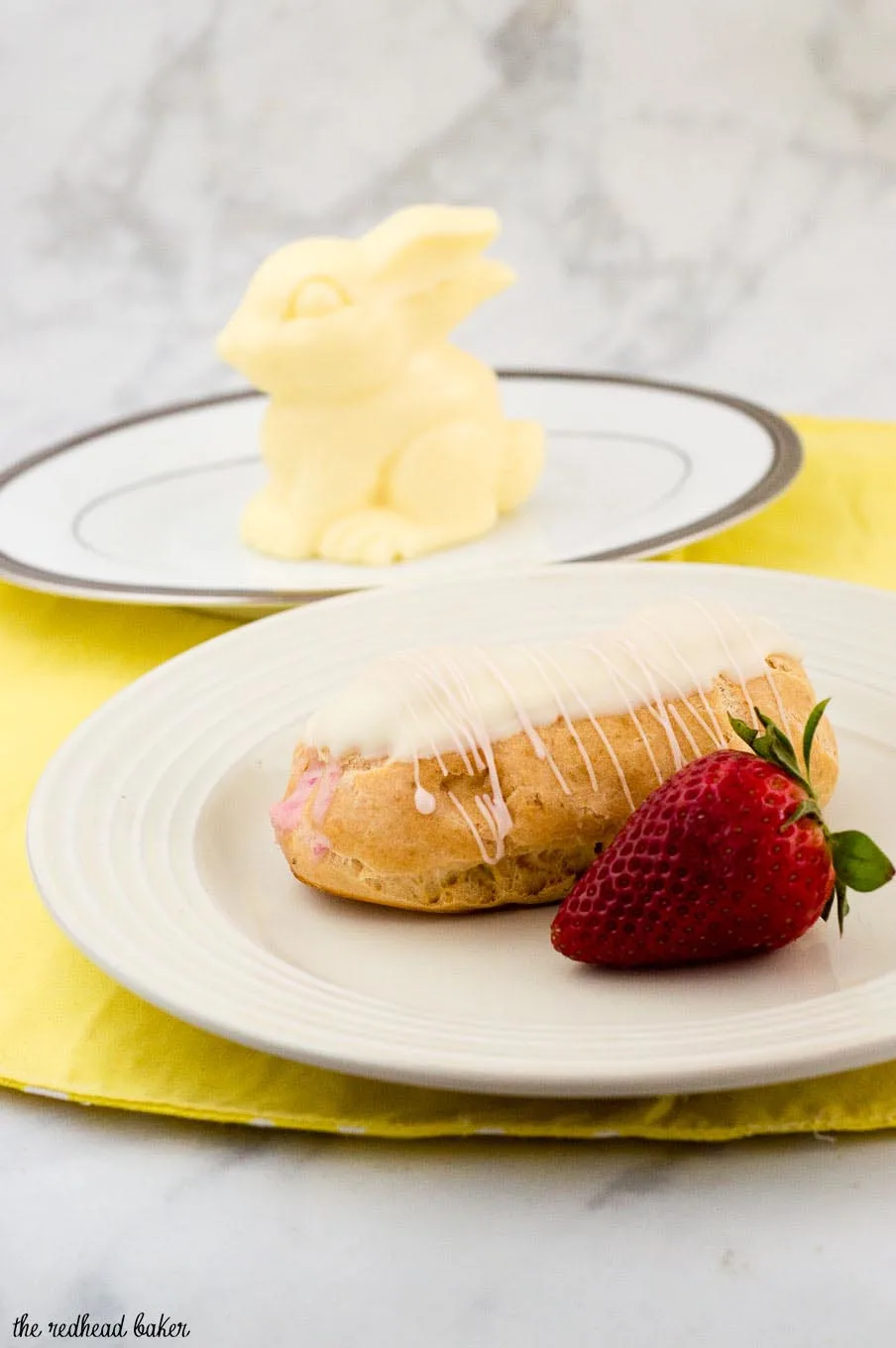 These eclairs will be beautiful and festive on your Easter table alongside a Keller's Creamery bunny butter sculpture. Keller's butter sculptures are a Philadelphia holiday tradition. There are turkey butter sculptures at Thanksgiving and Christmas trees in December. My grandmother always had a Christmas tree butter sculpture on her holiday table (along with enough food to feed an army, even though there were only 8 of us for dinner!).
Keller's Creamery products, including sculptures, sticks of butter in both salted and unsalted, whipped butter and spreadable butter with canola oil are available at your local ShopRite, Weis, and Stop & Shop stores. Find one near you using Keller's Creamery's product locator.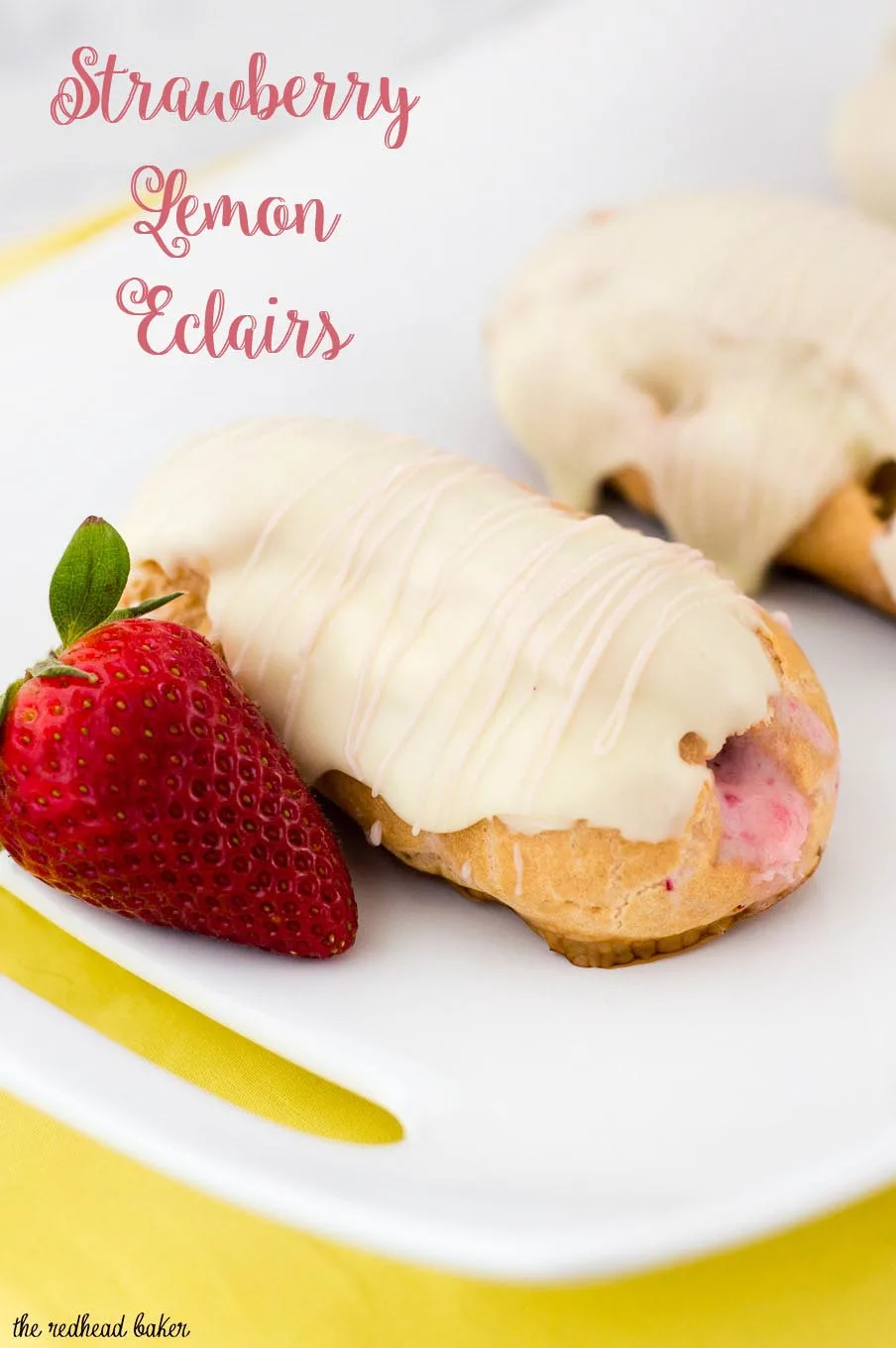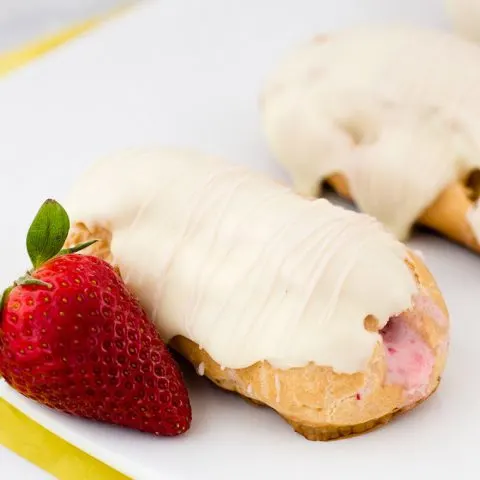 Strawberry Lemon Eclairs
Ingredients
For the eclair shells
1 cup water
6 tablespoon Keller's unsalted butter
2 tablespoon sugar
Pinch of kosher salt
1 ¼ cups bread flour, 5 ¾ ounces
4 large eggs
2 large egg whites
For the egg wash
1 large egg
1 tablespoon water
For the strawberry lemon filling
16 oz cream cheese
1 cup sliced strawberries
½ cup sugar
Zest of 2 lemons
For the white chocolate ganache
12 oz chopped white chocolate
½ cup heavy cream
For the strawberry drizzle
1 cup confectioners sugar
2 tablespoon seedless strawberry preserves
½ to 1 teaspoon heavy cream
Instructions
Make the eclair shells
Preheat oven to 425 degrees. Line two baking sheets with parchment paper or silicone baking mats.
Place the water, butter, sugar and salt in a large saucepan set over medium-high heat until the butter melts and the mixture is boiling.
Add the bread flour and stir with a wooden spoon until the mixture forms a ball. Cook over medium-heat heat, stirring constantly, to cook out most of the water.
Transfer the dough to a stand mixer fitted with a paddle attachment. Mix on medium speed for 2 minutes to cool the mixture down.
Add the eggs one at a time. Once an egg is added, the mixture will separate. Beat on medium speed until the mixture comes together again before adding the next egg. Repeat with the egg whites.
Fit a large plain tip inside a large piping bag. Fill halfway with the eclair dough. Snip off the tip of the piping bag, and pipe dough into 4- or 5-inch long lines on the prepared pan, refilling the piping bag if needed.
With dampened hands, press down on any peaks on the top of the eclairs (to prevent burning during baking).
Make the egg wash: beat together the egg and water. Use a pastry brush to gently brush the egg wash over the eclairs.
Bake the eclairs for 12 minutes at 425 degrees. After 12 minutes, without opening the oven, lower the temperature to 350 degrees and bake another 30 minutes, until the eclairs are baked through and deep golden in color.
Immediately poke each eclair with a toothpick, skewer, dowel, or other long, thin object, to allow steam inside the eclair to escape (otherwise, you'll end up with soggy eclairs). Set the eclairs aside to cool completely.
Make the strawberry lemon filling
Place the cream cheese, strawberries, sugar and lemon zest in a food processor and process until smooth.
Fit a piping bag with an open star tip, and fill piping bag halfway with the filling.
Poke the open star tip into the side of each eclair and fill with the strawberry lemon filling. Place the filled eclairs on a baking sheet and place in the fridge for at least one hour.
Make the ganache
Place the white chocolate in a mixing bowl. Place the half and half in a heavy-bottomed saucepan. Bring to scalding (bubbles form at the edge of the pan).
Pour the hot half-and-half over the chopped white chocolate and stir until smooth.
Dip each eclair in the white chocolate ganache. Set back on the baking sheet until the ganache sets.
Make the strawberry drizzle
Warm the strawberry preserves in the microwave until melted. Mix with the confectioners sugar. Add ½ teaspoon of the heavy cream and stir until incorporated. Add more cream, if needed, to achieve drizzle-able consistency.
Use a spoon or fork to drizzle over the white chocolate ganache-covered eclairs. Place back in the refrigerator until the drizzle sets. Cover with plastic wrap and keep in the refrigerator until ready to serve.
You might also like: