Set aside some fresh seasonal fruit for these strawberry-peach margaritas. They are light and refreshing, perfect for sipping on a warm summer night!
Summer fruits have started arriving at local grocery stores and farmers markets! Two of my favorites are strawberries and peaches, and I buy these by the pound each week. There are so many delicious recipes to try with these fruits, not to mention they're delicious to snack on out of hand.
Just a few weeks ago, our family visited a local animal adoption event. No, we're not adding a new furry family member. Dave and I met while volunteering at a local animal shelter, and we still have many friends who volunteer, so we stopped by to say hello. Liam also loves giving some love to all of the animals looking for homes.
It was a really hot day, and we stopped by one of our favorite local restaurants, Cantina Dos Segundos, for an early dinner before heading home. Dave and I both had chimichangas (carnitas for me, chorizo for Dave), while Liam ate from the brunch menu. I had an absolutely delicious mango margarita on the rocks. I'm not normally a huge margarita fan (it's the tequila), but the drink tasted like summer in a glass.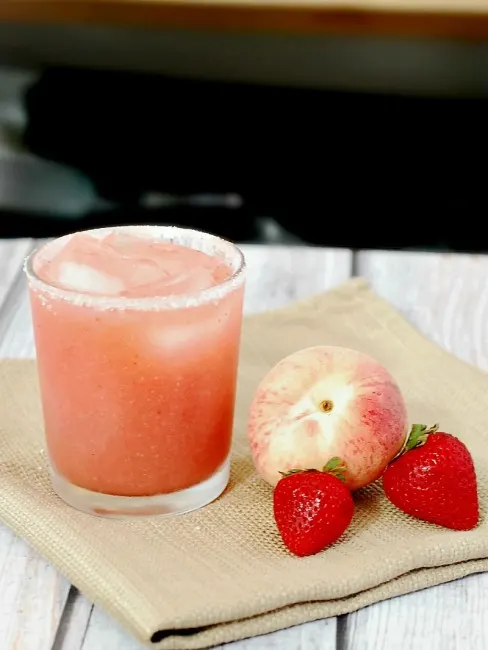 I knew that I had to experiment with other flavors at home. I happened to have a metric ton each of strawberries and peaches in the refrigerator at home. I couldn't decide if I wanted a strawberry margarita, or a peach margarita. After reading an article on fruit pie fillings that stated the best fruit pies combined two or three types of fruit, I decided the same must hold true for margaritas as well.
I was not disappointed. Strawberries and peaches pair very well together, and they give this drink a light, fruity flavor. These are the perfect drink to sip on an outdoor patio on a warm summer night! Make a double batch and freeze it to enjoy all summer long!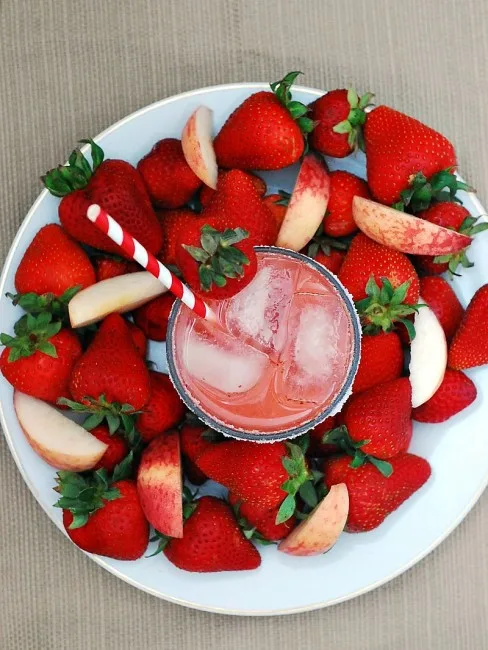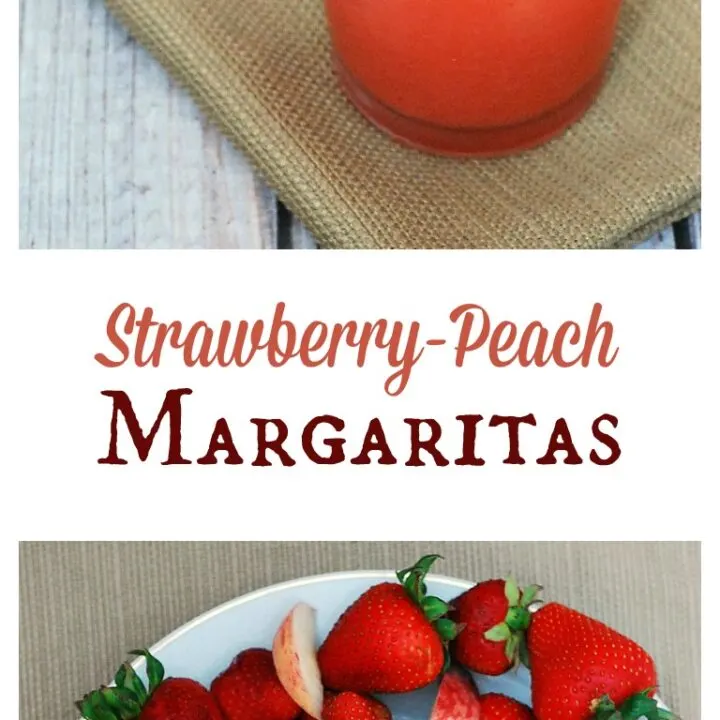 Strawberry-Peach Margarita
Ingredients
½ cup water
2 tablespoon sugar
2 oz lime juice
2 oz lemon juice
2 very ripe peaches
4 oz chopped strawberries
6 oz tequila
4 oz orange liqueur, triple sec or Cointreau
Instructions
Place a small saucepan over medium heat. Add the water and sugar, and heat just until the sugar dissolves. Remove the saucepan from the heat and cool the mixture to room temperature.
Add the lemon and lime juices to the sugar-water mixture.
Heat a large pot of water to boiling over high heat. Set a bowl of ice water next to the stove top. Cut an "X" in the bottom of each peach, then blanch the peaches in the hot water for 90 seconds, then immediately transfer the peaches with a slotted spoon to the ice water. Let sit in the water for 2 minutes. Peel the skin from the peaches (if the skin does not come off easily, blanch in the boiling water for another 30 to 60 seconds, then plunge into the cold water for a minute).
Chop the peeled peaches, and place in a food processor with the chopped strawberries. Puree, then strain through a fine mesh sieve. You should get one cup of thick liquid.
In a pitcher, combined the lemon/lime/sugar water mixture with the fruit pulp, the tequila and the orange liqueur. Stir to mix.
Pour the margaritas into ice-filled salt-rimmed tumblers and serve.
Adapted from Confections of a Foodie Bride