Honor the mothers in your life with this beautiful, decadent cherry cheesecake pastry braid drizzled with chocolate glaze.
Happy Mothers Day to all of the moms, moms-to-be, step-moms, pet moms, or anyone who acts as a motherly figure to another person. Whether you choose to spend the day surrounded by your family, or you want them out of your hair for just five minutes so you can have some peace and quiet, I hope you have a day you enjoy.
Me? I'm spending my morning at Pee Wee Tee Ball, watching the coaches herd cats teach my son the game of baseball. Then, if we can drag Liam away from the playground, we'll come back for a homemade brunch of overnight French toast casserole. Then I'll give my own mom a call.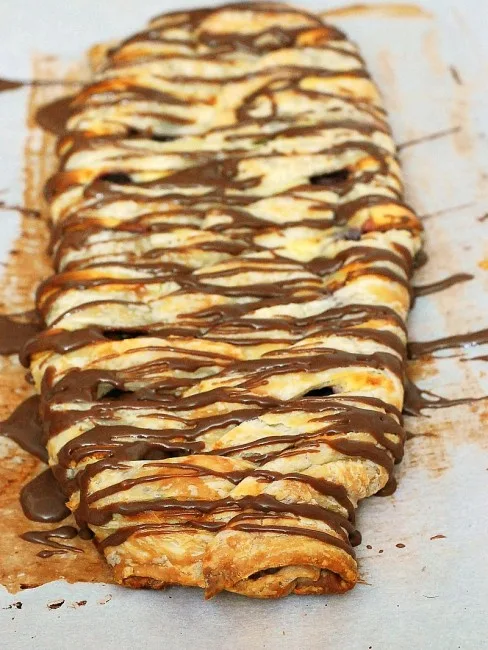 I mentioned in another post that my mom and I both love tropical foods. That's about where our similarities end. I love to cook; my mom tolerates it. My mom loves bright, girl clothes; I don't (my color tastes are changing, but I still don't do ruffles). I love, love, love sweets; my mom doesn't. The one exception is cheesecake.
And so, this not-overly-sweet cheesecake-and-cherry filled pastry braid is to celebrate my mom. I think it's something we would both enjoy. It's also deceptively easy to make. And if you don't like cherries, you can substitute just about any fruit you do prefer. These pastry braids also freeze well. Follow the recipe up to Step 6, then place the pastry braid (on the sheet pan) in the freezer. Once the braid is frozen solid, you can wrap it well in two layers of plastic wrap, and freeze for up to a month. You can bake it straight from frozen, it will just take longer.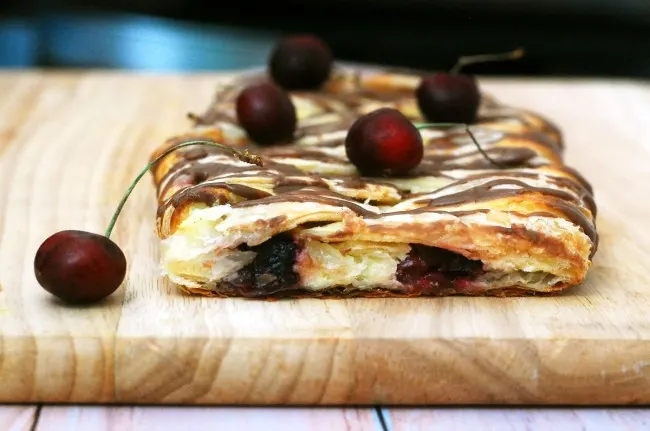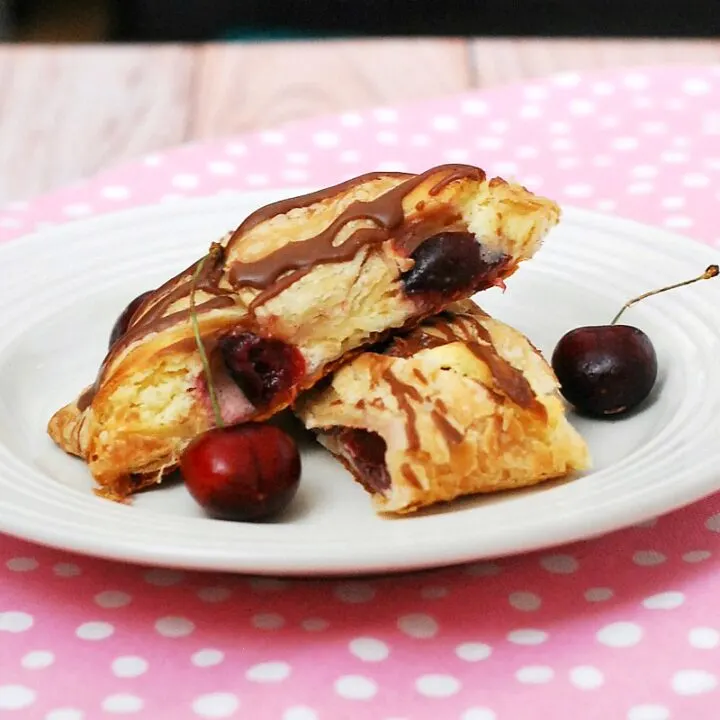 Cherry Cheesecake Pastry Braid
Ingredients
For the pastry braid:
1 sheet puff pastry, thawed
1 oz brick cream cheese, at room temperature, 8-
¼ cup sugar
½ teaspoon vanilla extract
1 large egg, at room temperature
1 cup pitted sweet cherries
For the chocolate drizzle:
1 cup confectioners sugar, 4 oz
1 tablespoon + 1 teaspoon unsweetened cocoa powder
2 tablespoon milk
½ teaspoon vanilla extract
Instructions
Preheat the oven to 375 degrees. Dust a clean work surface lightly with flour.
Roll the puff pastry out to a rectange 13 inches in length by 10 inches in width.
Visually divide the dough into thirds lengthwise. On the outer thirds, use a pizza cutter to make diagonal cuts about ½-inch to an inch wide down the length of the pastry.
In the bowl of a stand mixer, beat the cream cheese until smooth. Gradually beat in the sugar and vanilla extract, scrape the bowl, then add the egg and beat just until combined.
Spoon the cheesecake mixture down the center of the puff pastry. Distribute the pitted cherries throughout the cheesecake mixture.
Fold alternate strips of puff pastry up and over the cheesecake filling, creating a braided effect. When you get to the last strips, pinch to seal.
Bake for 35 minutes, or until golden brown. Place the baking sheet on a wire rack to cool.
Make the drizzle: in a small mixing bowl, whisk together the confectioners sugar, cocoa powder, milk and vanilla extract until smooth and pourable. Use a spoon to drizzle the chocolate glaze back and forth over the cooled pastry braid.
Cut the braid into slices and serve.
Adapted from Willow Bird Baking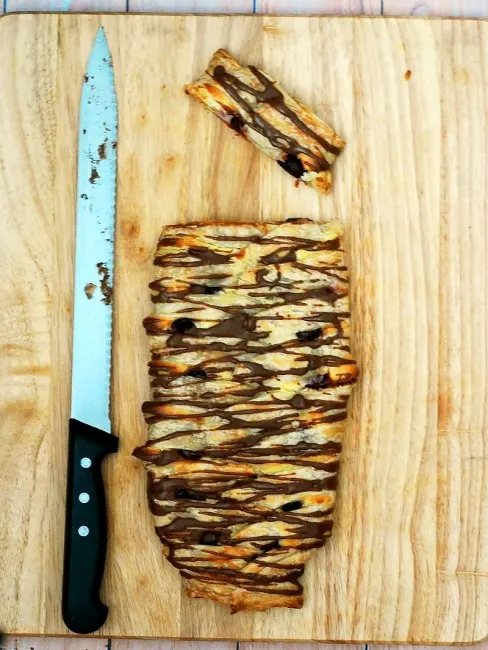 More #SundaySupper Mother's Day-Inspired Recipes
Celebratory Sips
Starters and Salads
Hearty Mains
Treats and Sweets