Flavorful vanilla bean bourbon plum bundt cake is flavored with plums mascerated in bourbon and sugar — it's the perfect way to end summer!
How is it almost Labor Day already? Wasn't I just posting the other day about how excited I was that summer was finally here?? About flip flops, summer sundresses, cold-brew coffee, and frozen cocktails? It feels like summer sped by at warp speed.
However it happened, this month's Progressive Eats is all about recipes to celebrate Labor Day weekend, and marking the unofficial end of summer. How do you usually celebrate Labor Day? At a cookout with family or friends? At the beach?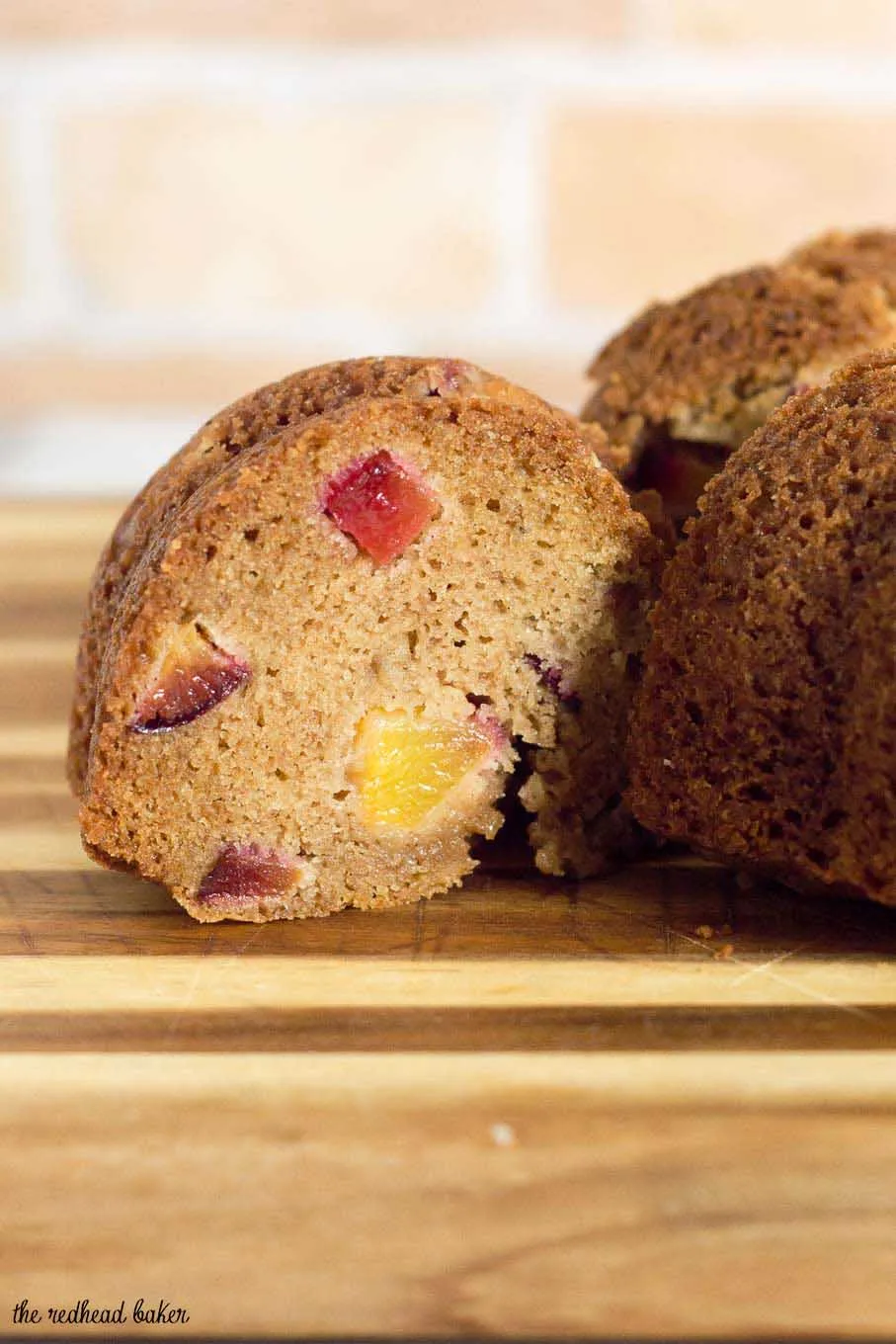 The end of this summer in particular is a time of big changes at The Redhead Baker household, with me starting a great new job, and my son starting kindergarten at a new school. Lots of changes and getting used to new routines!
We still have great times on the weekends, going to Sesame Place, movie nights under the stars at the local playground, kindergarten playdates where the new students can make friends before school starts, and having cookouts with family.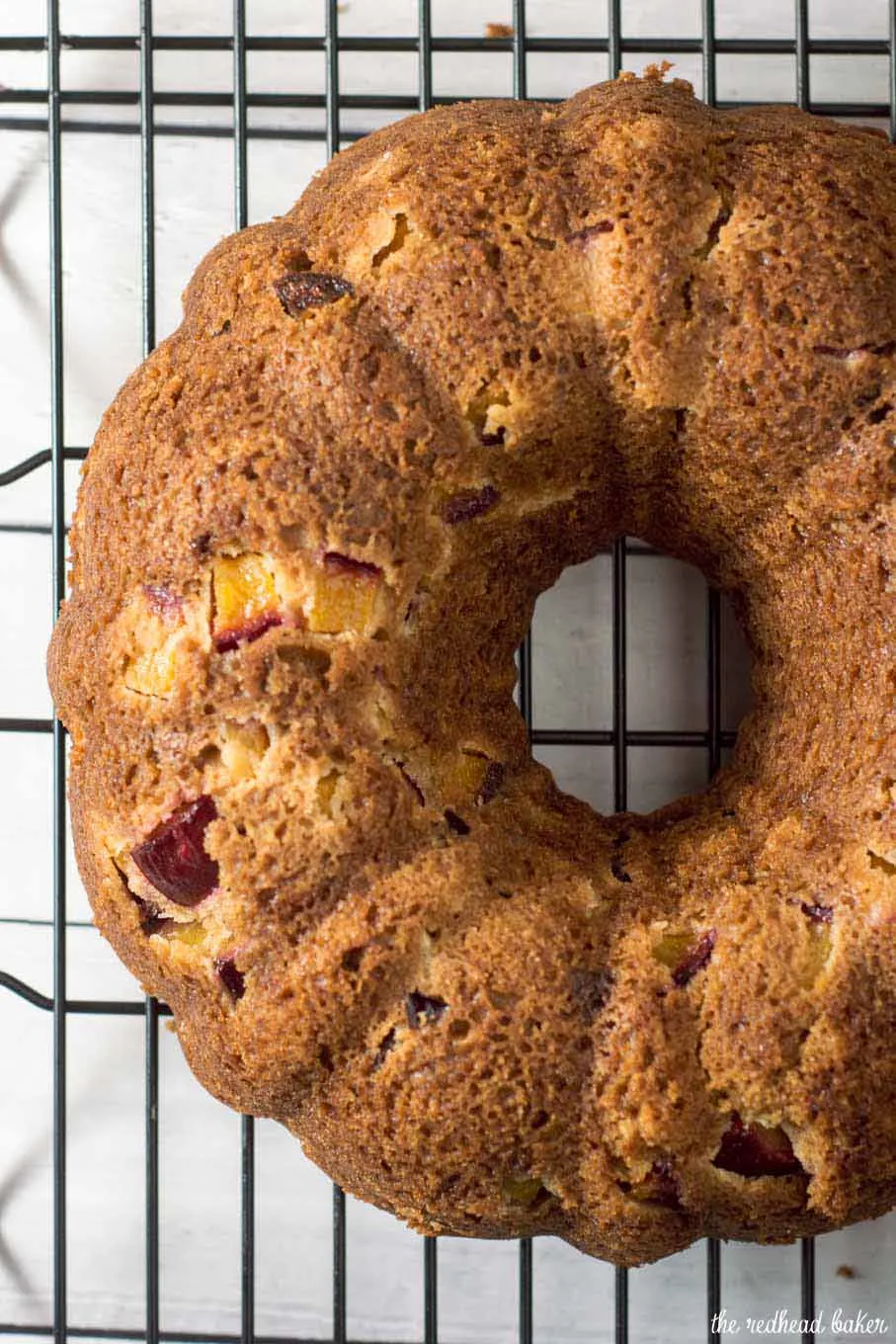 I love to bring this cake to cookouts, because it's very easy to make, and it's delicious whether served warm, cold or room temperature. The cake is very moist, thanks to the addition to vegetable oil, and it's loaded with juicy bits of bourbon-soaked plum.
You can serve this cake on its own, with a scoop of ice cream, a dusting of powdered sugar, or make a drizzle with the leftover bourbon and some powdered sugar.
Don't forget to scroll down below the recipe to see the other Progressive Eats Labor Day Holiday Weekend dishes!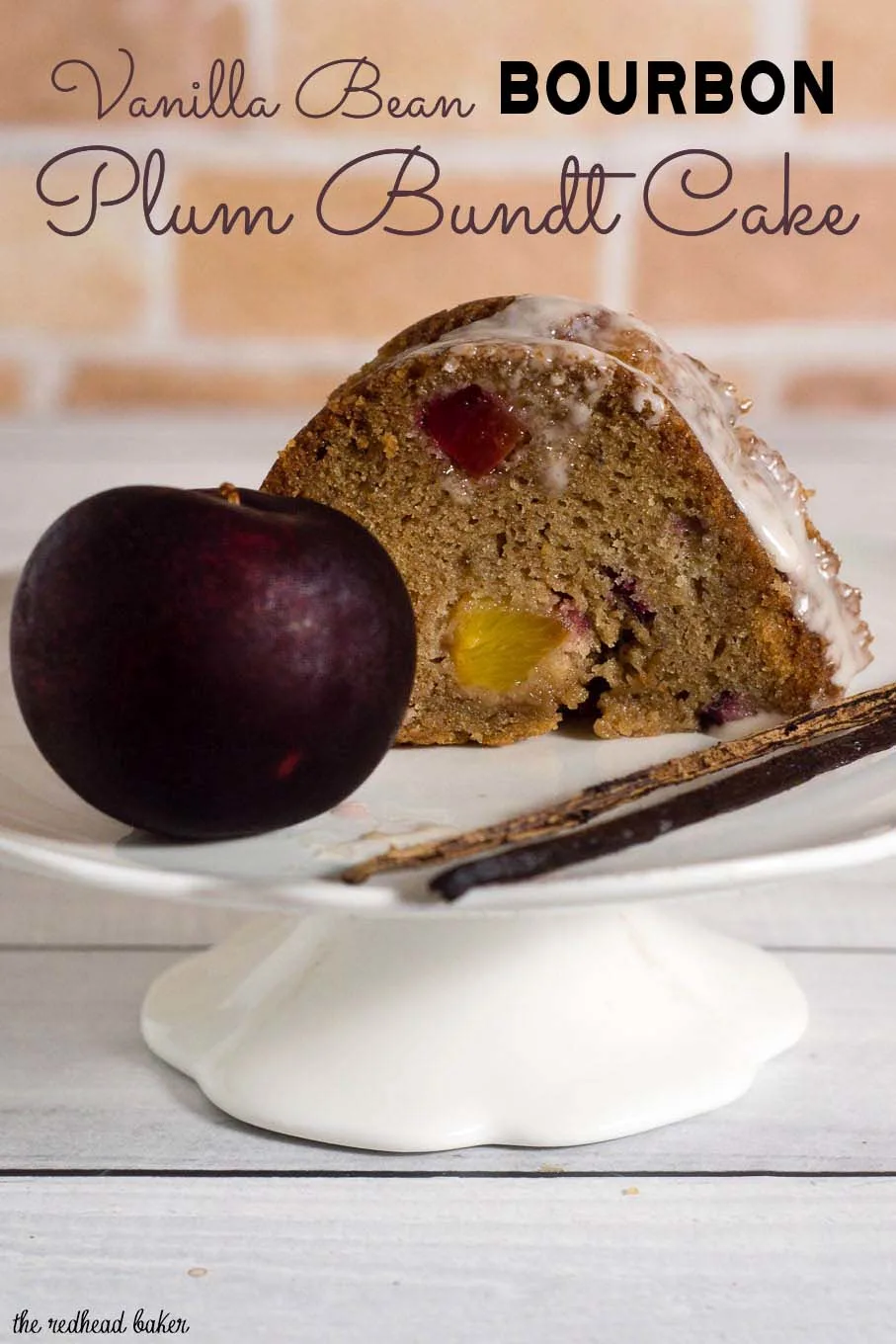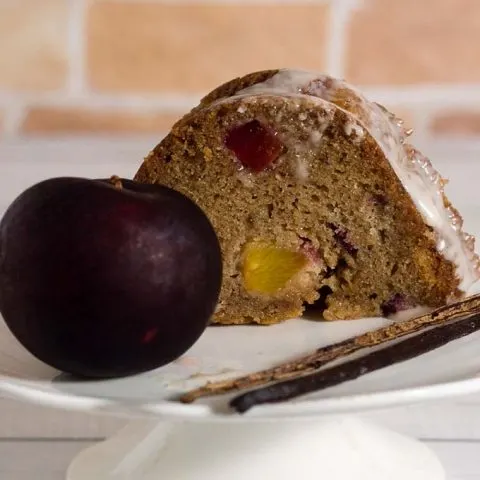 Vanilla Bean Bourbon Plum Bundt Cake
Total Time:
1 hour
5 minutes
Ingredients
For mascerating the plums
5 plums, cut into ½-inch dice, peeling optional
¼ cup sugar
¼ cup bourbon
For the cake
1 cup unsalted butter, melted and cooled
⅓ cup vegetable or canola oil
1 cup light brown sugar
½ cup sugar
3 large eggs
1 vanilla bean, split and scraped
3 cups all-purpose flour
1 teaspoon salt
1 teaspoon baking soda
½ teaspoon cinnamon
½ teaspoon nutmeg
For the optional drizzle
2 tablespoon reserved bourbon
⅔ cup powdered sugar
Instructions
Preheat oven to 350 degrees. Liberally spray a 12-cup bundt cake pan with nonstick spray. Set aside.
Place the plums in a large mixing bowl. Sprinkle the sugar and bourbon over top, toss to coat. Set aside for 30 minutes while you mix the cake batter.
In a small mixing bowl, stir together the flour, salt, baking powder, cinnamon and nutmeg.
In the bowl of a stand mixer, mix together the melted butter, oil, sugars, eggs and scrapings from the vanilla bean on medium-low speed for 3 minutes.
Add the flour mixture to the stand mixer, and mix on low speed just until combined.
Use a slotted spoon to transfer the plums to the mixing bowl, reserving the juices in the original bowl, and gently fold the plums into the batter. Spread the batter in the prepared pan.
Bake for 45 to 55 minutes, until a toothpick inserted in the middle of the cake comes out clean. Cool in the pan for 15 minutes, then invert onto a wire cooling rack. Carefully tap on a counter top to release the cake. Cool completely.
If you want to drizzle the cake with a simple icing, combine 2 tablespoon of the reserved bourbon with ⅔ cup powdered sugar. Stir until drizzling consistency, adding a teaspoon more bourbon if too thick, or 1 tablespoon more powdered sugar if too thin. Drizzle over the cooled cake.
Adapted from Keep It Sweet Desserts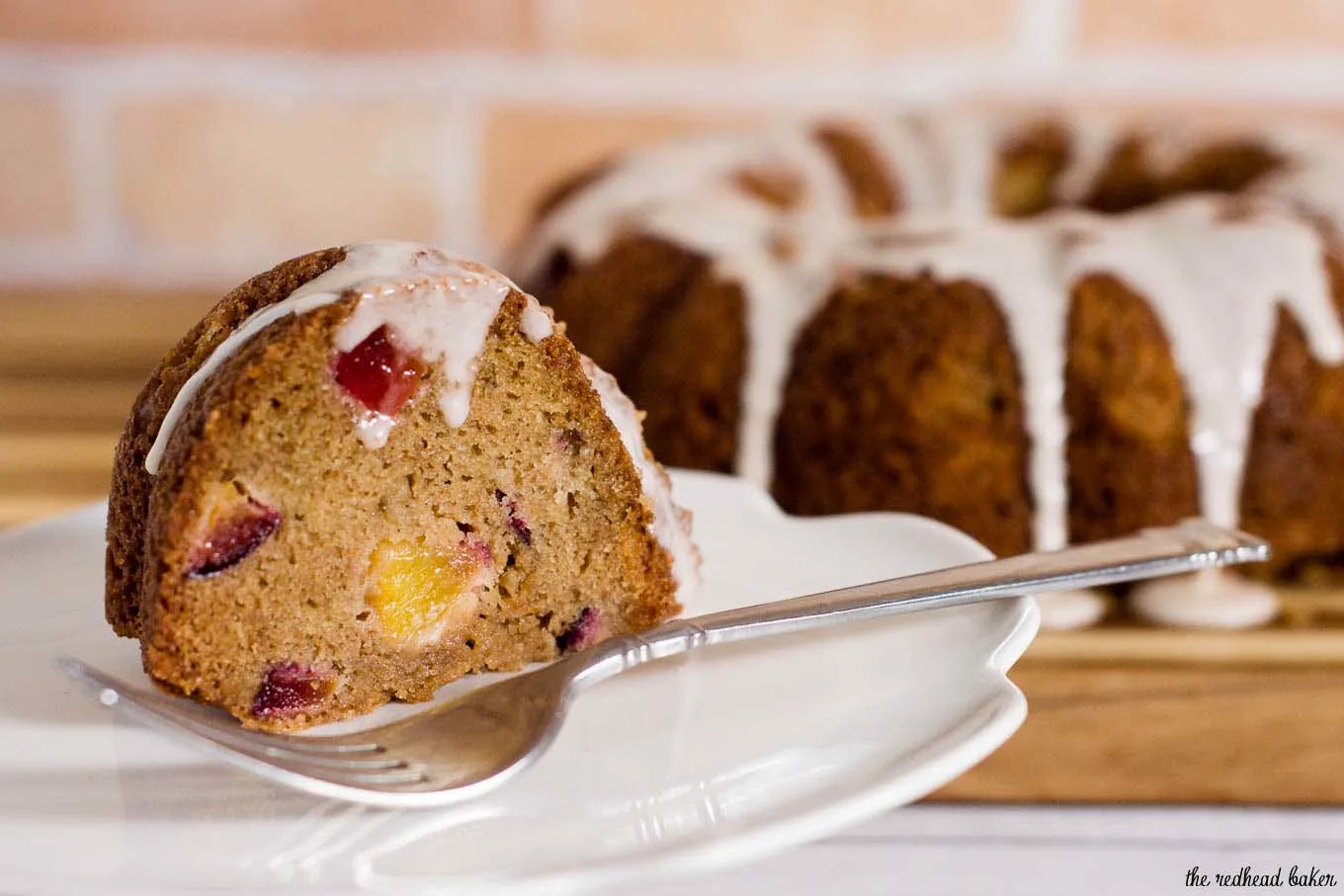 Holiday Weekend Favorites
Cocktail
Appetizer
Main Course
Vegetable/Side Dish
Desserts
Welcome to Progressive Eats, our virtual version of a Progressive Dinner Party. Our menu this month features recipes to help you celebrate the last long weekend of the summer, Labor Day! We've got a great mix of recipes from appetizer to desserts! Hosting this month is Jane from The Heritage Cook.
If you're unfamiliar with the concept, progressive dinner participants go from house to house, enjoying a different course at each location. With Progressive Eats, a theme is chosen each month, members share recipes suitable for a delicious meal or party, and you can hop from blog to blog to check them out.