One slice of this mango peach pie is a tropical treat! Chunks of fresh fruit are lightly spiced with cinnamon, ginger and nutmeg.
The calendar may say September, but it's still technically summer! Take those last summer peaches, combine them with mango, and make this delicious, taste-of-the-tropics pie.
September is also National Childhood Cancer Awareness Month. For the fourth year in a row, OXO is having the Cookies for Kids' Cancer 4th Annual 50 State Challenge in support of National Childhood Cancer Awareness Month. The goal is to inspire Cookies for Kids' Cancer events to take place in all 50 states to promote childhood cancer awareness and raise funds to help develop new, and less toxic pediatric cancer treatments.
Host a bake sale in your neighborhood, run a race, or throw a fundraiser at your school. You can join in the challenge by
registering your event
online today; if you mark that you were inspired by OXO when you register, they will match proceeds from your bake sale up to $100,000. Cookies for Kids' Cancer is a recognized 501c(3) public charity incorporated under the laws of the state of New Jersey. 100% of proceeds raised by Cookies fund pediatric cancer research.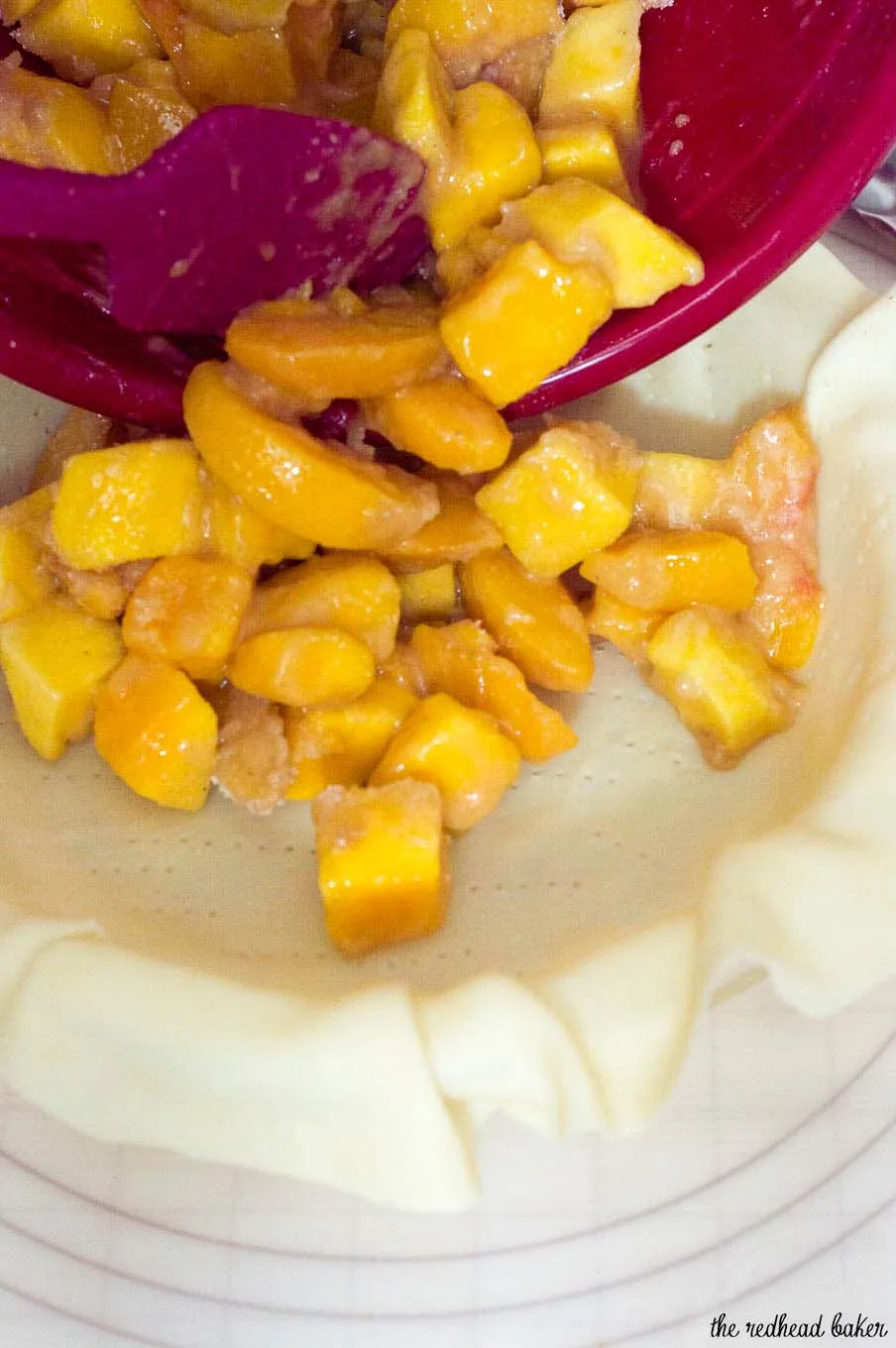 OXO provided me with their 9-inch glass pie plate made of borosilicate glass so it go from freezer to oven with no need to thaw, double pastry wheel with both a smooth side and a fluted side (discontinued, but this Norpro pastry wheel is similar); a set of measuring spoons, a 4-cup angled measuring cup and a silicone pastry brush.
I knew I wanted to make a fruit pie, and as I already had a lot of peaches in my refrigerator (one of my son's favorite fruits), I combined them with my son's other favorite fruit, mango, to make this delicious pie.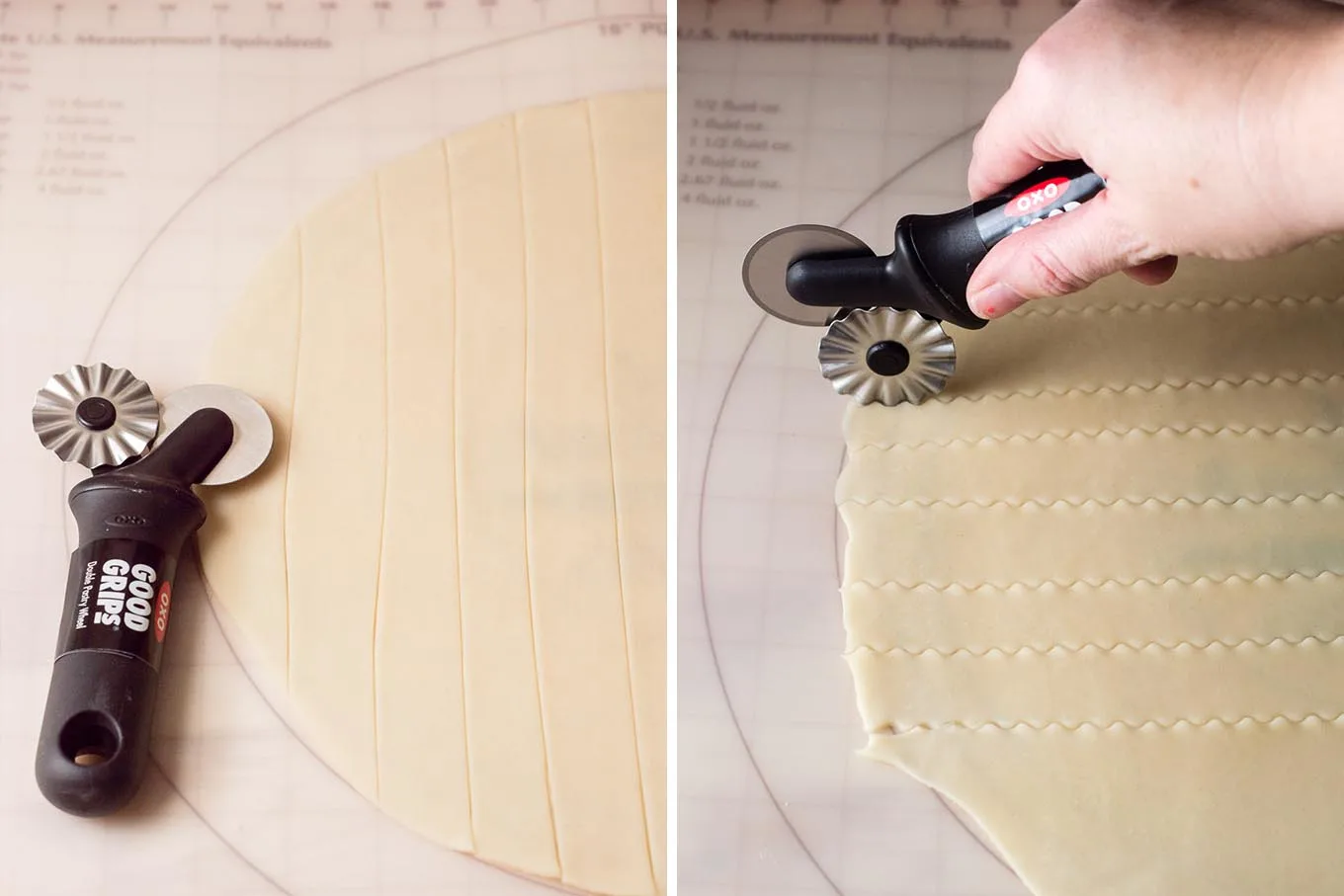 This recipe uses a lot of pie dough (3 crusts' worth), because of the tight weave. If you want to use less dough, you can space the strips of the lattice further apart, so that some of the fruit filling shows through and fewer strips would be needed. If you prefer a visual tutorial on weaving the strips to make the lattice, see my blueberry pie recipe from 2013.
You don't even need to do a lattice if you'd prefer a different top crust. You can do something as basic as simply rolling a second disc out and cutting vents with a paring knife, or cutting out shapes with a cookie cutter.
If you simply can't wait for peaches to be in season to make this pie, you can substitute frozen fruit (be sure it's NOT frozen in syrup). Use about 18 ounces each of mango and peach chunks, and thaw the fruit before tossing with the sugar/flour/spice mixture.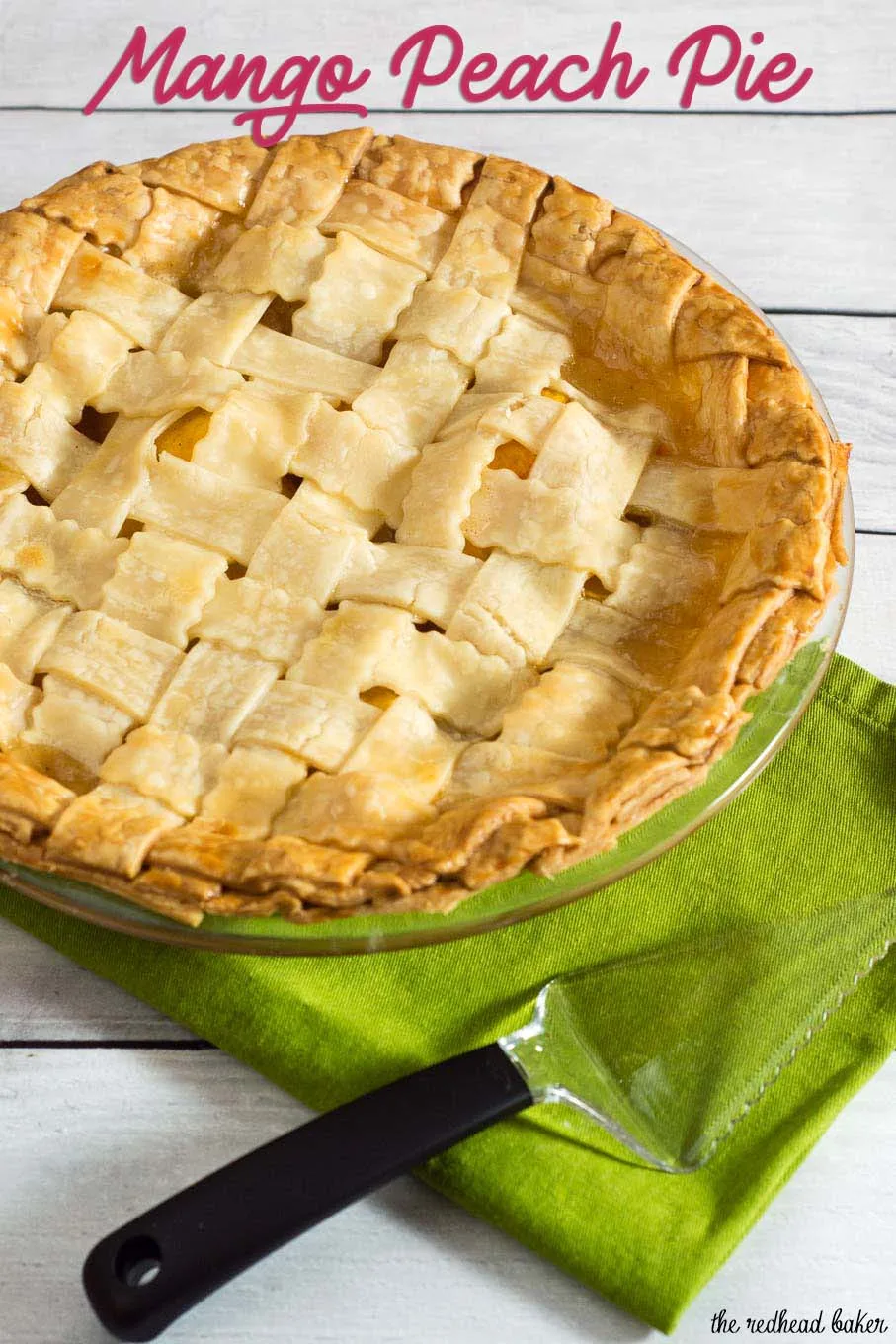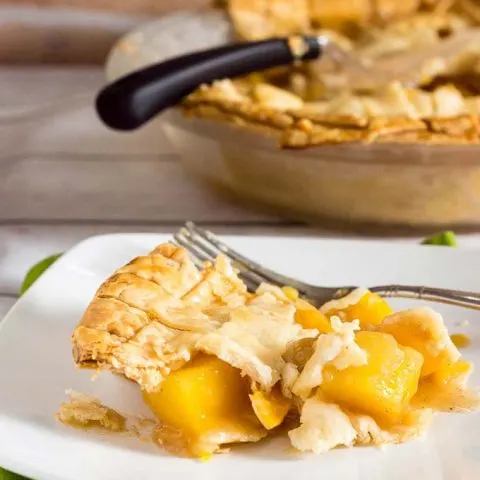 Mango Peach Pie
Ingredients
For the pie crust:
3.75 cup all-purpose flour
1.5 teaspoon salt
1.5 teaspoon sugar
9 tablespoon ice-cold water, plus more as needed
12 oz unsalted butter, very cold, cubed
For the fruit filling:
2 medium mangoes, peeled, pitted and cut into chunks, about 3 cups
4 medium peaches, peeled, pitted and cut into chunks, about 3 cups
1 cup sugar
2 tablespoon flour
¼ teaspoon cinnamon
¼ teaspoon ground ginger
⅛ teaspoon nutmeg
For the egg wash
1 large egg
1 tablespoon water
Instructions
Place a baking sheet in the oven and preheat to 375 degrees. Baking the pie on a hot pan will help prevent a soggy bottom crust.
Place the flour, salt and sugar in the bowl of a food processor. Quickly pulse two or three times to evenly distribute.
Add the cubes of butter to the flour mixture, and quickly pulse 8 to 10 times, until the mixture resembles a coarse meal.
Add the 9 tablespoon of ice water, and pulse two or three times. Check to see if the mixture now resembles large, moist clumps. If not, add another tablespoon, and pulse two more times, then check, and add another tablespoonful of ice water if needed.
Place three squares of plastic wrap on the counter. Divide the mixture evenly between the three pieces (each should weigh about 11 ounces). Press the dough into a mound, then flatten into a disc. Wrap the plastic wrap around each disc, and refrigerate.
While the dough is chilling, prepare the fruit filling: combine the fruit chunks in a large bowl.
In a smaller bowl, stir together the sugar, flour, and spices. Sprinkle over the fruit and stir to coat.
Remove one disc of pie dough from the refrigerator. On a liberally floured surface, roll the dough out to about 11 inches in diameter, about ¼ of an inch thick. Gently roll the dough onto your rolling pin, and then unroll into an OXO 9-inch glass pie plate. Gently prick the dough all over with a fork.
Scrape the fruit filling into the pie plate.
Remove the second disc from the refrigerator, and roll into an 11-inch circle, ¼ of an inch thick. Use the smooth side of an OXO Double Pastry Wheel to cut the dough into strips 1-inch in width.
Remove the third disc from the refrigerator, and roll into an 11-inch circle, ¼ of an inch thick. Use the fluted side of an OXO Double Pastry Wheel to cut the dough into strips 1-inch in width.
Place one smooth strip vertically across the fruit in the pie plate. Lay another strip horizontally. Place a fluted strip on either side of the vertical smooth strip, laying on top of the horizontal smooth strip.
Gently fold the top of the vertical smooth strip back over itself (do not crease or press it down). Place a fluted strip next to the horizontal smooth strip. Place the vertical smooth strip back where it was. Repeat on the bottom half.
Repeat the weave pattern, alternating smooth and fluted strips. You should have strips left over when the weave pattern is complete. Trim the excess overhang with a pair of kitchen shears. Combine with the leftover strips. You can wrap this leftover pie dough in a double layer of plastic wrap and freeze it for up to 3 months.
Beat the egg with the 1 tablespoon of water. Gently lift up the edges of weave pattern where it meets the outer edge of the lower pie crust. Use a pastry brush to apply some of the egg mixture and gently press the weave strips into it. This will "glue" the weave to the lower crust of the pie.
Use the remaining egg mixture to brush all over the top of the weave, to give the pie a shiny finish once baked.
Place the pie plate on the preheated baking sheet. Bake for 25 minutes.
Place a pie shield on the edges of the pie, and bake another 25 minutes, or until the crust is golden brown and the filling is bubbly.
Cool on a wire rack to room temperature. Serve with a scoop of vanilla ice cream, if desired.