Blondies are sweet bars similar to brownies, but without the cocoa. These blondies are loaded with white chocolate chips and macadamia nuts.
Did you know that January 22 is National Blonde Brownie Day? The name of these bars is often shortened to "blondie." They are bars similar in texture to the brownie, but without the cocoa.
While brownies are widely eaten without any mix-ins, blondies almost always have some kind of baking chip or other flavor somehow incorporated.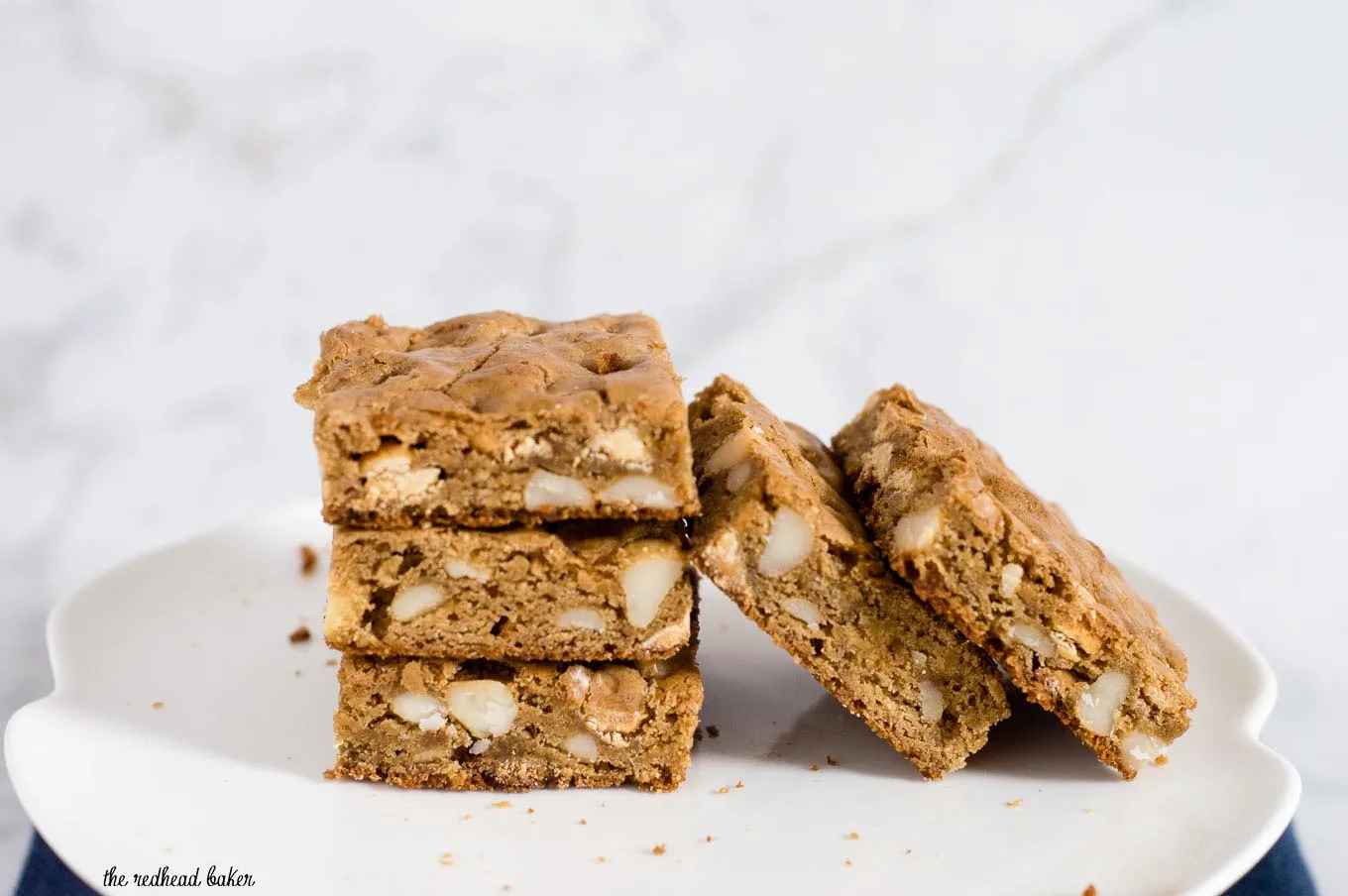 I like my blonde brownies loaded with white chocolate chips and macadamia nuts. Others add chocolate chips, butterscotch chips or crushed toffee candy. I've even seen snickerdoodle blondies with cinnamon chips!
Making blonde brownies follows the same method as traditional chocolate brownies. The wet ingredients are blended in one bowl. The dry ingredients are stirred together in another, then the dry is added to the wet and mixed just until blended.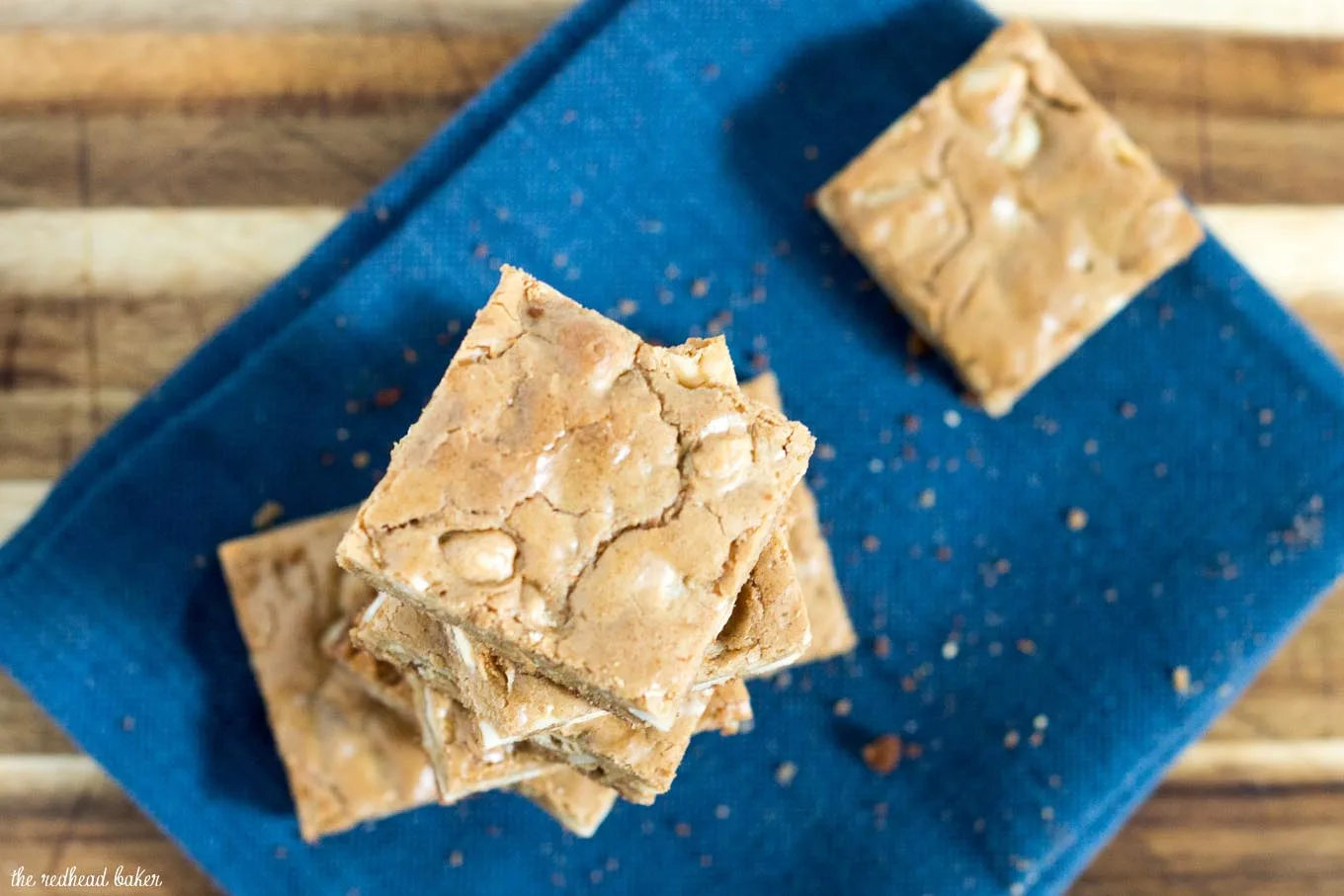 I bake my blondies in a 9x13 baking pan sprayed well with nonstick baking spray. If you want some extra insurance, you can also line your baking pan with tinfoil sprayed with nonstick spray, leaving a few inches of tinfoil on each end to hang over opposite edges of the pan, making it easy to lift the blondies out of the pan.
The yield will depend on how large or small you cut your brownies. I cut mine into roughly 2-inch squares, and got 24. If you prefer to bake in an 8x8 pan, cut the recipe in half.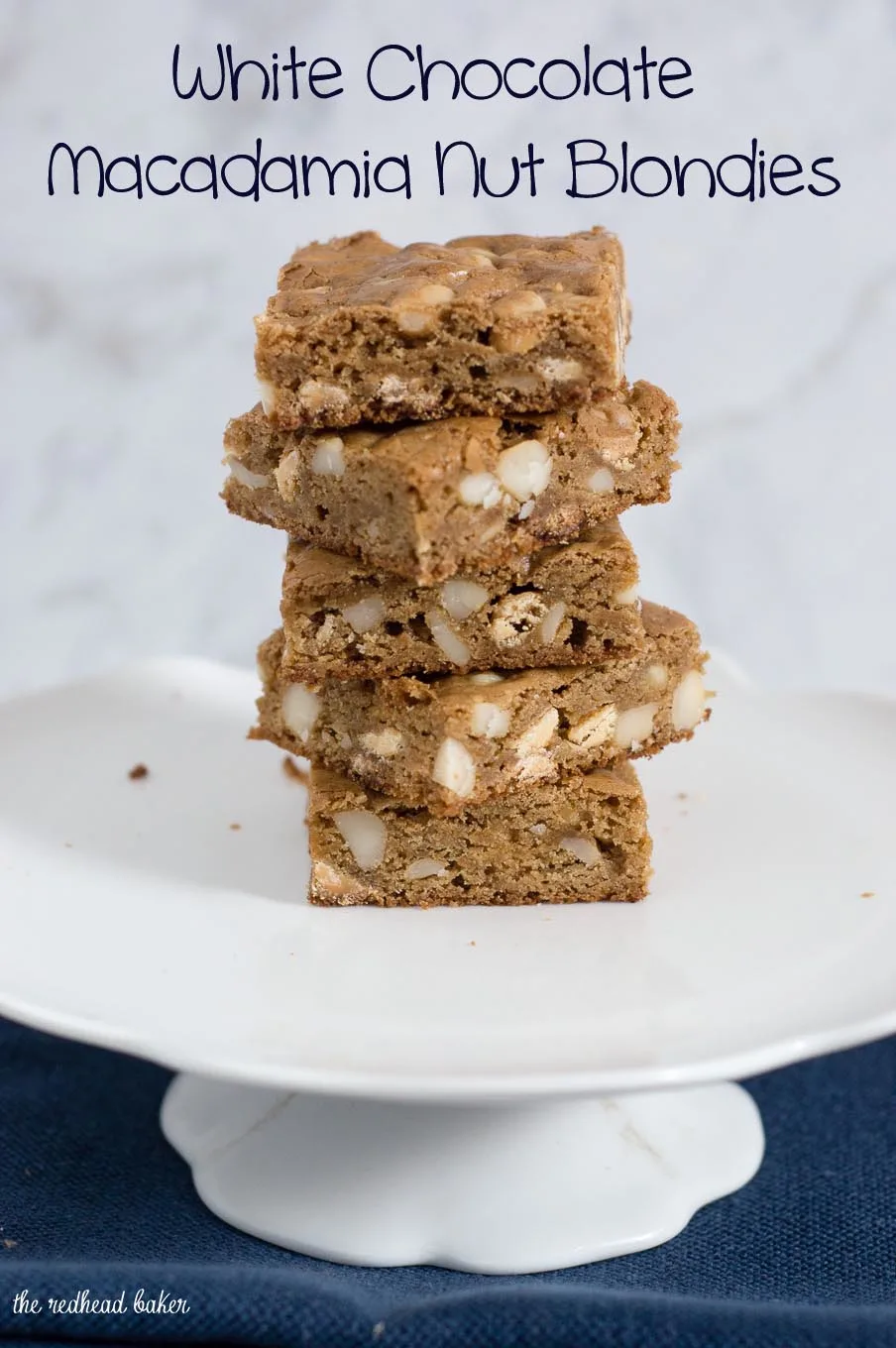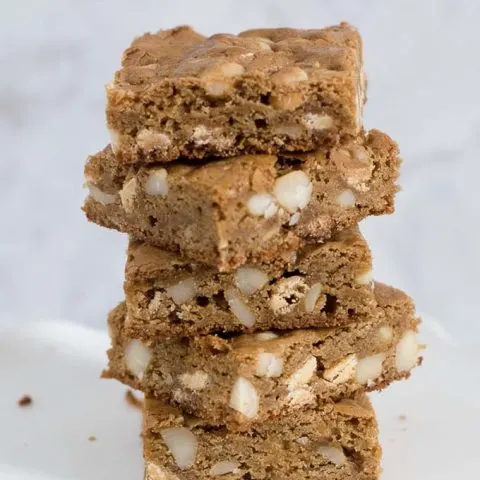 White Chocolate Macadamia Nut Blondies
Ingredients
1 ½ cups packed dark brown sugar
½ cup unsalted butter, melted
2 large eggs
1 teaspoon vanilla extract
1 ½ cups all-purpose flour
½ teaspoon baking powder
½ teaspoon salt
¾ cup white chocolate chips, 4 ounces
¾ cup chopped macadamia nuts, 4 ounces
Instructions
Preheat your oven to 350 degrees. Spray a 9x13 sheet pan with nonstick spray, and set aside.
In a large bowl, combine the brown sugar, eggs and vanilla just until blended. Slowly stream in the melted butter and beat just until blended.
In a separate bowl, combine the flour, baking powder and salt; add to brown sugar mixture and stir on low speed just until combined. Stir in white chocolate chips and macadamia nuts.
Spread into the prepared pan. Bake for 25 to 30 minutes or until a toothpick inserted near the center comes out clean. Cool on a wire rack. Flip the pan upside down on a cutting board to remove the bars. Cut into bars.
Adapted from Taste of Home
Want more blondie recipes? Try these: