This 5-minute sage browned butter sauce is so easy, it cooks right in the microwave. Pour it over ravioli, pasta, gnocchi, or roasted fall veggies.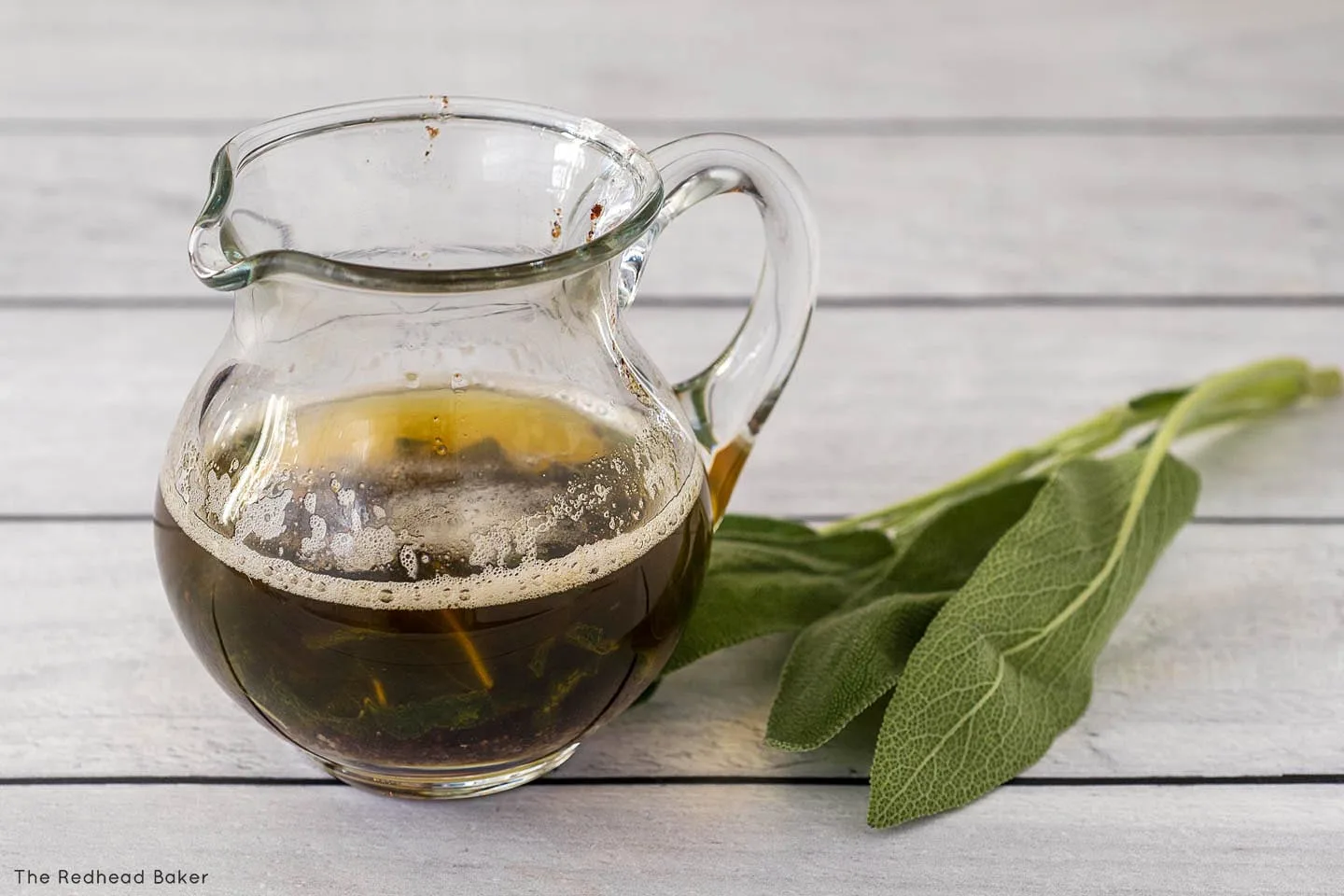 Pasta is a quick and easy weeknight dinner. However, I get tired of the same old spaghetti and meatballs or fettuccine alfredo.
Enter the 5-minute sage browned butter sauce. I love this. I drizzle this over everything: ravioli (the ravioli in the pictures is Trader Joe's Butternut Squash Ravioli), roasted squash, pasta, even roast chicken.
Does it really take only take 5 minutes? Yes! Well, more or less. The timing is based on a 1000-watt microwave. A more powerful microwave may take a little less time, a less powerful microwave may need another 20 seconds or so.
And there's hardly any prep time! Just cube the butter, and cut up the sage while the butter is microwaving. I keep a dish of kosher salt (affiliate link) on my counter top, and grab a pinch to season whatever I'm cooking.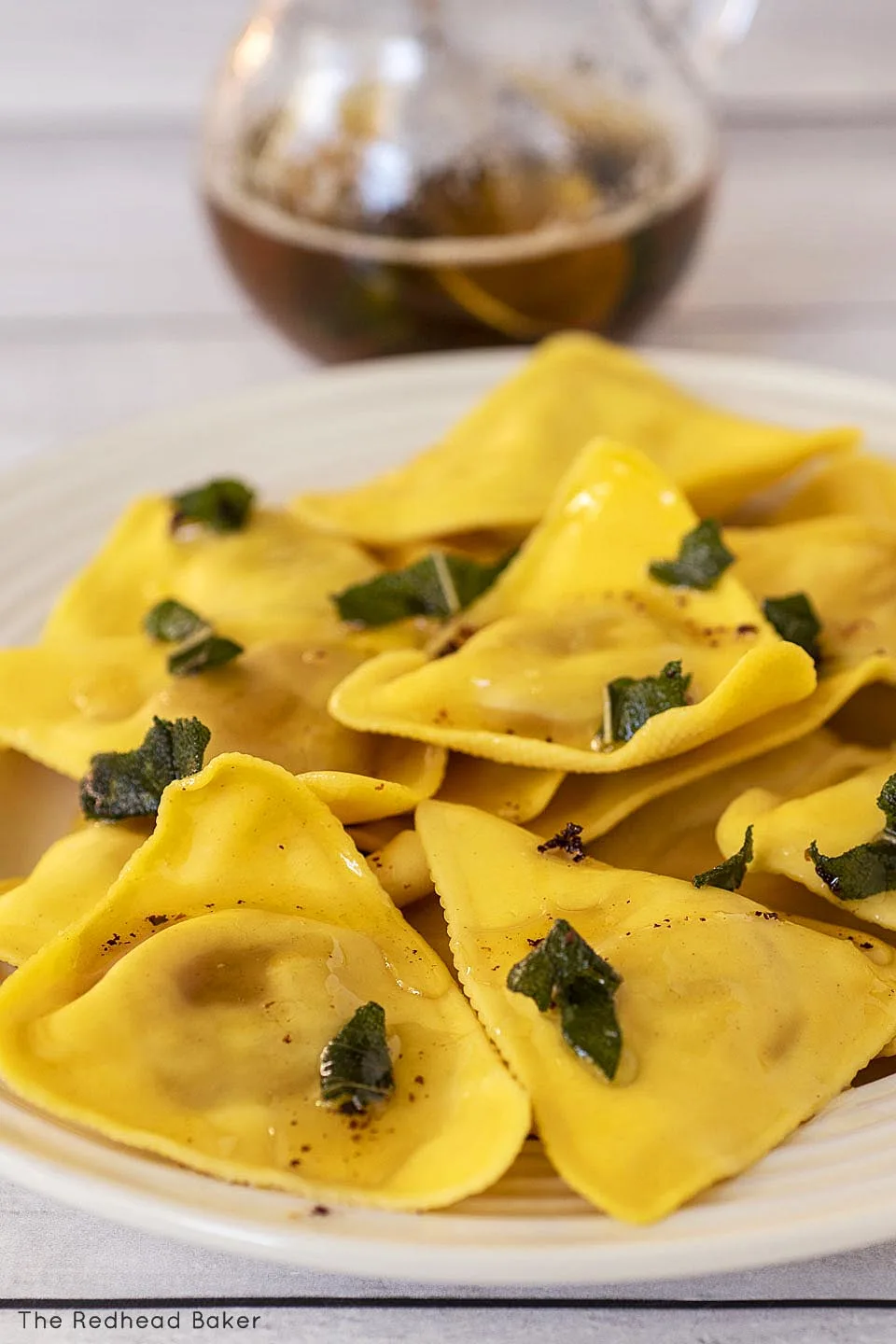 What is Browned Butter?
Butter is made up of milk solids, fat and water. When you put butter over heat, it melts. But when you leave it on the heat, the milk solids start to turn brown. The butter gives off a delicious nutty aroma.
The French call this sauce beurre noisette. Sometimes they even go a step further and separate the melted butter from the browned milk solids by ladling the melted butter into another container, but I prefer to keep the sauce with the melted butter.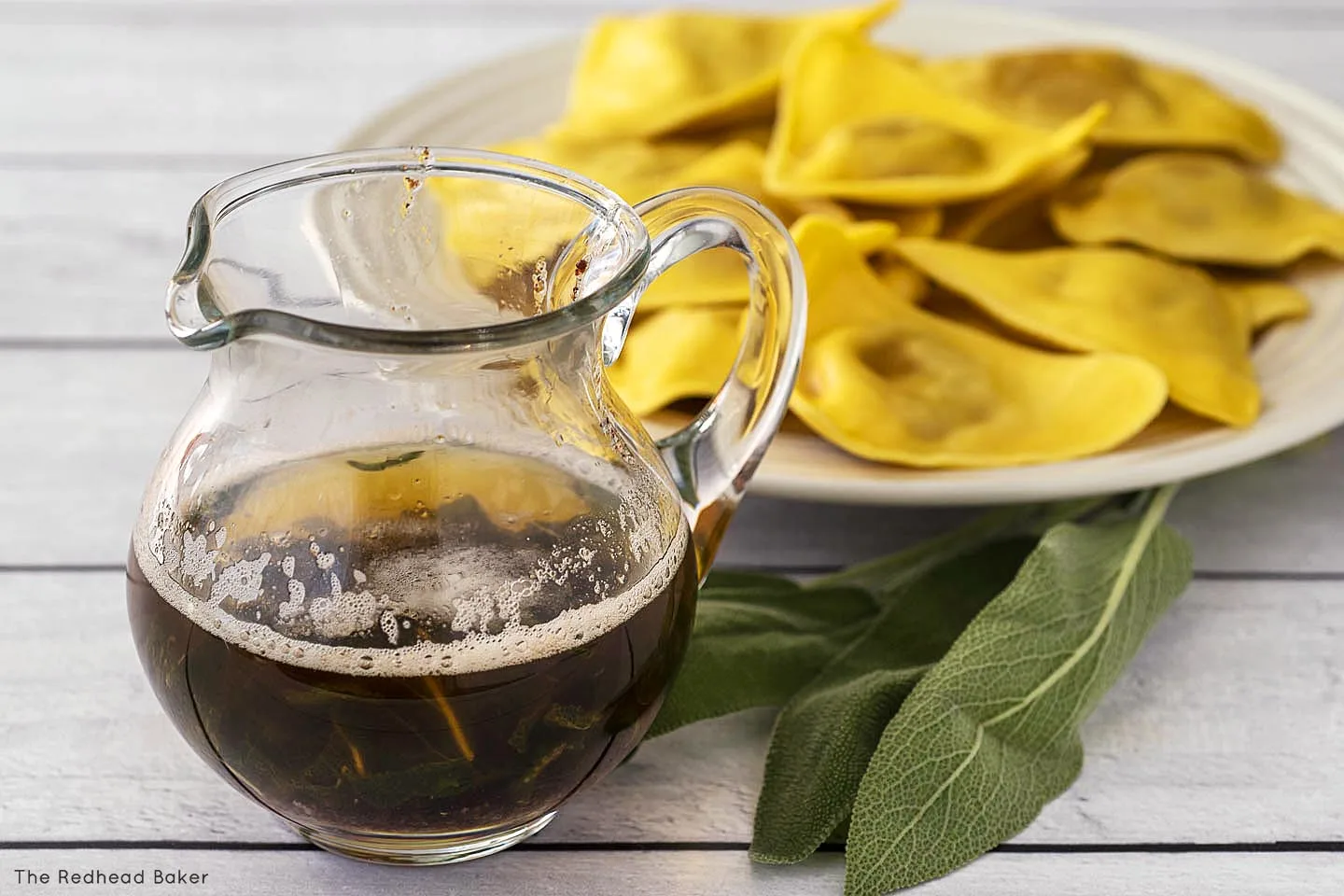 FAQs
Q: What type of butter?
A: Unsalted butter. If you brown salted butter, the salt gets concentrated into the milk solids. Salted butter also foams more than unsalted, which makes it hard to guage the darkness of the milk solids.
Q: Can I use dried sage in this recipe?
A: No, use only fresh sage.
Q: Can I refrigerate this sauce?
A: Yes! Pour the browned butter sauce into a container with a tight-fitting lid and refrigerate. The butter will resolidfy, simply remelt to use. Use within one to two weeks.
Q: I only have a 1-cup measure. Can I just use that?
A: No! Butter foams A LOT in the microwave because the water is evaporating. The foam in just 8 tablespoons of butter will sometimes reach the very top of my 2-cup measure! If you use a 1-cup measure, you'll have a big mess in your microwave.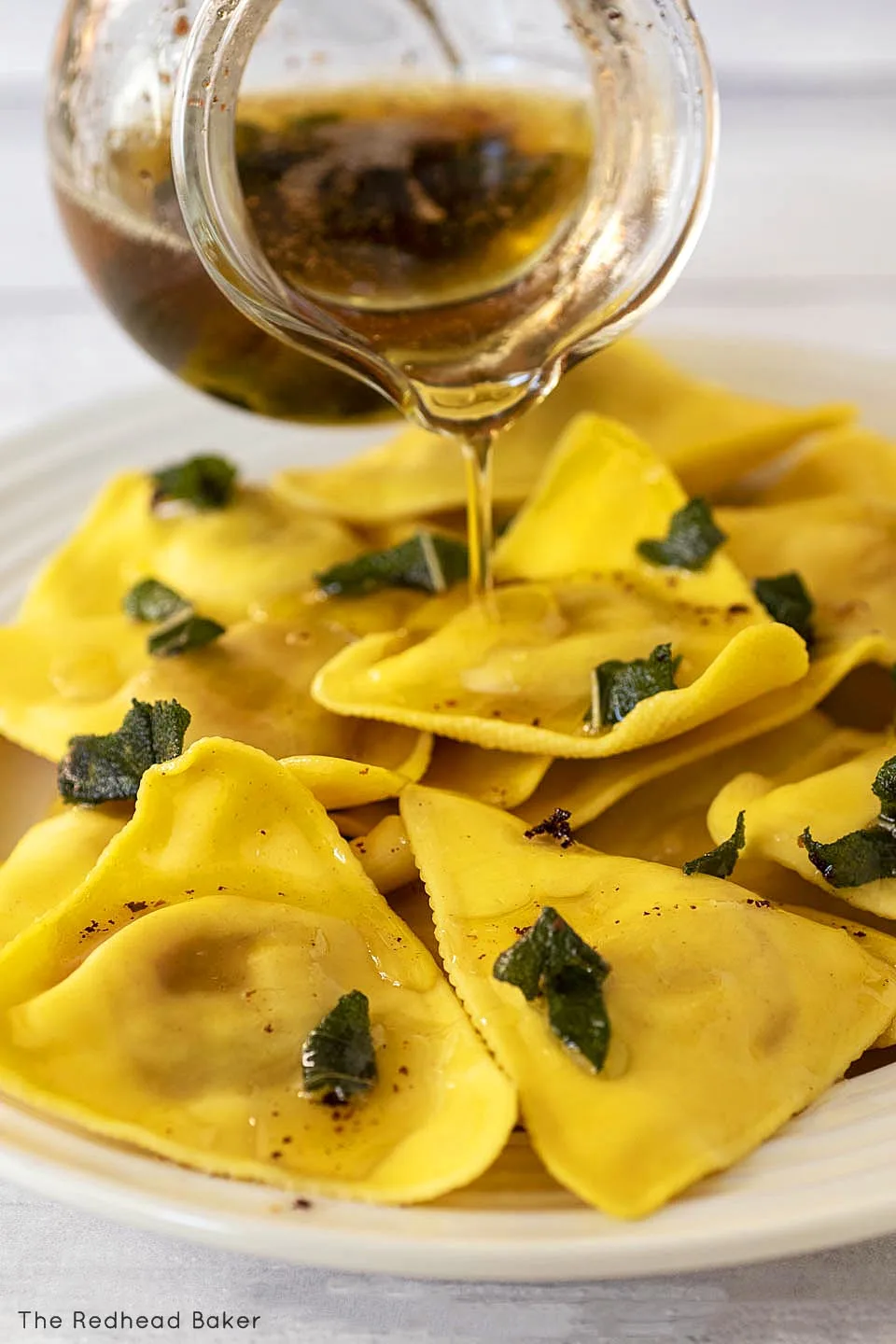 When using this sauce, be sure to get the milk solids onto whatever food you're pouring this on. That's where all the flavor is!
In fact, I typically only need one or two servings of this sauce, so I will skim off about half of the melted butter to another container. This makes it even easier to ensure I get delicious browned milk solids onto my ravioli, and I have a container of clarified butter to use for other recipes!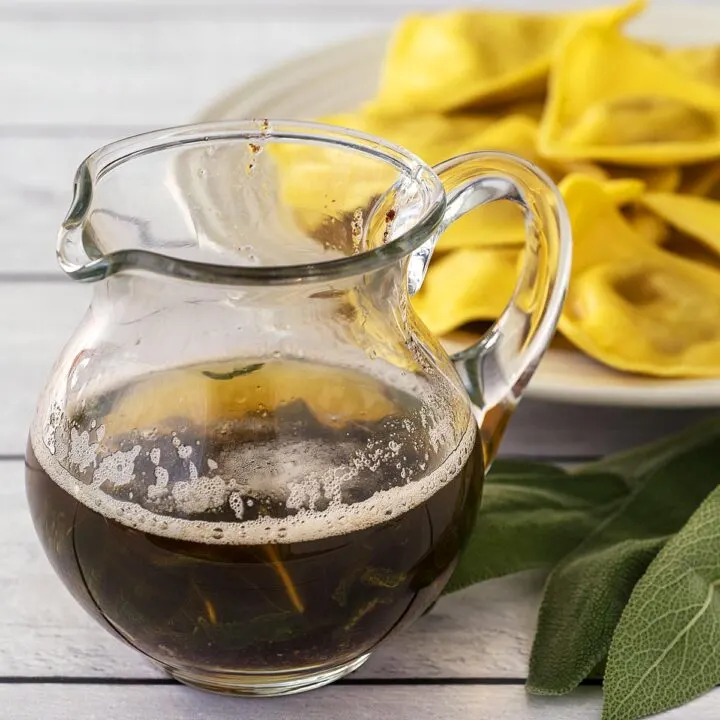 5-Minute Sage Brown Butter Sauce
This 5-minute sage browned butter sauce is so easy, it cooks right in the microwave. Pour it over ravioli, pasta, gnocchi, or roasted fall veggies.
Ingredients
½ cup unsalted butter
8 sage leaves
Kosher salt to taste
Pinch of nutmeg
Instructions
Cut the butter into cubes. Place in a glass 2-cup (or larger) measuring cup.
Microwave on high for 2 minutes. Stir.
Microwave on high for 2 more minutes, or until the milk solids turn dark brown.
Carefully remove the measuring cup from the microwave (caution: the measuring cup will be hot).
Add the sage leaves, kosher salt and nutmeg. Stir.
Pour the butter sauce over pasta, roasted veggies, etc., ensuring to scrape the browned milk solids onto the dish.
Notes
Microwave cooking times are based on a 1000 watt microwave. If your microwave has more wattage, your sauce may not need the full 4 minutes. If your microwave has less wattage, it may need another 20 seconds or so.
Recommended Products
As an Amazon Associate and member of other affiliate programs, I earn a small percentage from qualifying purchases.
Nutrition Information:
Yield:

4 servings
Serving Size:

1
Amount Per Serving:
Calories:

204
Total Fat:

23g
Saturated Fat:

14g
Trans Fat:

0g
Unsaturated Fat:

8g
Cholesterol:

61mg
Sodium:

149mg
Carbohydrates:

0g
Fiber:

0g
Sugar:

0g
Protein:

0g
I am not a certified nutritionist. This nutrition information is automatically calculated by third party software and is meant as a guideline only.