Bruschetta pizza is loaded with fresh summer tomatoes, basil and garlic over lots of melted mozzarella cheese. What better flavor for summer pizza?
I love this time of year, when the farmers market is full of fresh produce. There are tables loaded with lettuce, fresh herbs, tomatoes, peaches, berries, and flowers. I was so happy to hear that Laura of Mother Would Know chose "Summer's Bounty" for this month's Progressive Eats theme.
I go to my favorite farmers market, Headhouse Square in Philadelphia, every single week, even if I don't intend to buy anything, just to see what's there. As soon as I see fresh tomatoes, I buy some, even if only to use in a side salad. They are so juicy and the flavor is amazing.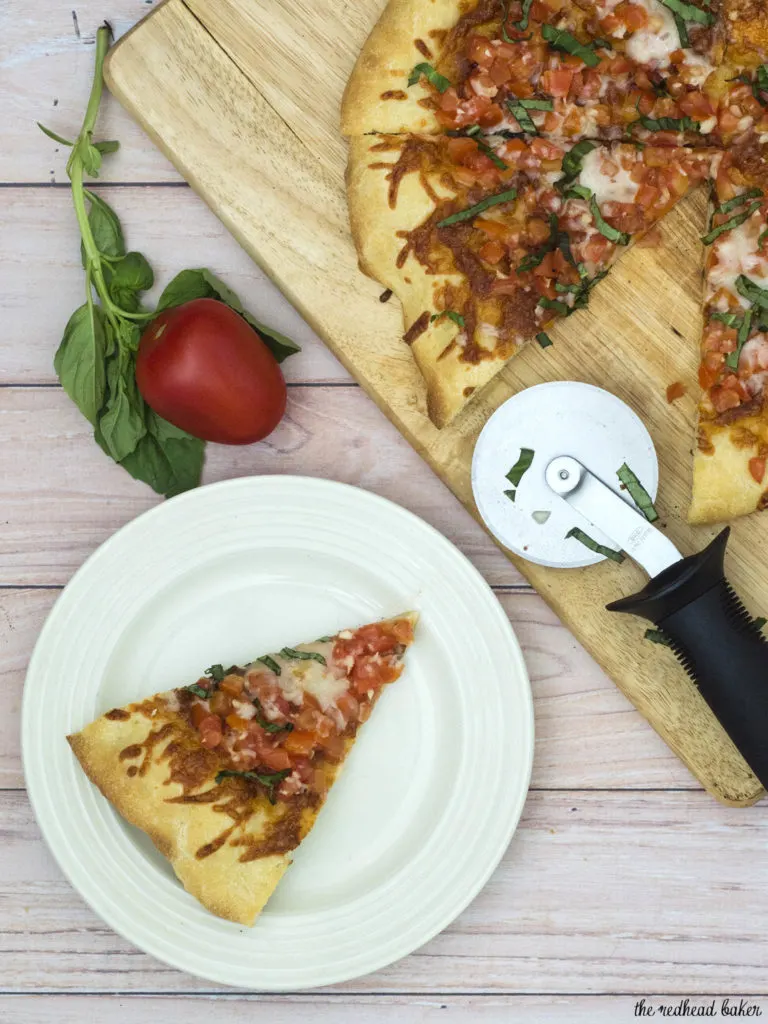 I knew I wanted to incorporate tomatoes into my Progressive Eats dish. I chose bruschetta pizza because it's a recipe I've been wanting to make for several months. Sometimes when we drop off our son at my parents' for a sleepover, we'll stay for pizza before heading back home. The restaurant around the corner has the most delicious bruschetta pizza.
I've been wanting to make that pizza at home, but I've been waiting for those delicious local tomatoes and fresh basil to reach the farmers market.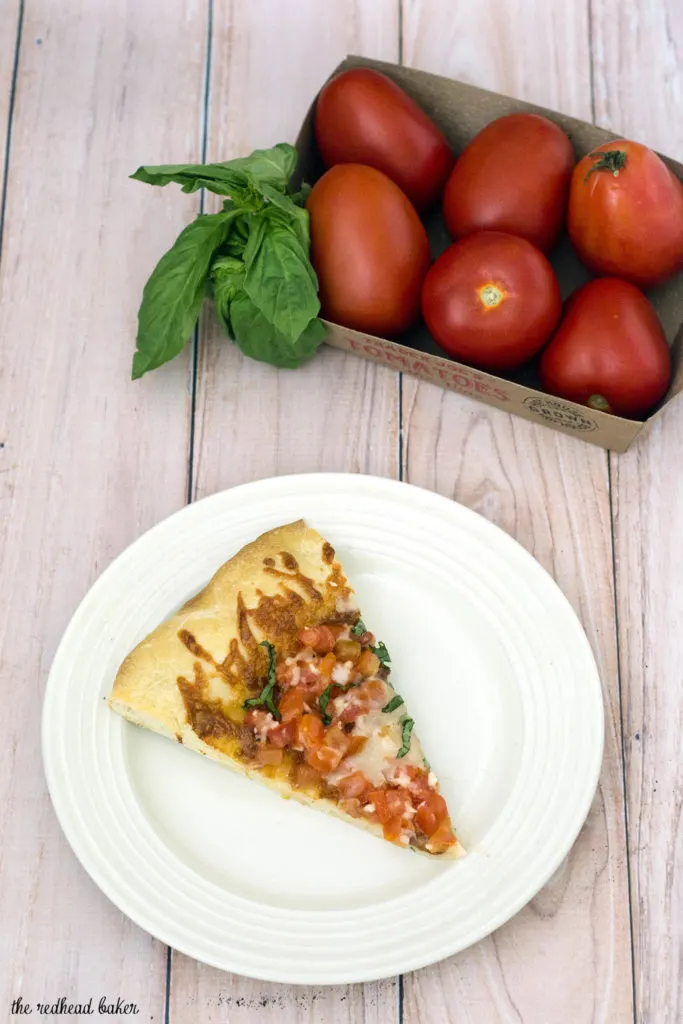 I make my own pizza dough at home using the recipe at Annie's Eats. I love that it makes enough for two crusts, one to use now and one to freeze for later (at least, until my son gets bigger and I need TWO pies for Pizza Friday!). It's very easy to make, and very easy to stretch and shape. You can use your favorite recipe, or even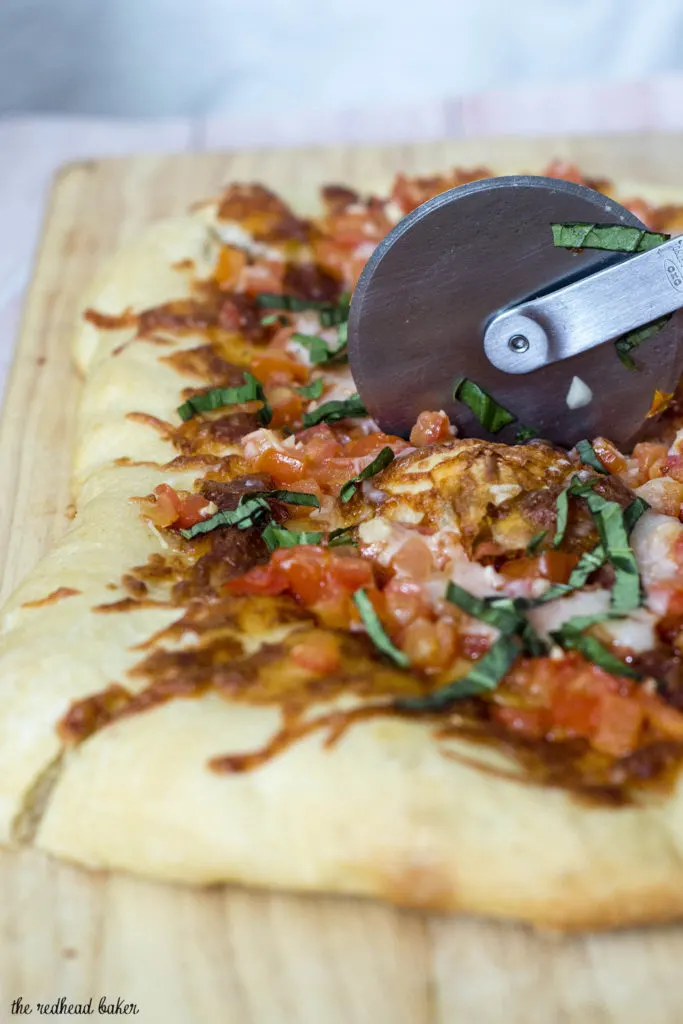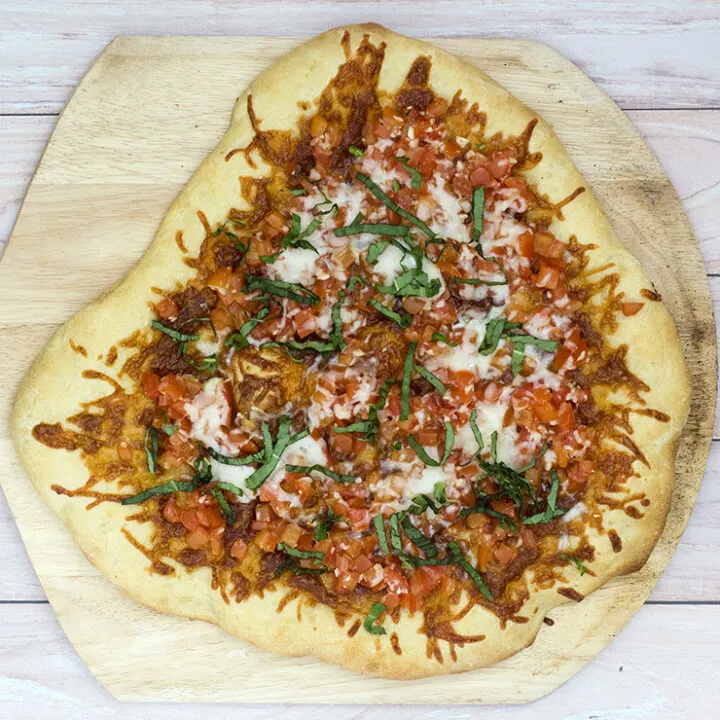 Bruschetta Pizza
Ingredients
For the bruschetta:
5 small roma tomatoes, seeded and diced small
2 cloves garlic, grated or minced fine
3 tablespoon extra-virgin olive oil
Salt and pepper
For the pizza
1 lb pizza dough, homemade or store-bought
1 tablespoon olive oil, divided
½ teaspoon garlic powder
6 oz shredded mozzarella cheese
¼ cup fresh basil, sliced chiffonade (into thin strips)
Instructions
In a container with a tight-fitting lid, combine the diced tomato, garlic, and 3 tablespoon of olive oil. Seal the container and shake to combine. Season to taste with salt and pepper, seal and shake again. Refrigerate for at least 30 minutes, or up to several hours.
Preheat oven to 450 degrees. Sprinkle a pizza peel with corn meal.
Stretch the pizza dough out to a 10- to 12-inch circle. Brush with 1 to 2 tablespoon olive oil, then sprinkle the garlic powder evenly over the dough.
Spread ⅔ of the shredded mozzarella cheese over the dough. Bake for 15 to 18 minutes, until the edges of the dough are starting to brown and the cheese is melted.
Use a slotted spoon to remove spoonfuls of the tomato mixture (draining off most of the oil/juice mixture) and sprinkle evenly over the pizza.
Sprinkle the remaining mozzarella cheese over the tomato mixture and return the pizza to the oven, baking just until the cheese melts.
Remove from the oven, sprinkle the basil over the pizza, slice and serve.
Recipe by The Redhead Baker
Welcome to Progressive Eats, our virtual version of a Progressive Dinner Party. This month we're featuring Summer Bounty, hosted by Laura Kumin, who blogs at Mother Would Know. Our theme features fresh vegetables, herbs, and fruits associated with summer in a menu that we hope you'll enjoy!
Appetizers
Main Courses
Desserts
Beverages