Lighter Caesar salad is delicious, and light on the calories. This version replaces most of the oil and the egg yolks in the dressing with fat-free Greek yogurt, making it creamy, but healthier.
Growing up, I was not as knowledgeable about food as I am now. One of my biggest weaknesses was toasted white bread with butter and strawberry jam. I would eat 6 pieces at a time, until one day my mom said, "Do you know how many calories that is??"
When I was 21, I went on my first cruise. If you've ever been on a cruise, you know that there is food available 24 hours a day, every day. In an effort to watch what I was eating, I ordered a salad as a first course at every dinner. Sounds healthy, right? Yeah, I ordered the Caesar salad. A typical 2-tablespoon serving of Caesar salad dressing alone contains an average 180 calories and 18 grams of fat, before factoring in the lettuce, croutons and cheese.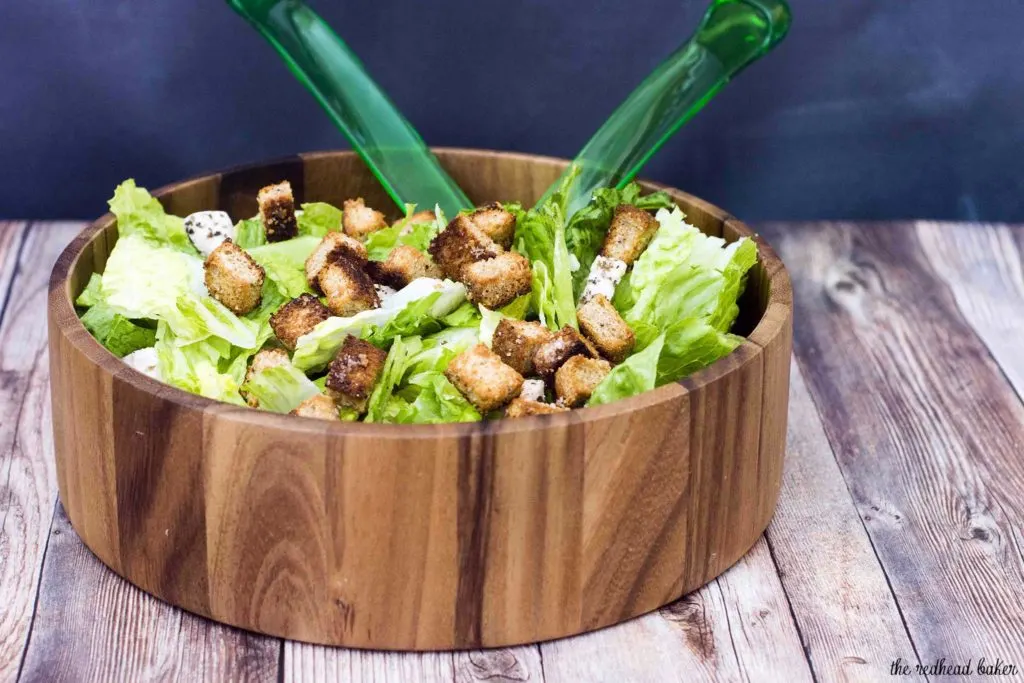 Thankfully, I have become much more aware of what is or is not actually healthy. When I order a salad as a meal first course, I choose one loaded with a variety of colorful veggies, and vinaigrette on the side. Or when I do order a creamy dressing, I do it with the knowledge that I'm not ACTUALLY eating something healthy.
I also enjoy bringing salad to work with me for lunch. I love a sprinkling of croutons on my salad for texture, but they tend to get soggy by the time lunch rolls around. That's why I love OXO's new 16 Piece SNAP Glass Container Set. I use a bigger bowl for my salad, and a small bowl for my dry toppings that would get soggy if mixed in with the salad. These containers are made from BPA-free borosilicate glass, so they can withstand extreme temperature changes without the risk of cracking or shattering.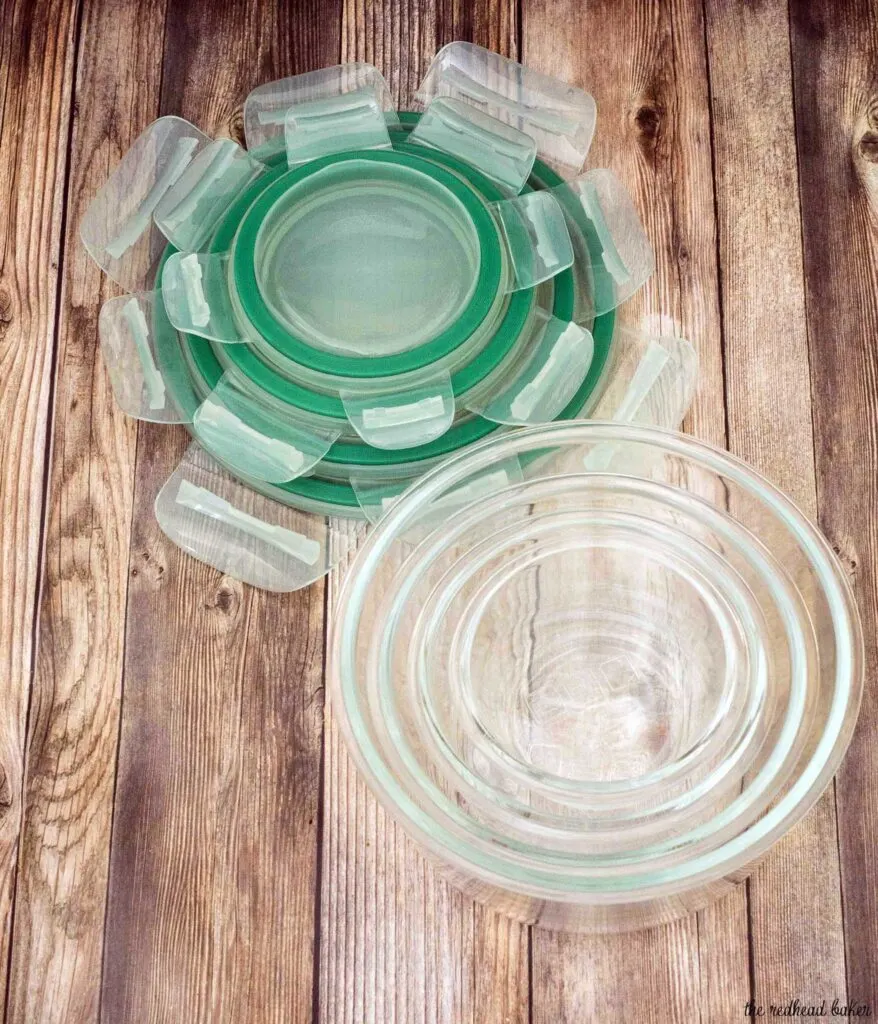 I love that the SNAP lids have four locking tabs and a gasket that ensures a leakproof seal. No drips in my lunch bag! The gasket is removable which makes the containers easy to clean thoroughly. My fiance (a notorious hater of all forms of leftover storage) loves that the containers are both nestable and stackable, which means they're easy to fit in the cabinets and in the refrigerator.
In addition, I received OXO's Little Salad Dressing Shaker. This container has measurement hash marks on the side, so I can measure ingredients right into it, seal it, shake to combine the dressing, then open the spout to pour it onto my salad. Then I can flip the lid back down to seal, and place the whole container in the fridge to store the leftovers.
Finally, I also received OXO's 2-in-1 Salad Servers (discontinued). I can use the two pieces separately to toss my salad, or connect them to create tongs to serve my salad. They also nest together for compact storage.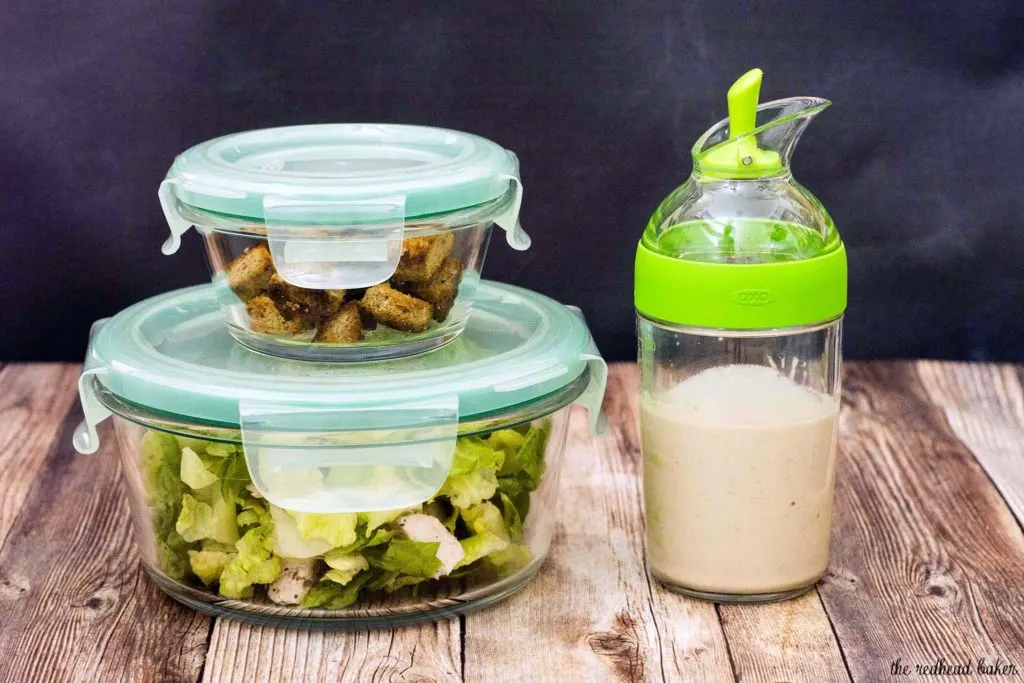 So, on to the salad. I still LOVE Caesar salad. I was really happy to read a recommendation to use fat-free yogurt to make the dressing healthier while still maintaining creaminess. In addition, the yogurt replaces the egg yolks, which means no risk of salmonella.
Two tablespoons of THIS dressing contains only 52 calories and just under 4 grams of fat. In addition, I made homemade croutons out of whole wheat bread for added fiber and lower sodium.
Oh, need a few recipes to use up the rest of those anchovies? Try Never Enough Thyme's Pasta Puttanesca, Simply Scratch's Lemon Basil Pesto Pasta, or Foodie with Family's Spinach and Garlic Alfredo Pizza.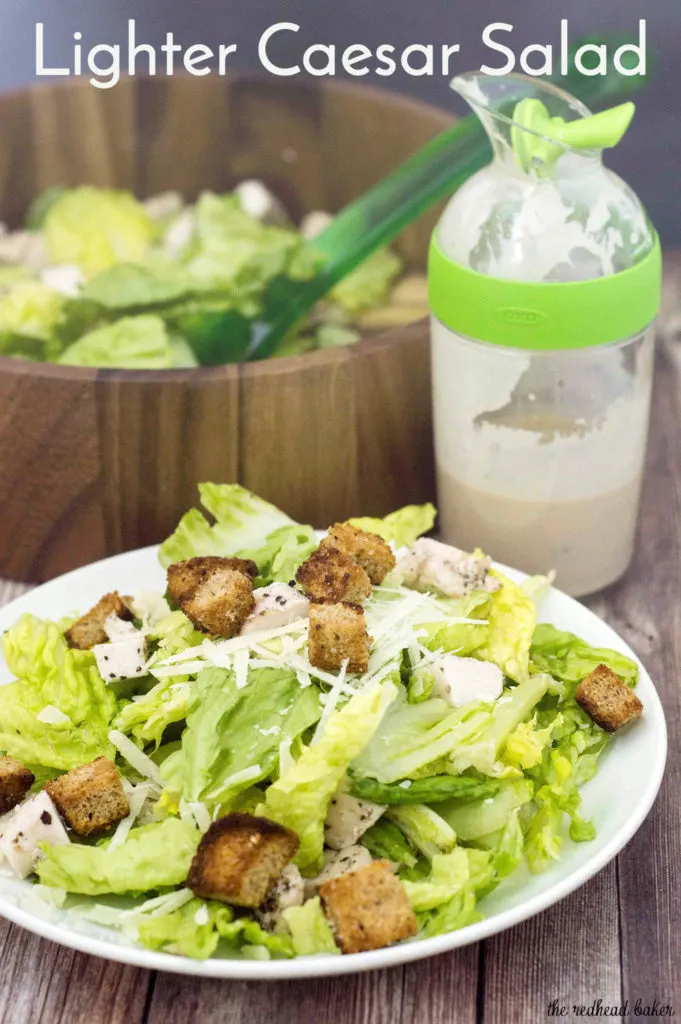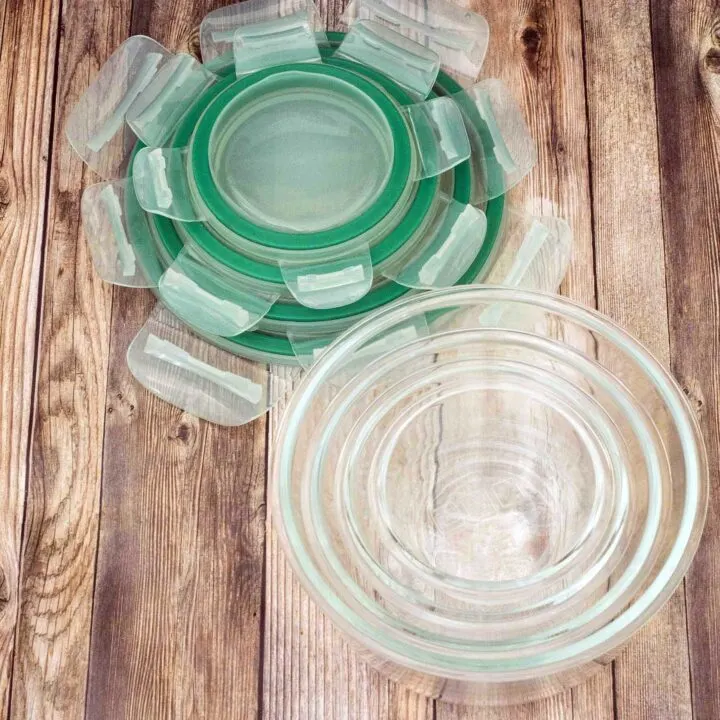 Lightened-Up Caesar Salad
Ingredients
For the chicken:
8 oz chicken breast fillets or tenderloins
1 tablespoon olive oil
2 teaspoon italian seasoning blend
Salt and pepper
For the croutons:
4 slices whole grain bread
2 tablespoon olive oil
Salt and pepper
2 tablespoon parmesan cheese
For the dressing:
⅓ cup plain fat-free yogurt
2 tablespoon freshly squeezed lemon juice
1 tablespoon olive oil
2 teaspoon red wine vinegar
2 teaspoon Worcestershire sauce
4 in anchovy fillets packed oil, drained (or 1 teaspoon anchovy paste)
1 teaspoon Dijon mustard
½ teaspoon freshly ground pepper
1 clove garlic
For the salad:
2 heads of romaine lettuce, chopped
2 oz parmesan cheese, shredded or shaved
Instructions
Preheat oven to 350 degrees. Line a baking pan with tin foil and spray with nonstick spray.
Drizzle the olive oil over the chicken, season both sides with the Italian seasoning, salt and pepper. Bake for 8 to 12 minutes, until cooked through. Cool, then cut into 1-inch pieces. Transfer to a storage container and chill.
Increase the oven temperature to 400 degrees. Using a sharp bread knife, cut the bread into ½-inch pieces. Toss with the olive oil, salt, pepper and parmesan cheese. Spread in an even layer on a foil-lined baking pan, making sure no pieces overlap.
Bake for 10 minutes, or until fully dried and browned. Cool, then store in a zip-top plastic bag at room temperature.
Make the dressing: place the anchovy fillets on a cutting board and finely mince using a chef's knife. Then use the flat side of the knife to mash the minced anchovies into a paste. Set aside. Use the same technique to make a paste out of the garlic.
Place the yogurt, lemon juice, olive oil, red wine vinegar, Worcestershire, anchovy paste, Dijon mustard, pepper and garlic paste in a small container and shake vigorously until well-combined. Place in the refrigerator until chilled.
When ready, place the lettuce and chicken cubes in a large serving bowl. Toss with the dressing, and divide among 4 plates. Top each plate with croutons and shredded/shaved parmesan.
Dressing recipe by Cooking Light