Babies are cute as a button, and so are these adorable little button cookies sandwiched with lemon buttercream! Serve them as a sweet ending to a baby shower.
My fellow food blogger, Courtney of NeighborFood, is about to have her first baby, and Nancy of Gotta Get Baked invited several food bloggers to a virtual baby shower in her honor! I love baby showers, getting together with friends and family for delicious food, chit chat, and the best part? Ooohing and aahing over adorable baby gear and clothes!
I knew I wanted to contribute a dessert to the virtual baby shower. I love when a baby shower host has a cookie tray alongside the cake. But what kind of cookie do you make to welcome a newborn baby? Well, babies are cute as a button, and so are these cookies!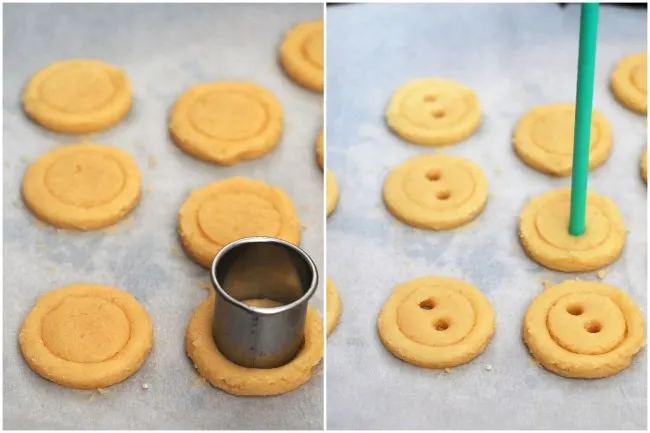 With sugar cookie dough, two round cookie cutters and a straw, you can make adorable, tender cookies that look like buttons. These cookies aren't soft, and they're not crisp — they're somewhere in the middle. The dough is easy to mix, and once chilled, easy to roll out. I like to roll the dough between two pieces of parchment. Then I cut out my shapes directly on the parchment, pick up the scraps between the shapes, and move the whole piece of parchment to a baking sheet. Not having to move the cut cookies from the parchment means no losing their shape.
These cookies are delicious all on their own, but to make them extra-special for Courtney's baby shower, I sandwiched them between luscious buttercream flavored with lemon curd. Swiss buttercream is more buttery than sugary, and lemon curd adds tartness, so it complements the sugar cookies well. Once the cookies are sandwiched with the buttercream, they should be refrigerated.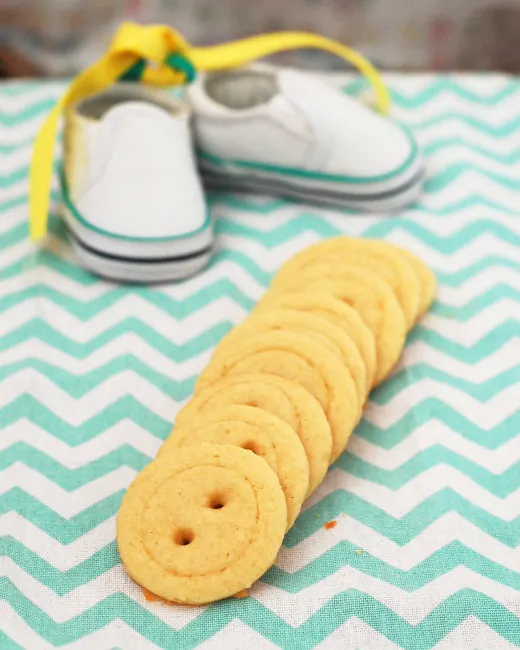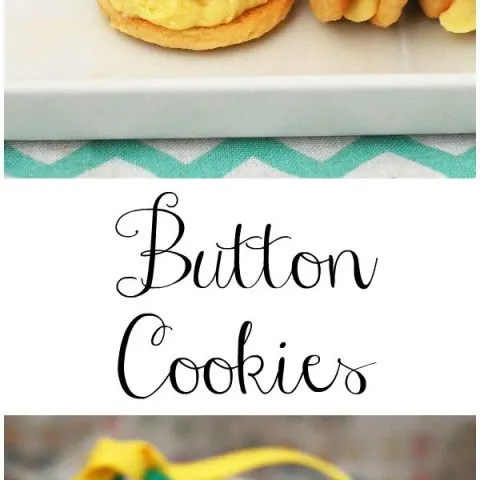 Raspberry Lemon Macarons
Ingredients
For the cookies:
4 oz almond flour
8 oz powdered sugar
¾ oz freeze-dried raspberries, finely ground
5 oz egg whites, about 4 large
2 ½ oz granulated sugar
2 teaspoon vanilla extract
½ teaspoon salt
1 drop pink or red gel food coloring, optional
For the buttercream:
5 egg whites
1 cup sugar
6 tablespoon unsalted butter, softened but still cool
¼ teaspoon vanilla extract
2 tablespoon lemon curd
Instructions
Preheat your oven to 300 degrees (use an oven thermometer to ensure the correct temperature).
Fit an 18-inch piping bag with a round tip, such as Ateco #802. Line two sheet pans with parchment paper. Take a 1 ½-inch round cutter, and using a permanent marker, trace an outline of the cutter onto the parchment. Repeat, keeping at least one inch between circles, on both sheets of parchment, until you have 24 circles. When finished, flip parchment ink-side-down.
Sift the almond flour with the powdered sugar and ground raspberries and set aside.
In the bowl of a stand mixer, whip the egg whites, granulated sugar, and salt on speed 4 (medium speed) for three minutes, then speed 7 (medium-high) for three minutes, then speed 8 (high) for three minutes.
Add in vanilla extract and one drop of food coloring, if using, then beat for one more minute at highest speed. You should have a very stiff meringue. The peaks should not fall over when the bowl is lowered or the beaters raised.
Take the bowl off of the stand mixer and pour the dry ingredients on top of the meringue. Begin to fold the meringue and the dry ingredients together.
Before spooning your batter into the piping bag, take a spoonful and drop it back into the batter. It should sit on top of the batter for about twenty seconds before melting back into the rest of the batter.
Fill your piping bag no more than halfway full. Pipe batter into each circle, stopping just shy of the border of each circle (batter will continue to spread).
When all circles have been filled in, rap the baking sheet hard on the counter to remove air bubbles.
Bake the cookies for 18 minutes, rotating pans back to front and top to bottom halfway through for even cooking. After 18 minutes, check one: if it peels easily off of the parchment, it's done. If it doesn't, don't force it. Continue baking until a cookie peels easily off the paper. This could take as long as 40 minutes.
While cookies are baking and cooling, make the buttercream. Place the whites and the sugar in the clean, dry bowl of a stand mixer. Place the mixing bowl over the simmering water (the bottom of the bowl should not sit in the water). Continually whip the egg whites and sugar until heated and the sugar dissolves.
Remove bowl from the water and place on the mixer. Whip until meringue forms soft peaks.
Switch to the paddle attachment. Add the butter, 1 tablespoon at a time, whipping until fully incorporated before adding more. The time it takes to incorporate will get longer and longer as more butter is added.
After all the butter is added, add vanilla and lemon curd and continue beating until the buttercream comes together and looks smooth and creamy.
When cookies are done, remove pans from oven and cool the cookies to room temperature while still on the baking sheet.
Once cookies are fully cooled, pipe some of the ganache onto the bottom of a macaron, then sandwich with a second cookie.
Sugar cookie recipe from King Arthur Flour's Cookie Companion; Swiss meringue buttercream recipe adapted from The Restaurant School at Walnut Hill College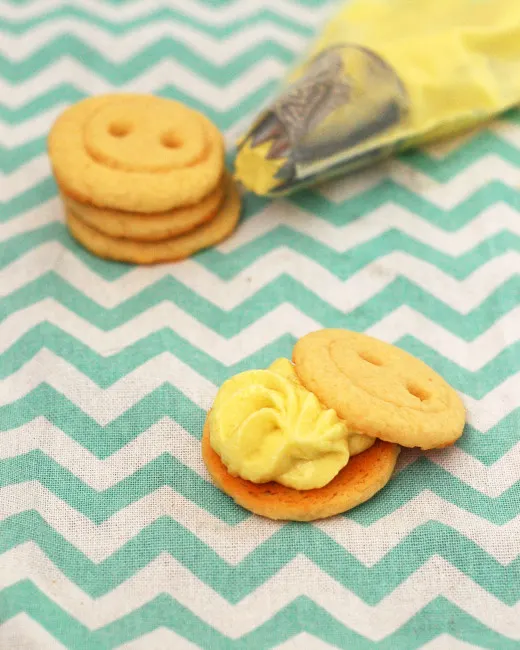 Be sure to check out what the other amazing bloggers made for Courtney!