This shop has been compensated by Collective Bias, Inc. and International Delight. All opinions are mine alone. #LatteMadeEasy #CollectiveBias
Caramel apple cheesecake bars combine the best parts of cheesecake and apple crisp. Enjoy a square with your latte whenever you need a sweet treat.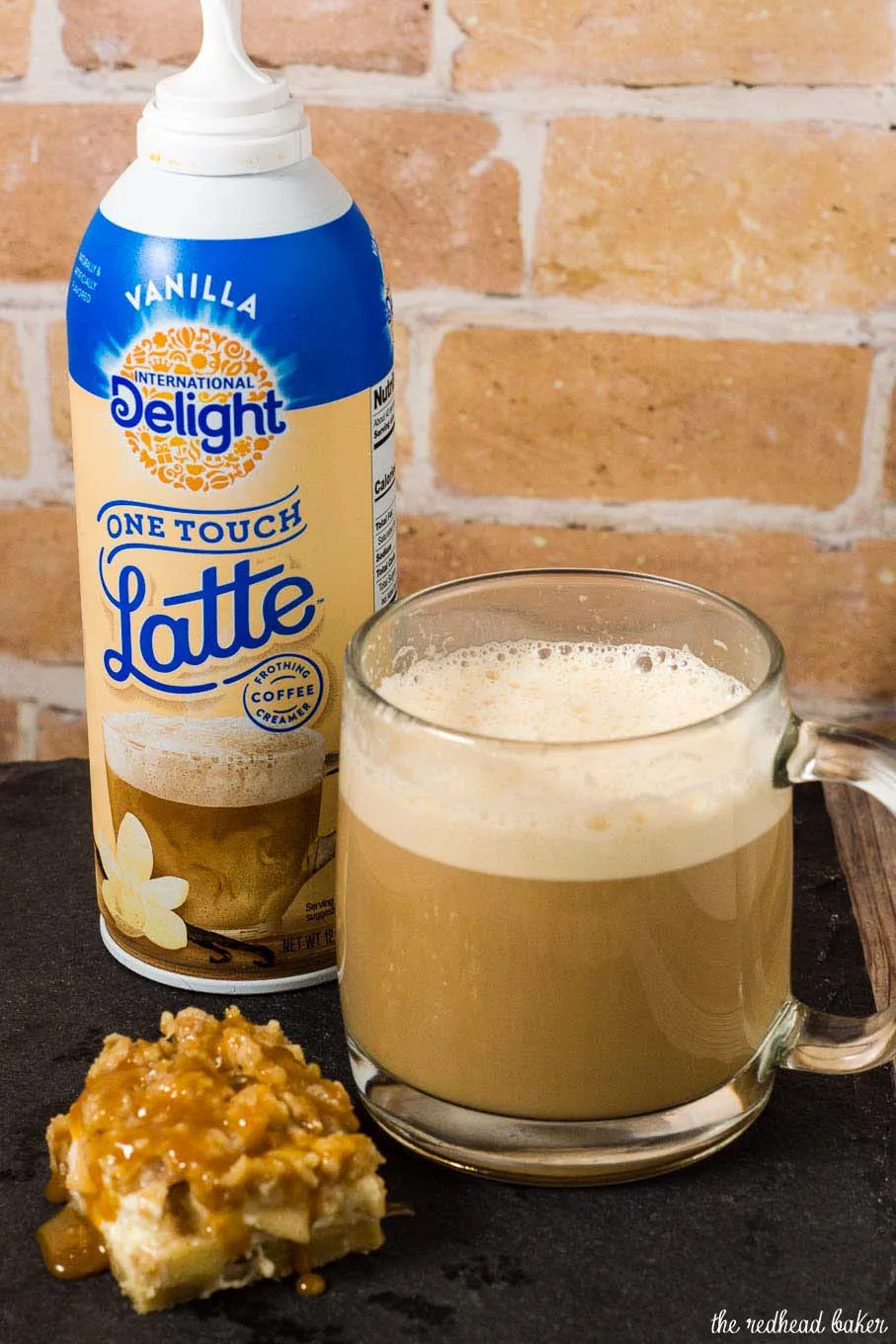 Earlier this year, I was practically giddy about the start of summer. But I must confess, I also love the fall. I love the colors in the trees, the crisp air, and cozying up in a warm sweater with a mug of coffee and a sweet treat.
I'm one of those coffee people who will drink it any time of day. I love a hot latte in the afternoon, especially on a chilly autumn day. Paired with a fall treat, like these caramel apple cheesecake bars, and I'm a happy girl.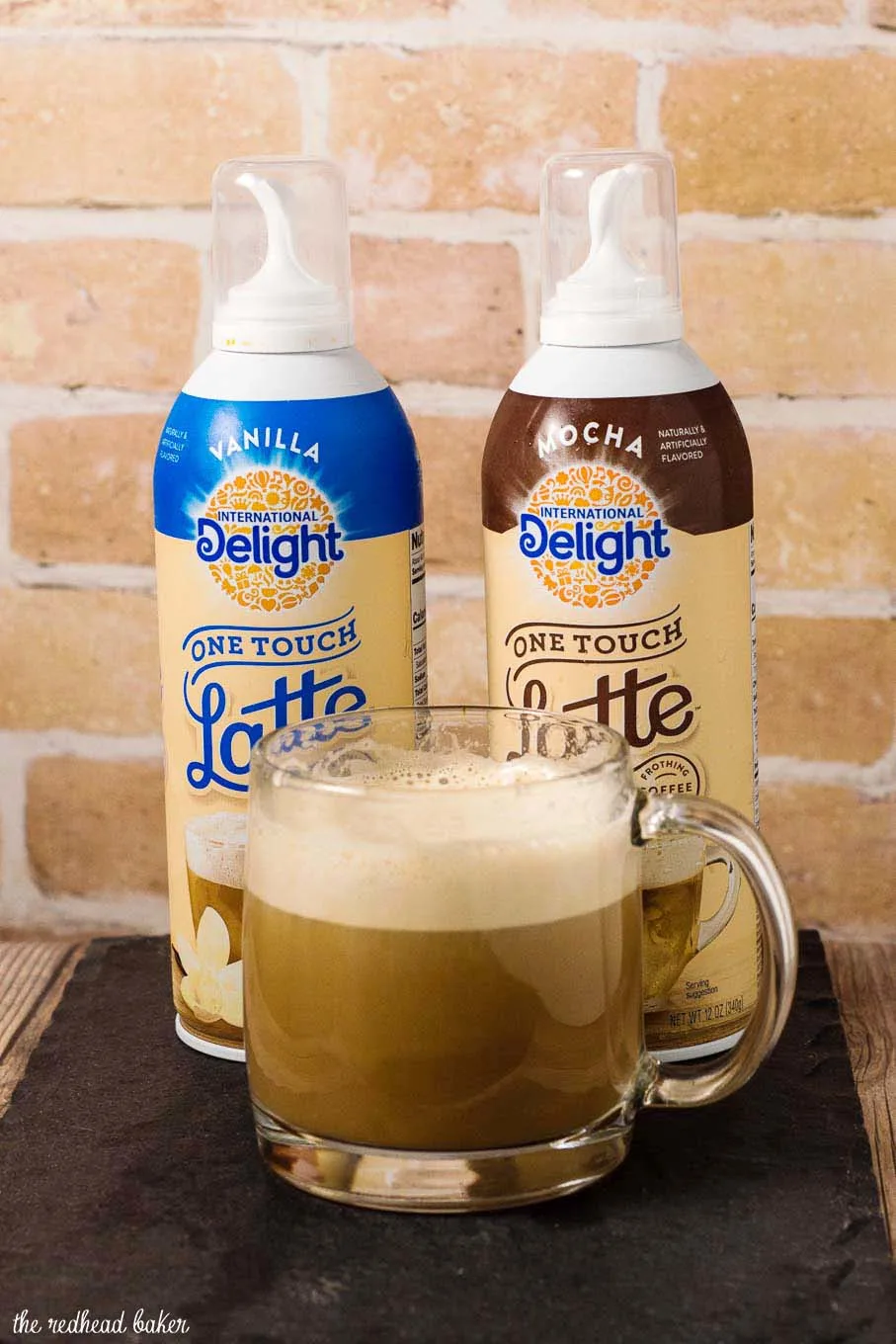 I don't have a fancy coffee brewer that makes lattes at home, but now that the International Delight® One Touch Latte'™ is available, I don't need to! I can have a vanilla, caramel or mocha latte at home with my regular coffee maker in just 3 easy steps. All three of these flavors are available at your local Walmart with the regular International Delight® coffee creamers.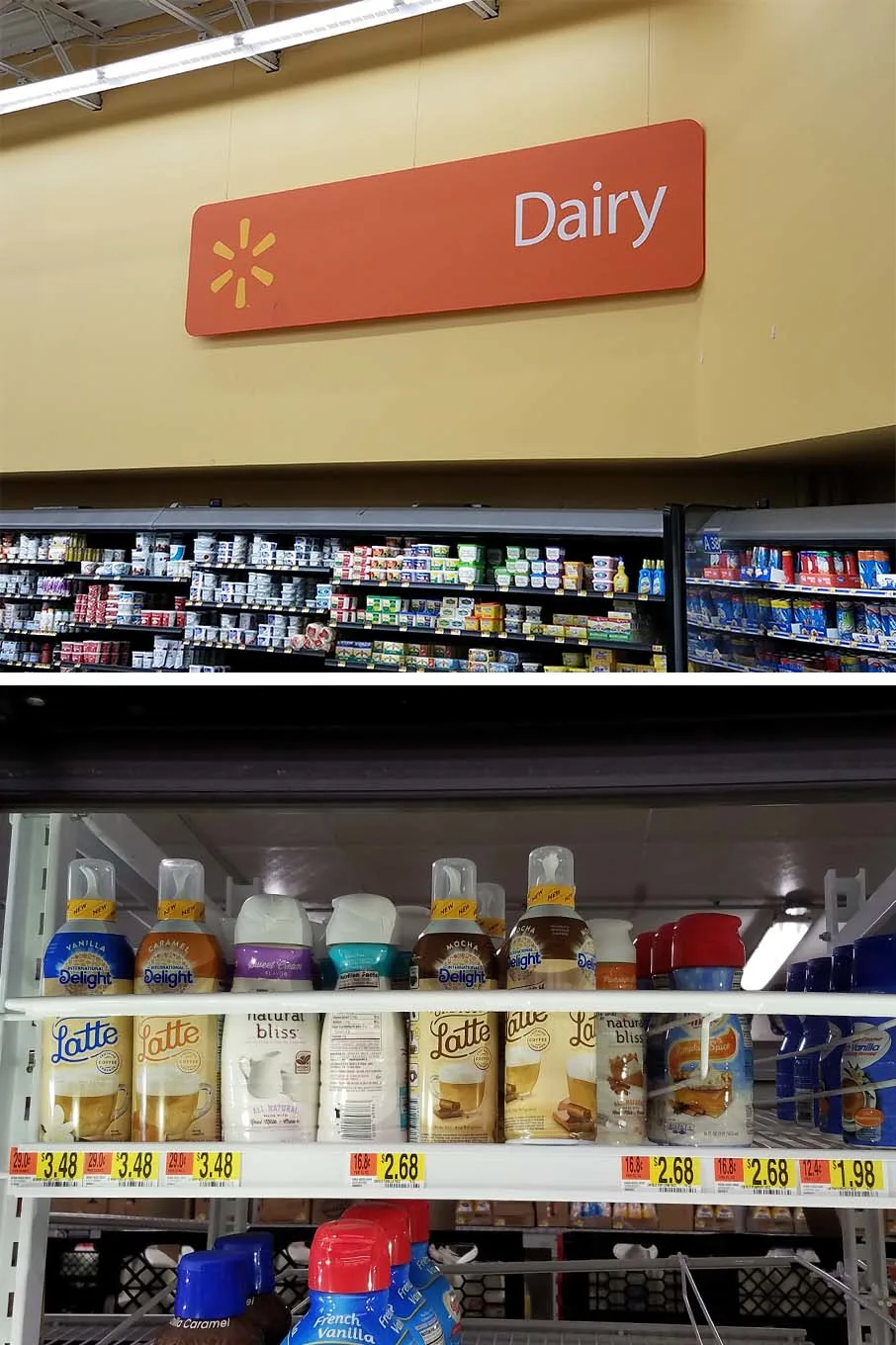 It's so easy to turn any cup of coffee into a latte: Fill cup two-thirds full with coffee to leave room for froth. Shake the One Touch Latte'™ can. Press hard and hold the can above coffee to cream to desired sweetness and enjoy! Visit your local Walmart on November 11th and 12th for an in-store demo of how to use the One Touch Latte'™!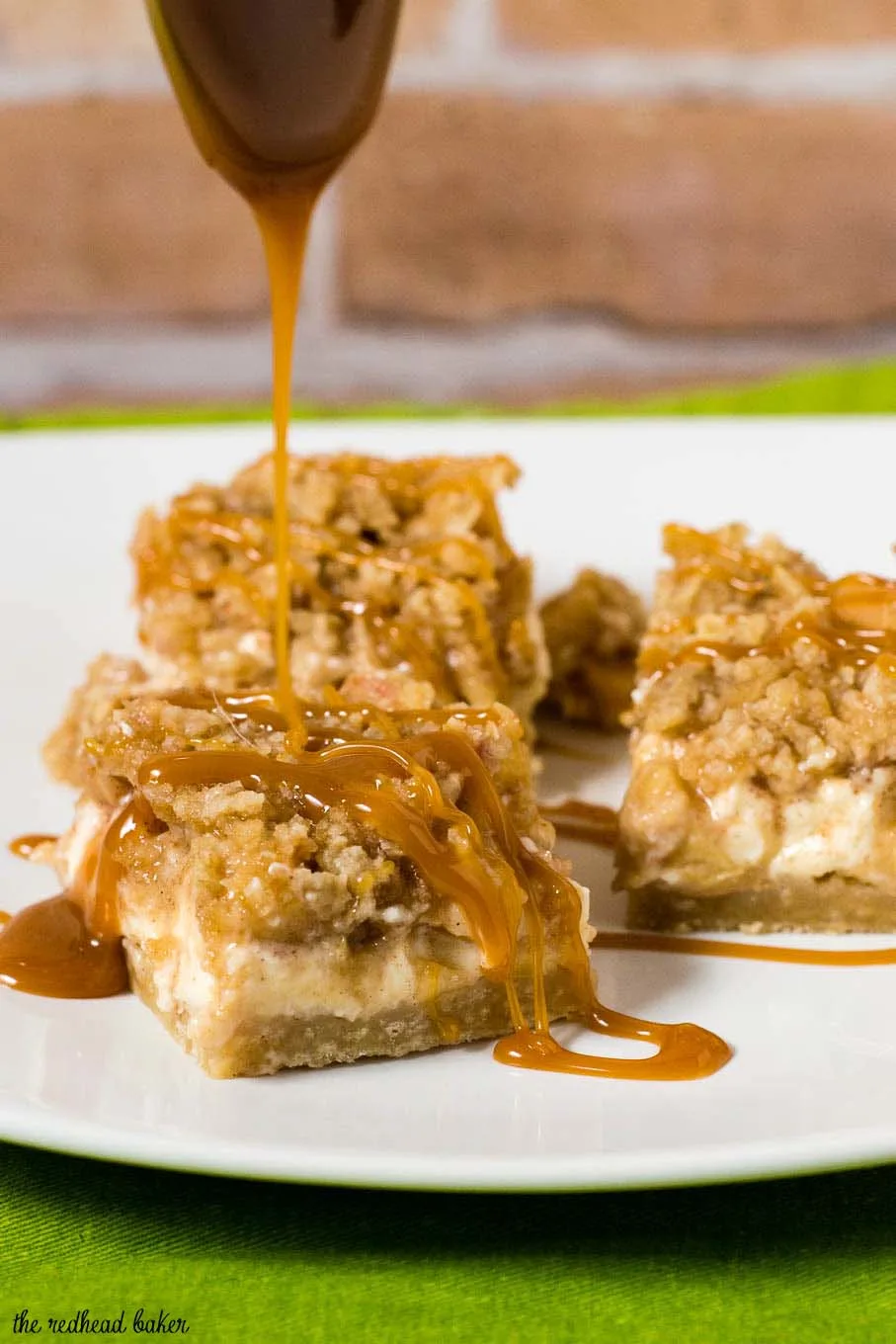 These caramel apple bars pair deliciously with the One Touch Latte'™ vanilla flavor. Enjoy any afternoon, or delight your holiday guests with these decadent squares and a latte made with One Touch Latte'™ after your big meal. Each can will yield about 7 lattes. The One Touch Latte'™ does the job of sweetening, creaming and flavoring all in one.
I love how these bars combine a variety of textures: a crisp cookie crust, a creamy filling, tender apples and a crumbly topping. Once baked, they are best eaten within 3 days. Leftovers, if there are any, should be stored in an airtight container in the refrigerator.
Leave a comment below sharing your favorite way to warm up on a chilly autumn day!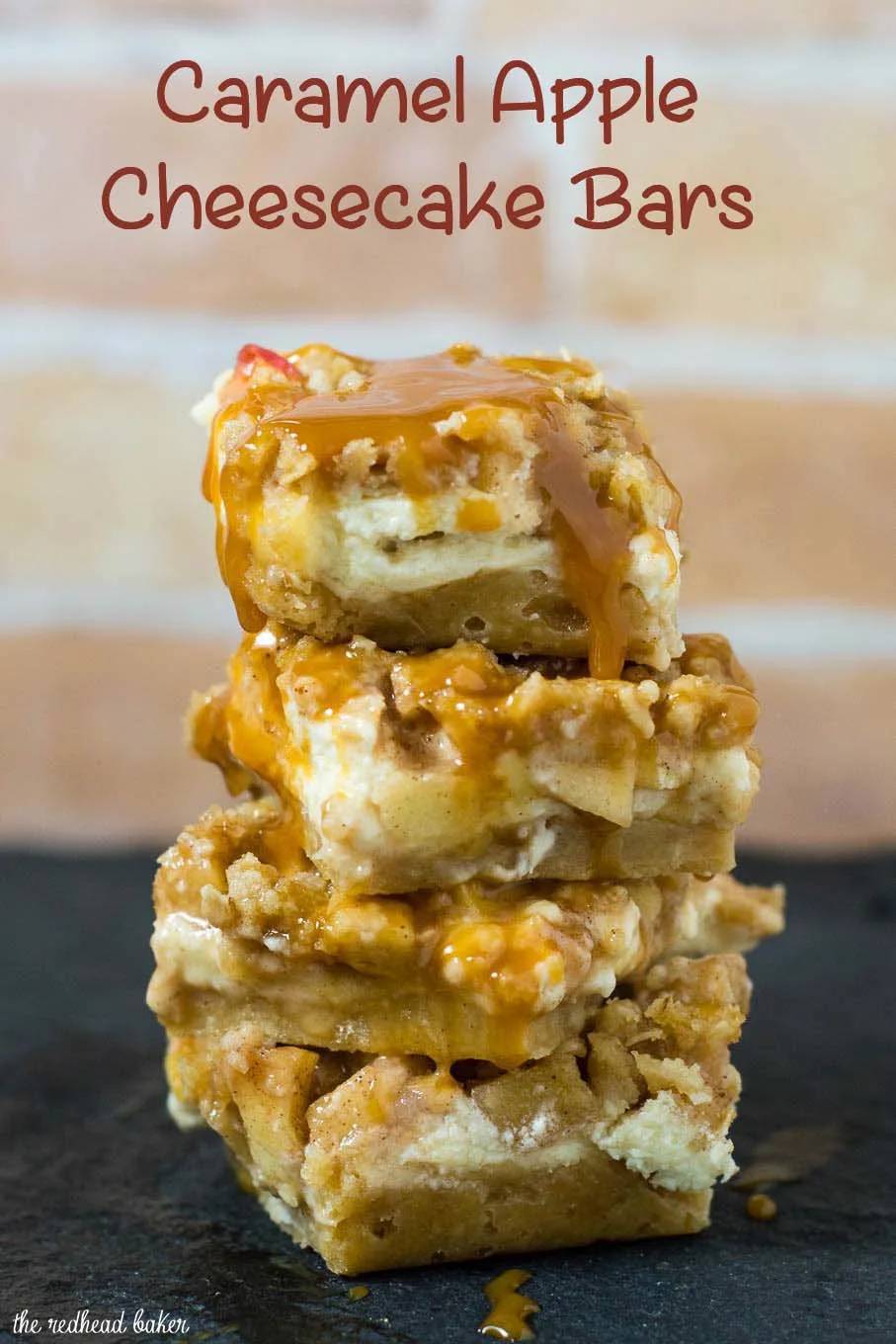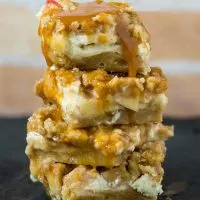 Caramel Apple Cheesecake Bars
Total Time:
1 hour
5 minutes
Ingredients
Crust
1 cup all purpose flour
¼ cup light brown sugar
½ cup unsalted butter, room temperature
Cream Cheese Filling
8 oz cream cheese, room temperature
1 teaspoon vanilla extract
¼ cup sugar
1 large egg
1 teaspoon all purpose flour
Apple Topping
2 small honeycrisp apples, cored and small diced
1 tablespoon sugar
½ teaspoon cinnamon
¼ teaspoon ginger
⅛ teaspoon nutmeg
Steusel Topping
½ cup packed light brown sugar
½ cup all purpose flour
¼ cup old fashioned rolled oats
¼ cup unsalted butter, cold
Caramel Sauce
3 tablespoon unsalted butter
¼ cup light brown sugar
2 tablespoon heavy cream
Pinch salt
Instructions
Preheat oven to 350 degrees F. Line a 9×9 baking pan with foil, leaving two inches of foil to hang over two opposite sides of the pan. Set aside.
In a medium sized bowl combine crust ingredients, flour, brown sugar and butter. Using two forks or your fingers, combine the ingredients until the mixture resembles coarse crumbs.
Press mixture firmly in the bottom of the pan and bake for 12-14 minutes until lightly browned. Remove to a wire rack to cool.
Meanwhile, in a mixing bowl, beat the cream cheese with the sugar until smooth, then beat in the egg, vanilla and flour. Beat until combined. Set aside.
Dice apples and sprinkle with the sugar and spices. Toss until evenly coated. Set aside.
Make streusel by placing all ingredients in a food processor and pulsing until the mixture resembles coarse crumbs. Set aside.
Spread the cream cheese mixture on top of the baked crust, sprinkle on the spiced apples (pressing lightly into the cheesecake filling) and then sprinkle on the oat topping.
Bake at 350 degrees F for 25-30 minutes, until center is set. Once fully baked, remove to a wire rack to cool.
Place the butter in a deep microwave-safe bowl and heat on high for 30 seconds. Add the brown sugar, cream, and salt; stir to combine, and microwave on high 30 seconds more. Carefully remove, stir, and microwave on high another 15 seconds. Stir until smooth. Set aside to cool slightly.
Drizzle the caramel sauce over top of the slightly cooled cheesecake bars and place in refrigerator to chill for approximately 2 hours, or overnight.
Use the foil overhang to lift the bars out of the pan. Peel away the foil from the edges and use a sharp knife to cut into 16 bars and serve.
Adapted from Crazy for Crust