October is National Pizza Month, but this spinach, pancetta and fontina pizza can be enjoyed all year round.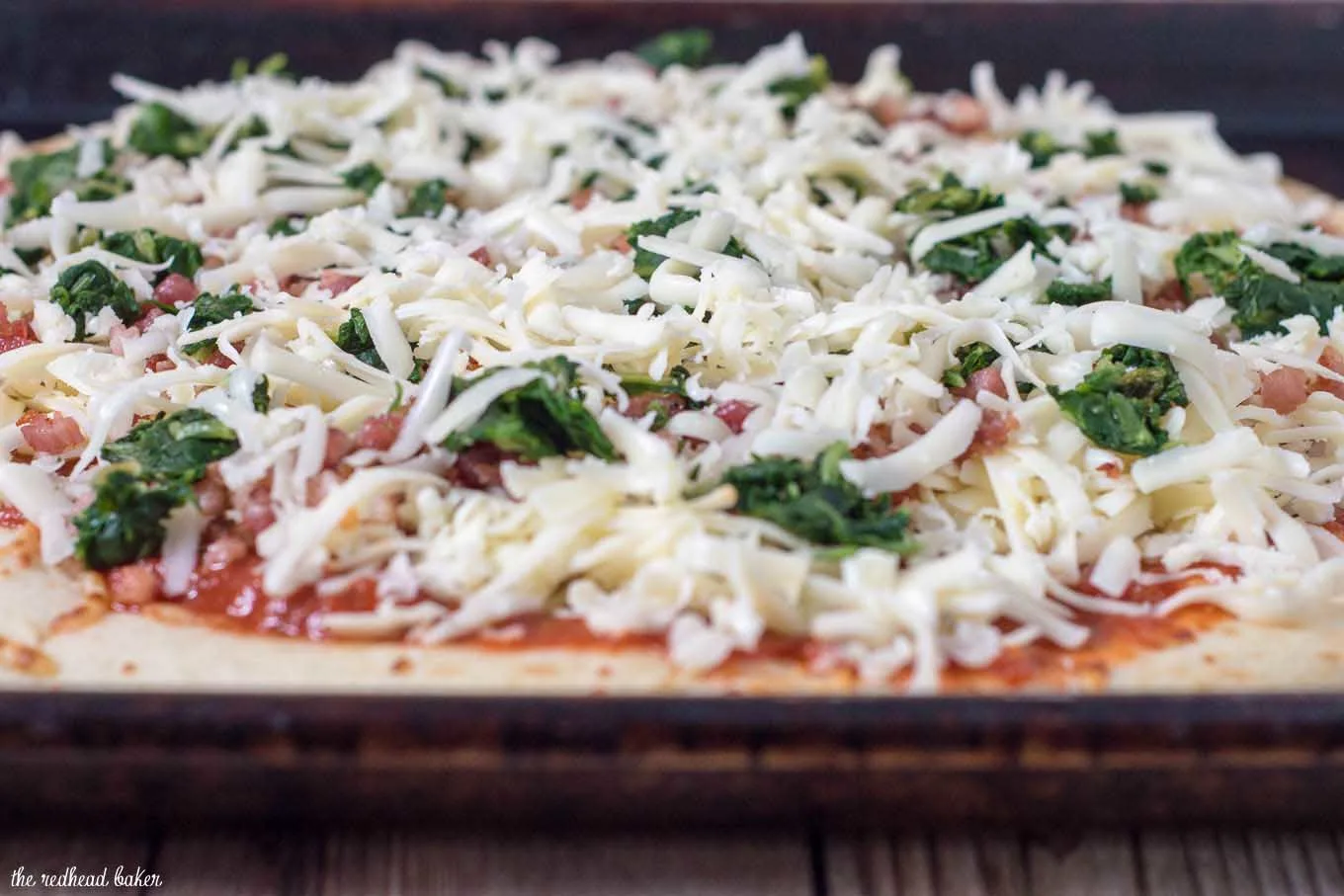 The month of October celebrates one of my favorite foods: pizza. So, I thought it would be fun to get some of my blogging friends together and share a variety of pizza recipes.
Our family enjoys pizza about once a week. Sometimes we order in, but I love making a good homemade pizza. Traditional, white, grilled, naan, there's so many varieties, it never gets old.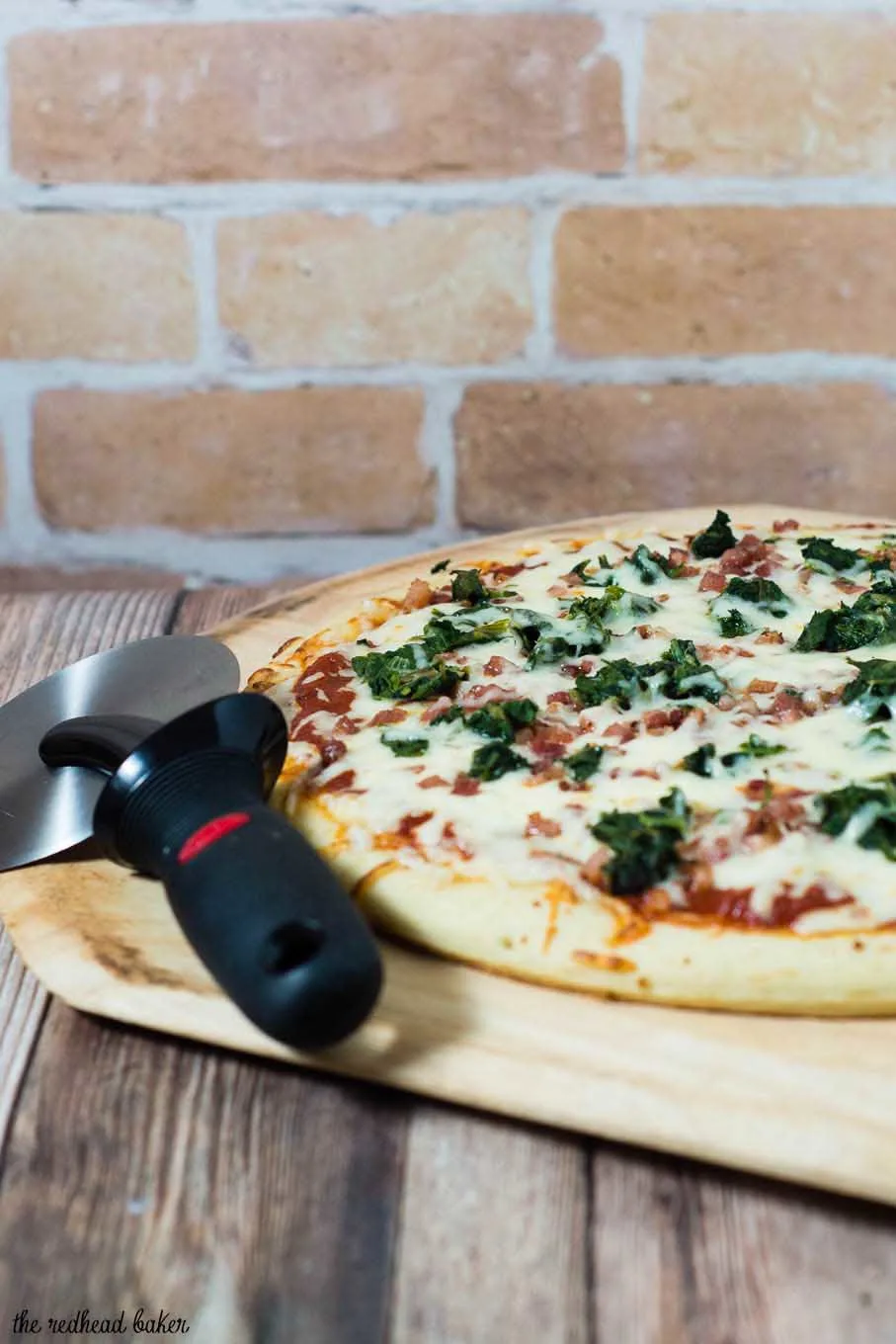 It's also a great way to get kids involved in cooking, too. Even very young kids can sprinkle on the cheese and place pieces of pepperoni (though if your child is a cheeseaholic like mine, make sure and have extra for when said child eventually shoves a handful of shredded cheese in his mouth instead of sprinkling it onto the pizza). But adults should always handle placing the pizza in the oven and retrieving it when it's done.
Pizza is also a great way to get kids to eat some veggies. My son refuses to eat spinach when it's on his dinner plate. But when it's on a pizza? No questions asked, into his mouth it goes.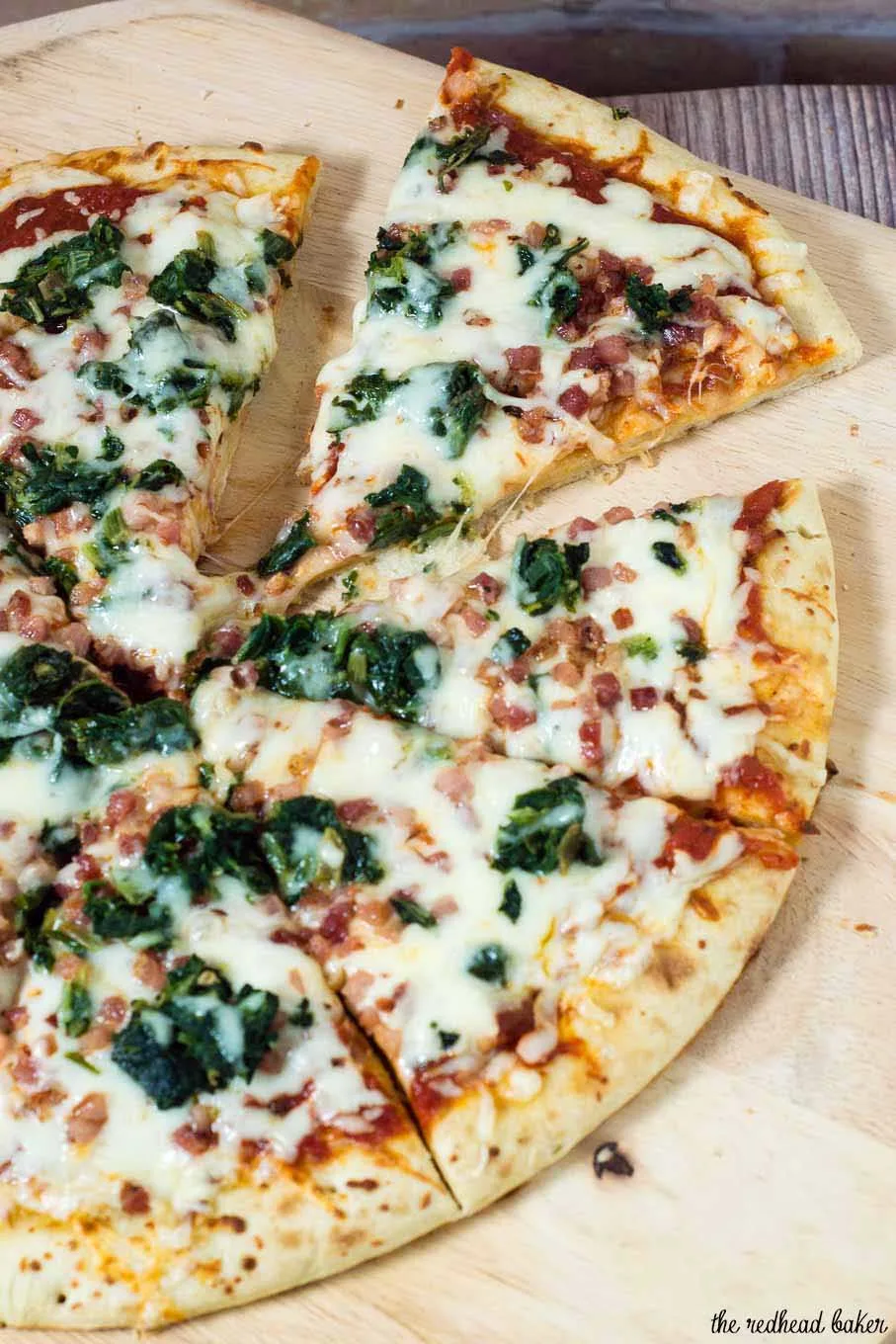 I love using making fontina pizza because I love the flavor of the cheese. It's buttery and just slightly nutty, which is a great complement to the spinach on this pizza. It's a cow's milk cheese, just like mozzarella, and it melts just as well. I've never seen a bag of pre-shredded fontina like I do mozzarella, so you'll have to look in your grocer's cheese case for a wedge and grate it yourself.
Most grocers also sell packages of pre-diced pancetta (similar to bacon, but it's not smoked), but if you can't find it, ask for the ends of pancetta at the deli counter, and dice it at home.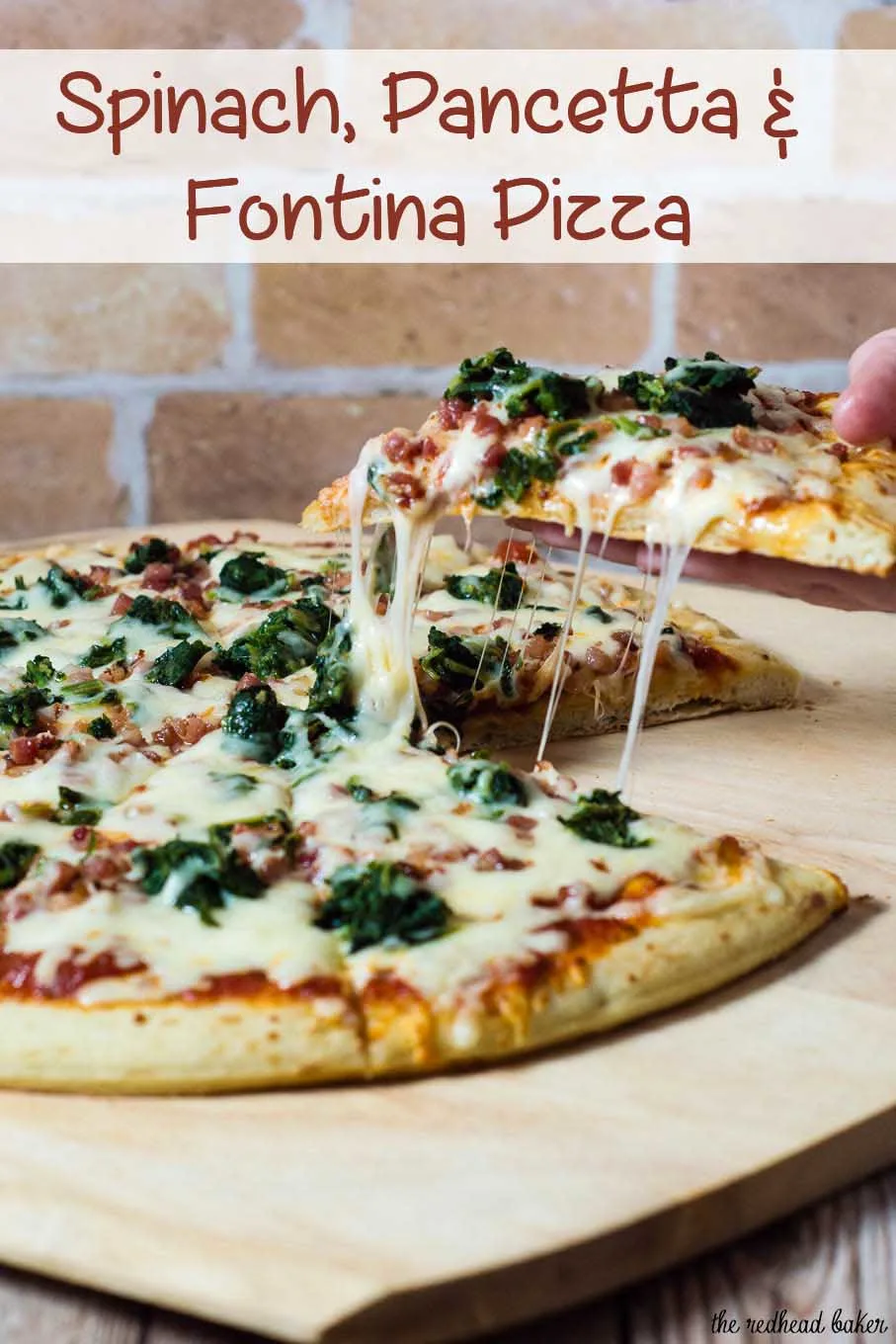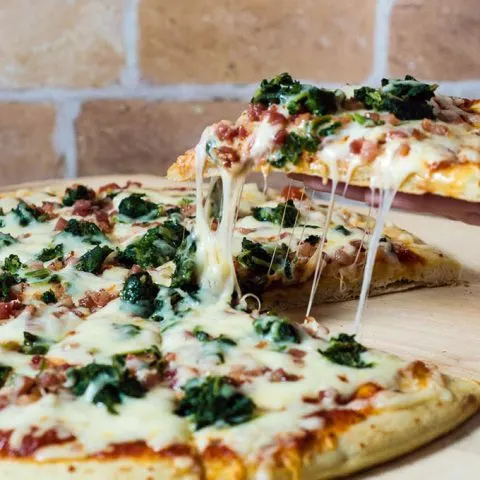 Spinach, Pancetta and Fontina Pizza
Yield:
4 servings (2 slices)
*If using a store-bought pre-baked crust instead of uncooked pizza dough, follow the instructions on the package for baking temperature and time.
Ingredients
1 lb pizza dough, store-bought* or homemade
½ cup pizza sauce, store-bought or homemade
6 cups shredded fontina cheese
4 oz chopped spinach, cooked and squeezed of excess water
4 oz diced pancetta, cooked and drained of excess fat
Instructions
Preheat oven and pizza stone (or baking sheet) in 450-degree F oven.
Sprinkle a pizza peel or large square of parchment paper with cornmeal or semolina. Gently stretch the pizza dough to a circle 14 inches in diameter.
Spread the pizza sauce over the dough. Top with ⅔ of the fontina cheese, then sprinkle on the cooked pancetta and chopped spinach. Sprinkle the remaining fontina on top.
Transfer the pizza from the peel to the preheated pizza stone or baking sheet and bake for 16 to 20 minutes, until the crust is golden brown and the cheese is melted and bubbly.
Let rest for 10 minutes, then use a pizza cutter to slice into 8 pieces and serve.
Check out more pizza recipes for National Pizza Month!