Double chocolate muffins pack a double punch — rich semisweet chocolate in the muffin batter, and white chocolate chips mixed in. Are they for breakfast or dessert? You decide!
Continuing with Choctoberfest 2016, today I'm sharing a favorite muffin recipe, Double Chocolate Muffins. The muffins are flavored with semisweet chocolate, and have white chocolate chips mixed in.
Have you entered the Choctoberfest giveaway yet? If not, the giveaway widget is just above today's recipe, and you can check out Monday's post to read all about the prize package. And don't forget to skip down to the end of the post to see links to all of today's #Choctoberfest posts!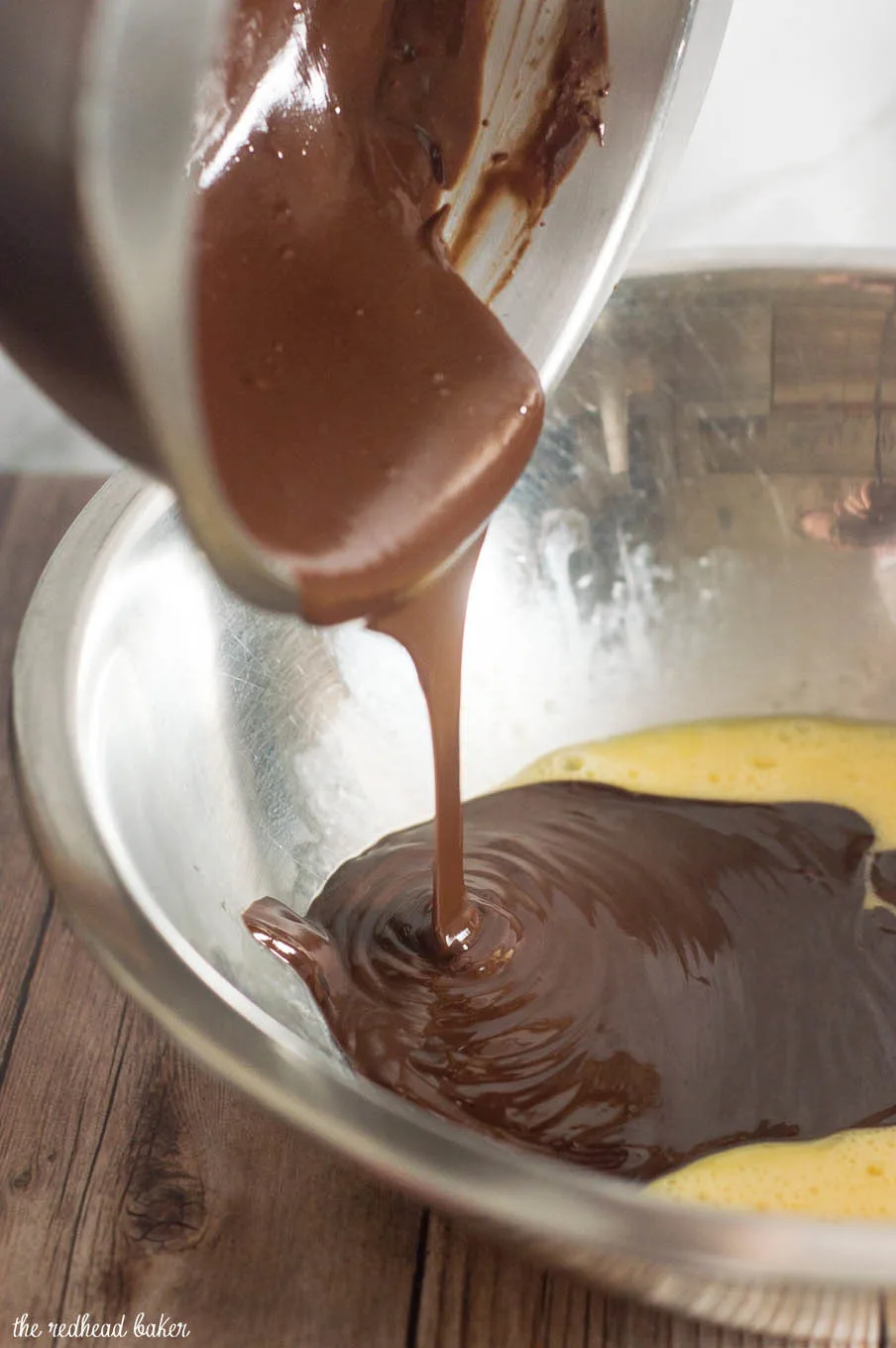 Some muffin recipes are really just cupcakes in disguise: they are sweet and light in texture. These are actually muffins: rich chocolate flavor without being too sweet, and they are dense like muffins are supposed to be. If you do prefer a sweeter muffin, you can increase the sugar to ¾ of a cup. I've been making these muffins for years, and they're still one of my favorites.
If you prefer, you can use semisweet or milk chocolate chips in place of the white chocolate chips. You can even use a cup each of white and milk or semisweet chocolate chips. Or semisweet chocolate chips and peanut butter chips.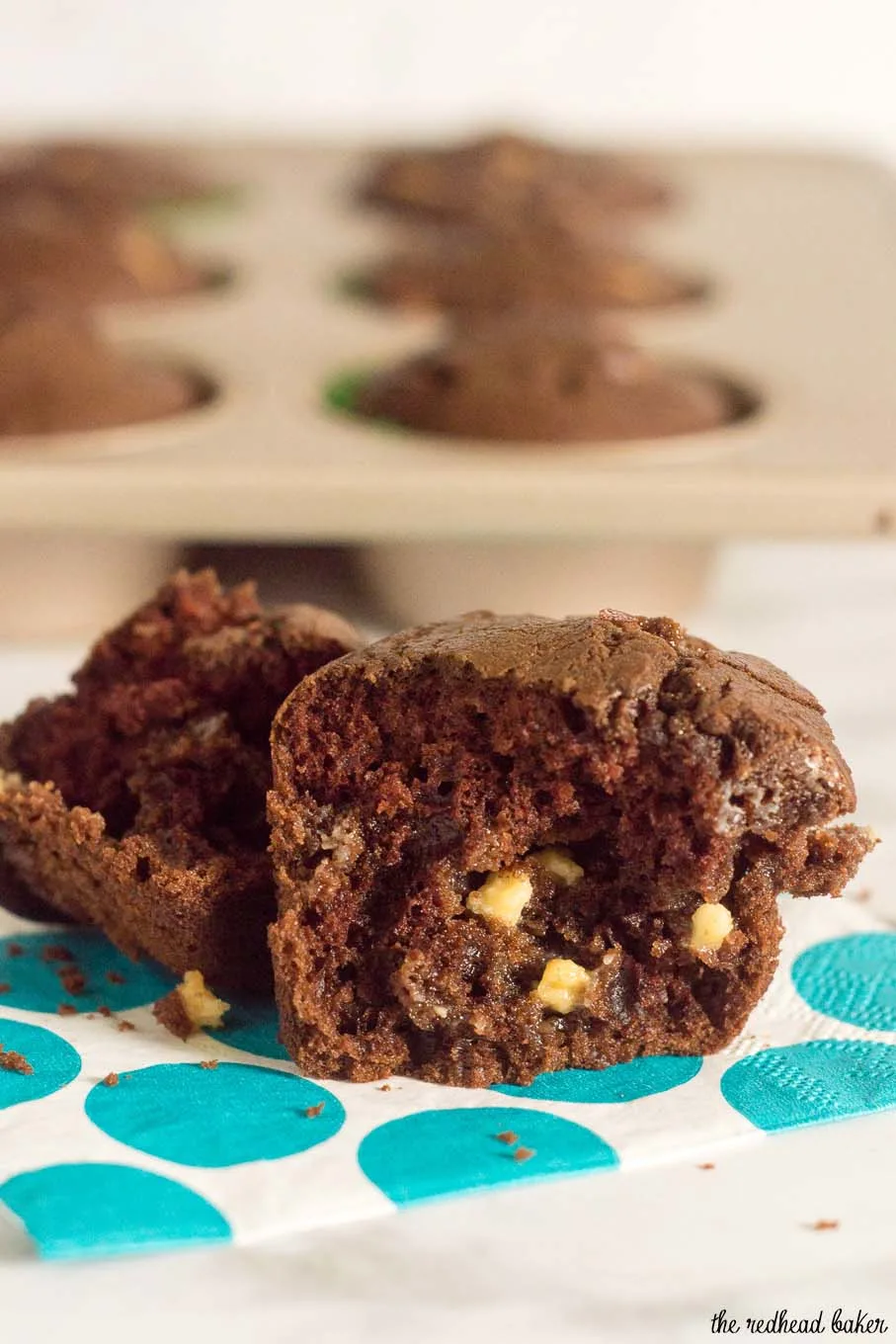 Because these muffins are dark in color to begin with, it can be difficult to tell by sight alone when they are finished baking, so I highly recommend the toothpick test when baking these. Depending on how big you make your muffins, the recipe can yield 12 to 15 muffins.
I also love that these muffins freeze so well. You can make a whole batch, pop them in the freezer, and pull one out whenever a chocolate craving hits.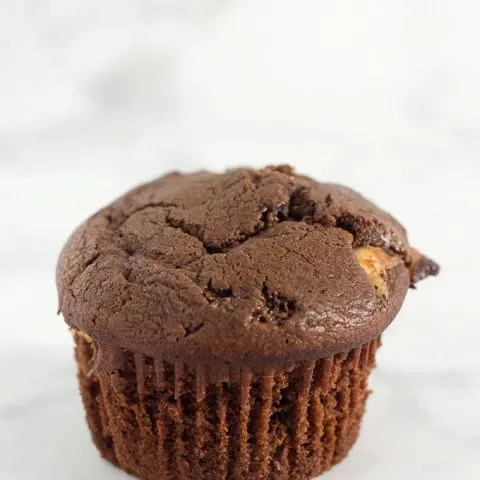 Double Chocolate Muffins
Ingredients
6 oz semisweet chocolate, chopped
⅓ cup tunsalted butter, 5 tablespoon + 1 tsp
¾ cup whole milk
½ cup sugar
½ cup sour cream, 4 oz
2 large eggs
1 ½ teaspoon vanilla extract
1 ⅔ cups unbleached all-purpose flour, 7 oz
1 teaspoon baking soda
½ teaspoon salt
1 cup white chocolate chips
Instructions
Preheat the oven to 400 degrees F. Line 12 muffin cups with papers.
In a small saucepan over low heat, carefully melt the semisweet chocolate together with the butter, stirring occasionally until completely melted and smooth. Let stand until cooled, about 10 minutes.
In a medium mixing bowl, lightly beat the eggs. Add the chocolate-butter mixture, sour cream, milk, sugar and vanilla, and whisk until blended well.
In a large bowl, stir together flour, soda, and salt. Make a hole in the center of the dry ingredients, pour in the chocolate mixture, and stir until just combined. There will be lumps. Stir in the white chocolate chips. Spoon the batter into the lined muffin cups, filling each well nearly full.
Bake at least 18 minutes or until a toothpick inserted in the center of a muffin comes out clean. Remove muffin tin from oven and let stand at least 5 minutes, before removing the muffins and letting them cool on a wire rack. Serve warm or cooled; can be frozen as well.
Recipe by The Redhead Baker