Sweet figs contrast with richly-flavored caramelized onions and salty pancetta on this delicious homemade pizza!
Figs are one of those ingredients that I grab when I see them at the grocery store, and figure out what I'm going to do with them later.
I saw them at Trader Joe's while I was on The Quest for the Elusive Red Chile Pepper (read more on that this coming Wednesday): a pound of fresh black figs. I didn't find my chile peppers, but I bought those figs.
Most recipes for figs involve roasting them, wrapping them in pancetta, or eating them with goat cheese or honey. Last year, I made a cake, and a salad with figs. They were delicious (especially the salad!), but this time, I wanted to do something different, so I put them on a pizza.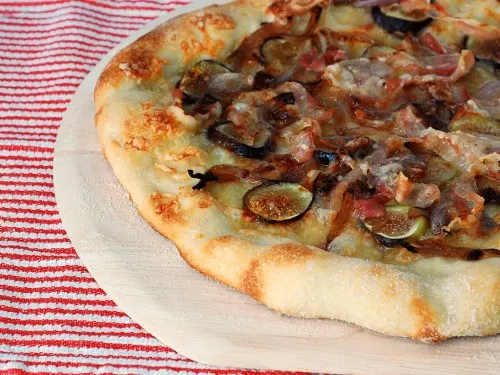 I decided to pair them with pancetta, since everything is better with pancetta. But I also wanted something else savory to balance the sweetness of the figs. I chose to caramelize a red onion. Why red? Because that's what I had in my cupboard.
At the last minute, I added some chopped fresh rosemary. Ever since I tried the three-cheese, rosemary and pepperoni pizza from Smells Like Home, I've believed that every pizza should include rosemary. Did I mention I like rosemary?
Dave declared the results delicious, and I agreed. Liam? Not interested in tasting figs. He scraped everything off his slice of pizza, and pretty much just ate baked pizza dough. Oh well. More pizza for us.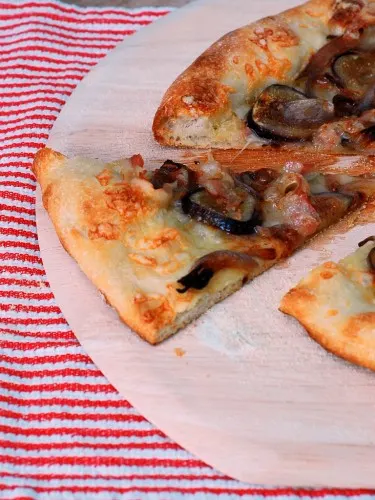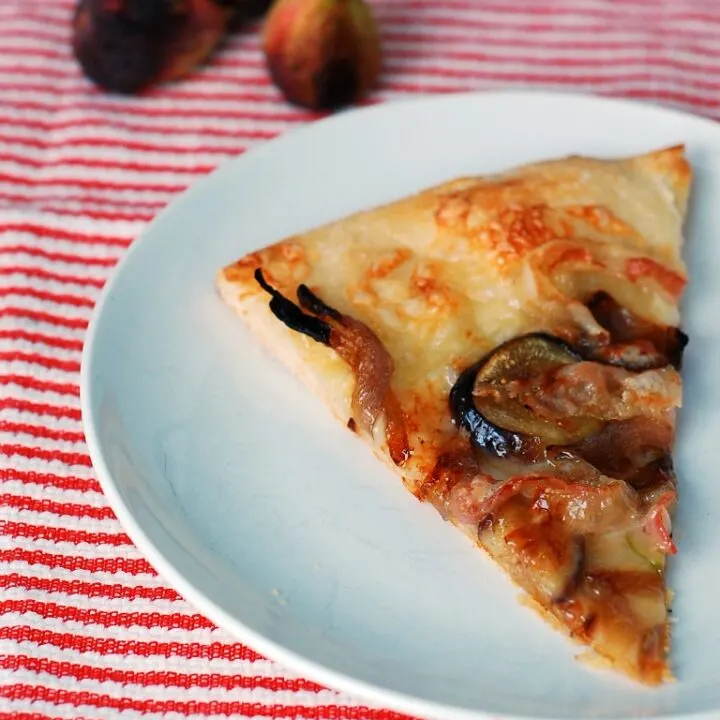 Fig, Red Onion and Pancetta Pizza
Ingredients
1 lb pizza dough, store-bought or homemade
1 inch medium red onion, cut into ¼- vertical slices
2 tablespoon unsalted butter
4 oz shredded fontina cheese
6 inch figs, stems removed and cut into ¼- vertical slices
2 ounces thinly-sliced pancetta
1 tablespoon chopped fresh rosemary
Instructions
Melt the butter in a skillet over medium-low heat. Add the onions and cook, stirring every 5 to 10 minutes, for 45 minutes, until onions are soft and caramelized. This can be done up to a day ahead of time. Store in the refrigerator until ready to use.
Roll the pizza dough out to a 12-inch circle. Place on a pizza peel generously dusted with cornmeal.
Sprinkle ¾ of the fontina over the pizza dough, then arrange the figs, pancetta slices and rosemary over top. Sprinkle the remaining cheese over top.