Is there anything better on a chilly winter day than a bowl of hearty French Onion Soup topped with melty cheese?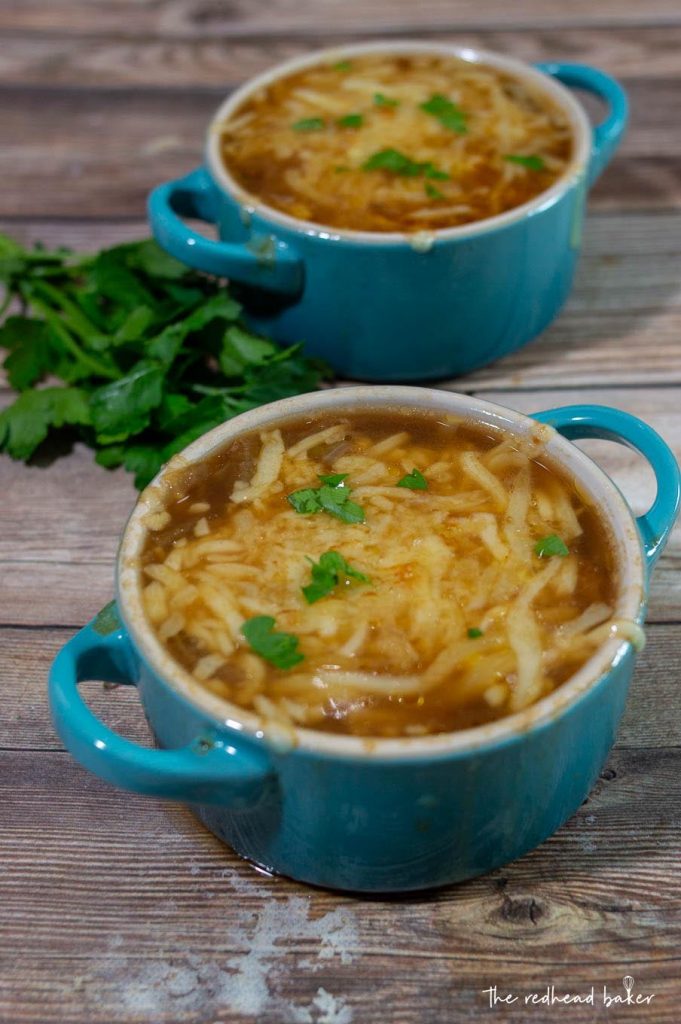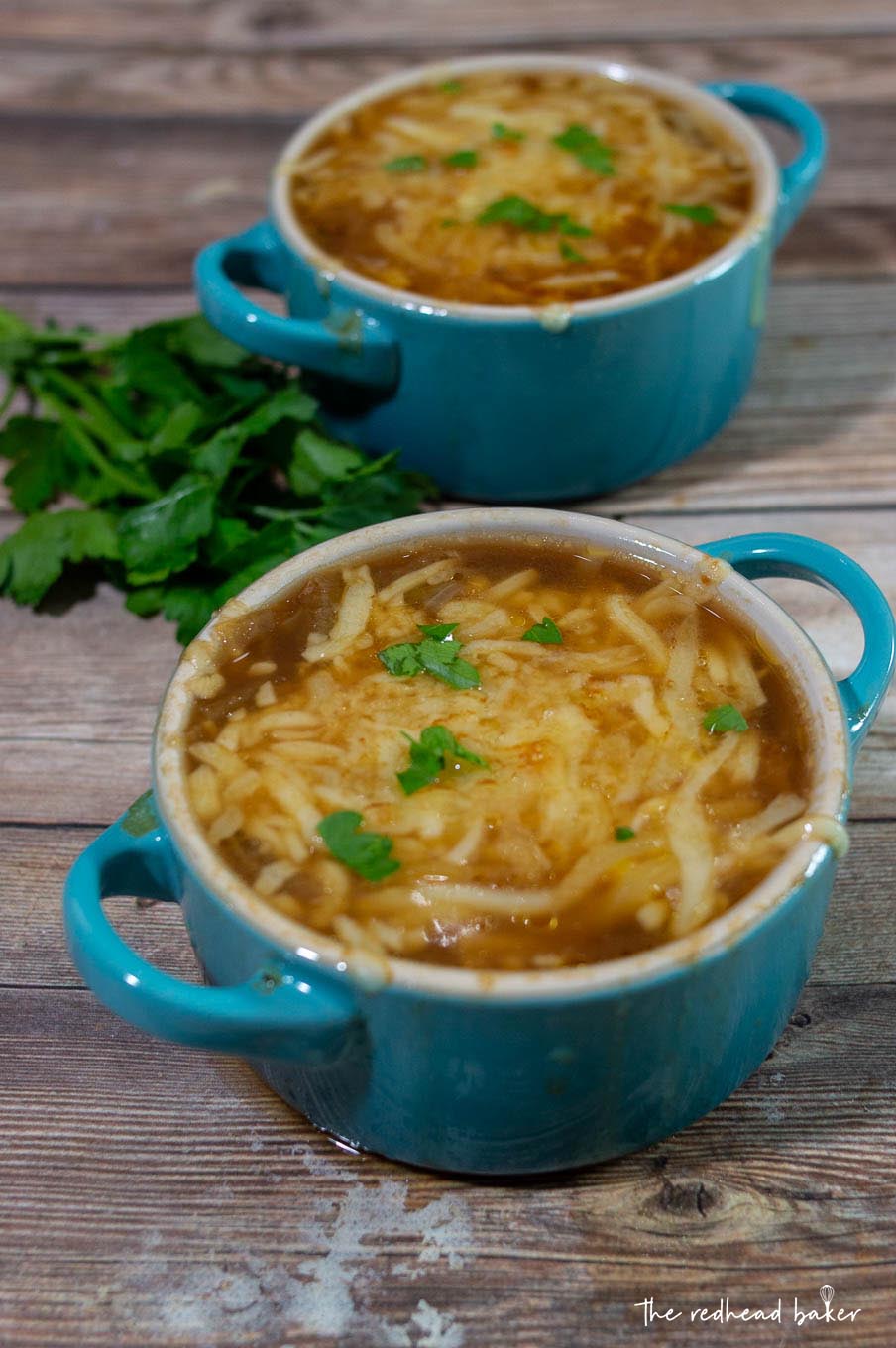 I have a love/hate relationship with winter. I hate being cold. I hate walking the dogs on icy sidewalks. I hate driving in the snow. I hate how little daylight there is in winter.
But at the same time, I'd hate to live in a place that didn't have winter. I love being home on a snow day, watching the flakes fall with a cup of hot cocoa, and a pot of soup simmering on the stove.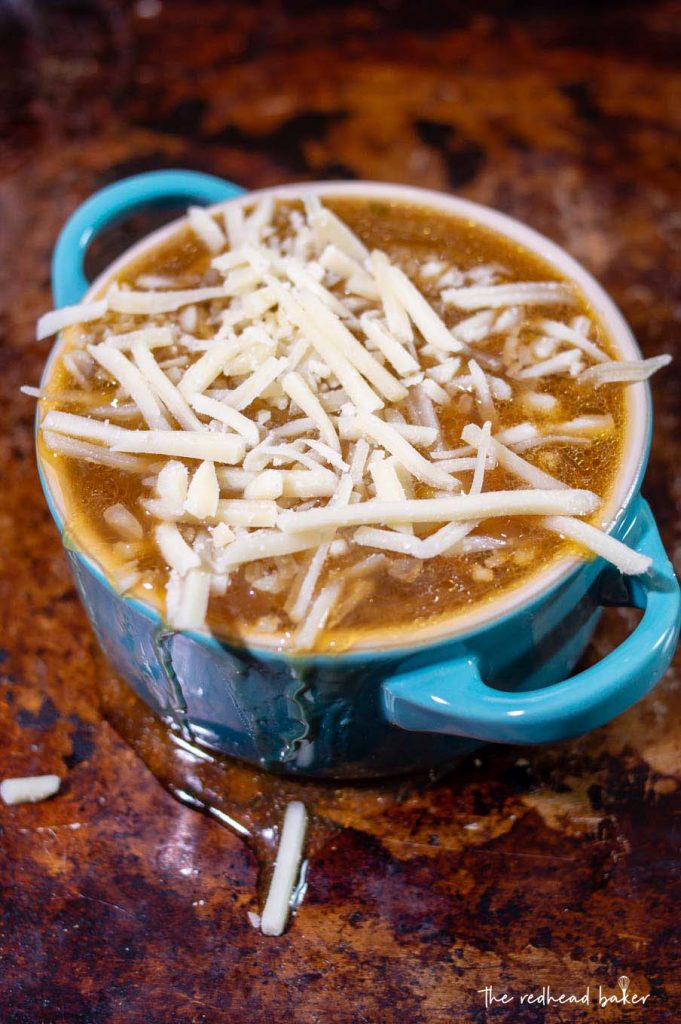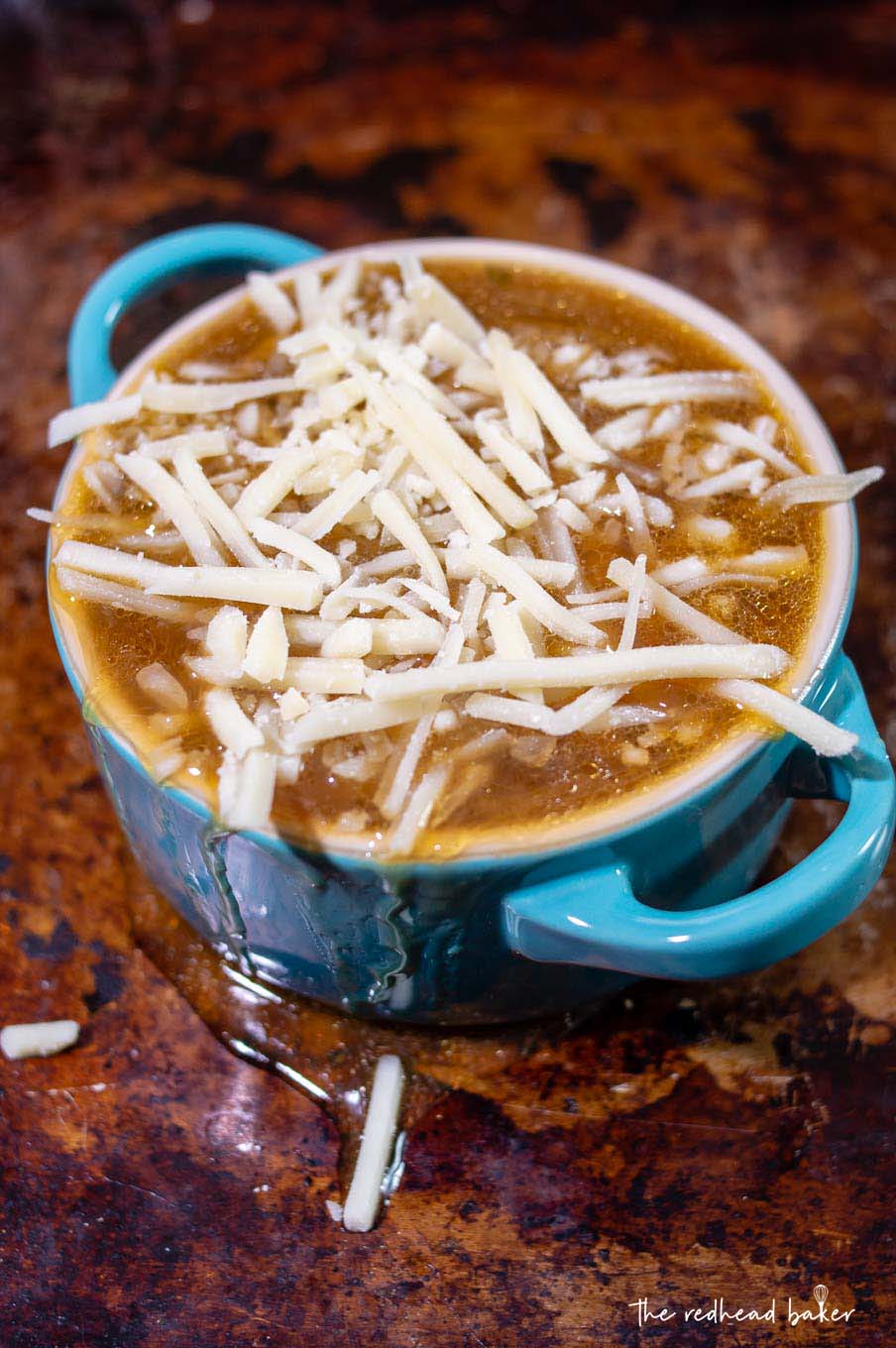 When my brother and I would come inside from playing in the snow, my parents would make us each a grilled cheese sandwich and a bowl of soup: chicken noodle for me; creamy tomato for my brother.
I'm picky when it comes to soup. I usually prefer creamy soup, unless it's tomato soup. Chicken noodle is one exception; French onion soup is the other. Maybe it's the layer of gooey, melty cheese on top.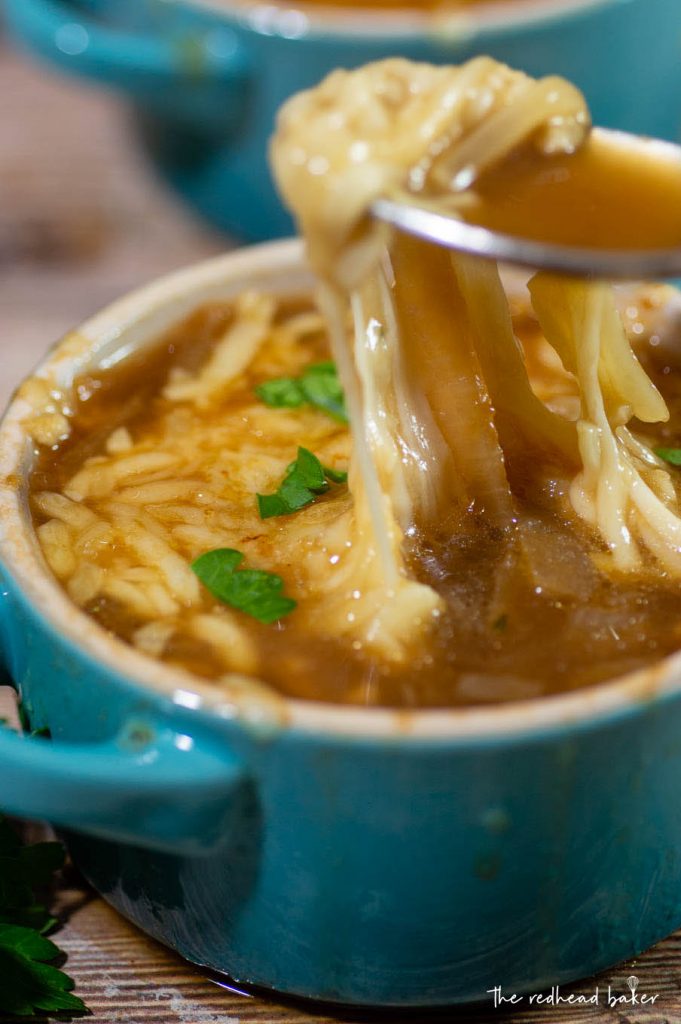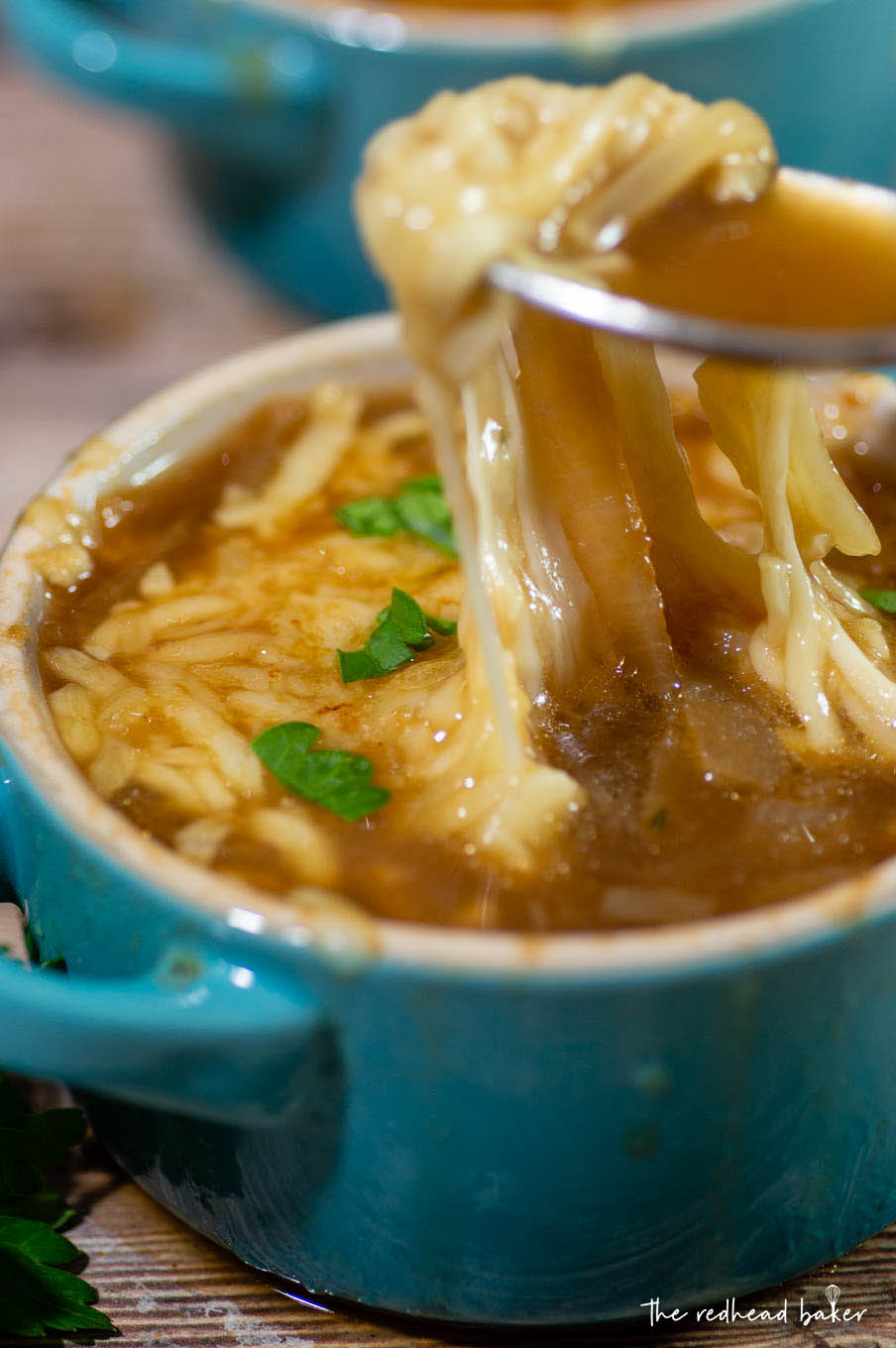 Good French onion soup is based on well-caramelized onions. Caramelizing onions (breaking down the sugars in the onions to produce a sweeter flavor) takes time; you can't rush the process. Some try to cheat by adding sugar to the onions as they cook, but I don't like the flavor that gives to the soup overall.
This recipe can be made ahead of time, through Step 7, then cooled to room temperature and refrigerated for up to 3 days. Reheat the soup to about simmering before proceeding with Step 8.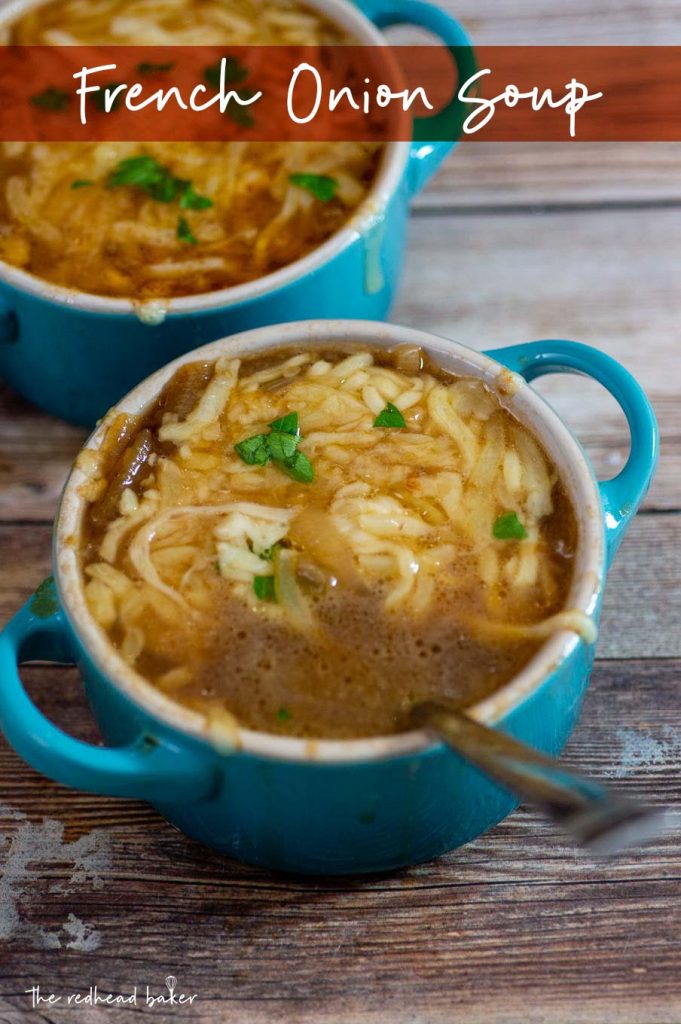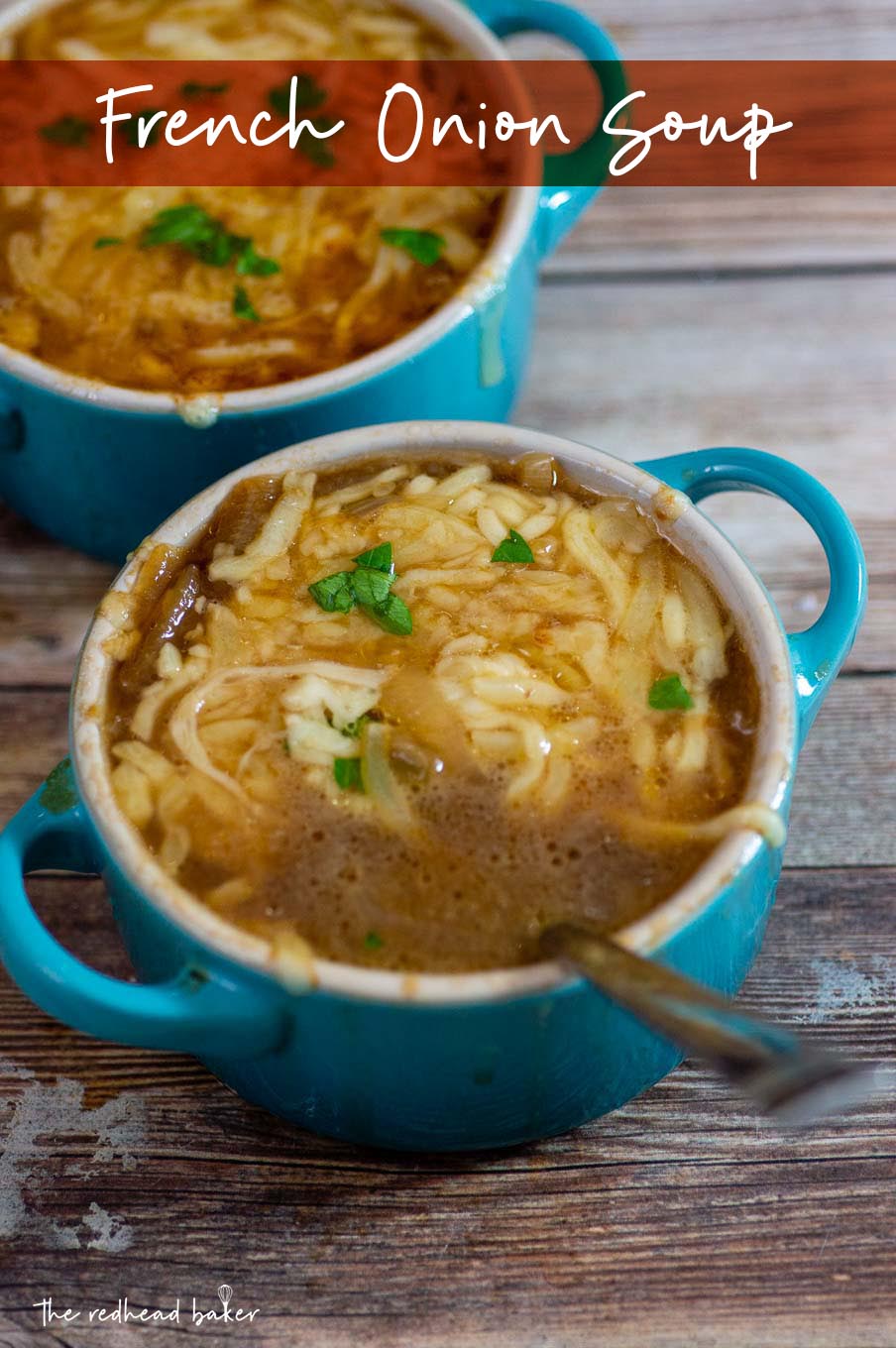 Products from Amazon.com
‹
›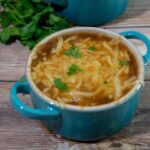 Classic French Onion Soup
Is there anything better on a chilly winter day than a bowl of hearty French Onion Soup topped with melty cheese?
Keyword:
classic french onion soup recipe, comfort food soup recipe, comforting soup recipe, how to make classic french onion soup
Ingredients
3

tbsp

unsalted butter

plus more for bread

3

large onions

(about 2 pounds), halved lengthwise and thinly sliced crosswise

Kosher salt and freshly ground black pepper

1/4

cup

brandy

1

quart

beef stock

4

slices

hearty white bread

thick-sliced preferred, cut to fit bowls

1

bay leaf

1

thyme sprig

2

juniper berries

or half a sprig of fresh rosemary

2

flat-leaf parsley sprigs

2

cups

shredded Gruyère cheese (about 6 ounces)
Instructions
Lay a square of cheesecloth (about 4 inches by 4 inches) on a flat surface. Place the bay leaf, thyme, juniper berries and parsley sprigs in the center, then draw up the four corners and tie with butcher's twine to form a bouquet garni. Set aside.

Melt the butter in a large enameled cast-iron Dutch oven. Add the onions and a pinch of salt, cover and cook over medium heat, stirring occasionally, until the onions soften, about 10 minutes.

Uncover and cook over medium-low heat, stirring frequently, until the onions are caramelized, about 40 minutes.

Stir in the brandy, scraping the bottom of the Dutch oven as you pour the brandy in.

Add the stock. Submerge the bouquet garni and increase the heat to high; bring the soup to a boil. Cover and simmer over low heat until the soup has a deep flavor, about 30 minutes.

While the soup is simmering, heat the oven to 350°. Butter the bread on both sides and place on a parchment-lined baking sheet. Toast the bread for 15 minutes, turning the slices halfway through, until golden and crisp but not dried out.

Squeeze the bouquet garni of excess liquid; discard. Season the soup with salt and pepper.

Ladle the soup into 4 deep ovenproof bowls and sprinkle with half of the cheese. Place a toasted bread sliced in each bowl and sprinkle on the remaining cheese. Place the bowls on a baking sheet, and place the baking sheet under a broiler for 2 to 3 minutes, or until the cheese is bubbling. Serve hot.
Recipe Notes
Make ahead: The recipe can be prepared through Step 7 up to 3 days ahead. Bring to room temperature, then transfer to an airtight container and store in the refrigerator. Simmer soup before continuing with the last step.
Nutrition Facts
Classic French Onion Soup
Amount Per Serving (1 serving)
Calories 513
Calories from Fat 279
% Daily Value*
Total Fat 31g 48%
Cholesterol 95mg 32%
Sodium 817mg 34%
Potassium 640mg 18%
Total Carbohydrates 23g 8%
Protein 27g 54%
* Percent Daily Values are based on a 2000 calorie diet.
Adapted from Food & Wine
More Recipes for National Soup Swap Day