Garden pasta salad combines pasta with fresh garden vegetables, basil, and mozzarella cheese. Serve as a side salad, or add chicken or shrimp to make it a main dish.
Our weather has not been able to make up its mind. We had an official heat wave in May (three consecutive days of temperatures at or above 90 degrees). Last week, the first full week of June, it barely reached 60 degrees. I was at the beach in Stone Harbor, NJ, and while I had a great time, it was FREEZING!
But now temperatures are feeling more normal for the time of year, and it's time for recipes that are lighter, and don't heat up the kitchen. That's what I love about this garden pasta salad.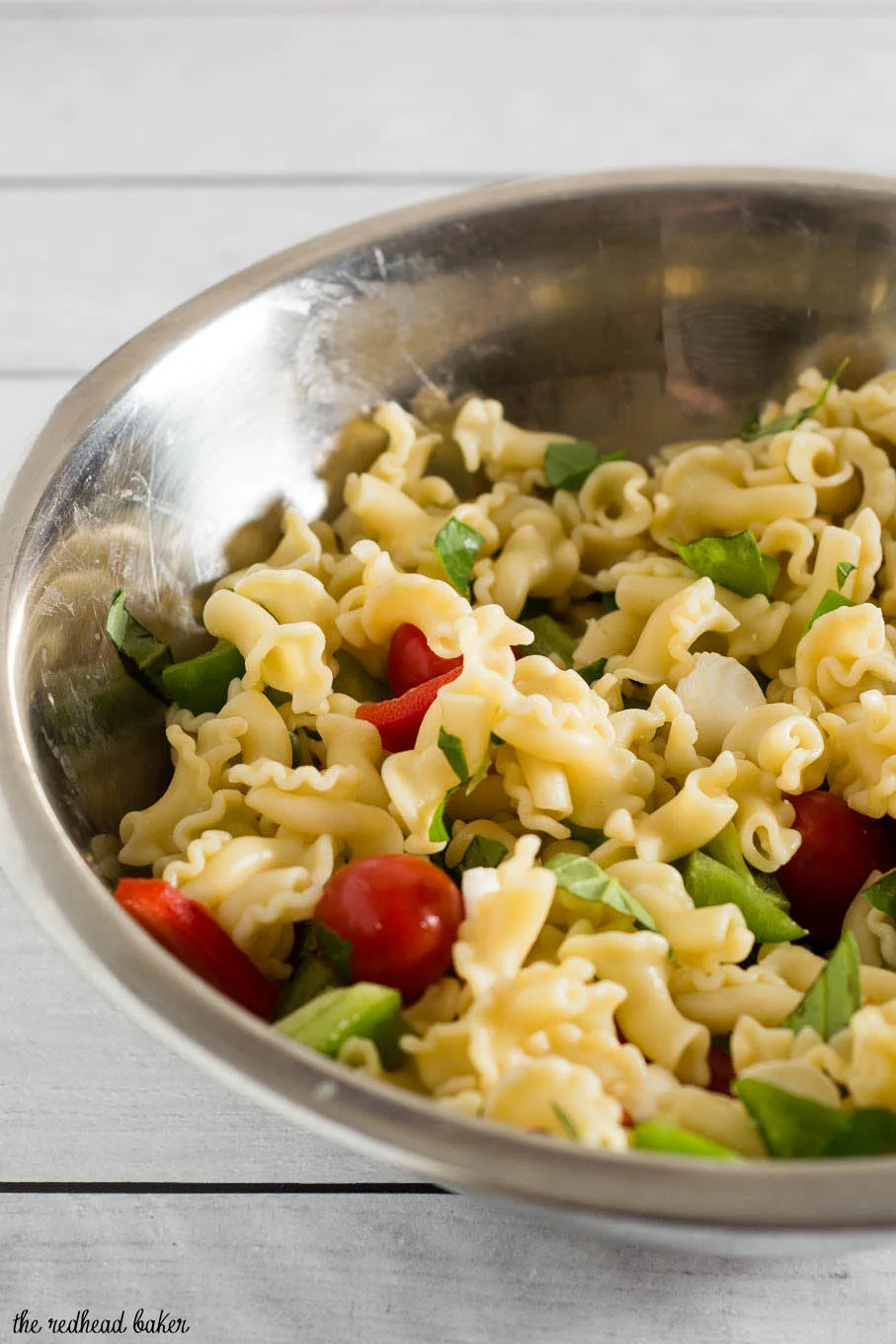 It's light in flavor, and combines all of my favorite summer garden vegetables. If you wanted to add zucchini, or any other vegetable you might grow at your own garden, well, the more, the merrier!
Then there's the basil. If you have a lot of basil to use up, make this recipe. It uses almost a whole cup. Half a cup goes into the salad, while a quarter of a cup goes into the vinaigrette.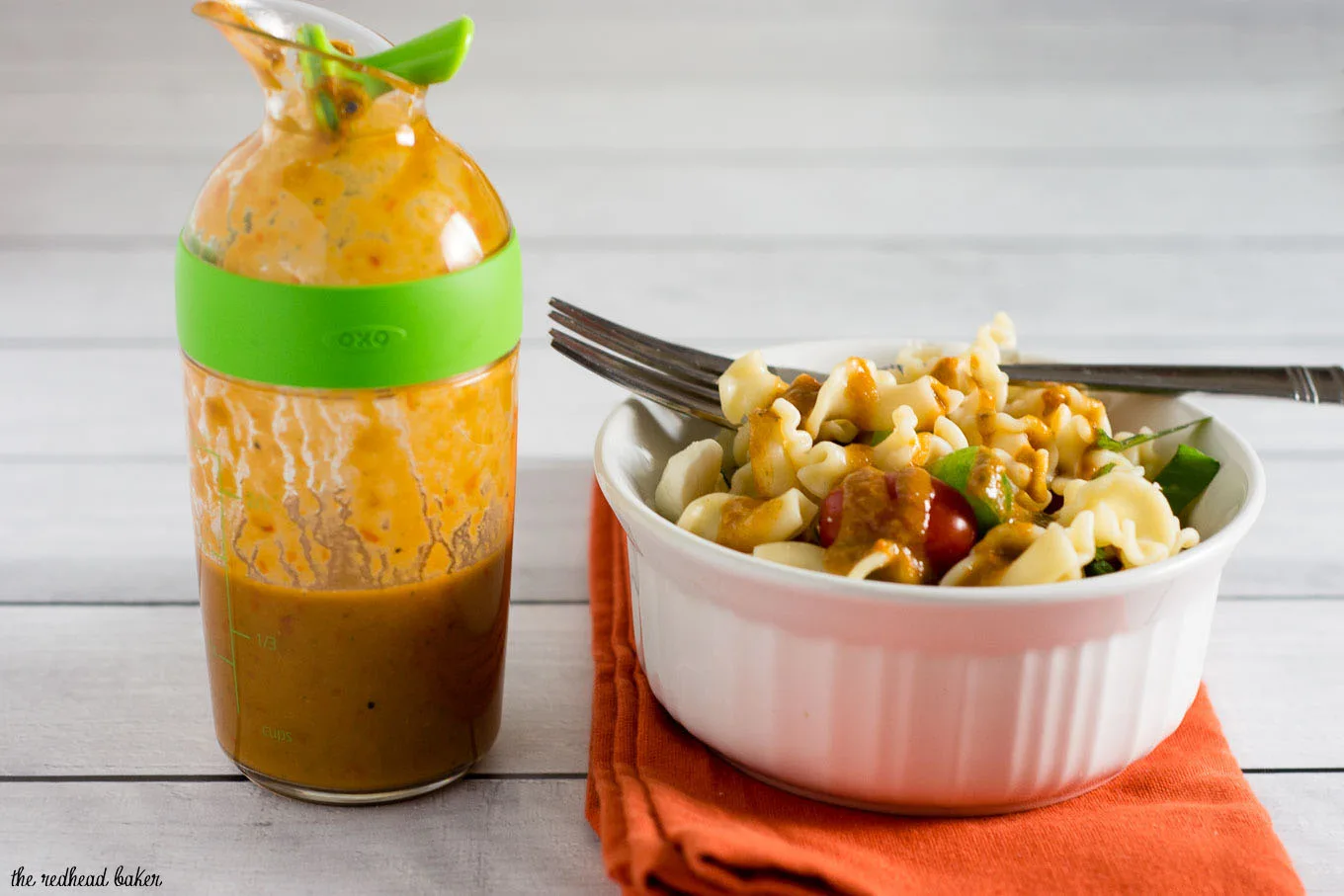 Since this garden pasta salad can be eaten room temperature, or cold, it makes a delicious cookout side dish. If you want to make this salad a little more filling, add sauteed chicken breast or shrimp, and you've got a main course salad.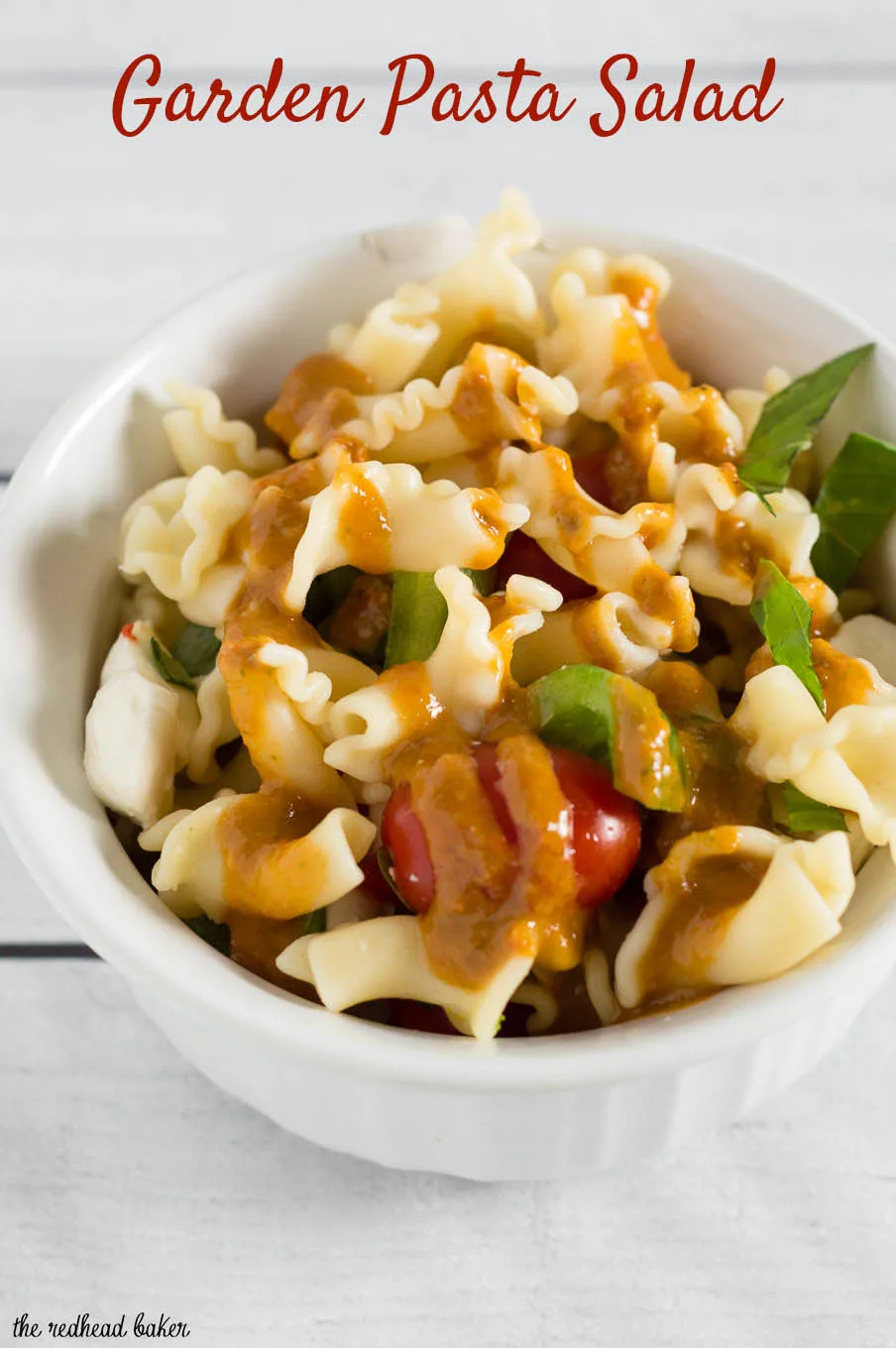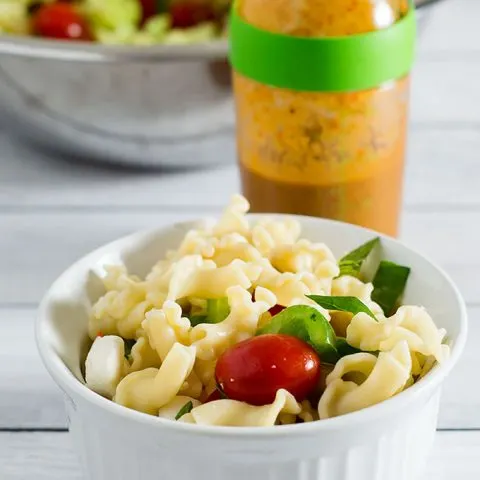 Garden Pasta Salad
Ingredients
For the vinaigrette:
2 cloves garlic
½ cup grape tomatoes
3 tablespoon red wine vinegar
¼ cup fresh basil
⅓ cup olive oil
Salt and pepper
For the pasta salad:
12 oz campanelle or fusili pasta
1 cup grape tomatoes
½ green bell pepper, chopped
½ red bell pepper, chopped
½ cup basil, chiffonade
1 cup mini mozzarella balls, quartered
Sauteed chicken or shrimp, optional, for main course salad
Instructions
Make the vinaigrette:
Place about a cup of water in a small saucepan and bring to a boil. Add the garlic cloves and cook at a boil for 2 minutes.
Remove the garlic cloves from the water with a slotted spoon. Place the tomatoes, garlic cloves, red wine vinegar, and basil in a blender. Puree until fully blended.
While the blender is running, slowly stream the olive oil into the blender. Once fully emulsified, season to taste with salt and pepper.
Pour the vinaigrette into a dispenser and refrigerate while you make the salad. Vinaigrette can be made up to a day ahead of time.
Make the salad:
Cook the pasta according to package directions for al dente. Drain and rinse with cold water. Place in a large mixing bowl.
Add the tomatoes, chopped bell pepper, mozzarella, basil, and chicken or shrimp (if using). Toss to mix.
Divide the salad into bowls and dress with the tomato vinaigrette. Serve.
You might also like: