This tutorial shows you how to use frosting to turn your cupcakes into rose cupcakes using buttercream frosting and a few piping tools.
As I complained in my last blog post, flower prices shoot up around Valentine's Day. I mean, I get it. Lots of demand. I always tell my husband not to get me flowers for Valentine's Day because of the cost. Also, as much as I love getting flowers, I suck at taking care of them.
You know what I love getting even more than flowers? Pretty cupcakes. If you want to give your sweetie roses for Valentine's Day, but don't want to pay artificially high prices, consider making some rose cupcakes. These would also be perfect for Mother's Day, or a bridal shower, or a birthday. Or just because. There's no wrong time to give pretty cupcakes.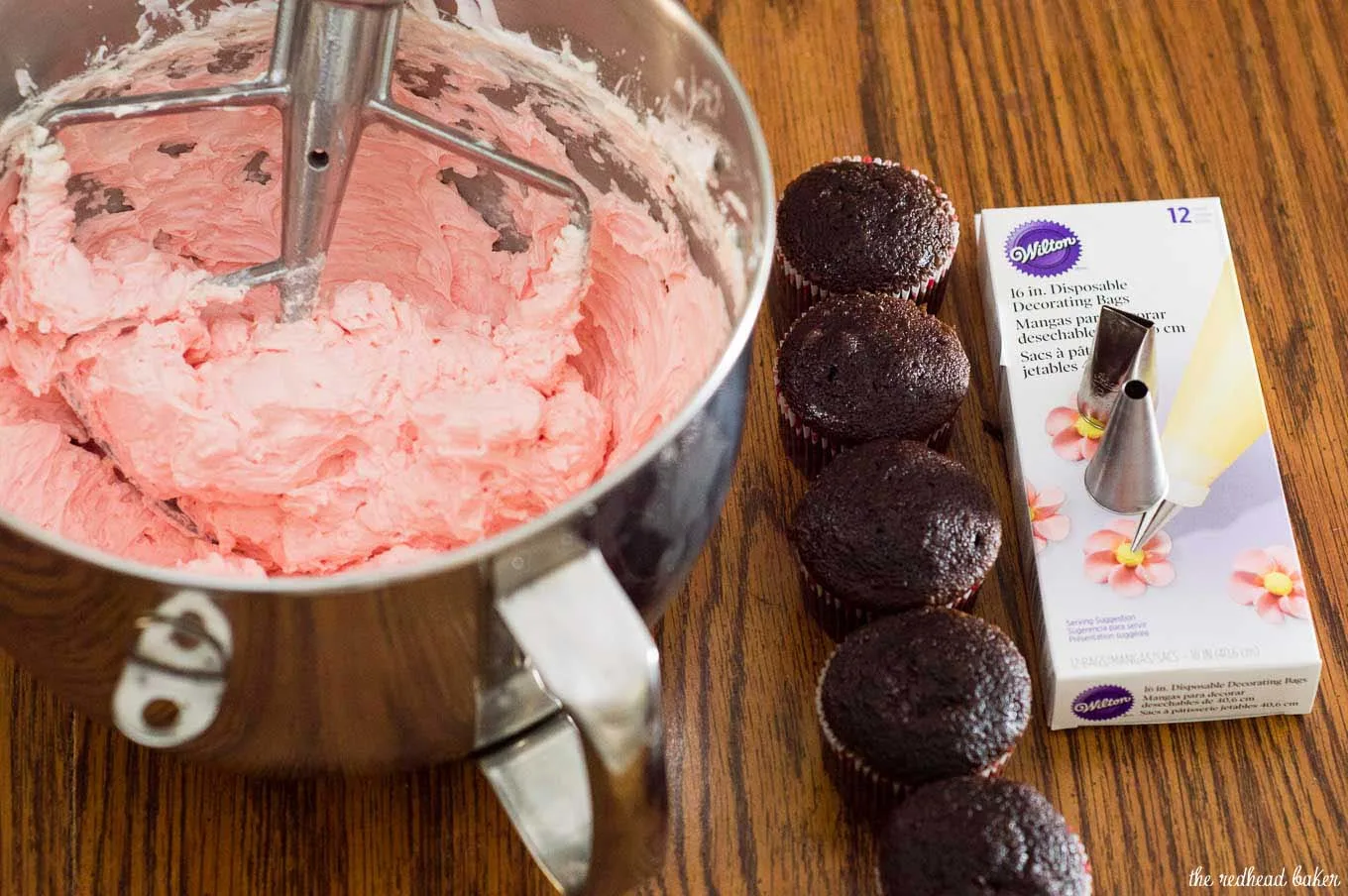 OK, let's talk supplies. You'll need cupcakes, obviously. Whatever flavor you want. Make them from a box if you want. I won't knock boxed mixes. You'll need frosting. I used Swiss Meringue Buttercream for these. It's delicious, and works equally well for frosting and filling cakes, as well as piping both simple and intricate designs.
You'll also need some cake decorating supplies: decorating bags (I like 16-inch disposable bags), a plain round piping tip, a rose petal piping tip, and food coloring. Obviously, I went with pink (actually, a single drop of Amerigel Super Red), but you can make whatever color your choose. Or colors — you can divide the icing in half or thirds, and color each one differently. If you want to use more than three colors, I suggest doubling the recipe below, to ensure you have enough frosting for each color.
If you don't use any food coloring, your roses will appear ivory, thanks to the addition of vanilla extract to the frosting.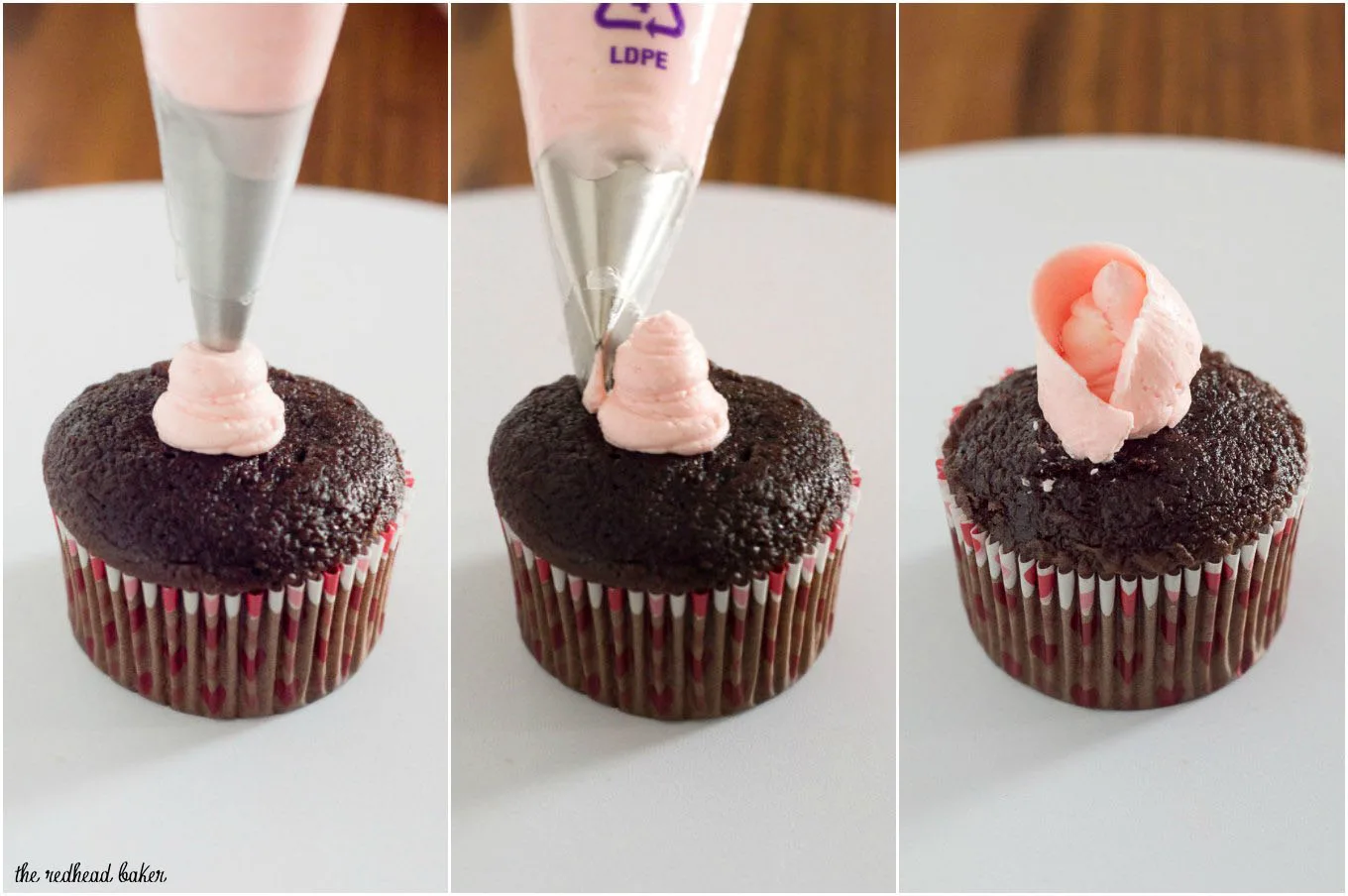 I've written out very descriptive instructions below for creating these roses, for those who learn best by reading. Below the recipe is a video, for those who learn visually. The best part about creating roses with buttercream icing is that if you don't think they came out well, you can scrape the icing back into the bowl, and start all over again! But slightly imperfect roses look the best, after all, roses in nature aren't perfect, either.
Unlike when frosting a cake, where room temperature icing is best, you want your icing a little on the colder side to make these roses, so that the petal don't flop over. When making the frosting, you want your butter just barely softened. If your petals start to flop over, chill your piping bag in the refrigerator for a minute or two before continuing.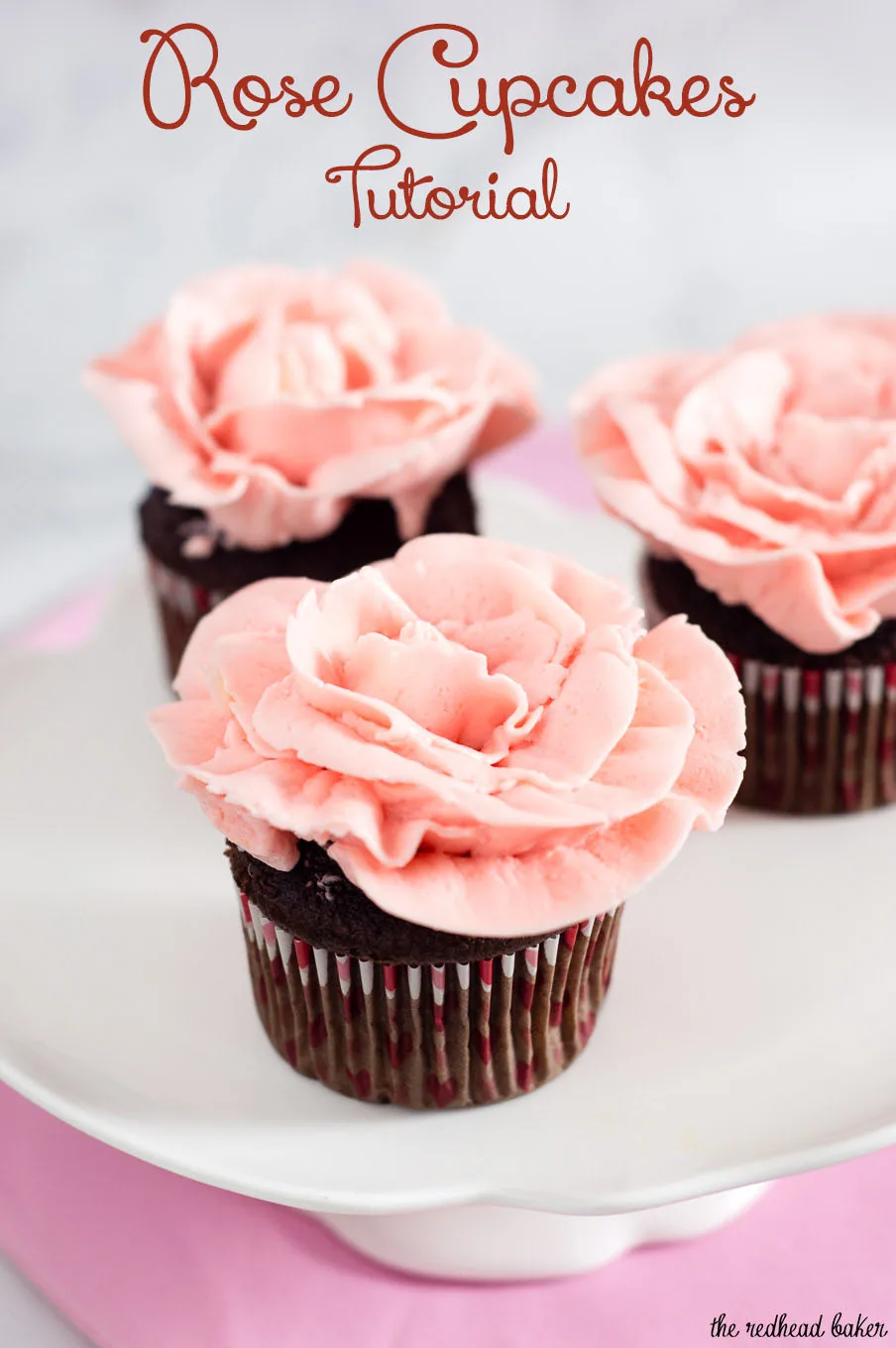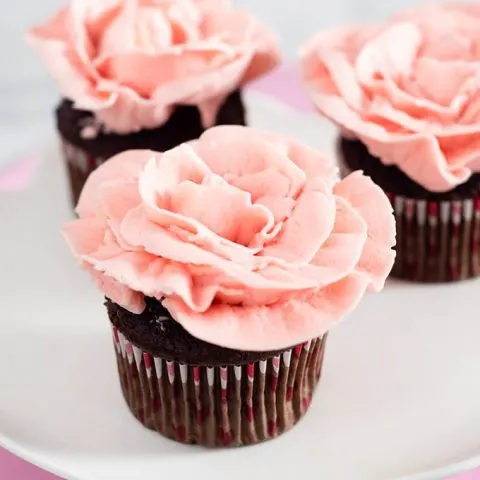 Frosting for Icing Roses
This Swiss Meringue Buttercream is a versatile frosting, perfect for frosting and filling cakes, as well as piping both simple and intricate designs. This recipe makes enough frosting for 12 cupcakes.
Ingredients
6 egg whites from large eggs, (reserve yolks for another use)
12 oz sugar, (about 1 ¾ cups)
1 lb unsalted butter, cut into cubes, slightly softened
1 teaspoon vanilla extract
Food coloring
Instructions
Bring about an inch of water to a simmer in a saucepan.
Place the egg whites and sugar in a clean, dry mixing bowl of a stand mixer.
Place the mixing bowl over the simmering water, and mix with a whisk until the sugar dissolves and the mixture reaches 160 degrees (this pasteurizes the egg whites and makes them safe to eat raw).
Remove the mixing bowl from the saucepan and place it on the stand mixer fitted with the whip attachment. Whip on high speed until the meringue reaches medium peaks (just the tips fall over when the attachment is turned upside down).
Switch to the paddle attachment. With the mixer on medium-low speed, slowly add ¼ of the butter, a few cubes at a time, letting them mix in before adding more. After ¼ of the butter has been added, mix for 30 seconds to a minute before adding the next ¼ of the butter. Repeat the process until all of the butter has been added.
At this point, the mixture likely looks curdled. Simply let the mixer continue mixing, until the frosting thickens and smooths out. It will do this, I promise. Just let it keep mixing. Once it smooths out, add the vanilla extract. Once the extract is incorporated, add one drop of the food coloring, and let it fully incorporate before adding more, remembering that the color will darken as the frosting sets.
How to pipe the roses
Place a plain round tip ¼-inch in diameter (I use an Ateco #802) in a 16-inch decorating bag and fill with ¼ of the icing. Place a Wilton Tip #126 (rose petal tip) and fill halfway with icing. Cut points off both bags. Place a sheet of nonskid kitchen liner on a turntable, and place the cupcake in the center on top.
Use the bag with the plain round tip to pipe a mound of icing in the center of a cupcake. The height should be twice the diameter of the piping tip. Switch to the bag with the rose petal tip. Hold the bag perpendicular to the surface of the cupcake with the wider part of the tip opening at the bottom. Hold the tip of the bottom of the mound of icing. Gently squeeze out some icing so that it adheres to the mound. Simultaneously spin the turntable, moving the tip up and then back down, so that the end of the petal overlaps the beginning.
Create another layer of petals: repeat the gentle squeezing while moving the tip slightly up and down to create another row of petals. This row should contain three petals. Repeat with another layer of five petals. If you have room, create additional layers with 7 petals, then 9 petals. As you move outward, angle the thin end of the piping tip down slightly. Keep repeating until you run out of cupcake surface.
Repeat with remaining cupcakes.
Refrigerate cupcakes until ready to serve. Remove from the cupcakes from the refrigerator 30 minutes before serving to come to room temperature.