Surprise your sweetie with a pink brunch cocktail! A raspberry bellini combines berry-infused vodka with sparkling prosecco.
It's almost Valentine's Day! Are you ready for jacked up prices on chocolate and roses, and overcrowded restaurants?! As you might be able to tell, I'm not a huge fan of the holiday. Why do you need a special day to tell someone that you love them?
My husband I don't do much more than exchange cards, and I make a special dinner at home. But you know what would be awesome? A delicious breakfast or brunch. I can't explain why, but if I had to choose between a romantic dinner and a romantic brunch, I'd pick the brunch.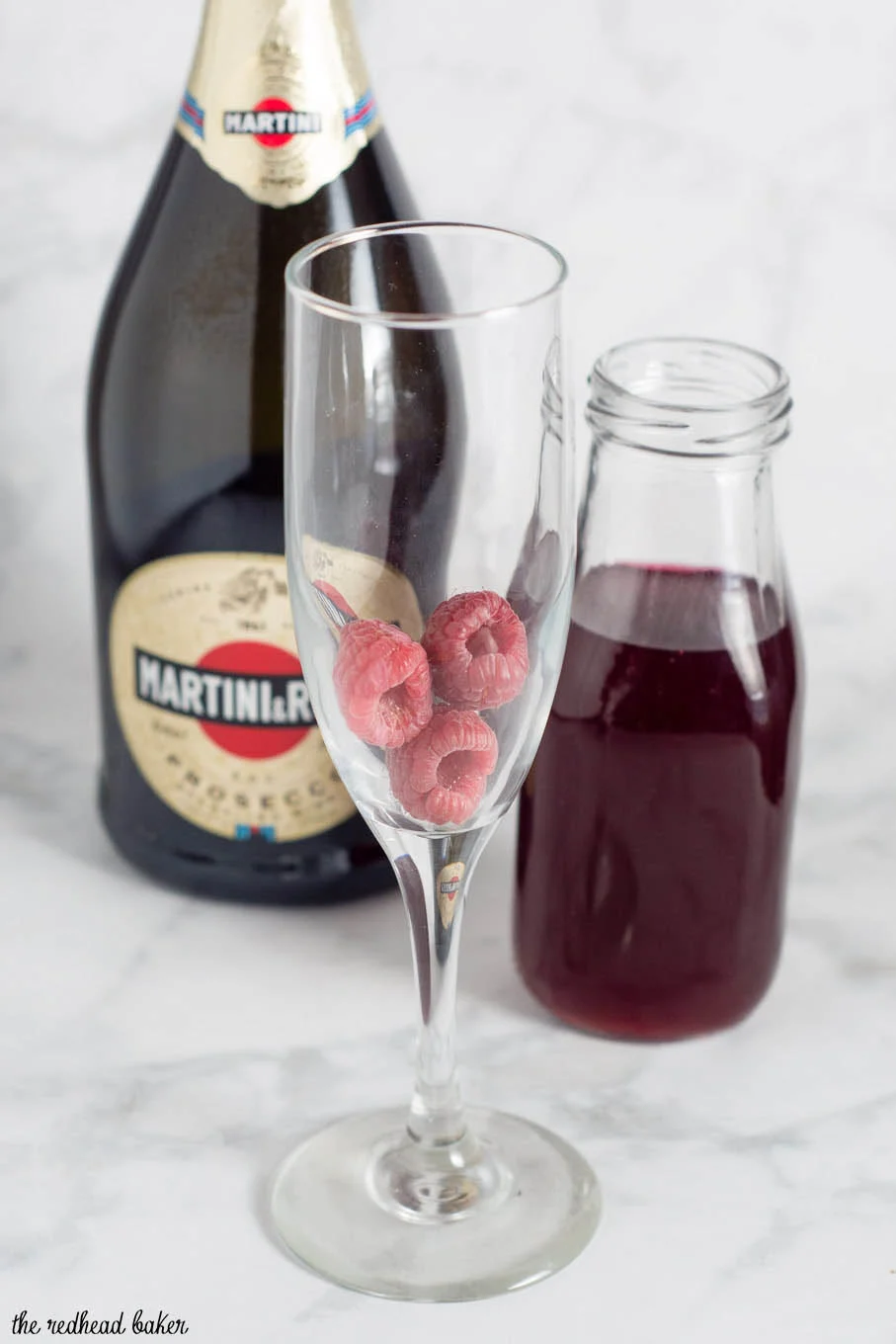 Maybe it's because it's the one time it's acceptable to have alcohol with breakfast? I love a good mimosa or bellini. I'm sure you're familiar with the mimosa, orange juice topped with champagne. A traditional bellini is peach nectar topped with sparkling wine.
What's the difference between champagne and sparkling wine? Location, mostly. By European law, only sparkling wines made from 7 particular varieties of grapes grown, fermented and bottled within 100 miles of the Champagne region in France can be labeled champagne. There are other regulations regarding how the wine is made, but I won't go into those here.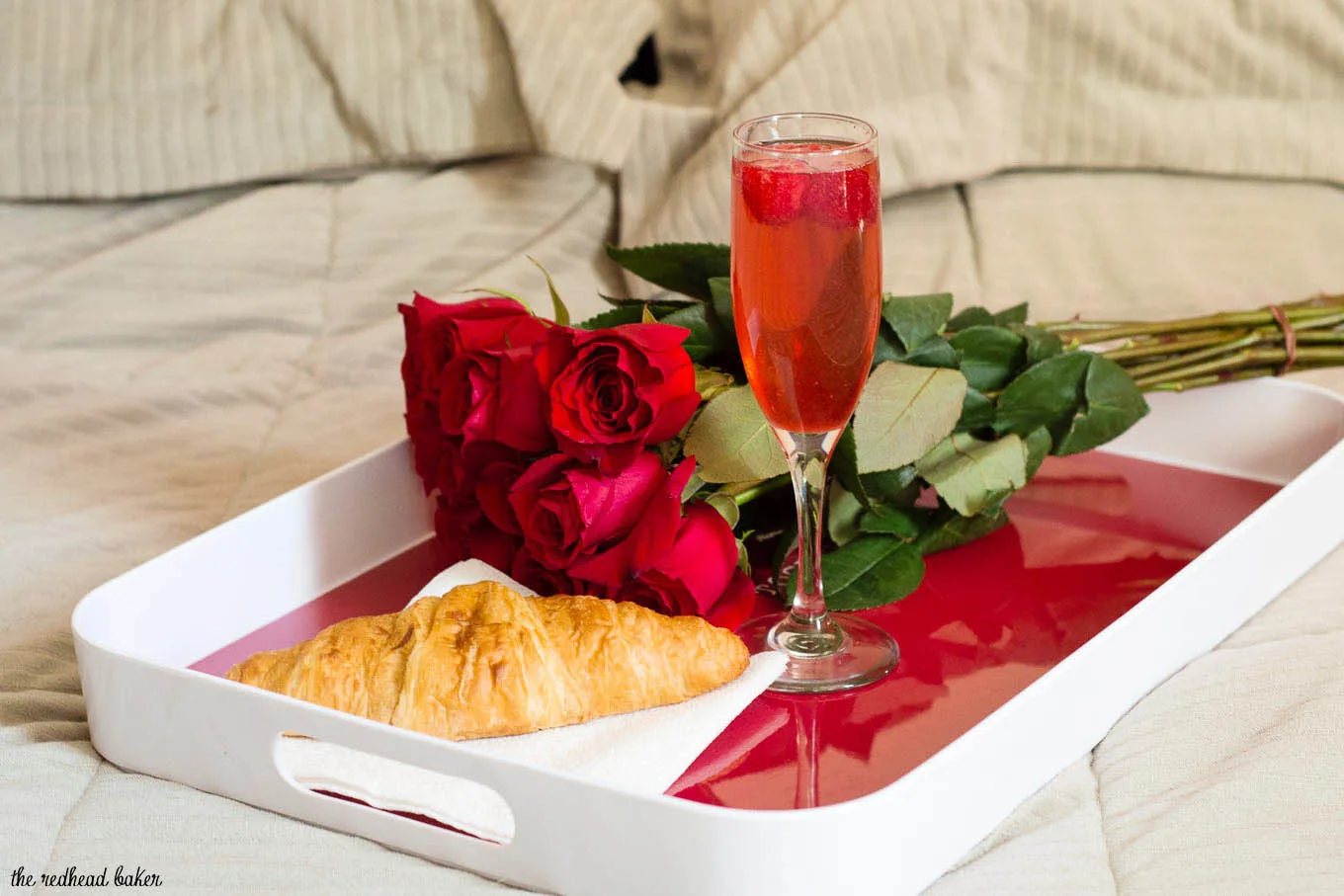 I love to vary the fruits I use in homemade bellinis. It's tough to "juice" raspberries, and the pulp is a bit too thick to blend well with sparkling wine, so I decided to infuse vodka with the flavor of raspberries. It's so easy! You can do this with just about any fruit.
The vodka can be made several days ahead of time, and stored in a sealed container in the refrigerator. In addition to this bellini, you can use this infused vodka in any recipe that calls for Chambord, such as a Chambord Margarita, Chocolate Raspberry Martini, Chambord Gin Fizz, Spiked Raspberry Sweet Tea, or a French Martini, to name just a few!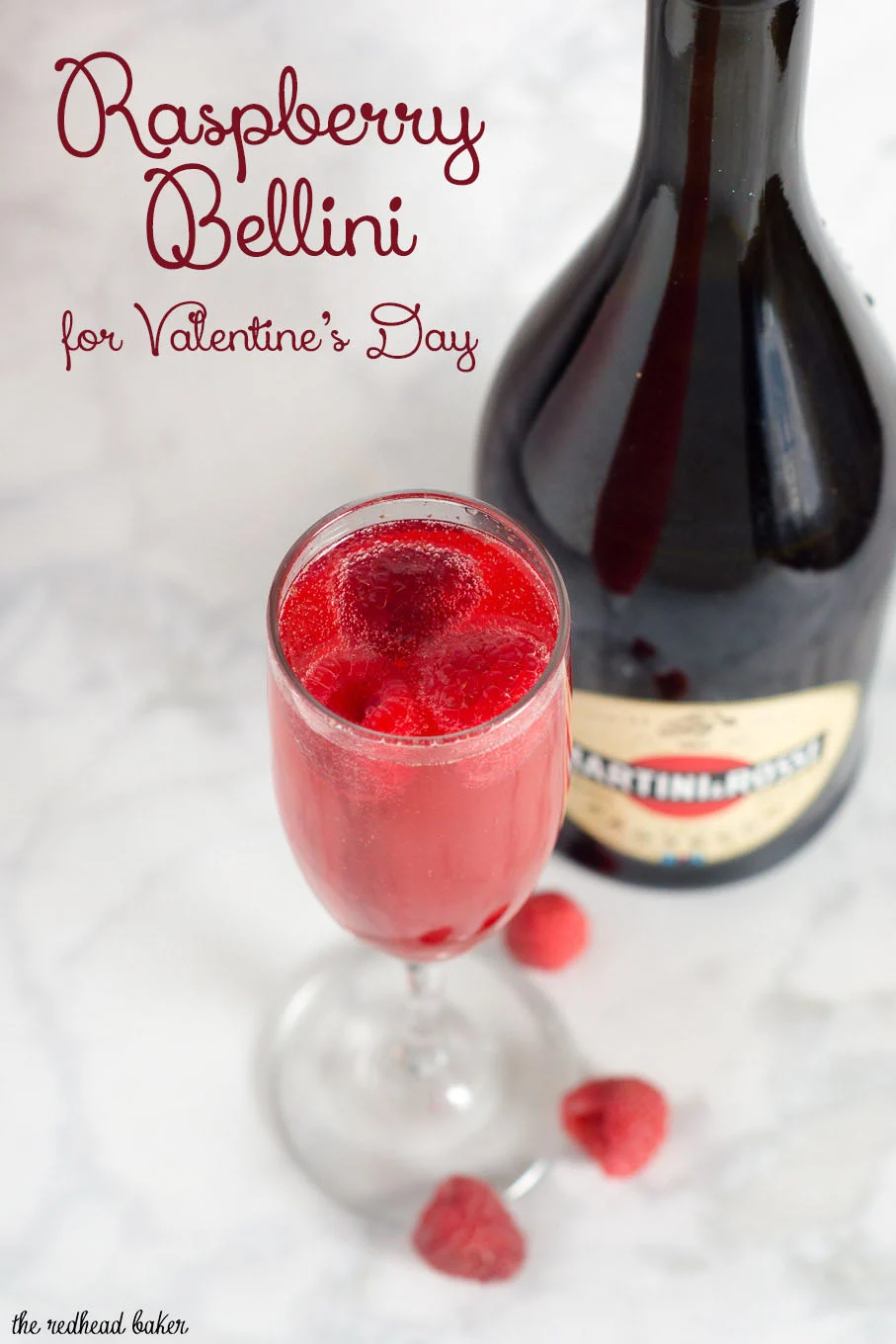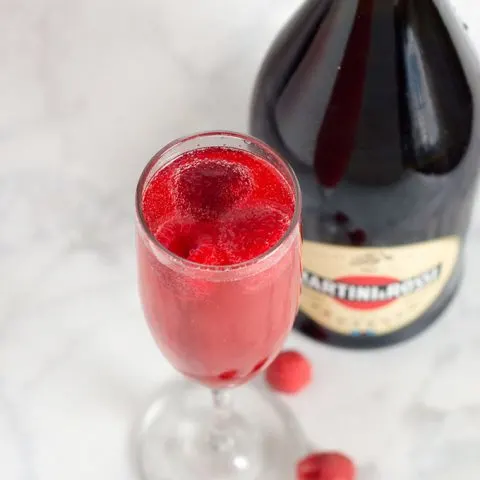 Raspberry Bellini
Ingredients
For the raspberry-infused vodka
2 cups 80-proof vodka
2 cups fresh raspberries
For the cocktails
½ cup raspberry-infused vodka
¾ cup chilled sparkling wine, such as prosecco
Fresh raspberries, for garnish
Instructions
Wash the raspberries and pat dry.
Combine the raspberries and vodka in a container with a tight-fitting lid. Let sit at room temperature for 3 to 5 days.
Once the vodka has infused to your taste preference, strain the vodka through a fine-mesh sieve into a large measuring cup. Discard the raspberries. Pour through a funnel into a storage container. Refrigerate until ready to use.
When ready to make the cocktails, pour 2 ounces (4 tbsp) of the raspberry-infused vodka into a each of two champagne flutes. Top with 3 ounces (6 tbsp) of the sparkling wine. Add two or three fresh raspberries to each glass and serve.