Instant Pot Cherry Cranberry Sauce is a quick and easy side dish for your Thanksgiving table. Only 6 ingredients, and ready in about 30 minutes!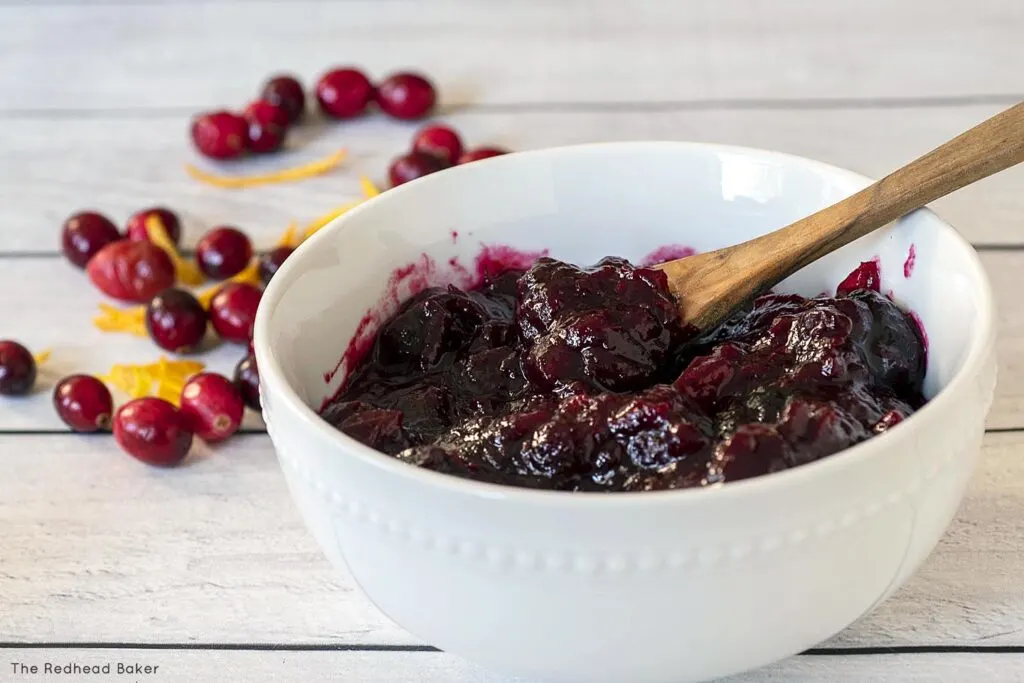 What is cranberry sauce, and why is it a staple of American Thanksgiving meals? While cranberries were common in the Massachusetts Bay area at the time of the First Thanksgiving, sugar was scare and so it's unlikely that cranberry sauce was present at that first Thanksgiving meal.
It's possible cranberries were included in the turkey stuffing (there's no mention in primary texts about stuffing even being present, but it was a common method of preparing roast turkeys back then). So, really, we may never know how it become a "must-have" on American Thanksgiving tables.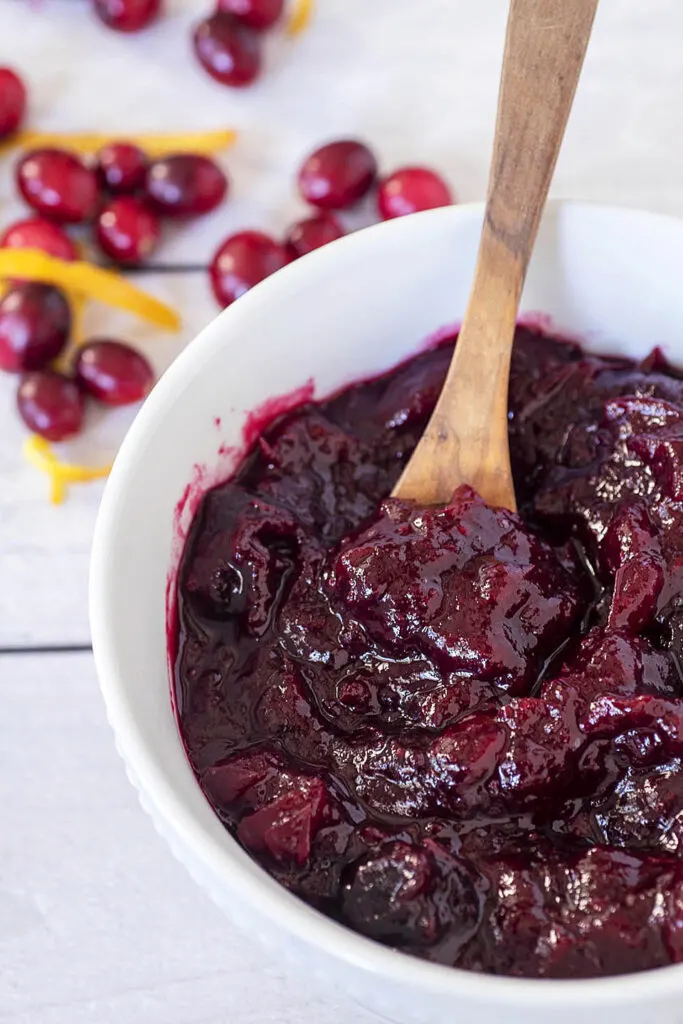 How to Make Cranberry Sauce
Cranberry sauce is a delicious spread for roast turkey, especially since the white meat in particular does tend to dry out (though not if you brine it!). If your only exposure to cranberry sauce has been the can-shaped jellied kind, please forget you've ever tasted that, and make this instead.
It's incredibly simple, and using an Instant Pot (affiliate link) makes it even more delicious and practically foolproof. You see, cranberries are full of pectin. When you cook cranberries on the stovetop, you extract some, but not all, of the pectin, and need a lot of sugar to help the sauce jell.
But cooking cranberry sauce in the Instant Pot extracts even more pectin, meaning you need less sugar, meaning more tart cranberry flavor shines through. No more sickeningly sweet can-shaped jelly!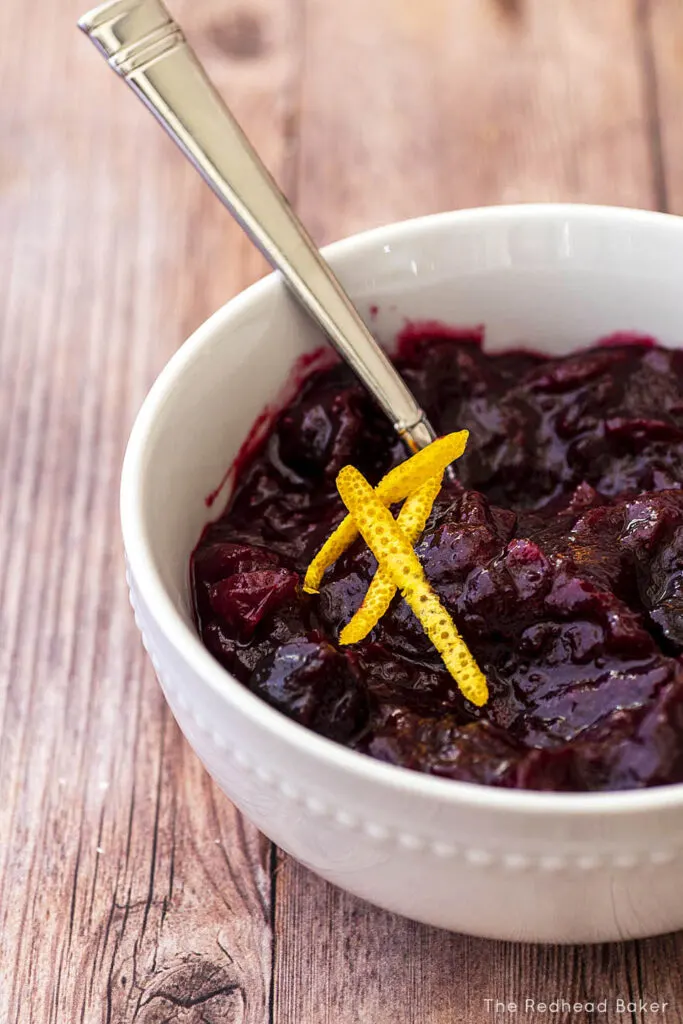 FAQs
Q: Can I double this recipe?
A: Yes, you can only double it, but not triple it (or more). Cranberries get very foamy while cooking, and need room to expand during the cooking process.
Q: Can I use frozen cranberries?
A: Yes! No need to thaw before using, either.
Q: Can I make this in advance?
A: Yes! While making Instant Pot cherry cranberry sauce is quick and easy to do on Thanksgiving Day, you can make the sauce up to 2 weeks in advance and store it in a tightly-sealed container in the refrigerator. Or, please it in a tightly-sealed freezer-safe container (mason jars (affiliate link) work great for this) and freeze it for up to 3 months. To thaw, transfer the container from the freezer to the refrigerator 24 to 48 hours before you plan to serve it.
Q: How do I serve cranberry sauce?
A: Cranberry serve is delicious served cold, at room temperature, or hot. It's really up to you! If you prefer it room temperature, remove the cranberry sauce from the refrigerator and let it sit on the counter top for an hour. You can also rewarm it in a pot on the stove, or in the microwave (remember to loosen the lid before heating).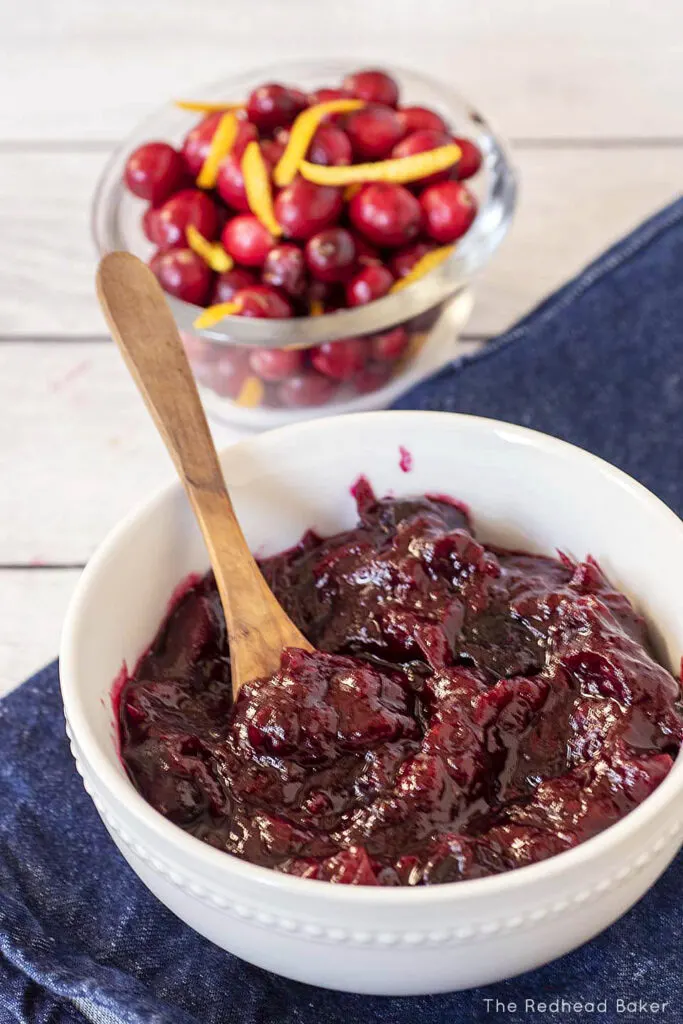 Substitutions
Instead of orange juice, you can use apple cider, cranberry juice (not cranberry juice cocktail), pomegranate juice, or water. If omitting the orange juice, omit the zest as well. You can replace with lemon zest if you choose, but it's not necessary.
Instead of frozen cherries, you can use frozen blueberries, frozen mixed berries, or additional cranberries.
Instead of maple syrup, you can use honey. You could also use agave syrup, which is sweeter than maple syrup or honey, so use half the amount called for, and taste for sweetness as it cooks.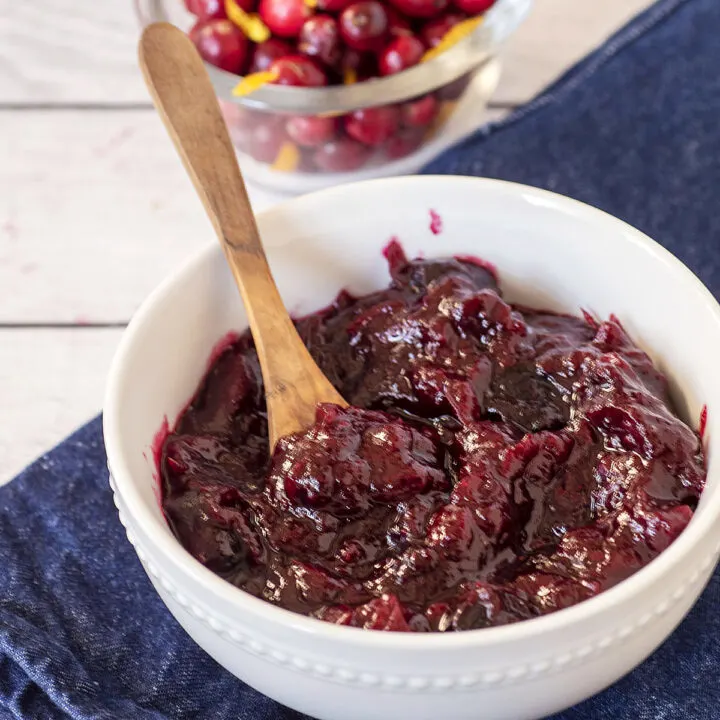 Instant Pot Cherry Cranberry Sauce
Instant Pot Cherry Cranberry Sauce is a quick and easy side dish for your Thanksgiving table. Only 6 ingredients, and ready in about 30 minutes!
Ingredients
2 navel oranges
3 tablespoon pure maple syrup
12 oz fresh cranberries
6 oz frozen pitted dark sweet cherries
¾ cup sugar
Pinch of kosher salt
Instructions
Zest the oranges, then slice each in half and squeeze the juice into the Instant Pot insert. Add the maple syrup, zest, cranberries and cherries.
Place the lid on the pot, and lock it in place. Select "Pressure Cook" and set the timer for 2 minutes on high pressure. It will take about 10 minutes for the pressure to build before the timer starts.
Once the timer is up, let the pressure release naturally for 5 to 7 minutes, then manually release remaining pressure. Carefully open the pot.
Press Cancel to turn off pressure cooking, then press Saute, and set for 20 minutes.
Add the sugar to the pot, and stir until the sugar is incorporated. Let the mixture heat to a boil, and cook, stirring frequently, for 5 to 10 minutes, until thickened. Stir in a pinch of kosher salt.
Use a potholder to remove the insert from the Instant Pot and scrape the cranberry sauce into a serving dish or storage container. If storing, let the sauce come to room temperature before covering and chilling for up to a week.
Notes
You can substitute honey for the maple syrup. Do not use pancake syrup.
Recommended Products
As an Amazon Associate and member of other affiliate programs, I earn a small percentage from qualifying purchases.
Nutrition Information:
Yield:

8
Serving Size:

¼ cup
Amount Per Serving:
Calories:

142
Total Fat:

0g
Saturated Fat:

0g
Trans Fat:

0g
Unsaturated Fat:

0g
Cholesterol:

0mg
Sodium:

19mg
Carbohydrates:

37g
Fiber:

3g
Sugar:

31g
Protein:

1g
I am not a certified nutritionist. This nutrition information is automatically calculated by third party software and is meant as a guideline only.