Everyone's campfire favorite in ice cream form! Milk chocolate s'mores ice cream: milk chocolate ice cream with swirls of marshmallow topping and chunks of graham cracker!
It's summertime, so what more excuse do you need for a homemade ice cream recipe? How about the fact that yesterday was National Ice Cream Day? Honestly, I hardly need an excuse to break out the ice cream machine.
I was chosen as one of many bloggers to create an ice cream recipe as part of the #IceCreamForOXO campaign, so I sat down and thought of my favorite ice cream flavors. The one flavor that came up the most was chocolate. But what sort of chocolate ice cream could I make at home that I can't find in the store?
And it occurred to me that I've never seen s'mores ice cream at the grocery store. What a fun flavor to make! And after all, s'mores is a classic summertime dessert.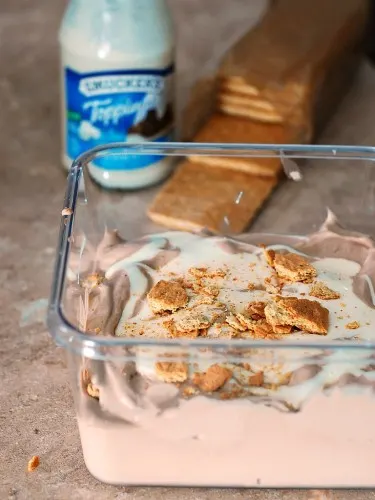 This is a classic ice cream recipe, which begins with a cooked egg-custard base. If you're new to making this at home, I strongly suggest using a thermometer to ensure your custard reaches 170 degrees, at which point, the eggs are properly cooked and your base has thoroughly thickened.
Use the best quality milk chocolate you can find. I used Scharffen Berger chocolate wafers from Sur La Table. If you don't have one near you, you can use Ghirardelli chocolate chips.
I also recommend marshmallow topping over marshmallow fluff because A) it's much easier to drizzle into the churned ice cream, and B) it has that soft consistency that you're probably used to if you've had store-bought marshmallow swirl ice cream. You might be tempted to swirl the marshmallow and graham cracker into the milk chocolate ice cream, but it's really not necessary. Once you scoop the ice cream out, the scoop will create the swirls.
The result of this project is a rich chocolate-y ice cream with swirls of sweet marshmallowy and graham goodness. I don't know if it's the recipe, or the fantastic (BPA free!) freezer-safe container that OXO sent to me, but after sitting in the freezer overnight, there was no layer of ice crystals on the top.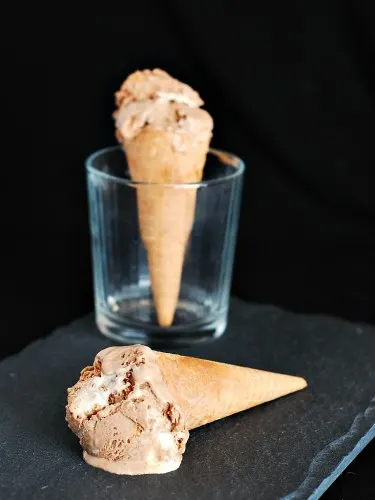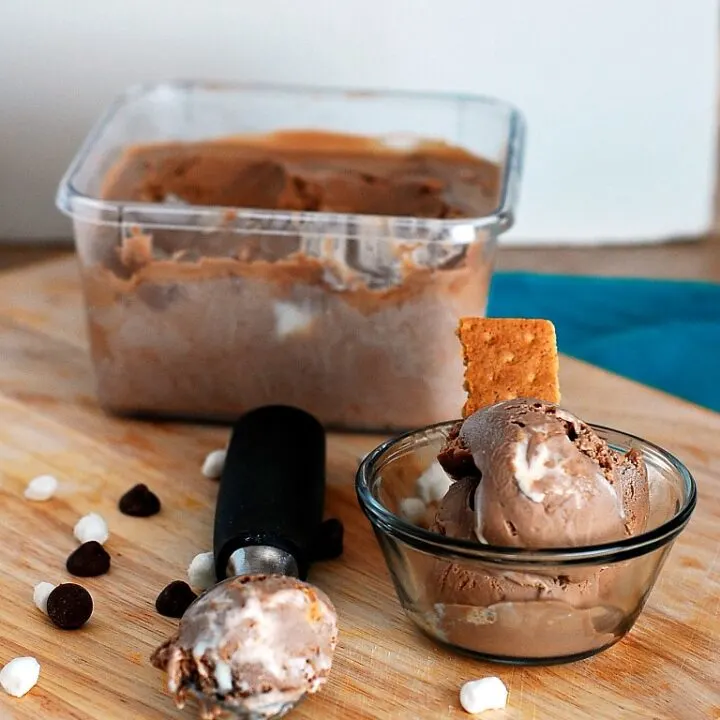 Milk Chocolate S'mores Ice Cream #IceCreamForOXO
Ingredients
1 ½ cups whole milk
1 ½ cups heavy cream
1 tablespoon unsweetened cocoa powder
⅓ cup sugar, divided
7 oz . good-quality milk chocolate, finely chopped
8 large egg yolks
¼ cup marshmallow topping
2 full sheets graham crackers
Instructions
Make sure the bowl of your ice cream maker has been frozen for at least 24 hours.
Place the whole milk and heavy cream in a heavy-bottomed saucepan. Sift the cocoa powder over top, then add half of the sugar and whisk to combine. Set a large bowl next to the stovetop, and place the egg yolks inside.
Have the chopped chocolate in another large bowl nearby, as well as a gallon-sized zip-top freezer bag. Fill a third bowl about halfway with ice water.
Place the saucepan over medium-low heat and bring the mixture to a simmer. Do not let the mixture boil.
When you start to see steam rising off of the milk mixture, start whisking the egg yolks with the second half of the sugar. Whisk vigorously for three to four minutes, until the yolks turn pale yellow. Continue whisking, less vigorously, until the milk mixture is simmering. Sugar will "break" the yolks into separate protein clumps and water if you let them sit together, which will ruin your ice cream base.
Once the milk mixture has come to a simmer, very gradually pour about half into the egg yolk mixture, whisking constantly, to slowly bring the temperature of the eggs up without scrambling them. Pour the egg/milk mixture back into the saucepan, and cook over heat for about 10 minutes, until the mixture reaches 170 degrees, and the custard coats the back of a wooden spoon without running off.
Once the custard is fully cooked, pour it over the chopped milk chocolate. If you think you scrambled the egg yolks, pour it through a fine-mesh strainer. Let the custard sit on the chocolate for about a minute, then whisk slowly until the chocolate is completely melted and fully combined with the custard.
Pour the ice cream base into the zip-top freezer bag, seal it, then place the freezer bag in the ice water. Let sit for about 30 minutes, until completely cooled. Store in the refrigerator for at least four hours, or overnight.
Set up your ice cream maker and immediately pour the ice cream base into the machine. Churn according to manufacturer's directions for your machine.
Scrape a third of the ice cream mixture into a freezer-safe storage container. Drizzle two tablespoons of the marshmallow topping over the ice cream. Break one graham sheet in half, and place inside a sandwich bag. Hit once or twice with your fist to break it into large pieces, then scatter those over the ice cream.
Scrape another third of the churned ice cream into the container, and repeat with the remaining two tablespoons of marshmallow topping, and the second broken graham sheet. Top with the remaining third of the churned ice cream.
Seal the storage container and let the ice cream harden for at least four hours, or overnight.
Scoop and serve!
Adapted from Fine Cooking
Disclosure: OXO provided me with: a Solid Stainless Steel Ice Cream Scoop, a Small Silicone Spatula, a 4 Piece Mini Measuring Beaker Set, a Medium Square LockTop Container, a 2-Cup Angled Measuring Cup, a Sugar Dispenser, and a Mini Chopper in exchange for creating this ice cream recipe. All opinions of these products are my own. I've been a fan of OXO products long before I partnered with them for this recipe.