Finish off a tapas-style meal with mini dulce de leche cheesecakes — individual-sized creamy caramel-flavored cheesecakes with a cinnamon-crumb crust.
I love eating tapas-style. If you're unfamiliar, tapas is a wide selection of appetizers or snacks. In the world of tapas-style dining, you're served a variety of dishes in appetizer- or snack-sized portions. The options are usually a mix of both hot and cold dishes, and rather than coming out from the kitchen in courses, the food comes out whenever it is ready. You may receive two dishes, then four at once, then another two.
I've had the opportunity to try two of Philadelphia's tapas-style restaurants, and I just love being to able to taste so many options from the menu. Most restaurants are pay-as-you, suggesting you choose three plates to start with, and ordering more if you want them; others have an "unlimited" option, where you can choose as many plates as you wish for a fixed price.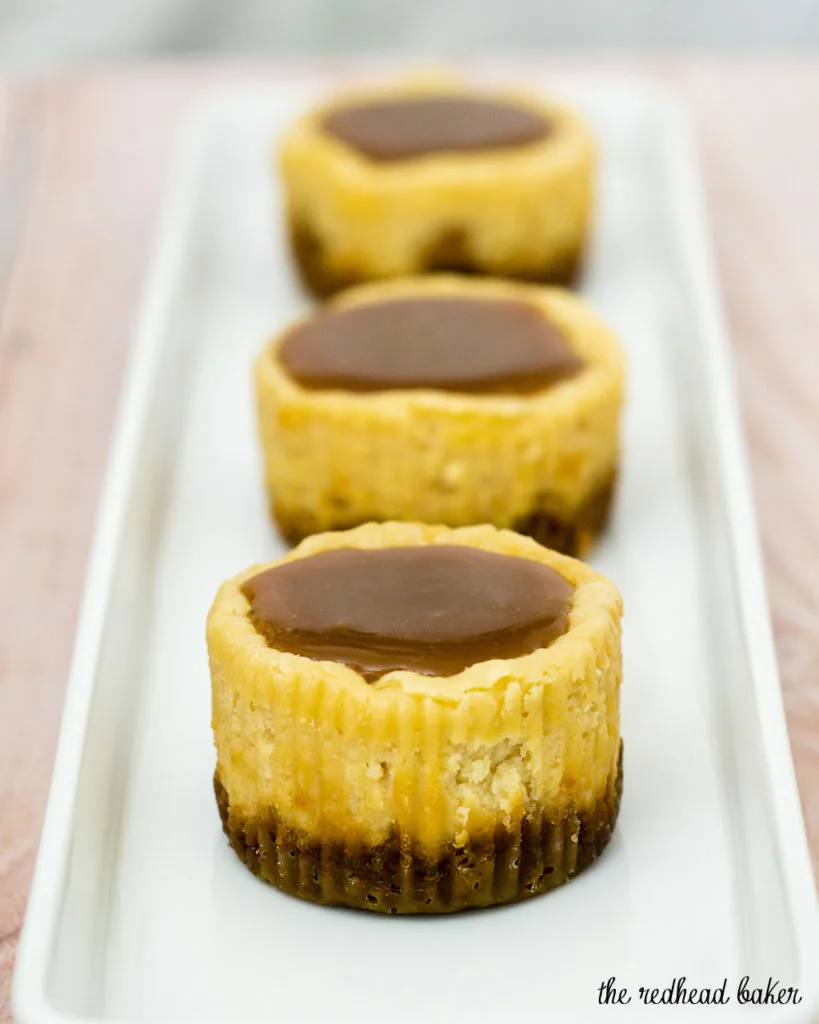 One of my all-time favorite meals was a tapas-style brunch at a Cuban restaurant in Philadelphia. We chose the unlimited plates option, and we were so stuffed with churros, pork belly, crab cakes, French toast, and cheese-and-spinach puffs that you could have rolled us out of the restaurant.
Restaurants with tapas-style dining also usually have tapas-style desserts: small portions, and you can choose as many as you like. Because tapas-style dining originated in Spain, most of the dining and dessert dishes are Spanish or Latin-American in origin.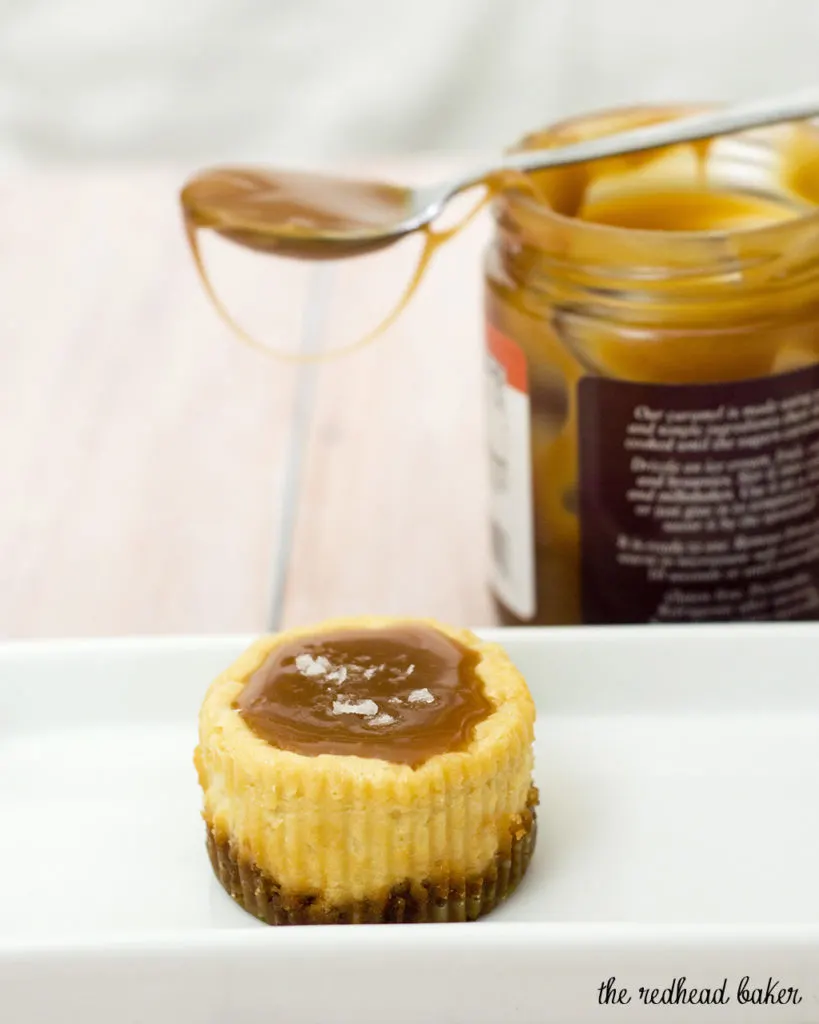 That is why, for this theme, I chose mini dulce de leche cheesecakes. These individually-portioned desserts are perfect for one person to polish off in three or four forkfuls. Three or four forkfuls are about all you'll need to be satisfied by this rich, decadent dessert.
Dulce de leche is very similar to caramel. I haven't seen it in my regular local grocery store, but I have seen it at natural food stores, and online. If you can't find it near you, Baker's Royale has three methods for making it at home from a can of sweetened condensed milk.
These cheesecakes are addictively good. My family was grabbing for them out of the fridge before they were thoroughly chilled. I didn't think dessert could get any better until I sprinkled one cheesecake with flaked sea salt, and thought my brain would melt from deliciousness.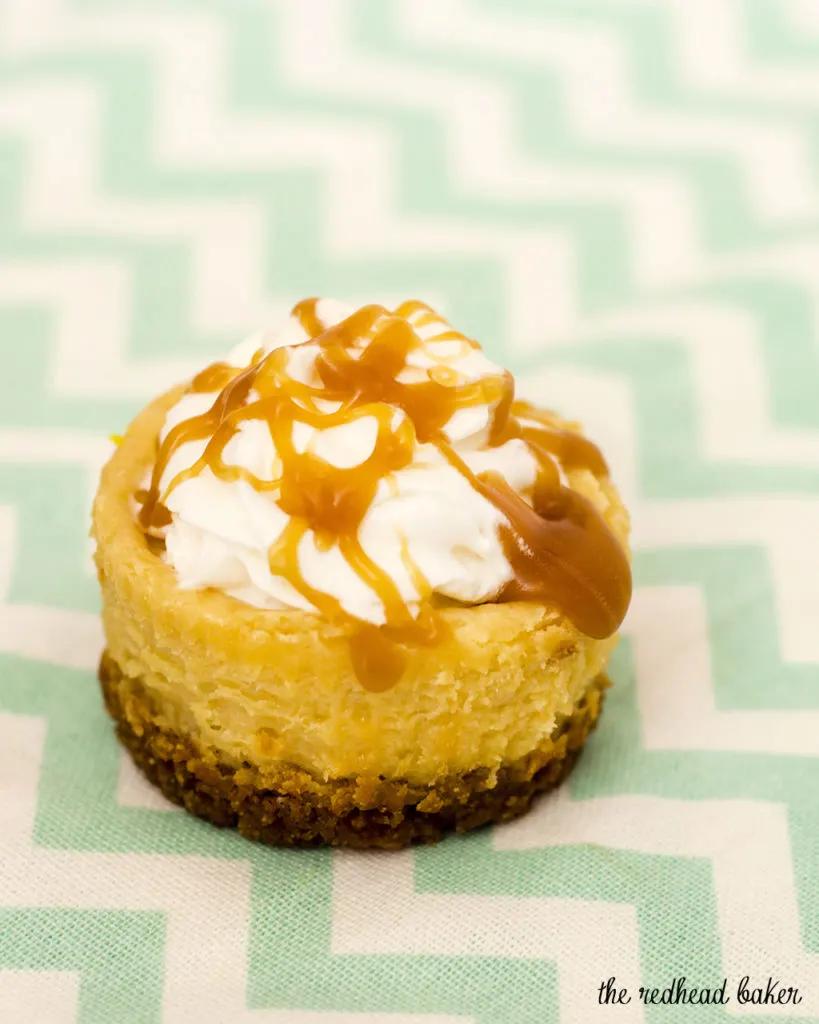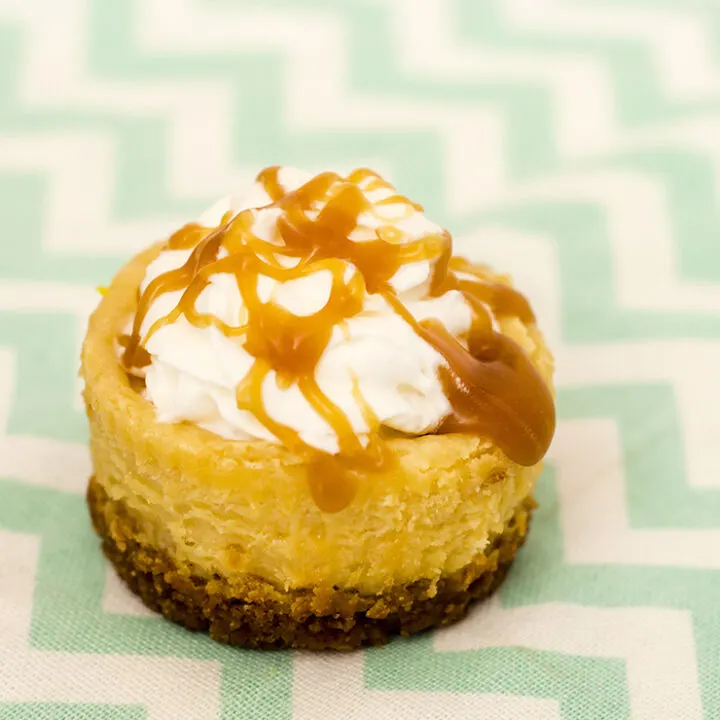 Mini Dulce de Leche Cheesecakes
Ingredients
For the crusts:
1 ½ cups cinnamon graham cracker crumbs or cinnamon cookie crumbs
1 tablespoon sugar
6 tablespoon unsalted butter, melted
For the cheesecakes:
2 oz packages cream cheese, at room temperature, 8-
⅔ cup sugar
2 large eggs, at room temperature
¼ cup dulce de leche
1 ½ teaspoon vanilla extract
Pinch of salt
Additional dulce de leche for drizzling
Whipped cream, optional
Flaked sea salt (optional, but highly recommended)
Instructions
Preheat oven to 350 degrees. Line 16 wells of two 12-cup muffin tins with paper liners.
In a small mixing bowl, stir together the crumbs, sugar and melted butter. Scoop 1 tablespoon of the mixture into the bottom of each paper liner and pat down into an even layer. Divide any leftover crumb mixture between the paper liners.
In the bowl of a stand mixer, cream together the cream cheese and sugar until smooth and well-blended.
Add the eggs one at a time, beating well and scraping down the sides and bottom of the bowl between additions.
Beat in the dulce de leche, vanilla extract and salt until fully incorporated.
Use a medium scoop to divide the batter between the paper liners.
Bake for 15 to 30 minutes, until the edges are set and the centers jiggle just a bit. Set the muffin pan on a wire rack to cool the cheesecakes to room temperature, then chill in the refrigerator at least 4 hours, preferably overnight.
When ready to garnish, warm the dulce de leche slightly. Drizzle the warm caramel from a spoon over the cheesecakes, or, if your cheesecakes sink the middle like mine did, spoon about half a teaspoon of caramel into the sunken area. Garnish with flaked sea salt or whipped cream, if desired.
Store in the refrigerator until ready to serve.
Adapted from David Lebovitz
Discover more #SundaySupper tapas recipes!
Para Empezar, Las Tapas (Appetizers/tapas)
Postres (Desserts)
Bebidas (Drinks)