This small mocha cheesecake is perfect for a small gathering. It has the perfect balance of chocolate and coffee flavors.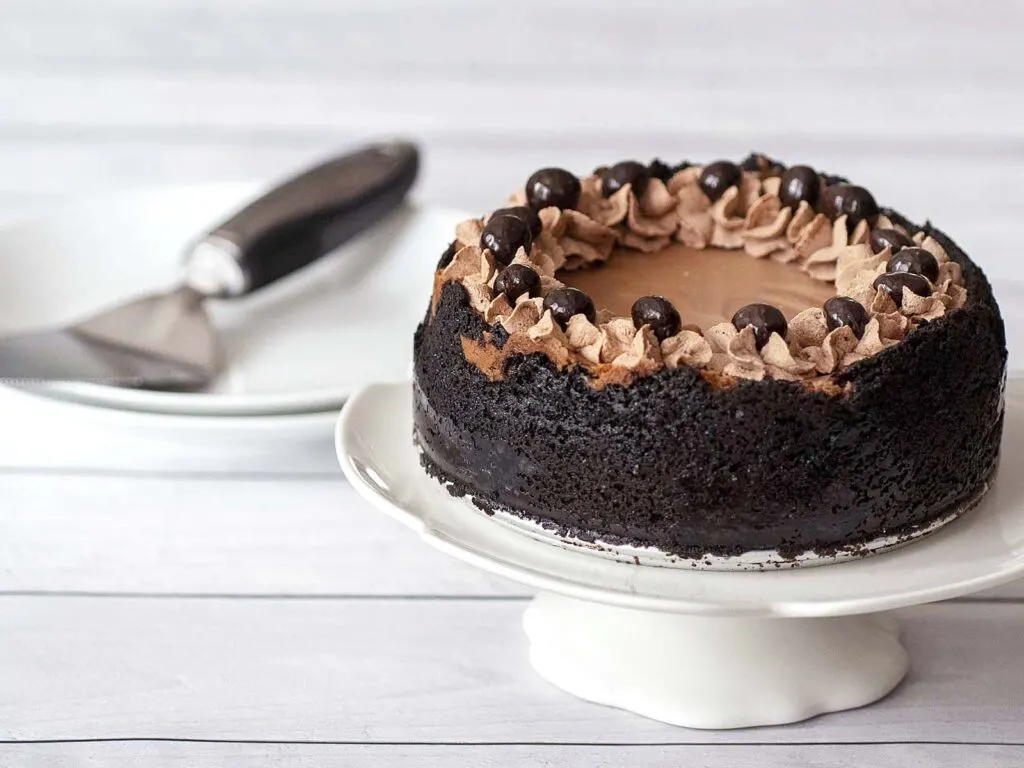 Happy National Cheesecake Day! Cheesecakes are my signature dessert in my family. I've had a LOT of practice making them.
Chocolate cheesecakes were never my favorite, because in the past, I've found them dry, but I was likely over-cooking them. Once I learned that you should take them out of the oven when the center was just still jiggly, I've never had a dry one since!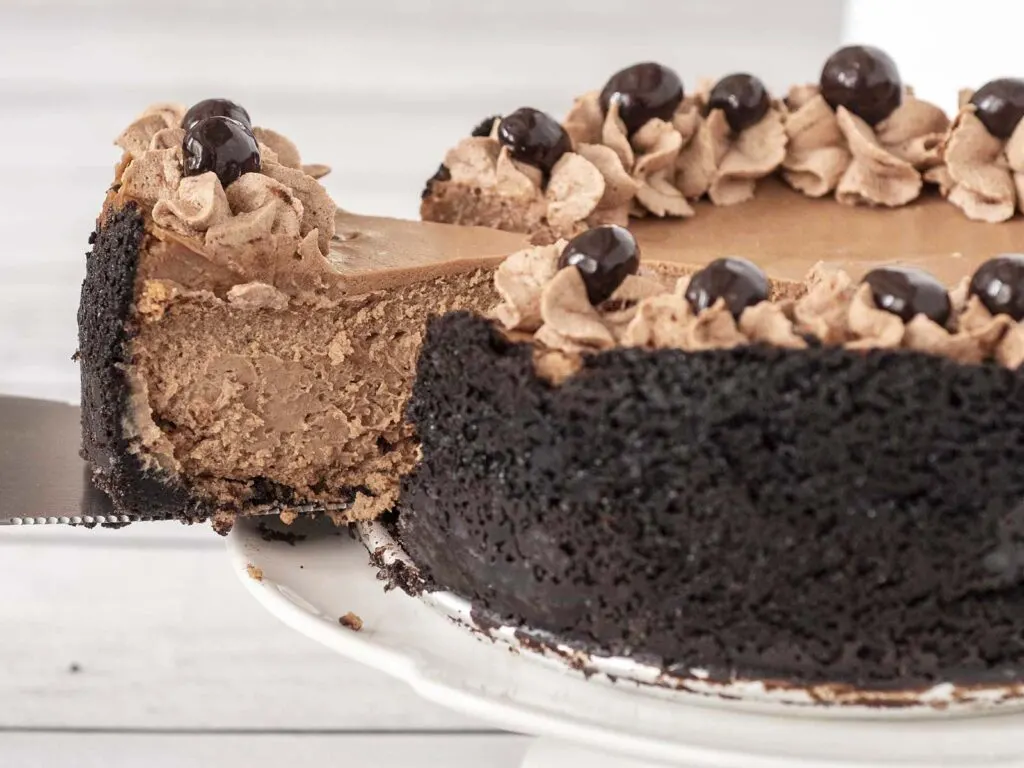 How to Make a Cheesecake
Tip #1 — start with room temperature ingredients, not just cream cheese. Make sure your egg, and any other liquid ingredient (such as milk) is at room temperature, too.
Tip #2 — scrape, scrape, scrape. Use a spatula or bowl scraper to scrape down the sides and bottom of the bowl frequently to ensure all the ingredients are being blended together.
Tip #3 — keep the mixer speed no higher than medium. The goal is not to whip air into the batter, so keep the speed on the lower side.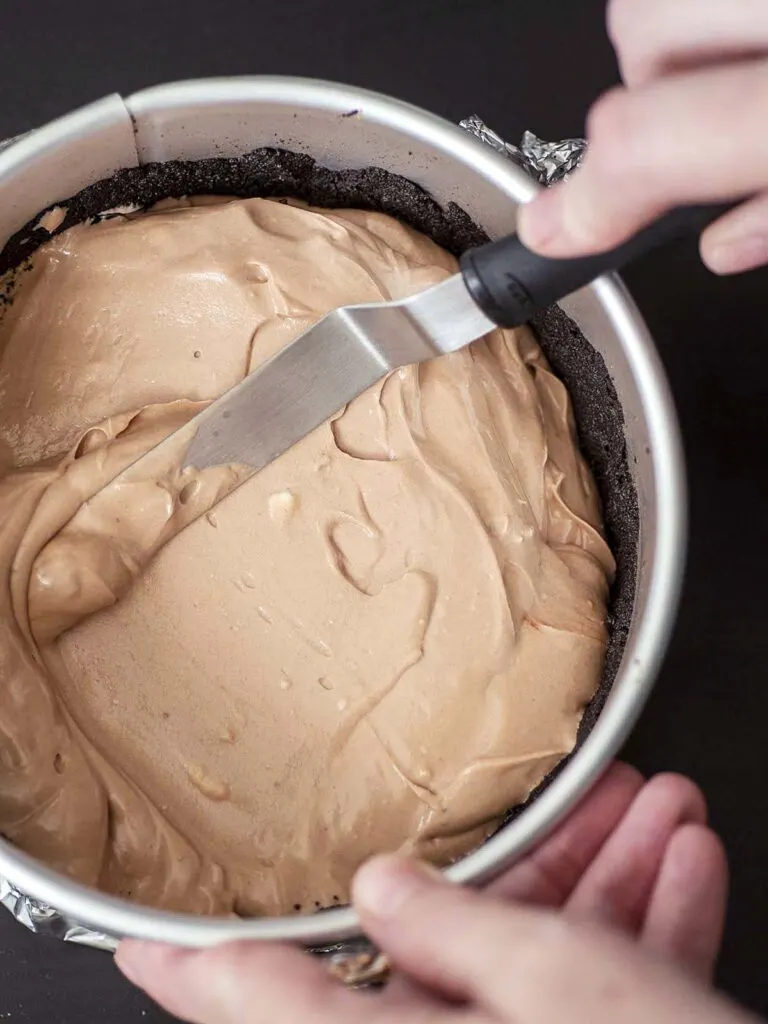 Mocha Cheesecake Ingredients
Cookie crumbs — I like using a chocolate crust rather than a graham cracker crust on a lot of my cheesecakes. You can use chocolate graham crackers or chocolate wafer cookies. I sometimes use a quick trick and buy a pre-formed chocolate crust from the baking aisle of my grocery store, and pull those crumbs out of the pan. They contain about 1 ½ cups of crumbs.
Cream cheese — full-fat cream cheese is always the best bet for cheesecakes. This dessert is not the time to try to cut calories. Lower-fat cream cheese (aka, Neufchatel) can be used, but fat-free cream cheese will adversely affect the texture.
Coffee extract — just as vanilla extract is made by extracting vanilla flavor with alcohol, coffee extract is made by extracting flavor from the beans with alcohol.
Semisweet chocolate — use a good quality chocolate, such as Guittard, Scharffen Berger, or Ghirardelli. I like using chips because I find them easier to melt. Some are simply labeled semisweet; others have a percentage on the label. Just know that the higher the percentage, the darker the chocolate and stronger the flavor.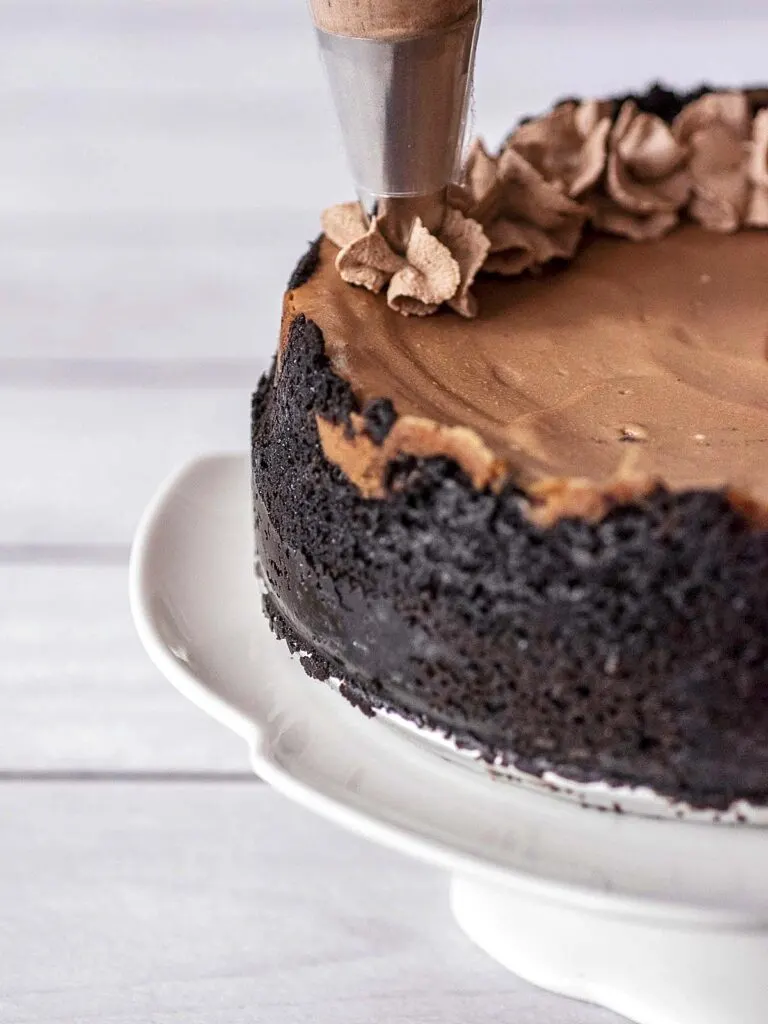 FAQs
Q: Why wrap the springform pan in foil if it doesn't need a water bath?
A: Springform pans tend to leak, so I always wrap in foil to catch drips.
Q: I can't find coffee extract, what can I use instead?
A: Mix ½ teaspoon of instant coffee granules with ½ tablespoon of hot water until completely dissolved. Let cool, then mix it into the cheesecake batter.
Q: How do I get nice, clean slices?
A: Use a hot knife! Run a chef's knife under very hot water, quickly wipe it dry and immediately make a cut in your cheesecake. Repeat running under hot water, wiping dry and making a cut between every slice.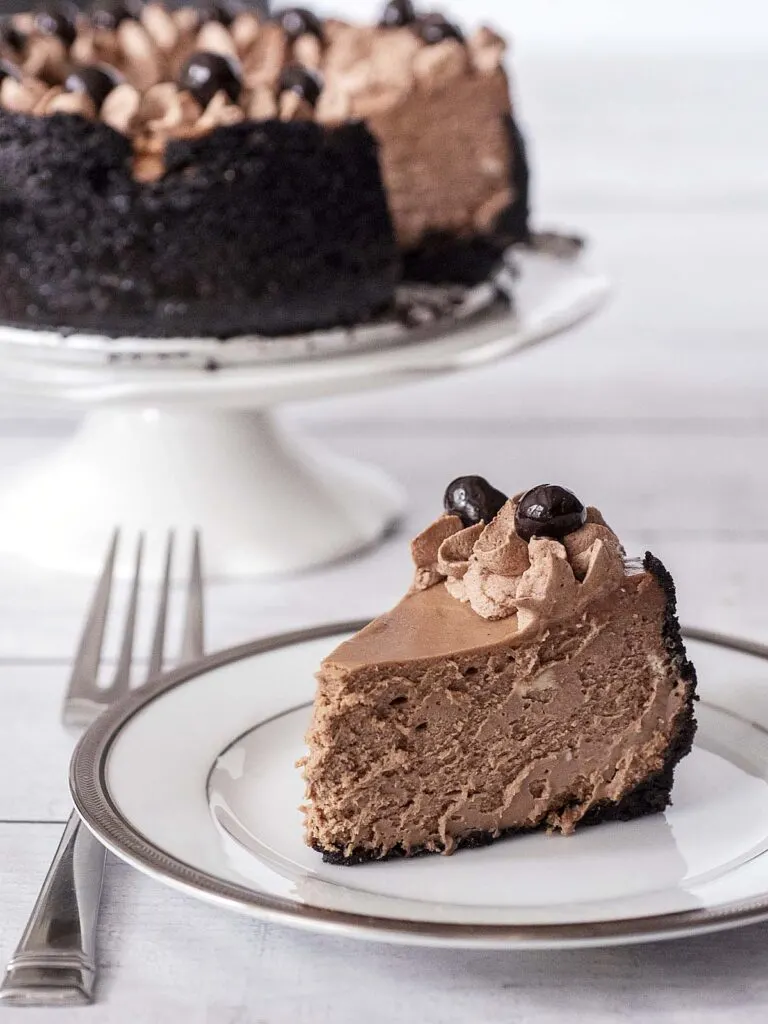 If you don't want to make chocolate whipped cream to garnish this cheesecake, you could instead make a mocha ganache by bringing ½ cup of heavy cream to scalding, then stir in the espress powder. Pour the espresso/cream mixture over ¾ cup semisweet chocolate chips. Wait 1 minute, then stir until smooth, then pour over the chilled cheesecake.
This is a rich, dense cheesecake, and full of chocolatey flavor with a coffee note at the end. The small size is perfect for anyone who wants just enough cheesecake to satisfy a craving.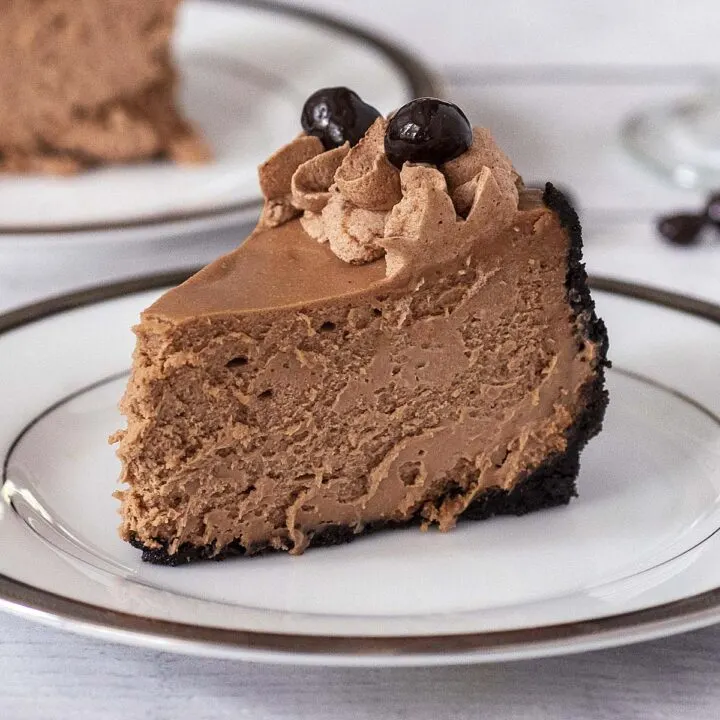 6-inch Mocha Cheesecake
Total Time:
4 hours
50 minutes
This small mocha cheesecake is perfect for a small gathering. It has the perfect balance of chocolate and coffee flavors.
Ingredients
For the crust
1 ½ cups Oreo cookie crumbs (see Note)
4 tablespoon unsalted butter, melted
For the filling
16 oz cream cheese, at room temperature
⅓ cup sugar
1 teaspoon cocoa powder
½ teaspoon vanilla extract
1 teaspoon coffee extract
¼ teaspoon kosher salt
1 large egg, at room temperature
2 ounces semisweet chocolate chips, melted
For the garnish
½ cup heavy cream
2 tablespoon powdered sugar
1 tablespoon cocoa powder
8 chocolate-covered espresso beans
Instructions
Preheat your oven to 350 degrees. Wrap the bottom of a 6-inch springform pan with two layers of tinfoil.
Stir together the cookie crumbs and unsalted butter. Press into the bottom and up the sides of the springform pan.
In a stand mixer, beat the cream cheese on medium speed until smooth and creamy. Add in the sugar and cocoa powder and continue beating until incorporated. Scrape down the sides and bottom of the mixing bowl.
Add the egg, extracts and salt. Scrape down the sides and bottom of the bowl and beat another minute or so. Add in the melted chocolate chips and beat until incorporated.
Pour the batter into the springform pan. Bake for 30 minutes.
If the center of the cheesecake is still very liquidy, bake another 5 minutes, then check again. Check every 5 minutes until the center of the cheesecake just barely jiggles when the pan is gently shake.
Cool the cheesecake to room temperature, then chill for at least 4 hours or overnight.
Just before serving, whip the heavy cream to soft peaks. Add the powdered sugar and cocoa powder, and continue whipping to stiff peaks. Dollop or pipe the whipped cream into the cheesecake and garnish with chocolate-covered espresso beans. Slice and serve.
Notes
Note: An easier way of getting 1 ½ cups of cookie crumbs is to purchase a store-bought chocolate cookie crust (in the baking aisle). Break up the crust and use the crumbs for your cheesecake crust.
Recommended Products
As an Amazon Associate and member of other affiliate programs, I earn a small percentage from qualifying purchases.
Nutrition Information:
Yield:

8
Serving Size:

1
Amount Per Serving:
Calories:

678
Total Fat:

49g
Saturated Fat:

27g
Trans Fat:

0g
Unsaturated Fat:

13g
Cholesterol:

118mg
Sodium:

305mg
Carbohydrates:

54g
Fiber:

4g
Sugar:

40g
Protein:

9g
I am not a certified nutritionist. This nutrition information is automatically calculated by third party software and is meant as a guideline only.
Happy #NationalCheesecakeDay 2021 hosted by Lynn from Fresh April Flours! Let's celebrate this delicious day with our favorite cheesecake recipes-- from fruity to chocolatey and mini to InstantPot, we've got you covered for your next cheesecake need!
More #NationalCheesecakeDay Recipes