Peach bruschetta is a simple yet delicious summer appetizer. Toasted French bread slices are topped with creamy brie cheese, farmers market peaches, basil and honey.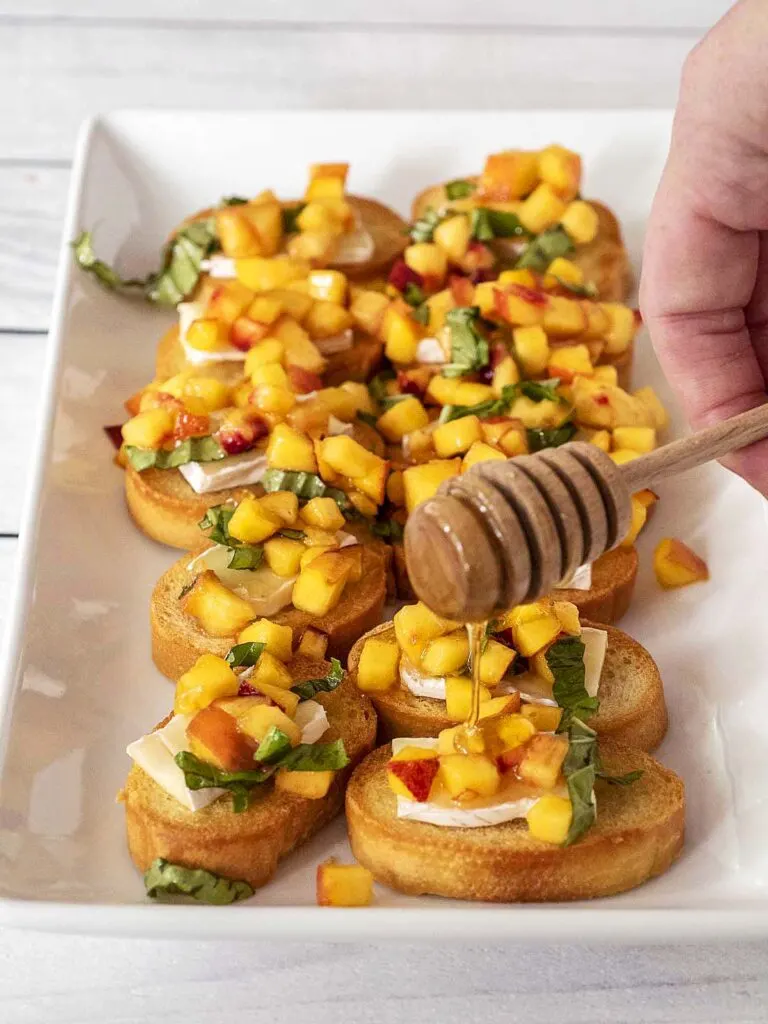 Farmer's Market Week is always the first week in August. I'm very lucky that I have several options for farmers markets in and around my town, as well as Philly Foodworks, which is a kind of cross between a CSA and a farmers market.
Whether you have a great local farm stand or market, are a member of a CSA or purchase your fruits and vegetables at the supermarket, follow our Pinterest board, for great recipes including those for appetizers, drinks, breakfast, lunch, dinner, dessert and more.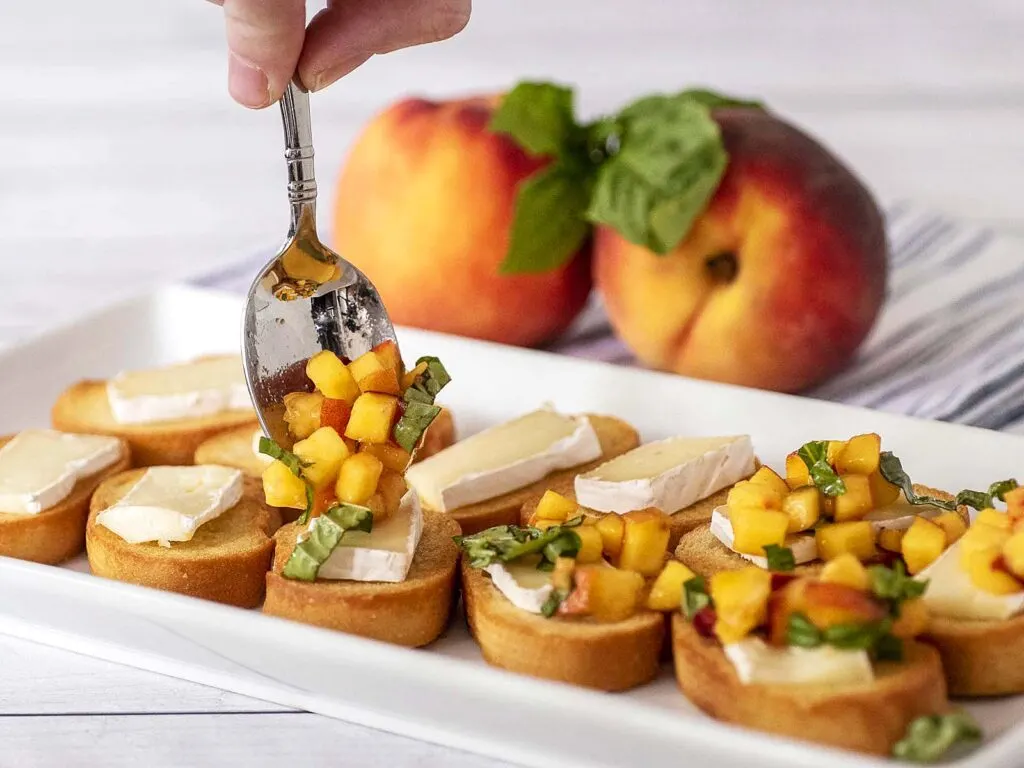 One of my favorite fruits to buy at a farmers market is peaches. Delicious for eating out of hand, and fun to cook and bake with. Most people usually make sweet desserts like pies and cobblers with peaches, but they can also be delicious in savory recipes, too.
What is Bruschetta
Many people think that "bruschetta" refers to the tomato/basil topping on the toasted bread. No, it actually refers to the sliced bread (traditionally Italian bread) that is brushed with olive oil and toasted.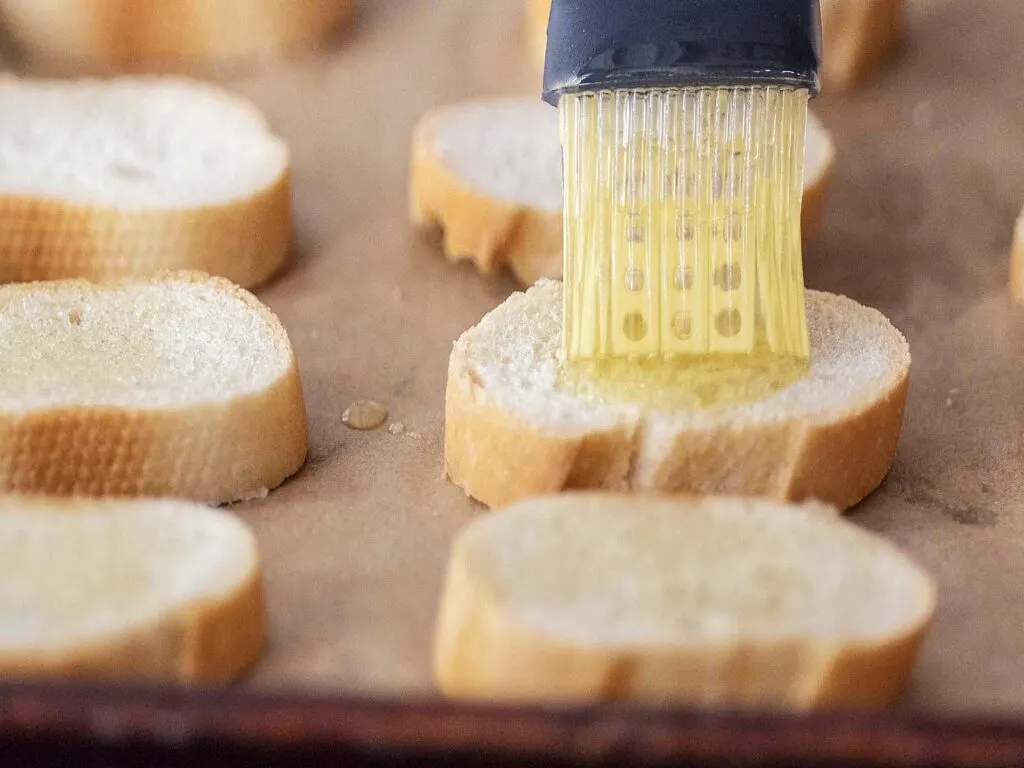 In this version, I sliced a French baguette, toasted the slices and topped them thin slices of creamy brie cheese. Then, I spooned on a mixture of fresh farmers market peaches and basil, and drizzled them with honey. Depending on the market and the vendors who attend that day, I could get every single one of the ingredients at a farmers market.
Now, I had an inkling that this recipe would be delicious. I wouldn't have made it if I didn't think it would be. After all, I love French bread, brie, peaches and honey separately. But I had what I call a "Ratatouille" moment (from the Disney movie) — I didn't realize it would be THAT good when I paired them all together!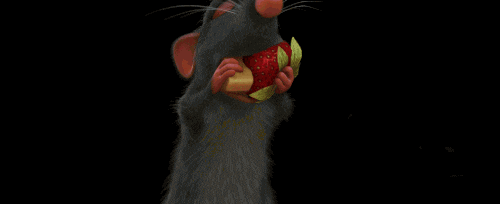 FAQs
Q: Would other fruits work well in this recipe?
A: Yes, nectarines and plums would also work well in this recipe.
Q: What other cheeses could I use in this recipe?
A: Any creamy, washed-rind cheese would be delicious, such as taleggio, fontina or epoisses (make sure your fruit is very ripe if you go with an epoisses so that the flavor doesn't overpower the fruit). Also, a soft, fresh cheese like chevre would be delicious as well.
Q: Can this appetizer be made ahead of time?
A: You can make the peach topping ahead of time and keep it in the refrigerator, though I wouldn't add the salt until just before topping the bread, because it will draw out too much moisture. You can also toast the bread ahead of time and keep it in an airtight container at room temperature.
Q: I have more peach topping than bread slices. What can I do with the leftovers?
A: Spoon it over sautéed chicken or fish!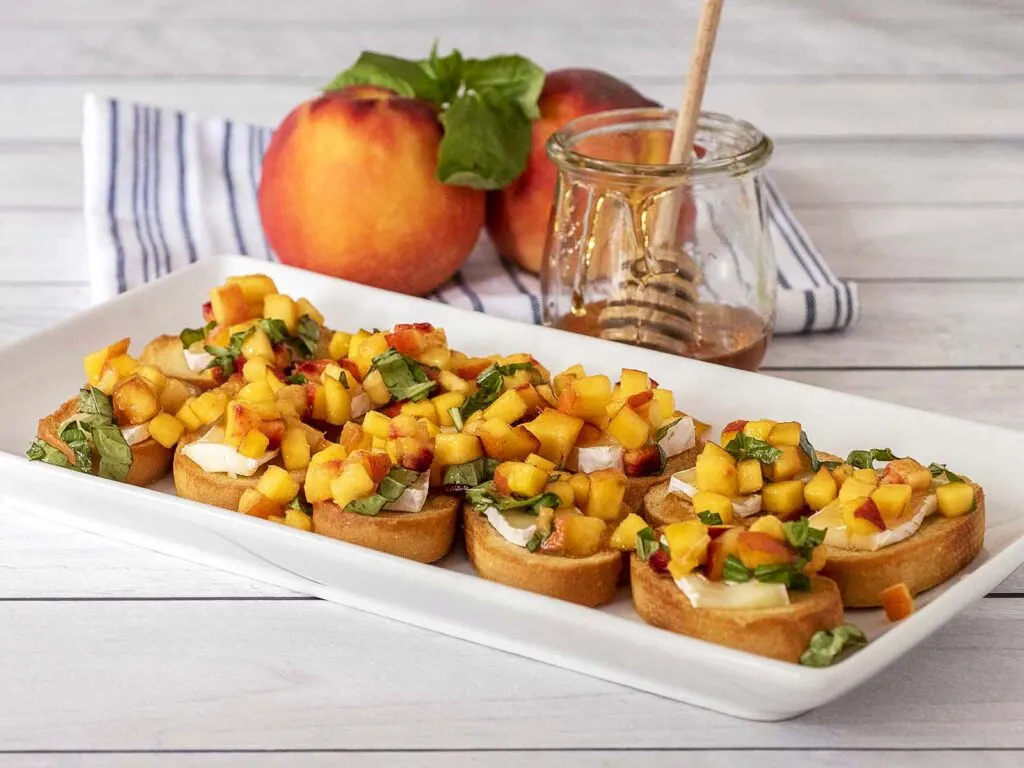 This recipe is so simple, so easy and yet so delicious. I love how the soft brie melted ever so slightly on the warm toasted bread, and the honey complemented both the peaches and the cheese.
This is my new favorite summer appetizer, and honestly, I could make a meal out of just these toasts!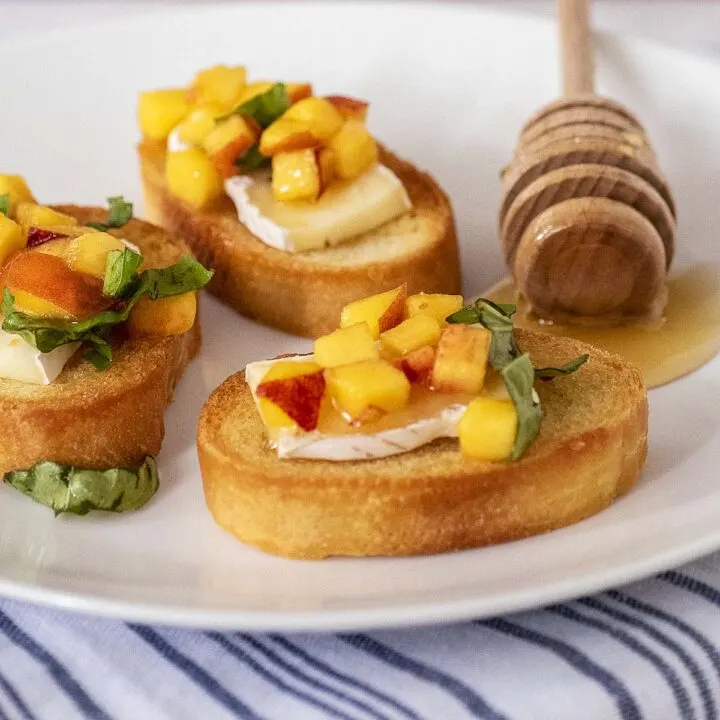 Peach Bruschetta
Peach bruschetta is a simple yet delicious summer appetizer. Toasted French bread slices are topped with creamy brie cheese, farmers market peaches, basil and honey.
Ingredients
1 baguette, cut into ¼-inch thick slices
¼ cup olive oil
2 large peaches, diced
2 tablespoon chopped fresh basil
Pinch of kosher salt
4 oz brie
1 tablespoon honey
Instructions
Preheat your oven to 350 degrees. Line a baking sheet with parchment paper.
Brush both sides of each baguette slice with olive oil. Arrange them on the baking sheet in a single layer and bake for 15 to 18 minutes, until toasted and golden brown.
While the bread is toasting, toss together the diced peaches with the chopped basil and kosher salt.
Transfer the toasted bread to a serving tray.
Cut the brie cheese into thin slices, just big enough to fit on the toast. Lay the cheese on each bread slice.
Spoon the peach mixture onto the bread slices. Drizzle the honey over the bruschetta. Serve.
Notes
Instead of peaches, you can also use diced nectarines or plums, or a mixture of the three fruits.
Recommended Products
As an Amazon Associate and member of other affiliate programs, I earn a small percentage from qualifying purchases.
Nutrition Information:
Yield:

12
Serving Size:

1
Amount Per Serving:
Calories:

109
Total Fat:

7g
Saturated Fat:

2g
Trans Fat:

0g
Unsaturated Fat:

5g
Cholesterol:

9mg
Sodium:

112mg
Carbohydrates:

8g
Fiber:

1g
Sugar:

4g
Protein:

3g
I am not a certified nutritionist. This nutrition information is automatically calculated by third party software and is meant as a guideline only.
More Farmer's Market Week Recipes
Starters and Drinks Recipes
Side Dishes Recipes
Main Dish Recipes
Dessert Recipes