Smoky-sweet barbecue sauce made from local New Jersey peaches, sits atop balsamic burgers. This meal tastes like summer on a plate!
I've read differing opinions on whether it's better to vacation alone, or with a large group. There's no one right way to do it, as it depends on your personality, and the dynamics of the group. Personally, I prefer vacationing with a large group, which most often means my parents, my brother and sister-in-law, and my aunt/uncle and their kids.
We rent a large house with enough bedrooms for all, as well as common living areas. We have private space for when we need it, yet we have common areas for eating together, playing games together, etc. We usually bring groceries, and cook in the rental to save money, instead of eating out. Our rentals have always included a grill, so we take advantage of the nice weather to cook outdoors.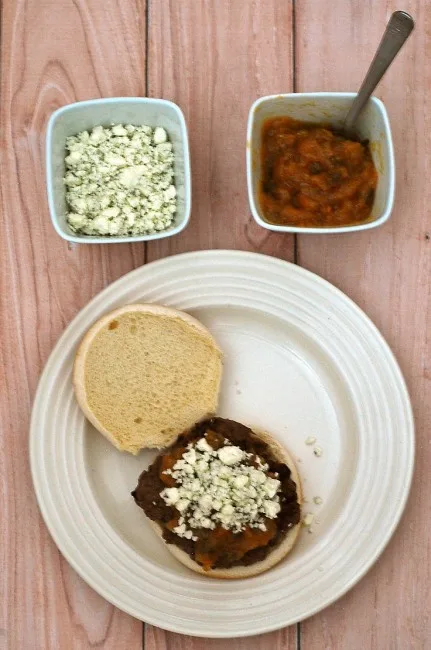 We also love eating burgers on vacation, because they are so easy to make in bulk. These burgers are very flavorful, with lots of tanginess from the balsamic and Worcestershire. I recommend using 80/20 beef because without the fat, the burgers become very dry. I wouldn't use anything leaner than 90/10 ground beef.
The BBQ sauce, however, is the smoky-sweet star of the show. The sauce can be made ahead of time and refrigerated. Use the ripest peaches you can find — they have the best flavor, and provide a lot of moisture for the sauce. I completely de-seeded my jalapenos, but if you want a spicy kick to your sauce, leave a few in.
We used crumbled Gorgonzola, an Italian bleu cheese, but you can use your favorite bleu. Feta or goat cheese would also pair nicely with these burgeres.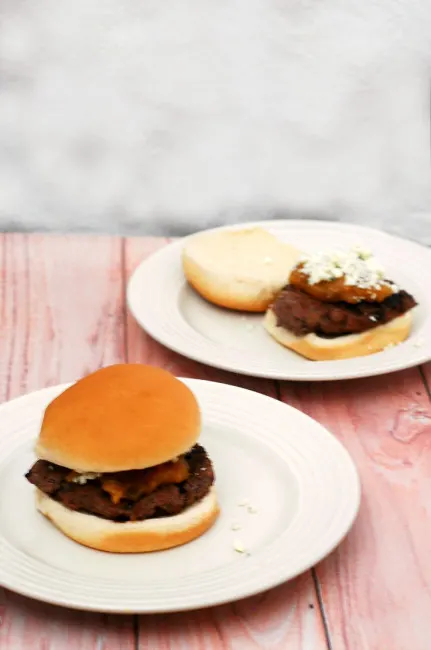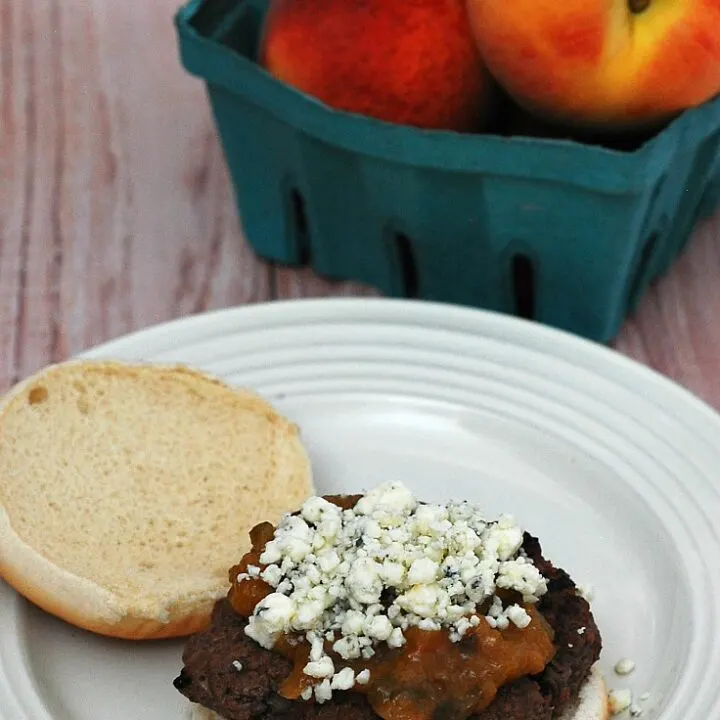 Balsamic Burgers with Bourbon Peach BBQ Sauce #WeekdaySupper
Ingredients
For the BBQ sauce:
2 medium ripe peaches, pitted and diced
1 jalapeno pepper, seeded and diced
¼ cup Vidalia onion, diced
3 cloves garlic, minced
¼ cup + 1 tablespoon honey
3 tablespoon cider vinegar
2 tablespoon bourbon
¾ teaspoon Worcestershire sauce
½ teaspoon dry mustard
½ teaspoon salt
¼ teaspoon ancho chili powder
Generous pinch of red pepper flakes
For the burgers:
1 lb . 80/20 ground beef
¼ cup Vidalia onion, minced
¼ cup balsamic vinegar
1 tablespoon Worcestershire sauce
Salt and pepper to taste
½ cup crumbled Gorgonzola or bleu cheese
4 hamburger buns
Instructions
Place all of the BBQ sauce ingredients in a medium saucepan set on the stovetop on medium-high heat. Bring to a boil, then reduce the heat to low and simmer, covered, for 20 to 25 minutes, stirring frequently, until the peaches are very soft and starting to break down. Add water as needed to prevent the ingredients from burning. Remove from the heat, and puree with an immersion blender to desired consistency. Set aside.
In a medium mixing bowl, combine the ground beef, minced onion, balsamic and Worcestershire sauce gently with your hands. Set aside for 10 minutes, for the balsamic vinegar to soak into the ground beef. Divide the mixture into 4 portions and shape into patties.
Cook the patties over medium-high heat in a cast-iron skillet for about 5 minutes on each side, until cooked through. Remove to a plate and set aside to rest.
While the burgers are resting, split the burger buns and place them under the broiler for 2 to 3 minutes to toast.
Place a burger on each bottom bun half, top with a spoonful of the bourbon-peach BBQ sauce, a spoonful of Gorgonzola cheese crumbles, then the top with the upper bun half and serve.
Recipe by The Redhead Baker
Be sure to stop and check out the rest of the Weekday Supper posts!