If you try one new cocktail this summer, make it this peach vanilla sangria. Crisp white wine is flavored with peaches, brandy and syrup infused with vanilla bean.
It is May, right? Almost the end of May? Almost Memorial Day, the unofficial start of summer? Can someone let Philadelphia's weather know that? I thought our heavy sweaters and winter coats would long be put away by now.
And if it's not chilly, it's raining. The worst is when it's chilly AND raining. I signed up for the Independence Blue Cross Broad Street Run (a 10-mile race), and come race day (the first Sunday in May) it was both chilly AND raining. Yes, I still ran, and let me tell you, I have never been so cold in my life!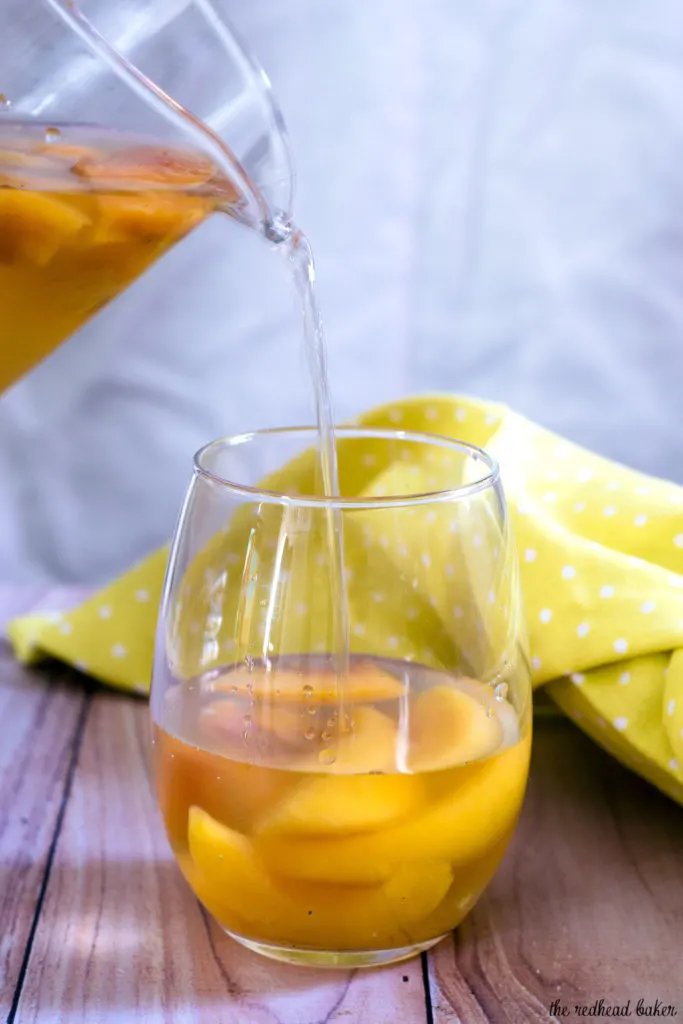 I'm ready for barbecues! For picnics! For summer parties in the backyard! My flip-flops are dusted off and ready to go! The turquoise polish on my toenails wants to see the sunlight! I have cute new skirts and dresses to wear!
Heck, at this point, I'll settle for lounging outside with a cocktail, watching my son blowing bubbles, or drawing with sidewalk chalk, or having a catch with his dad, or chasing down the ice cream truck.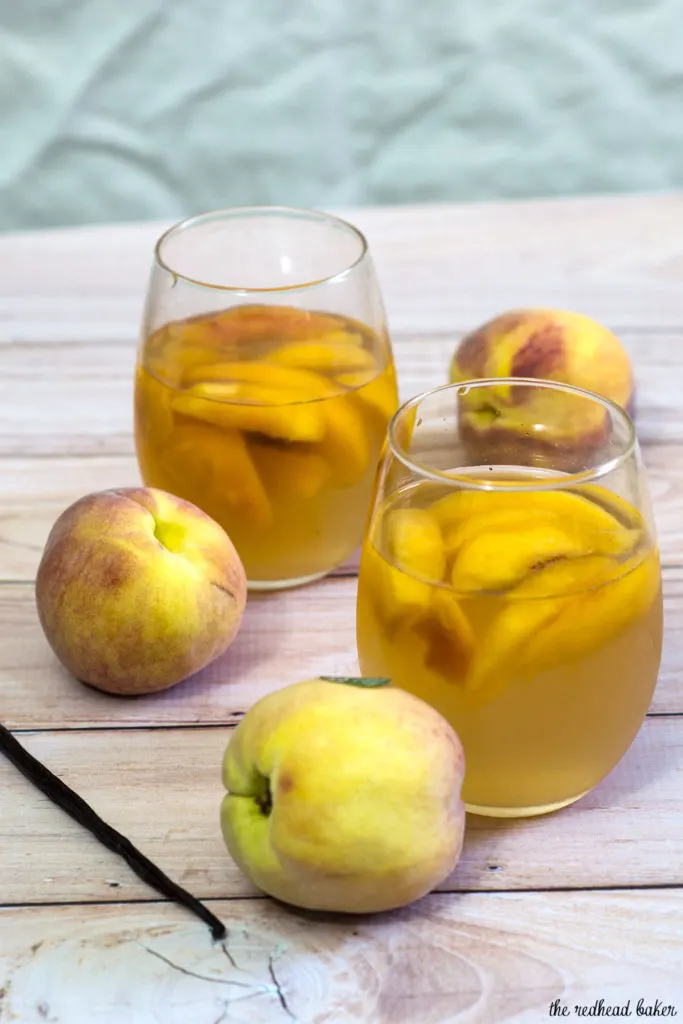 When I daydream about lounging outside on a warm summer evening, the drink in my hand is sangria. I love the flexibility of sangria. Use red wine, use white wine, doesn't matter. Use your favorite fruit, or combination of fruits. Whatever you've got in the fridge that needs to be used up, or catches your eye at the grocery store.
I strongly recommend using a real vanilla bean instead of vanilla extract for this peach vanilla sangria. I love the beautiful flecks from the vanilla seeds. And the aroma is just heavenly. That can't be replicated with vanilla extract.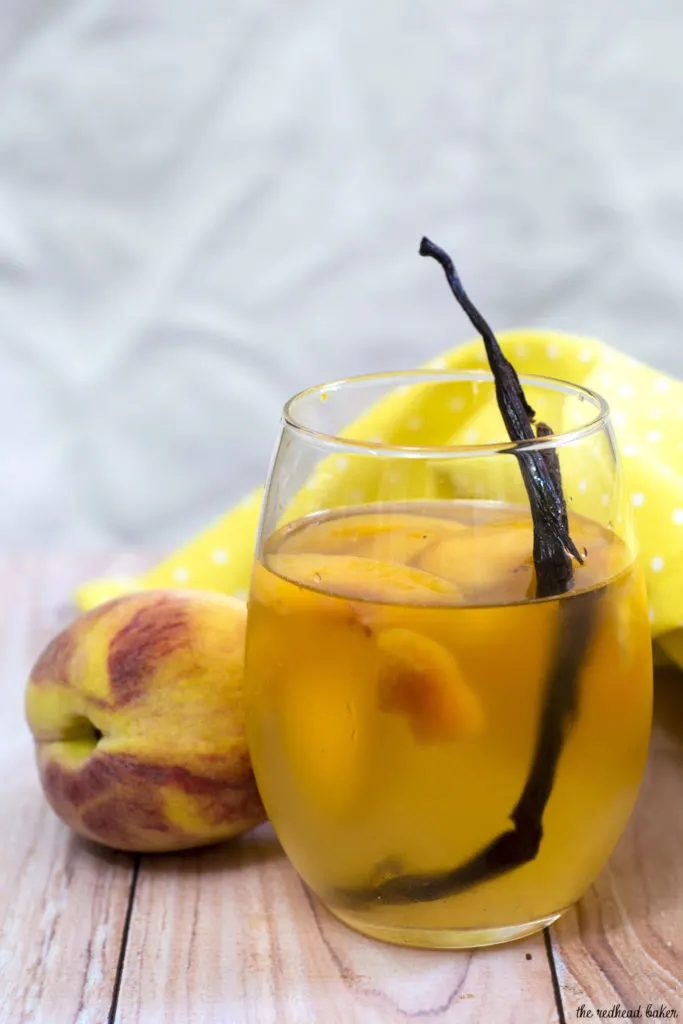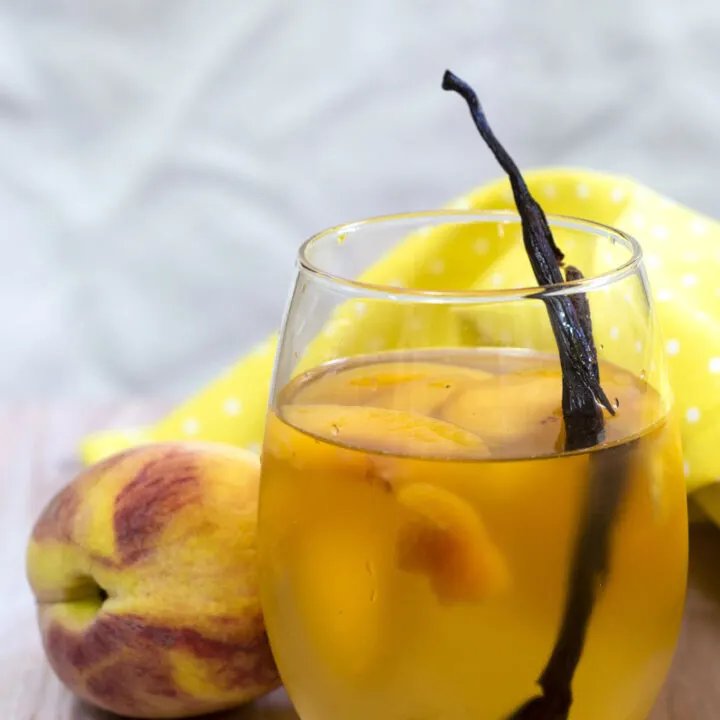 Peach Vanilla Sangria
Ingredients
1 vanilla bean, split and scraped, pod reserved
¼ cup sugar
½ cup water
1 lb frozen sliced peaches, thawed, NOT peaches frozen in syrup
½ cup brandy
1 mL bottle dry white wine, 750, I used Chardonnay
Instructions
In a small saucepan, combine the vanilla bean scrapings and pod, sugar and water. Bring to a boil over medium-high heat. Stir until the sugar is completely dissolved, then remove from the heat and cool the syrup to room temperature.
Place the peaches, vanilla syrup (pod included), brandy and wine in a pitcher and stir to combine. Refrigerate overnight.
Discard the vanilla bean pod before serving.
A recipe by The Redhead Baker