This post is sponsored by ThermoWorks. I received a ThermoPop thermometer in exchange for this post. All opinions are my own.
Pulled pork sliders are great for game-day tailgates! Make the pork in advance, keep it warm, and dish out onto slider buns while cheering on your team!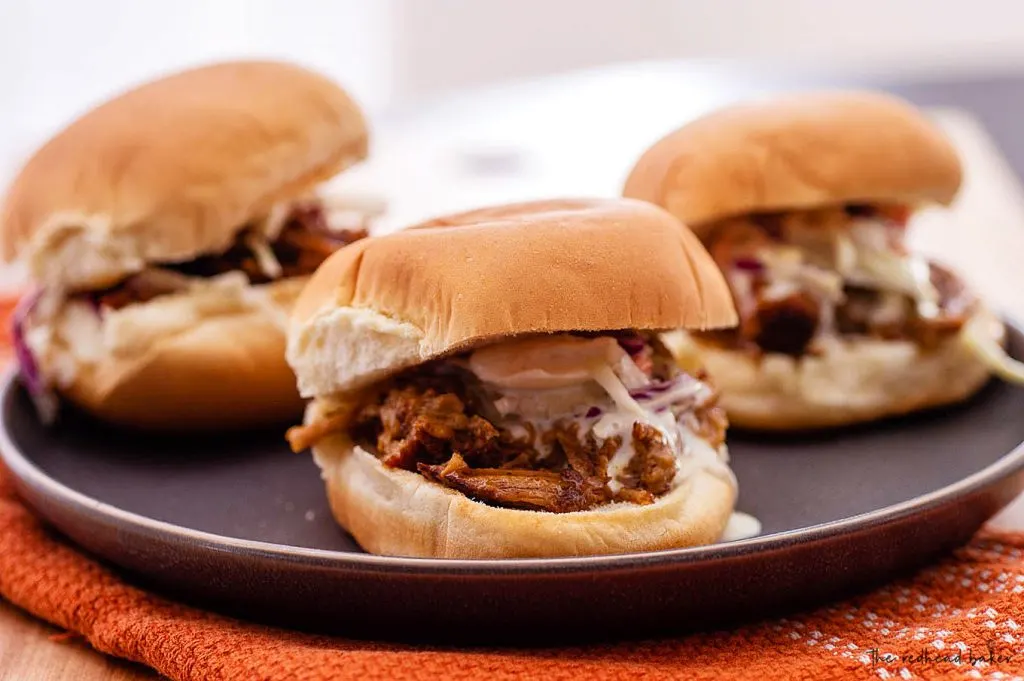 It's tailgate season! I'm not a big football fan myself, but I'm always up for a tailgate! Tailgate food is always so delicious.
When I think of the best tailgate foods, the ones I imagine are flavorful, and able to be eaten easily while standing. I think these sliders check off both of those boxes.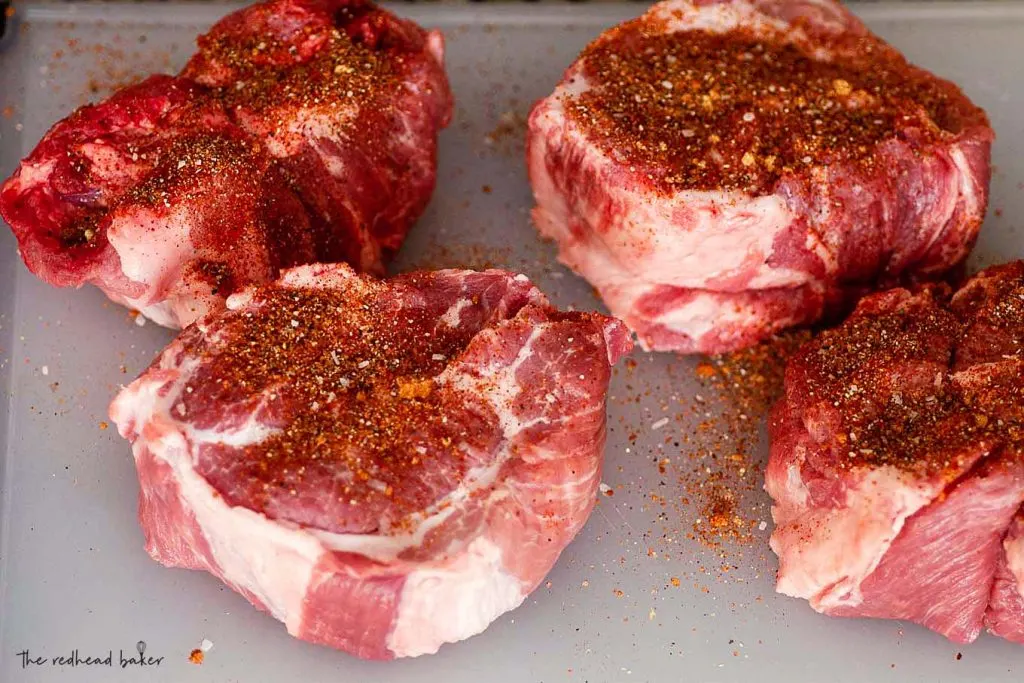 The best cut of meat to use for pulled pork is the boneless shoulder roast. It's a tough cut of meat, because it comes from the shoulder of the pig, which means it gets a lot of work. After a few hours in the oven at a low temperature, it gets to the point where it nearly falls apart just by poking it with a fork. OK, that was slightly exaggerated. But it really does become fall-apart tender.
Now, while the FDA has revised its recommended temperatures for most cuts of pork down to 145 degrees, that doesn't apply to the pork shoulder. I cook my pork shoulder to 190 degrees, then let it rest for 30 minutes before touching it. The pork will continue to rise in temperature while it rests (called carryover cooking), and will reach the ideal temperature of 200 degrees F.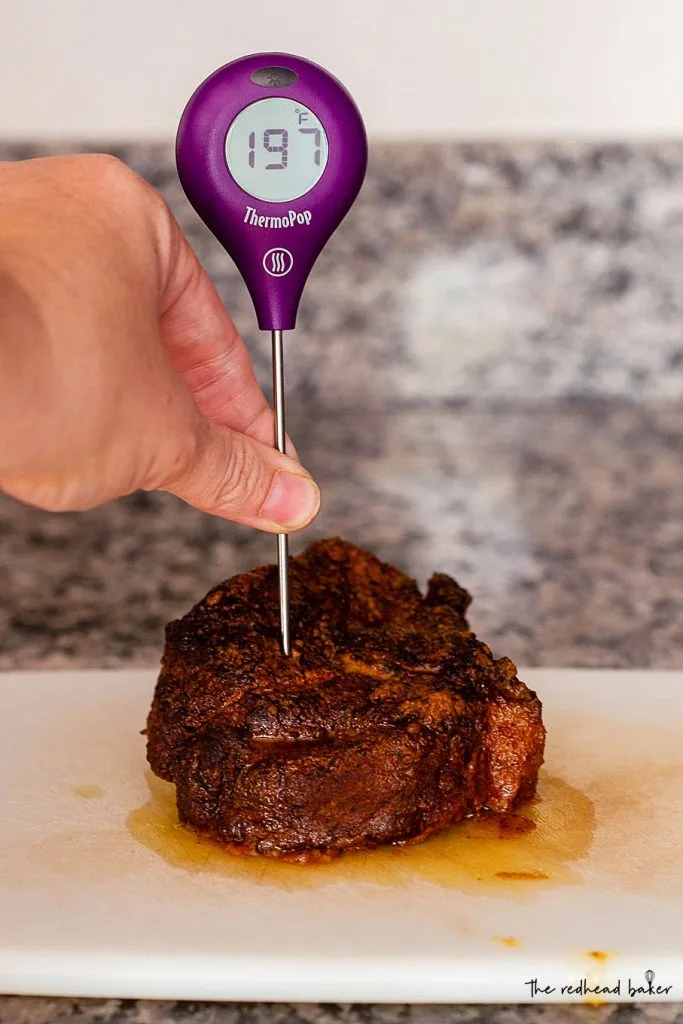 I recently received a ThermoPop thermometer from ThermoWorks for use in this recipe. I was intrigued because of its rotating head, and 3-second temperature read. Plus, it comes in a range of pretty colors!
The rotating head and backlit display are really useful features. The quick read takes the guesswork out of cooking your cuts of meat to perfect temperature. And the thermometer comes in a handly sleeve with a clip, so you can tuck it safely in your pocket until you need it. And thanks to ThermoWorks, you could win one of your own! See the entry widget at the bottom of this post.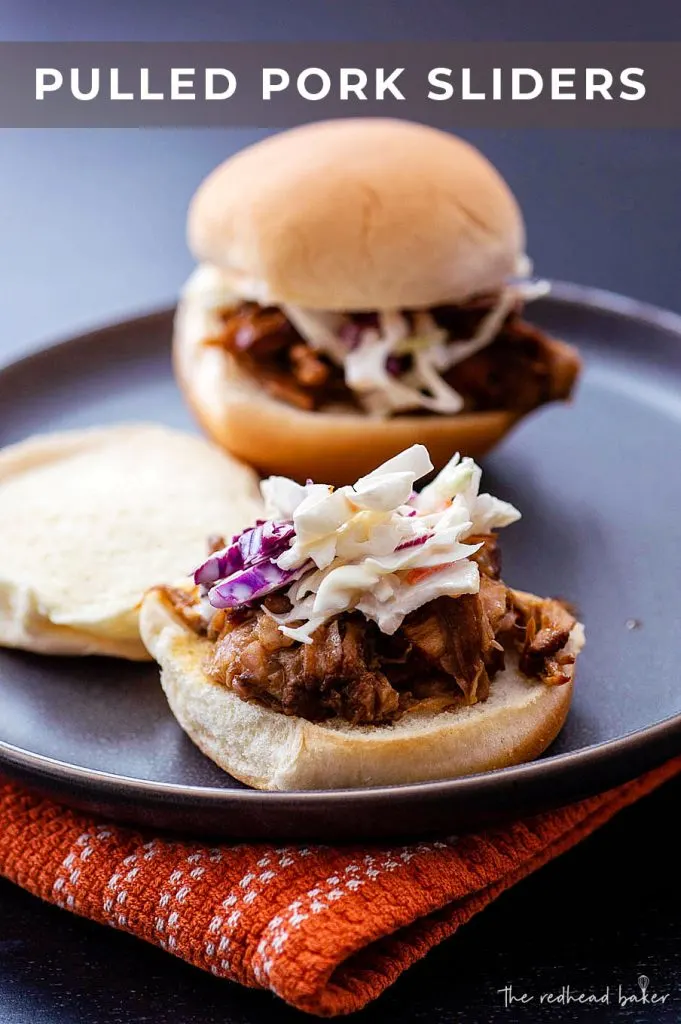 These sliders are served on mini burger buns. I used Hawaiian-style sweet roll buns, but potato buns would also be delicous. Then I topped them with coleslaw, but I'd also love to try these with fried onion rings.
Add a side of cornbread, black bean salad, and some cold drinks, and you've got yourself one delicious tailgate!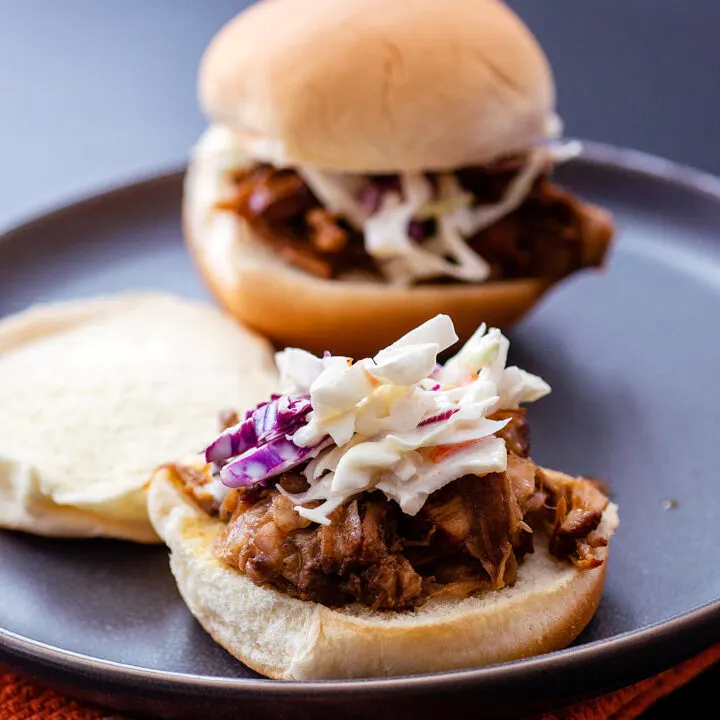 Dutch Oven Pulled Pork Sliders
Total Time:
3 hours
45 minutes
Pulled pork sliders are great for game-day tailgates! Make the pork in advance, keep it warm, and dish out onto slider buns while cheering on your team!
Ingredients
3 lb boneless pork shoulder roast
1 tablespoon brown sugar
1 tablespoon chili powder
2 teaspoon smoked paprika
1 teaspoon onion powder
1 teaspoon garlic powder
1 teaspoon ground cumin
1 teaspoon kosher salt
½ teaspoon black pepper
2 tablespoon canola oil
1 cup low-sodium chicken broth
1 cup barbecue sauce
2 tablespoon cider vinegar
2 tablespoon brown sugar
1 tablespoon cornstarch
2 tablespoon water
24 slider rolls
2 cups coleslaw
Instructions
Preheat oven to 300 degrees.
Cut the pork shoulder into 4 pieces and trim off any excess fat.
In a small bowl, combine the brown sugar, chili powder, paprika, onion powder, garlic powder, cumin, salt and pepper. Rub the mixture over all sides of each piece of pork.
Heat a Dutch oven over medium-high heat. Add the vegetable oil, and once the oil is hot, sear the pork (in batches, if needed) on all sides just until the pork no longer sticks to the pan.
Remove the pork to a plate. Turn off the heat under the Dutch oven.
Add the chicken broth, using a spatula to scrape up any bits stuck to the bottom of the Dutch oven. Then add the barbecue sauce, cider vinegar and brown sugar; whisk to combine.
Nestle the pork in the liquid. It should be almost completely covered; if not, add more chicken broth.
Cover the Dutch oven and place in the oven. Cook for 2 ½ to 3 hours, or until the pork reaches 190 degrees F on your ThermoWorks ThermoPop thermometer, and the pork pulls apart easily with a fork.
Remove the pork from the oven, reserving the liquid in the Dutch oven, and let rest for at least 30 minutes.
In a small bowl, whisk together the cornstarch and water. Whisk the cornstarch mixture into the liquid remaining in the Dutch oven, and bring to a boil over medium-high heat, then reduce the heat and simmer for 5 minutes.
Shred the pork, and add back to the sauce in the Dutch oven, tossing to coat.
Serve some of the pulled pork and coleslow on slider rolls.
Recommended Products
As an Amazon Associate and member of other affiliate programs, I earn a small percentage from qualifying purchases.
Nutrition Information:
Yield:

24
Serving Size:

1
Amount Per Serving:
Calories:

317
Total Fat:

17g
Saturated Fat:

5g
Trans Fat:

0g
Unsaturated Fat:

10g
Cholesterol:

52mg
Sodium:

449mg
Carbohydrates:

24g
Fiber:

2g
Sugar:

9g
Protein:

17g
I am not a certified nutritionist. This nutrition information is automatically calculated by third party software and is meant as a guideline only.
Welcome to our #TailgateParty!
We have delicious recipes from across the country to make your next tailgating party the best and most delicious party ever!

a Rafflecopter giveaway