Sweet cornbread is a classic cookout side dish. This recipe is buttery and moist, all that's needed is a drizzle of honey!
Get those grills fired up... because it's #CookoutWeek 2017! This week, I'm joining forces with over 40 food blogger friends to bring you delicious recipes perfect for every backyard BBQ, picnic, summer party, or cookout.
We also have a fabulous giveaway featuring products from the brands who have made #CookoutWeek possible! You can enter below to win:
From #Cookout Week host blog The PinterTest Kitchen: $100 Amazon gift card, to use to buy all the supplies you need for your next cookout
From our sponsor The French Farm: A gift pack of gourmet products hand-crafted by small businesses and using only the finest ingredients — La Favorita Genovese Pesto, Caprichos del Guadalquivir Cadenera Orange Marmalade, and L'Abeille Occitane Lavender Honey

From our sponsor Smokin'-Os: A sampler pack of their "smokin'-os" wood rings, to help you add wood-fired, smokey taste to your grilled foods, even if you don't own a smoker
From our sponsor Primal Kitchen: $200 of Primal Kitchen goodies, including condiments made with avocado oil and bars and shakes with grass-fed collagen

From our sponsor Langers Juice Company: Your choice of 10 bottles of Langers Juice, with flavors including traditional Apple and Grape, as well as interesting mixes such as Pineapple Orange Coconut, Cranberry Blood Orange, and Mango Peach
From our sponsor True Made Foods: A 3-bottle sampler pack of sauces with real flavors made from real vegetables and less sugar — Ketchup, BBQ, and Veracha
This prize pack has an ARV of over $400! You have until July 1 at 11:59 PM to enter by following our sponsors and bloggers on social media. Update: Giveaway has ended.
Stay tuned... remember, throughout the week, all of the participating bloggers will be posting delicious cookout recipes. Here are all the bloggers who are part of #CookoutWeek 2017:
The PinterTest Kitchen • 2 Cookin Mamas • A Day in the Life on the Farm • A Kitchen Hoor's Adventures • Amy's Cooking Adventures • Ashees Cookbook • Baking Sense • Body Rebooted • Bottom Left of the Mitten • Chef Sarah Elizabeth • Cook's Hideout • Cookaholic Wife • Cooking with Sapana • Eat, Drink, Be Healthy! • Fairyburger • Faith, Hope, Love, & Luck Survive Despite a Whiskered Accomplice • Family Around the Table • Fix Me a Little Lunch • For the Love of Food • Full Belly Sisters • Hezzi-D's Books and Cooks • Home Sweet Homestead • Join Us, Pull up a Chair • Kate's Recipe Box • Kelly Lynn's Sweets and Treats • Little House Big Alaska • My Southern Sweet Tooth • Our Good Life • Oven Tales By Syama • Palatable Pastime • Rants From My Crazy Kitchen • Savory Moments • Seduction in the Kitchen • That Recipe • The Freshman Cook • The Mad Scientists Kitchen • The Pajama Chef • The Saucy Southerner • The Spiffy Cookie • The Weekday Gourmet • Tramplingrose • Turnips 2 Tangerines • Uncle Jerry's Kitchen
Sweet Cornbread
Today, I'm sharing a classic cookout side dish: cornbread. I prefer my cornbread sweet and buttery, which this one is — all it needs is a drizzle of honey! Though I won't judge if you put an extra pat of butter on top.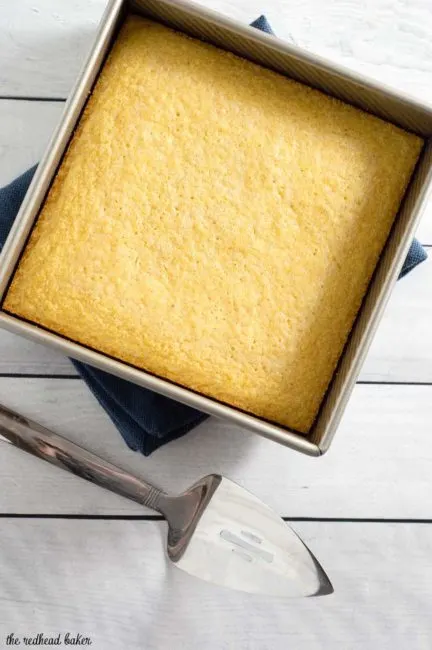 If you want to make a batch for a larger crowd, double the ingredients and bake in a 9x13 pan. It will likely need to bake longer as well. You may want to make a large batch even for a small crowd. It's hard to stop with just one piece!
Don't forget to scroll to the bottom of the post to see links to all of today's #CookoutWeek recipes.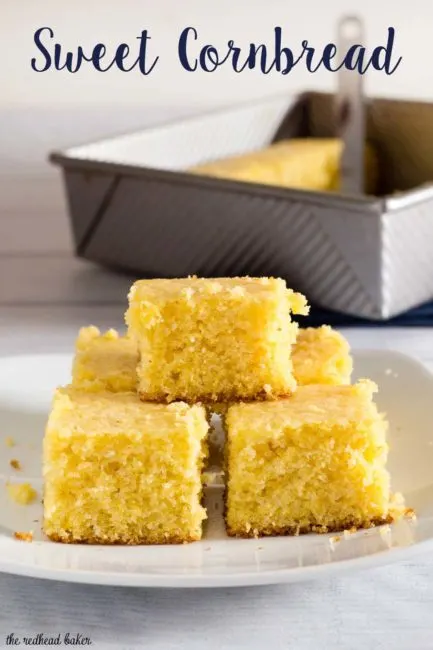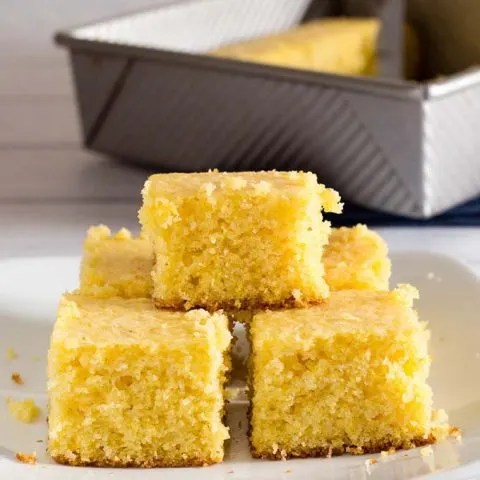 Sweet Cornbread
Ingredients
⅓ cup buttermilk, at room temperature
2 large eggs, at room temperature
⅓ cup unsalted butter, melted
1 cup all-purpose flour
½ cup cornmeal
½ cup sugar
1 ¼ teaspoon baking powder
¼ teaspoon baking soda
1 teaspoon salt
Instructions
Preheat oven to 400 degrees. Spray an 8x8 baking pan with nonstick spray.
In a small bowl, stir together the eggs, buttermilk and melted butter.
In a larger bowl, stir together the flour, cornmeal, sugar, baking powder, baking soda and salt.
Pour the wet ingredients over the dry ingredients, and stir just until all of the dry ingredients are moistened. Scrape the batter into the prepared pan.
Bake for 20 to 25 minutes, or until a paring knife inserted in the center of the cornbread comes out clean.
Cut into four rows and four columns for 16 squares, and serve.