Although this post is sponsored by The Art of Tea, all opinions are my own.
Summer Peach Sweet Tea Ice Cream is infused with loose tea leaves from The Art of Tea's Summer Peach blend and sweetened with brown sugar.
One of the ways that I love to cool off in the summer heat is with a glass of refreshing iced tea. I recently had the opportunity to try sweet tea, and I just love it. It's a staple in most southern households, but I'd never heard of it until recently.
When a representative from The Art of Tea contacted me about using their award-winning organic tea blends in a recipe, I knew I wanted to make some variation of sweet tea. They sent me a sampler pack of tea blends including Summer Peach, Garden of Eden, Hibiscus, Green Pomegranate, and Passionfruit Jasmine. So hard to choose just one tea blend for my recipe!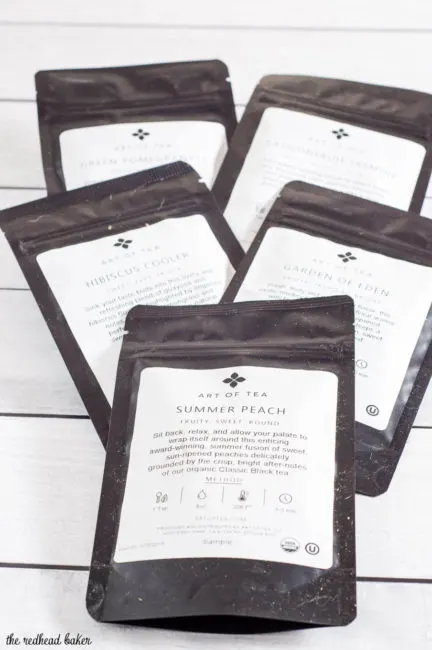 I settled on the Summer Peach, because peach iced tea is my favorite. The aroma of this tea is heavenly. It blends sweet, sun-ripened peaches with organic black tea. I love that each pouch of tea leaves tells you what temperature water to use and how long to steep for optimal flavor.
Steeping the tea in the cream turns it a light brown color. Once the brown sugar is added to the ice cream base and it's fully cooked, it resembles coffee lightened with a lot of cream.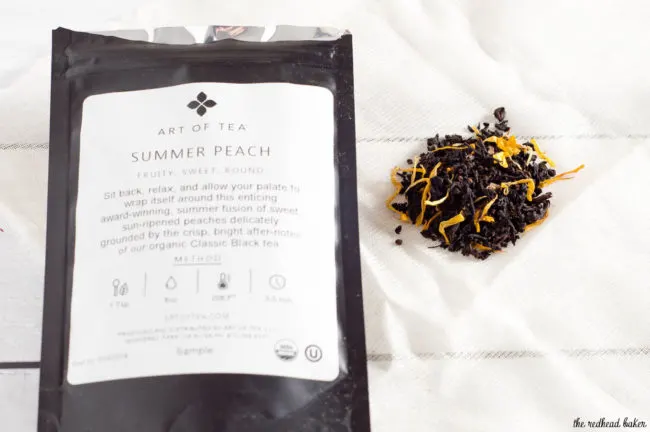 I was happy to work with The Art of Tea because they purchase the tea directly from small farms and co-ops from around the world, providing families in developing countries with a fair price for their goods. They also buy fair trade teas that are authorized by FairTrade USA, ensuring fair working conditions, fair wages and a better life for tea workers from eleven countries across Africa, Asia and Latin America.
The Art of Tea website is great for those who are unfamiliar with the different types of tea. There's an entire section of educational information about tea, including its history, how it's used today, and ways to prepare it. For tea enthusiasts, there's even a subscription program! They also sell teapots, tea cups, tea storage containers, and pitchers for brewing iced tea.
Speaking of iced tea, I prepared a pitcher of iced tea with the Garden of Eden tea blend. It was delicious! It's a fruity and floral black tea blend, and perfect to drink any time of the day. I can't wait to try the other three blends!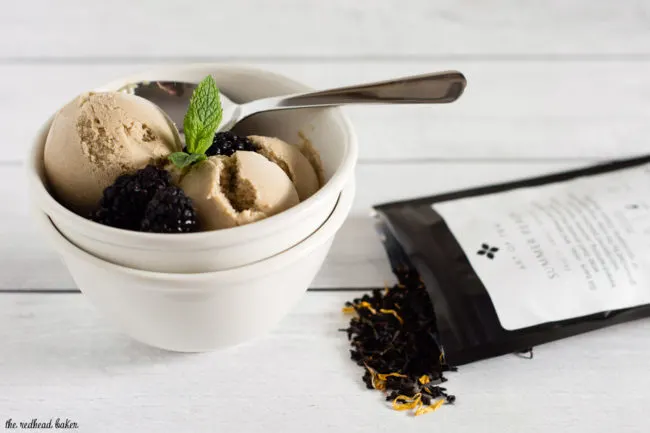 But back to the recipe ... as written below, the flavor of the peach tea is present, but not overwhelming. If you prefer a stronger tea flavor, increase the amount of loose tea leaves to 3 tablespoons.
I served this ice cream with blackberries (raspberries and/or blueberries would be delicious, too) and a sprig of fresh mint. Serve a few scoops in a cup or in a cone, whichever you prefer!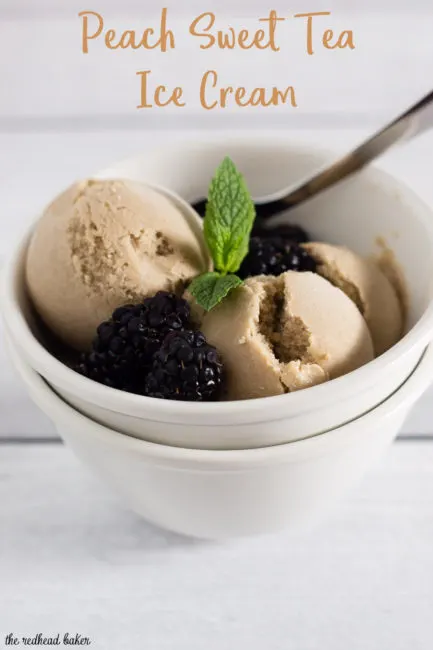 Summer Peach Sweet Tea Ice Cream
Special equipment needed: cheesecloth, kitchen twine, ice cream maker
Ingredients
2 tablespoon Art of Tea Summer Peach tea blend
2 cups heavy cream
2 cups whole milk
1 cup light brown sugar
2 teaspoon vanilla extract
12 large egg yolks
Instructions
Place the tea leaves in a square of cheesecloth and tie shut with an arm's length of kitchen twine, leaving one end long to hang over the side of the saucepan.
Combine the cream and milk in a heavy-bottom saucepan. Bring to a simmer. over medium heat Submerge the tea leaf cheesecloth pouch. Adjust the heat to low to keep the cream at a simmer, and let the mixture simmer for 10 minutes.
Remove from the heat, cover the saucepan and let sit for 2 hours.
Skim the skin off of the cream and discard. Remove the cheesecloth pouch from the cream, squeeze out any excess liquid, and discard.
Return the cream to medium heat to bring back to a simmer. While the mixture is heating, whisk the egg yolks with the brown sugar until thick. When the cream reaches a simmer, very slowly stream a cupful of the liquid into the egg yolk mixture, whisking constantly. Pour the cream/yolk mixture back into the saucepan, and stir with a wooden spoon until the mixture thickens.
Pour through a fine-mesh sieve to strain out any cooked egg (discard any solids in the sieve). Stir the vanilla extract into the strained mixture. Place a piece of plastic wrap directly on the surface and allow to come to room temperature, then refrigerate for at least 12 hours.
Process in your ice cream maker according to manufacturer's directions. Place the churned ice cream in a freezer-safe container and chill in the freezer at least 4 hours, or until hardened.
You might also like: