Pumpkin butter spread, cinnamon and ginger give these tender shortbread cookies a warm spice flavor. Enjoy these with a cup of hot cider or hot cocoa on a chilly winter night!
It's the 4th Annual Great Food Blogger Cookie Swap, hosted by Lindsay of Love & Olive Oil and Julie ofThe Little Kitchen! The swap brings together food bloggers from around the world to exchange cookies and raise money for Cookies for Kids' Cancer. Each blogger that participates donates a small sum to CFKC, and the swap's brand partners — OXO, Dixie Crystals, California Olive Ranch and Brownie Brittle — will match the total sum donated by the food bloggers, up to $3,000!
I've been a part of these cookie swaps all four years, and it's been a great experience. Obviously. If it wasn't a great experience, why would I keep doing it? Haha!
I submitted my information to join the swap, and a few weeks later received the names of my matches: Jess of On Sugar Mountain, Val of A Scrumptious Life, and Chineka of Savor the Baking. In return, I received cookies from Lissa of The Flourishing Baker, Liz of That Skinny Chick Can Bake!, and Kristen of Babcakes Bakery.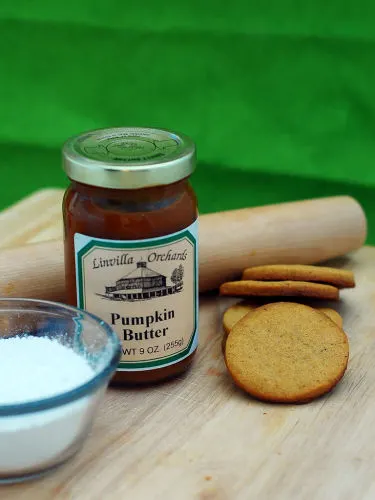 I will confess that I chose to make these cookies purely because I had all of the ingredients on-hand to make them. And because, come on, pumpkin! They are easy, yet different. I had originally had planned to make fabulously-decorated sugar cookies, but never got around to them. Honestly, I'm glad I made these instead.
These cookies called for a method of rolling that I'd never used before: rolling the dough between two sheets of parchment. It's really genius, however. I'd normally sprinkle the dough with flour to prevent sticking, but then that extra flour gets incorporated into the cookie dough. You want shortbread to be very crumbly and tender, and adding extra flour can cause these cookies to be tough.
This dough is very sticky, so after rolling between the parchment, I cut the cookies an inch apart. Then I pulled up the scrap dough, and moved the parchment with the cut cookies onto the baking sheet. No misshapen cookies from trying to transfer them to the baking pan!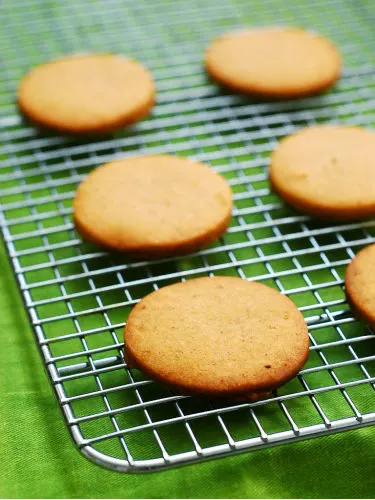 If you have a food blog and are interested in participating in next year's swap, sign up for notifications with this form!
Want to see all 471 recipes from the Great Food Blogger Cookie Swap? Check out Part 1 on Love & Olive Oil, and Part 2 on The Little Kitchen.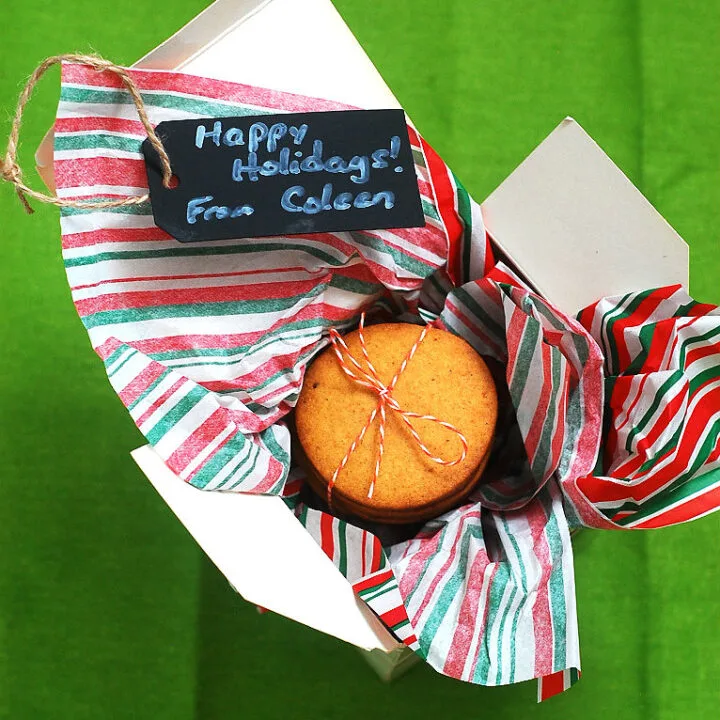 Pumpkin Butter Shortbread Cookies #FBCookieSwap
Ingredients
1 cup pumpkin butter, store-bought or homemade
1 cup unsalted butter, softened
⅔ c powdered sugar
1 teaspoon vanilla
2 ¼ cups flour
¼ teaspoon salt
2 teaspoon ground cinnamon
1 teaspoon ground ginger
¼ teaspoon ground cloves
¼ teaspoon ground nutmeg
⅛ teaspoon ground allspice
Instructions
Preheat the oven to 350 degrees.
Place the pumpkin butter, unsalted butter and powdered sugar in the bowl of a stand mixer. Cream on medium speed for 2 to 3 minutes. Add the vanilla and mix another 30 seconds to a minute.
Sift together the flour, salt and spices, and add to the stand mixer. Mix on low speed just until combined.
Scrape the dough onto a piece of parchment paper about the size of a cookie sheet. Place a second sheet of parchment on top, and roll the dough to ⅛th to ¼th of an inch thickness. Place on a cookie sheet and place in the freezer for 15 minutes.
Use a 2 ¼-inch round or fluted cookie cutter to cut cookies, about an inch apart. Pull up the scraps (leaving the cut cookies in place on the parchment), and place on a new sheet of parchment. Re-roll the scraps and place back in the freezer.
Bake the cookies just until they begin to brown at the edges, about 15 to 16 minutes. Immediately transfer cookies to a cooling rack.
Repeat with the remaining dough, cutting, re-rolling and freezing, until all the dough is gone.
Slightly adapted from I Bake, He Shoots