Slicing veggies for this leek, mushroom and bacon quiche is a breeze on this new cutting board from CuttingBoard.com, made with sustainably-harvested teak. Enter below to win one for yourself!
My friend Colleen of Souffle Bombay contacted me, asking me if I'd be interested in participating in a giveaway for a new business, CuttingBoard.com. CuttingBoard.com is a boutique retailer of cutting boards and butcher blocks. What makes this web site's offerings different is that all of their beautiful products are 100% environmentally friendly and have been harvested from renewable resources. As a genuine small business, Cuttingboard.com take pride in ensuring that their customers are always happy when shopping with them.
In exchange for participating, I got to choose a cutting board to use for this post. I chose the Madeira Provo Collection Medium End Grain Chop Block. It measure 14 inches by 14 inches by 1 ¼ inches. It's the perfect size for me and my kitchen counters, big enough to slice a lot of veggies. I also love that is had built-in handles for easy carrying, making it a beautiful serving surface as well.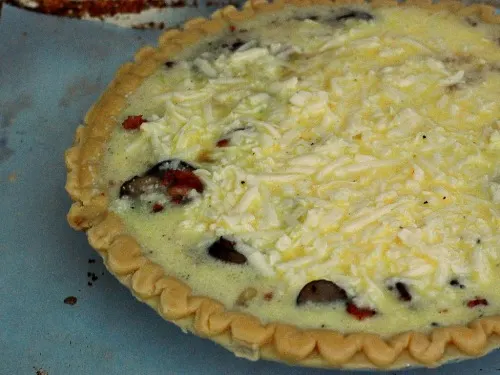 CuttingBoard.com features the web's best selection of curated cutting boards and butcher blocks. The owners, Mike & Grant, have personally selected and chosen their offered products after handling and seeing each piece with their own eyes. Many of the their products are sourced from independent artisans and woodworkers that only make limited runs of each product. In addition, Cuttingboard.com also carries high quality knives and kitchen accessories that will accentuate the kitchen of any home chef.
They are proud to source products that are certified sustainable, renewable or reclaimed. They believe in a commitment to quality and environmental stewardship, so all of the products in their store adhere to these principles. They are also a member of 1% For the Planet and donate a portion of each sale to charity toward environmental causes.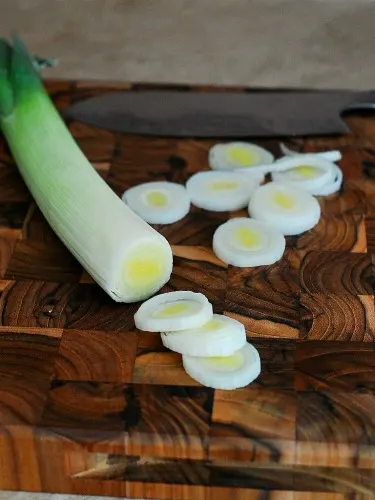 My new cutting board was the perfect size for slicing both the leeks and mushrooms for this delicious quiche. I don't know about you, but I enjoy quiche just about any time of day: breakfast, brunch, lunch or dinner. Quiches are so easy to make, and they are also freezer-friendly. They can also be adapted to suit any flavor preferences. Use any combination of veggies and/or meats you like, just keep the standard ratio of 4 eggs, 1 cup of half-and-half (or milk), and 4 ounces of grated cheese.
To be perfectly honest, this quiche came out a little gray in color, probably because of the mushrooms. But one taste told me that looks can be deceiving — it's one of the best-tasting quiches I've ever made!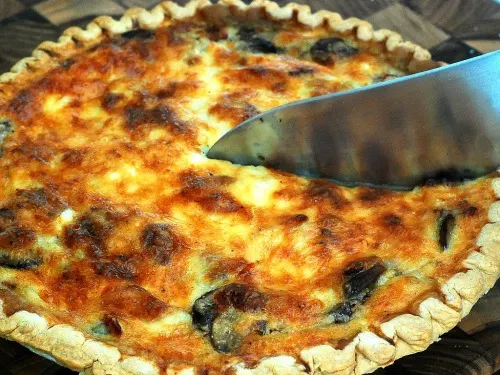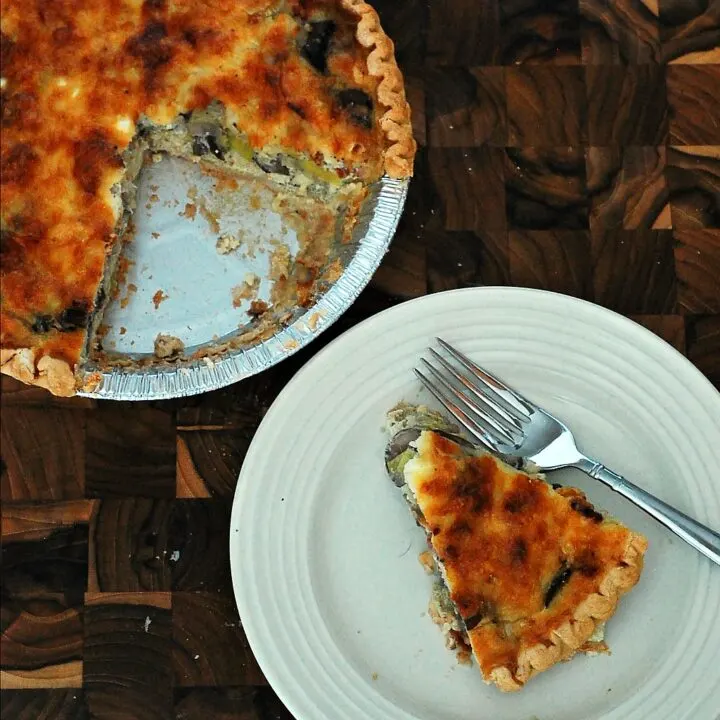 Leek, Mushroom and Bacon Quiche
Ingredients
1 inch deep-dish pie crust, store-bought or homemade, 9-
4 slices bacon
1 inch large leek, white and light green part only, rinsed and cut into ¼- rounds
8 oz baby bella mushrooms, sliced
4 eggs
1 cup half-and-half
4 oz grated fontina cheese
2 tablespoon Parmesan cheese
Salt and pepper
Instructions
Preheat your oven to 375 degrees. Place the pie crust in a deep-dish pie plate, and place the plate on a baking sheet.
Place the bacon in a large, cold skillet and place over medium heat. Cook until bacon and crisp and fully cooked, about 10 minutes. Remove the bacon with tongs, and pour the bacon drippings in a heatproof measuring cup.
Return 2 tablespoons of the bacon fat to the skillet, and add the leeks and mushrooms. Cook over medium-low heat for about 6 minutes, until leeks and mushrooms are soft. Season with salt. Set aside to cool slightly.
In a medium-mixing bowl, whisk together the eggs and half-and-half. Season with salt and pepper. Add in the fontina and Parmesan cheese.
Scrape the leeks and fontina into the pie crust. Crumble the bacon over top, then pour the egg/milk/cheese mixture over top. Carefully place the baking sheet with the pie crust in the oven. Bake for about 40 minutes, until the crust is golden brown and the center of the quiche just barely jiggles when gently shaken. Place on a wire rack to cool. Refrigerate until ready to serve.
Recipe by The Redhead Baker
Don't forget to visit the other bloggers participating in the CuttingBoard.com giveaway!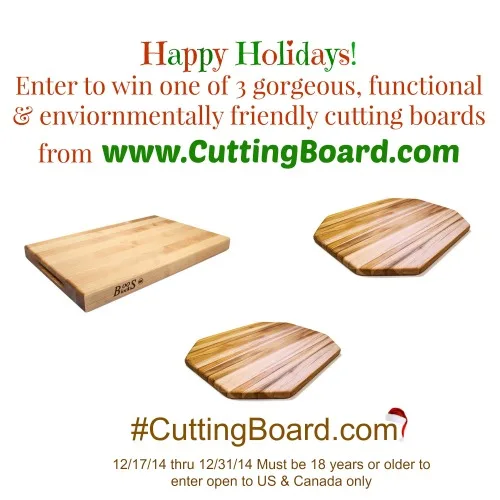 Right now, Cuttingboard.com is having a holiday sale you don't want to miss, head on over and shop for all the foodies on your holiday shopping list!
Guess what?? Three lucky people will win a new cutting board from Cuttingboard.com. You can enter via the Rafflecopter below. One of you will win a gorgeous 18 x 12 Maple Cutting Board with Grips from John Boos and two of you will win a beautiful 16 x 12 Proteak Edge Grain.