I've given new flavor to the classic peanut butter blossoms: cocoa powder and espresso plus milk chocolate Hershey's Kisses equal Mocha Blossom Cookies!
I got an email from Influenster.com recently, asking about my Christmas baking plans. I was accepted for their upcoming campaign, and received a free bag of Hershey's Kisses in the mail! Always a good day when you get free chocolate!
But what to do with those Kisses? I'd made Peanut Butter Blossoms before, but I wanted to do something different. I'd seen chocolate peppermint blossoms, but those were made with peppermint-flavored Kisses. So, I poked around in my baking cabinet for inspiration.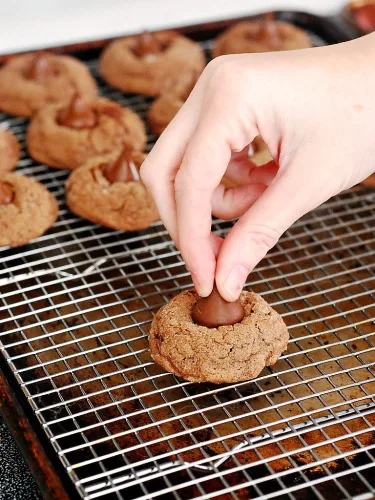 What I found was a bottle of instant espresso granules, that I keep specifically for baking. I'd make mocha blossom cookies! You just can't go wrong pairing chocolate and coffee together.
Instead of a peanut butter cookie, I made a chocolate cookie and added the espresso granules to give it a mocha flavor, then pressed a milk chocolate Hershey Kiss into the center of each one. They are addictive!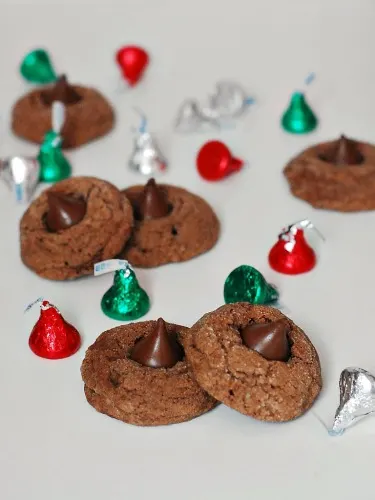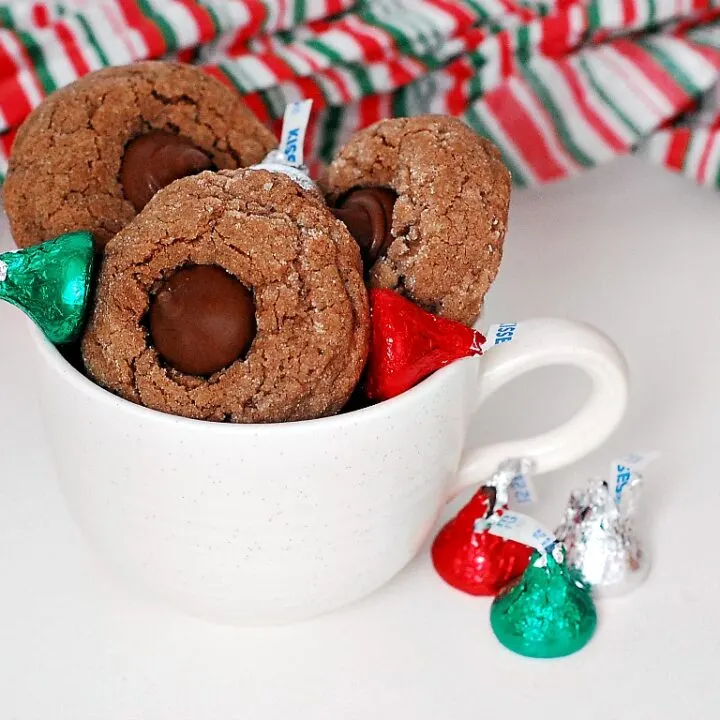 Mocha Blossom Cookies #MerryKissmas
Ingredients
1 cup unsalted butter, at room temperature
1 cup granulated sugar
½ cup brown sugar
2 eggs
1 teaspoon vanilla extract
1 ½ cups all-purpose flour
½ cup unsweetened cocoa powder
2 tablespoon instant espresso powder
1 teaspoon baking soda
½ teaspoon salt
½ cup sugar, for coating
48 Milk Chocolate Hershey's Kisses, unwrapped
Instructions
Preheat the oven to 350 degrees and line a baking sheet with parchment paper.
Cream together the butter 1 cup sugar and brown sugar. Beat in the eggs, one at a time, beating and scraping down the bowl between additions. Beat in the vanilla.
In another mixing bowl, sift together the flour, cocoa powder, espresso powder, baking soda and salt. Add to the butter mixture and mix on low speed just until combined.
Scrape dough by the tablespoonful and roll into a ball.
Coat each ball in the ½ cup of sugar, and place on the baking sheet. Bake for 8 to 10 minutes. Let cookies cool on the baking sheet for a minute, then press a Hershey Kiss into the center of the cookie. Use a spatula to transfer the cookie to a wire rack to cool completely.
Inspired by Hershey's Peanut Butter Blossom Cookies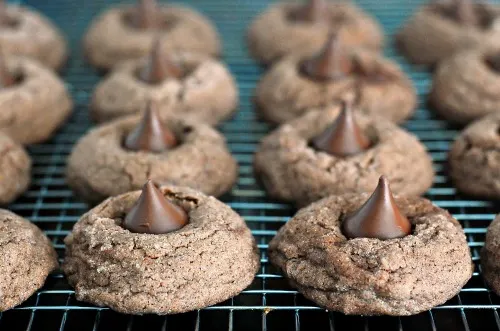 I was not financially compensated for this post or creating this recipe. I received a sample of Hershey's Kisses for Christmas baking purposes.