Pumpkin gnocchi and spinach with sage brown butter sauce is a hearty vegetarian meal full of flavor. You won't miss the meat!
Welcome to the #SundaySupper Recipes for World Vegetarian Day event, hosted by Susan from The Wimpy Vegetarian.
We are a meat-eating household here at The Redhead Baker, but we occasionally eat meatless meals. It's a way to save money, it can be healthier (depending on the recipe), and it doesn't have to be a boring pasta dish.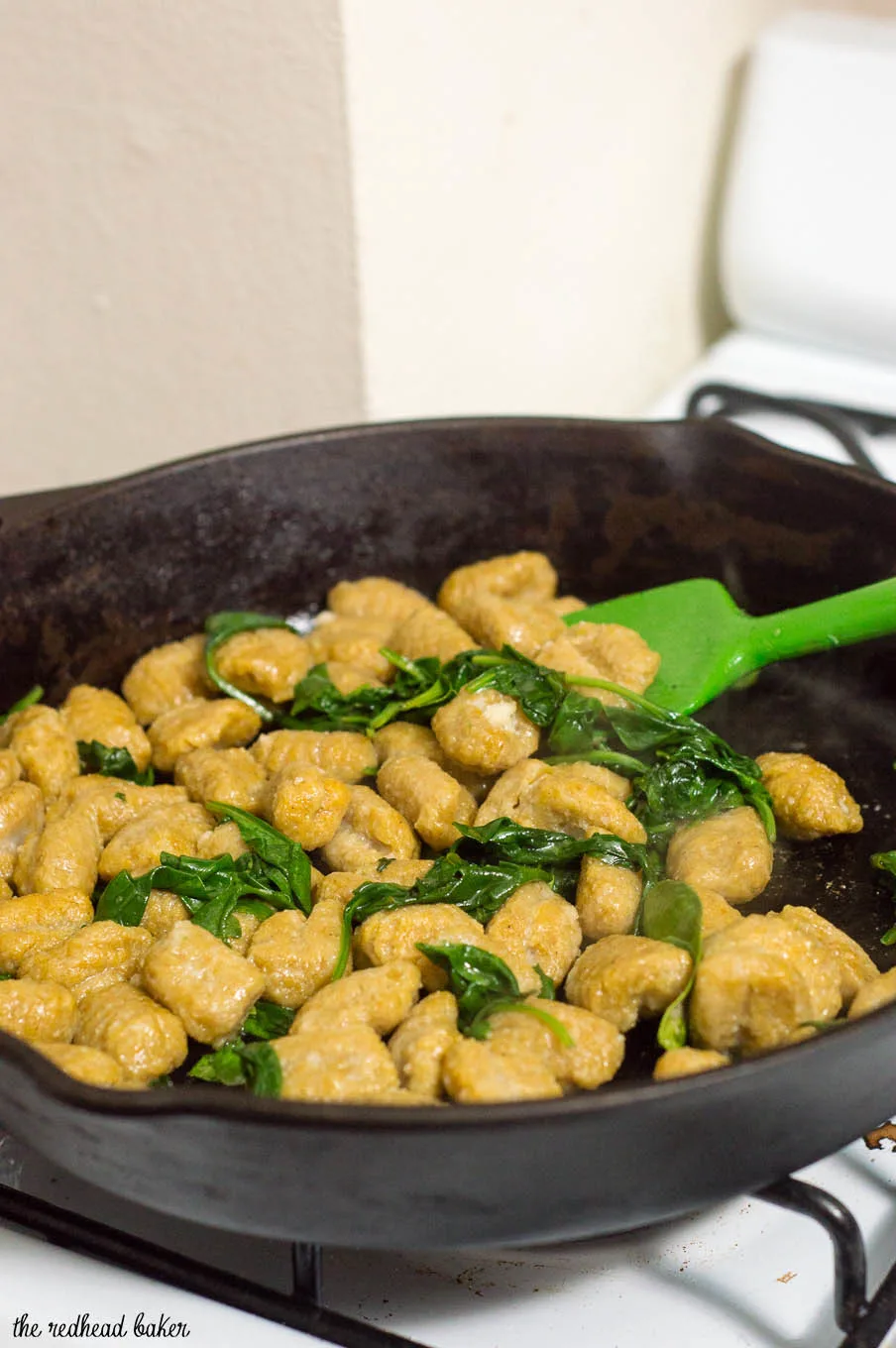 I chose to base my dish on gnocchi. Gnocchi are Italian dumplings, traditionally made with potatoes, flour, egg, and a few other ingredients. There are many variations, as you can include things like cheese or herbs, or even substitute other starchy vegetables for the potatoes. The version I used in this dish is made with pumpkin.
Gnocchi can be very time-consuming to make from scratch, and if you have that time, more power to you. I linked to a recipe for pumpkin gnocchi down in the list of ingredients. If you're short on time, I found pre-made pumpkin gnocchi at my local Whole Foods. You can use traditional gnocchi if you can't find pumpkin.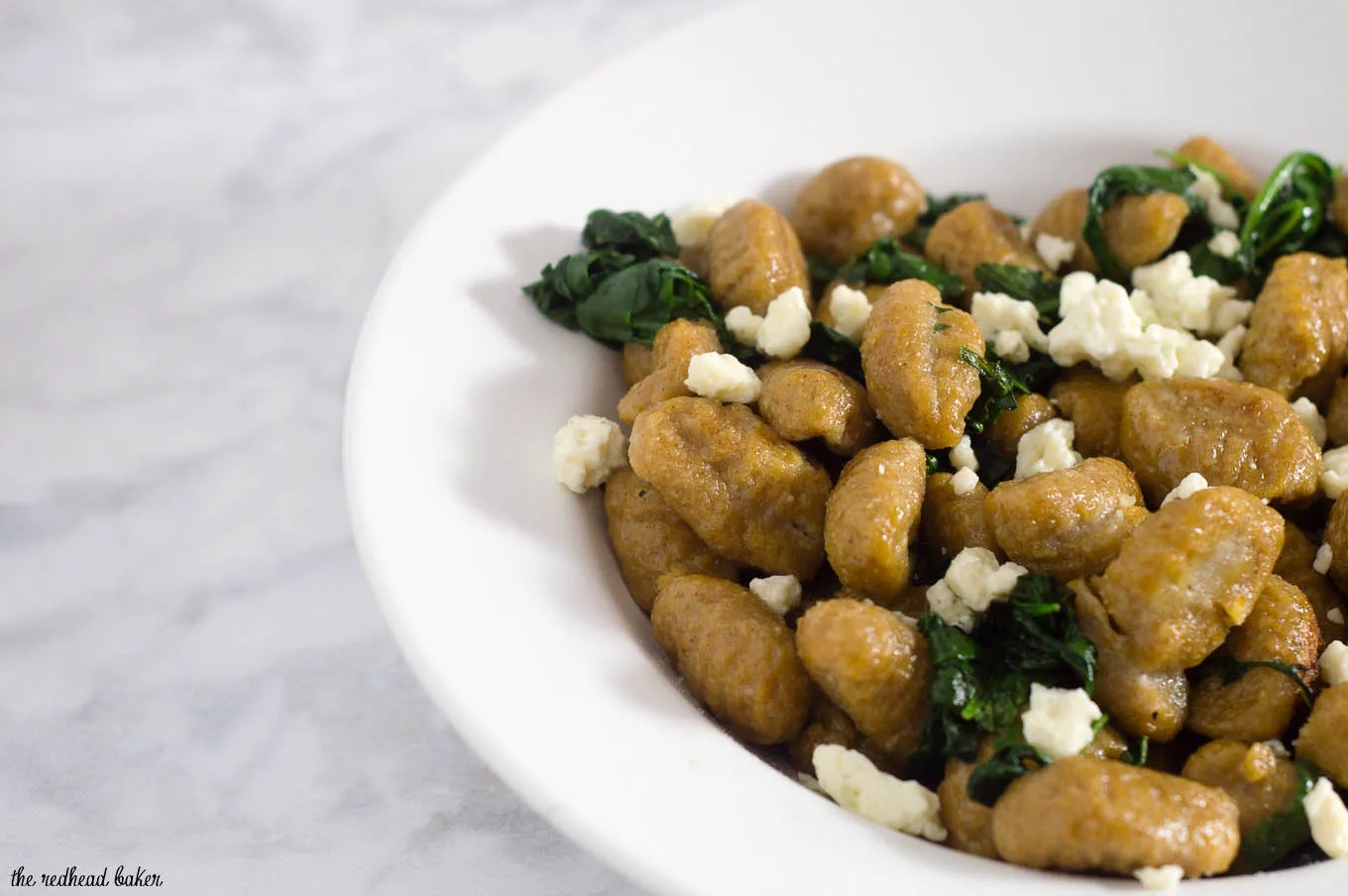 Keep a very close eye on the butter while it's browning. It will seem like it's taking forever, but once it starts to turn golden, it will progress to burnt very quickly, and you'll have to start all over again. Keep a heat-proof glass measuring cup near the stove top so you can quickly transfer your browned butter to the cup. The butter will continue cooking in the hot saucepan even after it's removed from the heat, and transferring it to the measuring cup will slow that process.
It might not sound like a substantial meal, but the fiber in the pumpkin and the spinach will keep you feeling full. I like to make a double batch of this recipe, so that I have leftovers to bring to work for lunch the next day!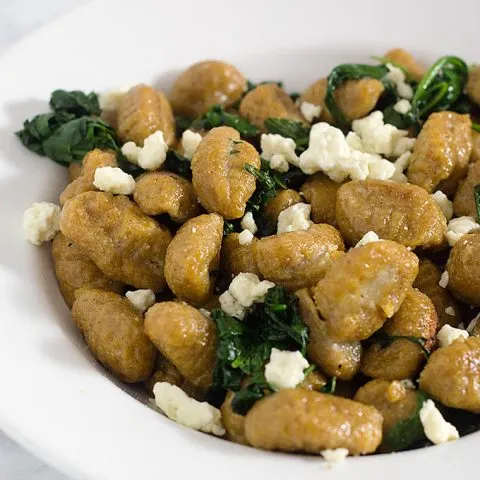 Pumpkin Gnocchi and Spinach with Sage Brown Butter Sauce
Yield:
2 generous servings
Ingredients
1 lb pumpkin gnocchi, storebought or homemade
9 tablespoon unsalted butter, divided
2 cups baby spinach
6 leaves fresh sage, torn in half
Salt and pepper
¼ cup crumbled bleu cheese
Instructions
Bring a large pot of salted water to a boil. Add the gnocchi, and cook according to package directions. Drain and set aside.
In a heavy-bottomed saucepan, melt 8 tablespoon of unsalted butter of medium-low heat. Continue cooking until the melted butter starts to turn a caramel brown color. As soon as it does, remove the saucepan from the heat and pour into a heatproof glass measuring cup. Add the torn sage leaves and set aside.
In a large skillet, melt the remaining tablespoon of butter over medium heat. Add the spinach and season with salt and pepper. Cook for a minute, then add the pumpkin gnocchi. Cook until the gnocchi just started to darken on the outside and the spinach is wilted, about 5 minutes.
Remove to a serving bowl and pour the sage brown butter sauce over the gnocchi mixture. Toss to coat, then top with crumbled bleu cheese. Divide between 2 bowls and serve.
Recipe by The Redhead Baker
Discover more #SundaySupper Meatless Recipes for World Vegetarian Day!
Appetizers
Desserts
Entrees
Sides