Melt-in-your-mouth buttery brioche crescents surround a filling of sweet raspberry jam. Serve for brunch, dessert, or a mid-day snack!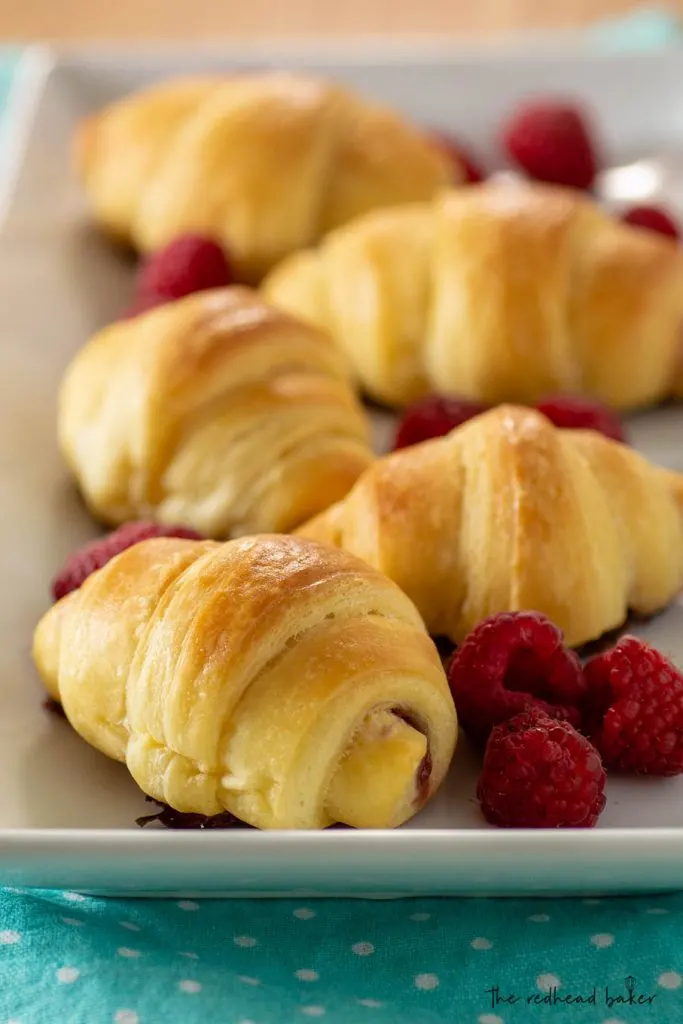 Welcome to this month's Progressive Eats meal! Our theme this month is eggs. Each recipe is centered around eggs.
Brioche, if you're unfamiliar, is a French yeasted bread that is enriched with eggs. And butter. LOTS of butter.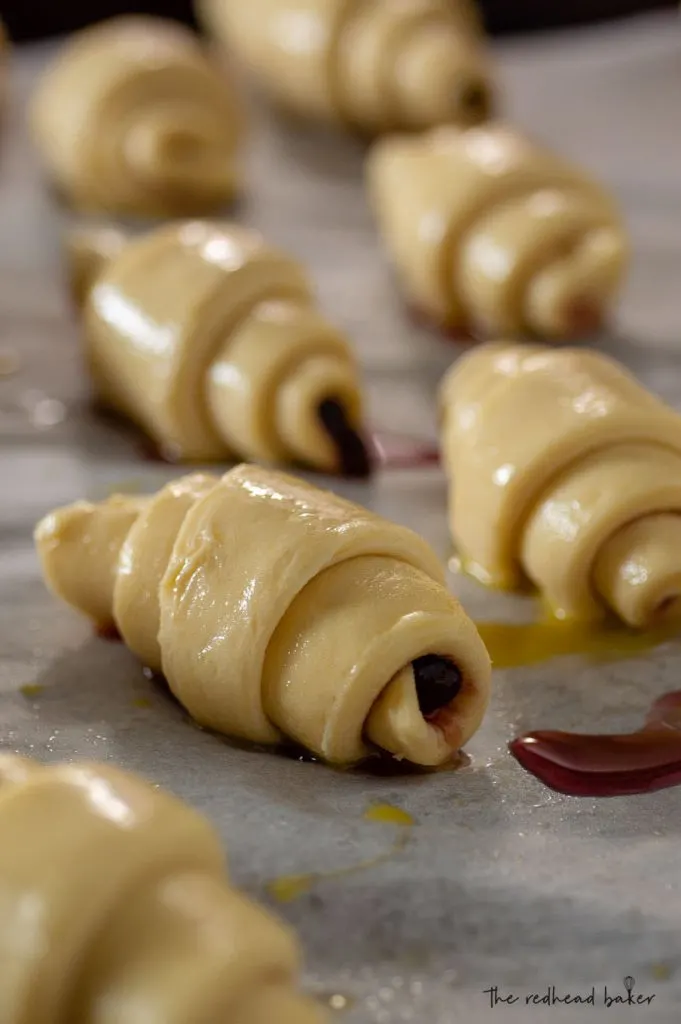 Because of the amount of butter, this bread needs to be cold to be shaped. I like to make this bread over a period of 2 to 3 days, because it keeps the dough chilled, and the cold fermentation makes for better bread flavor.
After rolling the dough into a circle, it is cut into long triangles, then wrapped around a teaspoonful of raspberry jam. Actually, you can use any flavor of jam you like, or even a citrus curd.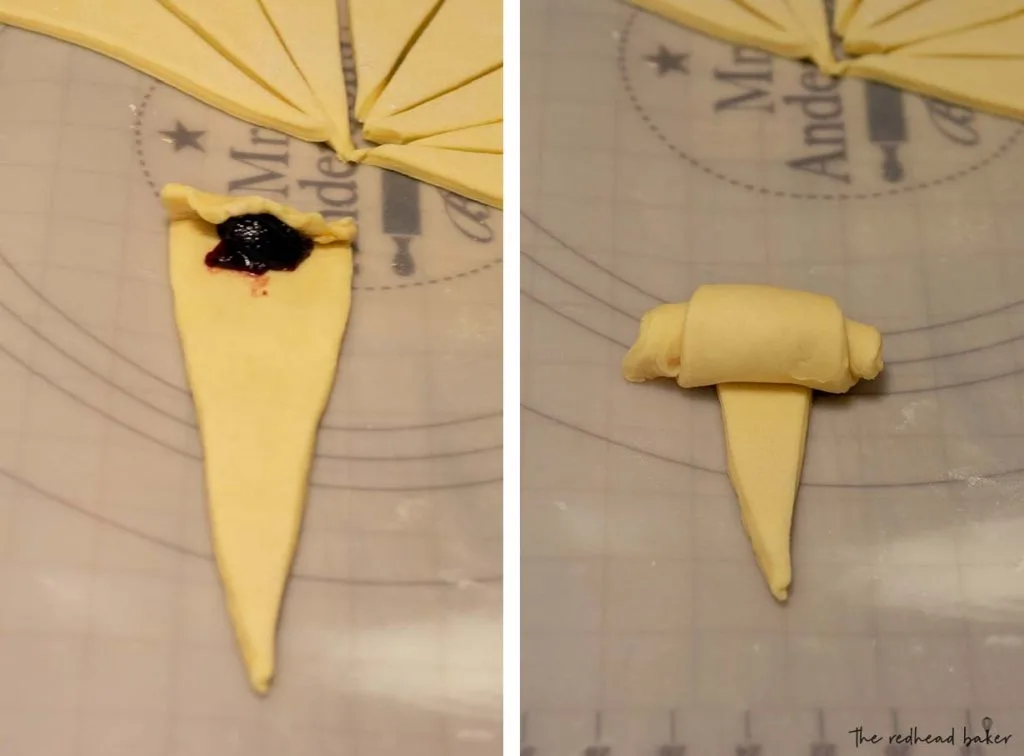 Now, this dough will be unlike most other yeast doughs. It will not form a soft, cohesive ball after it is mixed. It's not liquidish, like cake batter, either, but it's softer than cookie dough. You'll probably wonder how on earth you'll be able to shape this.
All I can tell you is, don't worry! As long as you follow the recipe, work with chilled dough, and preferably measure your ingredients by weight, it'll work.
And yes, some jam will ooze out of the crescents while baking. If you think a lot has dripped out, serve your crescents with additional raspberry jam on the side.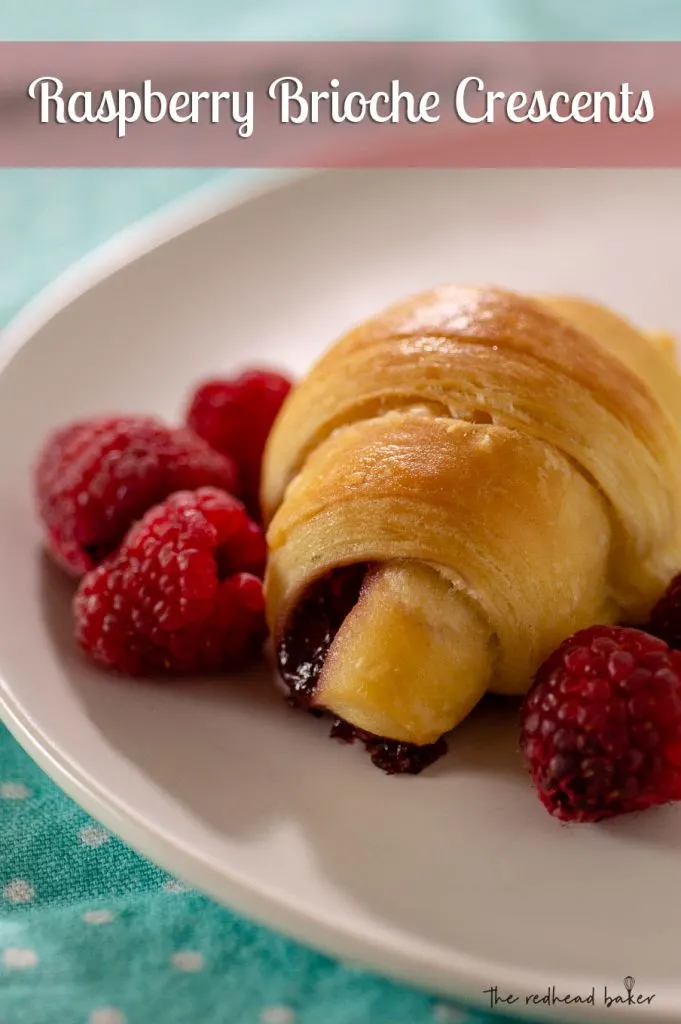 In the recipe, I proof my shaped crescents overnight in the refrigerator. If you go this route, your crescents will not puff up like dough proofed at room temperature will. They will probably take the full 20 minutes, if not a few minutes more, to bake.
Alternatively, you can skip proofing overnight, and proof at room temperature for 90 minutes, brush the crescents with the egg wash (that's what gives professional baked goods that shiny crust), then proof another 15 minutes, then bake. Check your crescents after 15 minutes of baking.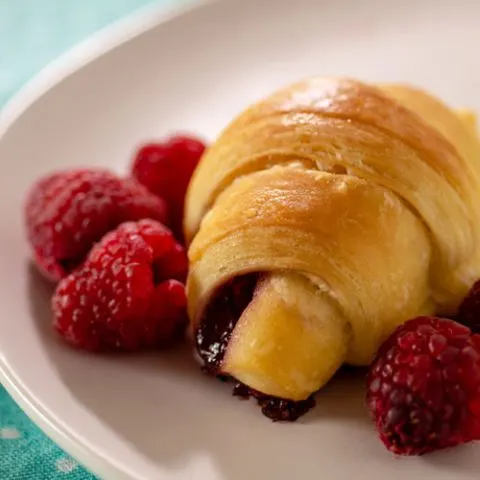 Raspberry Brioche Crescents
Additional Time:
12 hours
Total Time:
12 hours
50 minutes
Melt-in-your-mouth buttery brioche crescents surround a filling of sweet raspberry jam. Serve for brunch, dessert, or a mid-day snack!
Ingredients
3 ½ cups bread flour, divided
½ cup whole milk, lukewarm (90 to 100 degrees F)
5 large eggs, lightly beaten
2 tablespoon sugar
1 ¼ teaspoon salt
8 oz unsalted butter, softened
⅔ cup seedless raspberry jam
1 egg, for egg wash
1 tablespoon water
Instructions
In the bowl of a stand mixer, combine ½ cup of the bread flour, plus the yeast and milk. Stir together until smooth. Cover with plastic wrap and set aside for 30 minutes.
Add the eggs to the bread/yeast/milk mixture, and beat on medium speed with the paddle attachment until smooth, scraping down the bowl to incorporate all of the bread/yeast mixture.
In a separate bowl, combine the remaining flour, sugar, and salt. Add to the stand mixer bowl, and beat on medium-low speed until all of the dry ingredients are moistened. Turn the mixer off, and let the dough rest for 5 minutes.
Turn the mixer on medium speed and add 2 ounces of the butter, allowing the butter to fully incorporate. Add another 2 ounces, mix to incorporate, and repeat until all of the butter is added and incorporated. Let the dough mix another 6 minutes or so at medium speed, scraping down the bowl occasionally, until it is smooth and soft. Unlike other bread doughs, it will not form a ball around the paddle that cleans the sides of the bowl.
Line a baking sheet with parchment. Mist the parchment lightly with nonstick cooking spray. Scrape the dough onto the parchment, and with wet hands, flatten it into a rectangle roughly 6 by 8 inches. Mist the top with nonstick cooking spray, and cover with plastic wrap. Refrigerate the dough on the baking sheet overnight, or for at least 4 hours.
Divide the dough in half. Return one half to the refrigerator.
Lightly flour a clean surface. Place the remaining half of the dough on the flour, and dust the top with more flour. Knead one or two times to form a soft disc.
Roll the dough into a circle roughly 14 to 16 inches in diameter. Use a floured pizza cutter to cut the dough into 8 wedges, then cut each wedge into two thinner wedges.
Line another baking sheet with parchment paper.
Take one wedge, and flatten sligthly with your hands, widening the fatter edge of the triange.
Place ½ to 1 teaspoon of seedless rapsberry jam at the wide end of the triangle, then roll the wide end over the jam, and down towards the point of the triangle.
Place on the prepared baking sheet, with the seam-side (where the point meets the crescent) on the bottom.
Repeat with remaining wedges. Once the baking sheet is full, mist the tops of the crescents with nonstick baking spray, cover with plastic wrap and return to the refrigerator.
Repeat with the other half of the dough.
Let the formed crescents proof in the refrigerator for at least 8 hours.
Remove from the refrigerator. Preheat oven to 400 degrees F.
Whisk the remaining egg with 1 tablespoon of water until frothy, and use a pastry brush to gently brush some of the egg wash onto each brioche crescent.
Once the oven is at temperature, bake for 15 to 20 minutes, until golden brown on top and the crescents lift easily from the parchment. Cool on a wire rack for at least 20 minutes before serving. Dust with powdered sugar if desired.
Recommended Products
As an Amazon Associate and member of other affiliate programs, I earn a small percentage from qualifying purchases.
Nutrition Information:
Yield:

32 crescents
Serving Size:

1 crescent
Amount Per Serving:
Calories:

145
Total Fat:

7g
Saturated Fat:

4g
Trans Fat:

0g
Unsaturated Fat:

3g
Cholesterol:

56mg
Sodium:

111mg
Carbohydrates:

17g
Fiber:

1g
Sugar:

4g
Protein:

3g
I am not a certified nutritionist. This nutrition information is automatically calculated by third party software and is meant as a guideline only.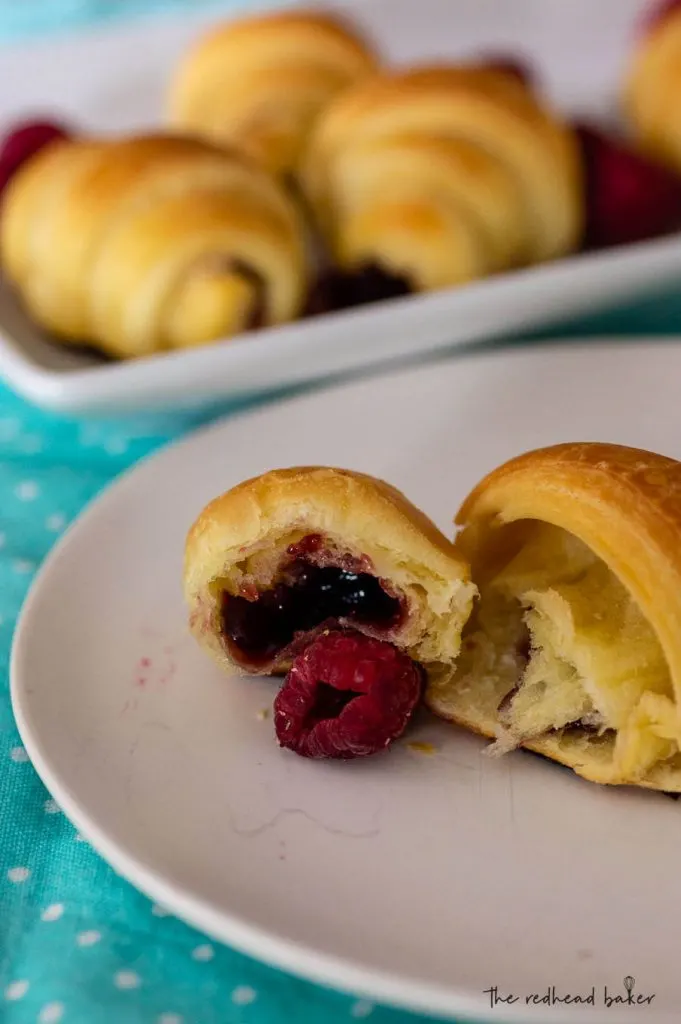 Welcome to Progressive Eats, our virtual version of a Progressive Dinner Party. Each recipe in our menu this month features eggs and our host this month is Carol Borchardt at
From A Chef's Kitchen
.
If you're unfamiliar with the concept, a progressive dinner involves going from house to house, enjoying a different course at each location. With Progressive Eats it's a virtual party. A theme is chosen each month, members share recipes suitable for a delicious meal or party, and you can hop from blog to blog to check them out. Come along and see all of these delicious dishes that feature eggs!
A Spring Eggstravaganza
Breakfast
Appetizer
Bread
Main Courses
Side Dishes
Desserts