This month's #TwelveLoaves is all about RED! I made an easy red velvet quick bread with sweetened cream cheese swirl. Enjoy a slice for breakfast for dessert!
#TwelveLoaves was a monthly bread baking party created by Lora from Cake Duchess with the help of Heather of All Roads Lead to the Kitchen, which runs smoothly with the help of our bakers.
This month we're baking breads with a RED theme in honor of National Heart Month, Valentine's Day, and the Oscars (red carpet) — any red ingredient goes! For more bread recipes, visit the #TwelveLoaves Pinterest board, or check out last month's mouthwatering selection of #TwelveLoaves enter last month's breads featuring a "new to you" type of flour.
Red velvet is a classic type of cake with a light cocoa flavor, and a vibrant red color thanks to the addition of red food coloring. It's traditionally iced in cream cheese frosting. In more recent years, red velvet has extended to cookies, ice cream, whoopie pies, cheesecake - you name it!
I use the traditional red velvet flavors and colors in a quick bread loaf, and swirled the cream cheese throughout the loaf. It's a simple recipe to make, and can be adjusted to make several smaller loaves, or even muffins. Surprise your family on Valentine's Day morning with a sweet red treat, or serve a slice topped with ice cream for dessert.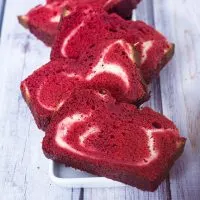 Red Velvet Quick Bread with Cream Cheese Swirl #TwelveLoaves
Ingredients
For the red velvet quick bread:
½ cup unsalted butter, at room temperature
1 cup sugar
4 oz cream cheese, at room temperature
2 large eggs
1 teaspoon vanilla extract
2 cups all-purpose flour
2 tablespoon unsweetened cocoa powder
2 teaspoon baking powder
½ teaspoon baking soda
½ teaspoon salt
½ cup buttermilk
1 tablespoon red food coloring
For the cream cheese swirl:
4 oz cream cheese, at room temperature
¼ cup sugar
1 large egg
1 tablespoon flour
1 tablespoon milk milk
Instructions
Preheat your oven to 350 degrees. Spray a 9x5 inch loaf pan with nonstick cooking spray. Set aside.
In the bowl of a stand mixer, cream together the butter, sugar and cream cheese until light and fluffy. Add in the eggs one at at time, scraping the sides and bottom of the bowl between additions. Add the vanilla and beat until incorporated.
In a separate mixing bowl, combine the flour, cocoa, baking powder, baking soda and salt. Stir with a fork until the ingredients are evenly distributed In a measuring cup, combine the buttermilk and red food coloring.
Beat one third of the flour mixture into the butter/sugar mixture, followed by half of the buttermilk mixture. Add another third of the flour, the rest of the buttermilk, then the last of the flour, mixing on low speed just until combined.
In a medium mixing bowl, make the filling: beat the cream cheese and sugar until light and fluffy. Beat in the egg, flour and milk until smooth.
Pour half of the red velvet batter into the prepared loaf pan and spread as evenly as possible. Spread the cream cheese mixture on top of the batter, taking care not to mix the two, then scrape the remaining red velvet batter over the top of the cream cheese and spread as evenly as possible. Use a butter knife to swirl the two together.
Bake for 45 to 50 minutes, until a toothpick inserted in the center comes out clean. Let cool completely on a wire rack before removing the quick bread from the pan and cutting into slices.
An original recipe by The Redhead Baker
Discover more RED #TwelveLoaves recipes
If you'd like to bake along with us this month, share your "RED" themed bread using hashtag #TwelveLoaves!