This post is sponsored by Nielsen-Massey Vanillas. All opinions are mine alone.
Swiss Meringue Buttercream is my favorite frosting. Creamy and not overly sweet, it spreads smooth and pipes beautifully. Get my recipe and learn how to make an easy buttercream flower: the cherry blossom.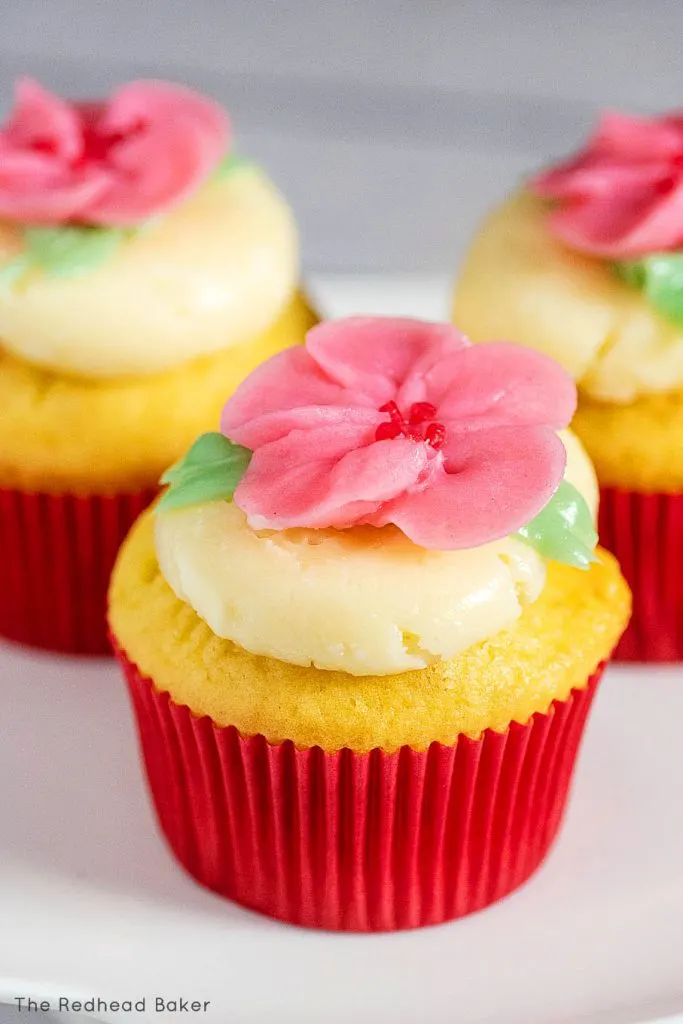 I'm lucky to be able to continue working my day job from home, but working full-time while also trying to care for an 8-year-old and getting him online for school is stressful. Creative endeavours are a source of stress-relief for many, and for me, baking and cake/cupcake decorating has always been that creative outlet. I've been using my free time to practice my buttercream flowers.
If you're interested in learning, it's important to learn the easier, basic flowers before jumping into a three-tiered cake decorated with intricate borders and flowers. First, what kind of frosting is best for piping flowers? What tools do you need? I've teamed up with Nielsen-Massey Vanillas and their #BetterYourBake campaign to help with those basics.
What is buttercream?
Buttercream is a type of frosting that combines butter and sugar with other flavorings. Many are familiar with American buttercream, a cloyingly sweet frosting that sometimes has a gritty texture, but is easy to make. The texture can be made stiffer to pipe decorations, or thinner for spreading on a cake.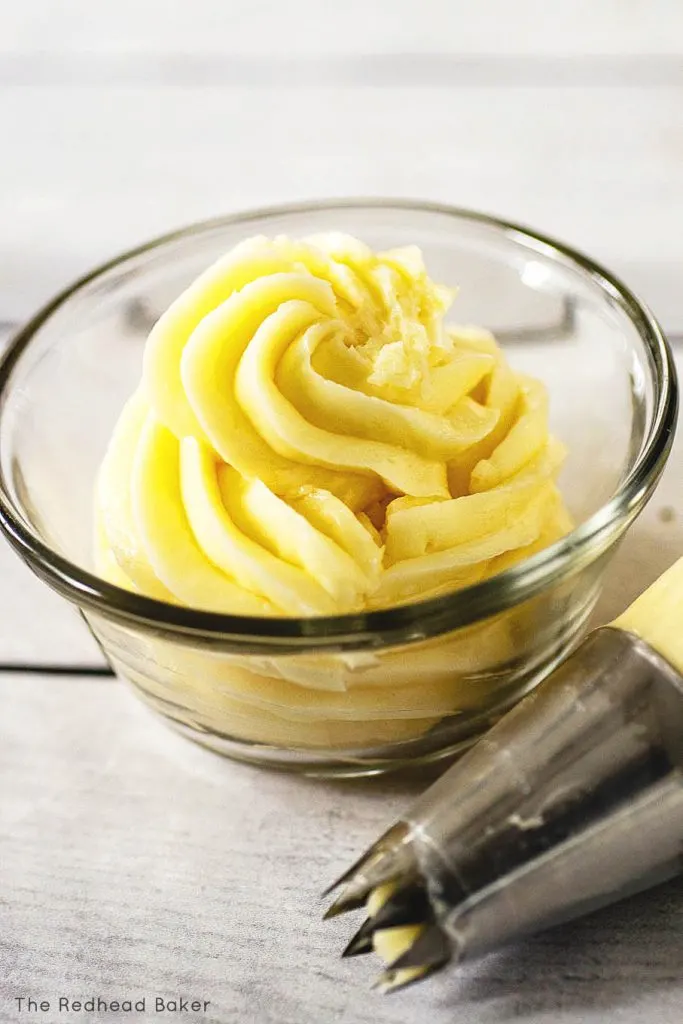 Then, there are the egg-based buttercreams: Italian, Swiss, French and German:
French buttercream is probably the most difficult to make. It uses beaten egg yolks. A hot sugar syrup is drizzled into the beaten yolks, then you add in cubed butter. Since it uses yolks instead of whites, it has a very high fat content. It doesn't hold up well to warm temperatures. The yolks also give the buttercream a very heavy yellow tint, which can affect the addition of food coloring.
Swiss buttercream uses beaten egg whites. Sugar and egg whites are heated together just until the sugar dissolves, then whipped into a meringue. Then, softened butter is added. It has a slightly yellow-ish cast, but not as obvious as French buttercream.
Italian buttercream also uses beaten egg whites. Sugar and water are cooked into a syrup, then added to the egg whites, then butter is added. That makes this buttercream more stable than Swiss, but slightly more difficult to make. If you're looking for a close-to-white buttercream, this is your best bet.
German buttercream is very different from the other three because the eggs are cooked into a custard before being added to beaten butter. It's much softer, so it's not a good option for piping, but it's really delicious and velvety in your mouth.
Swiss meringue buttercream is by far my favorite. If you're familiar with my recipes, such as my pumpkin cake with salted caramel buttercream, or lemon curd cupcakes, or the white chocolate mocha layer cake, you've probably noticed that already. It's a bit more difficult than American buttercream, but it tastes so much better.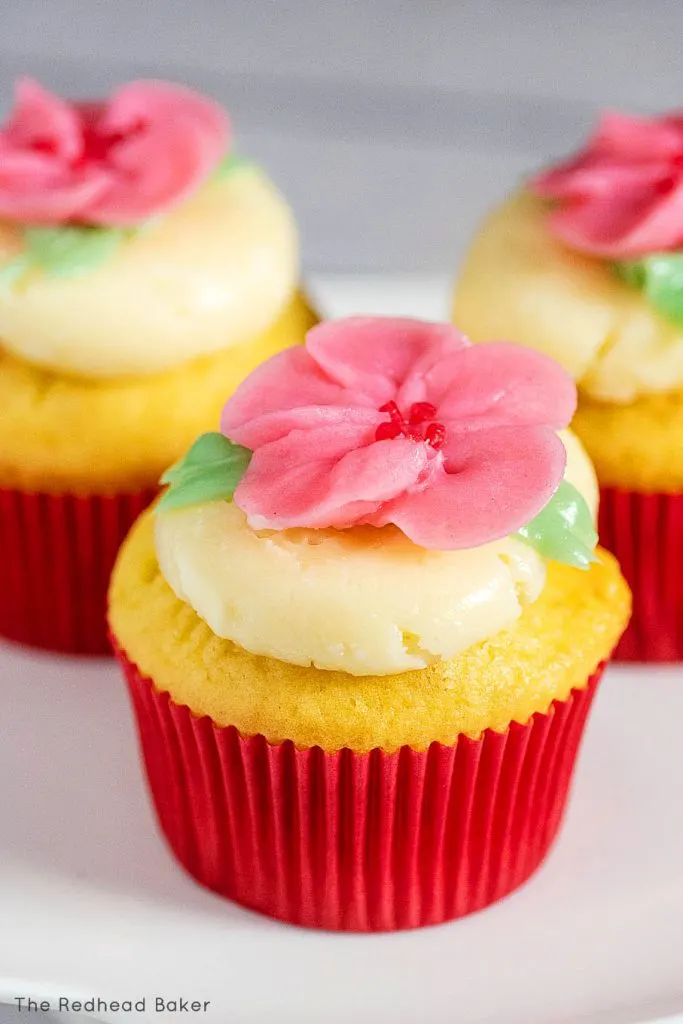 Tips and Tricks for Success
But, I have some tips and tricks for success! First, wipe down your mixing bowl and whisk attachment with a paper towel dampened with lemon juice. Egg whites are very finicky, and won't whip into a meringue if there's any speck of fat in your bowl.
When you go to separate your eggs, position two small bowls next to your mixing bowl. Crack your egg by tapping it gently on a flat surface, not on the edge of your mixing bowl. Tapping it on the mixing bowl will push the jagged edges of the broken egg into the yolk, breaking it, and contaminating your whites.
Open the cracked egg into one clean hand, letting the whites fall into one of the small bowls. Place the yolk in the second small bowl. Inspect the bowl of whites for specks of yolk, and if clean, transfer to your mixing bowl. Repeat until you have all of the whites you need. Cover the yolks, and refrigerate them to use in another recipe, such as ice cream.
After you've cooked your egg whites and sugar just until the sugar dissolves, and you've started whipping your meringue, you're looking for "medium" peaks. What you're looking for is a meringue that will "peak" when the whisk is removed from the mixture and turned upside down, but the very tip of the peak falls over, it doesn't stand up straight. If the whole peak falls over, that's a "soft" peak, and you need to keep whipping a bit longer.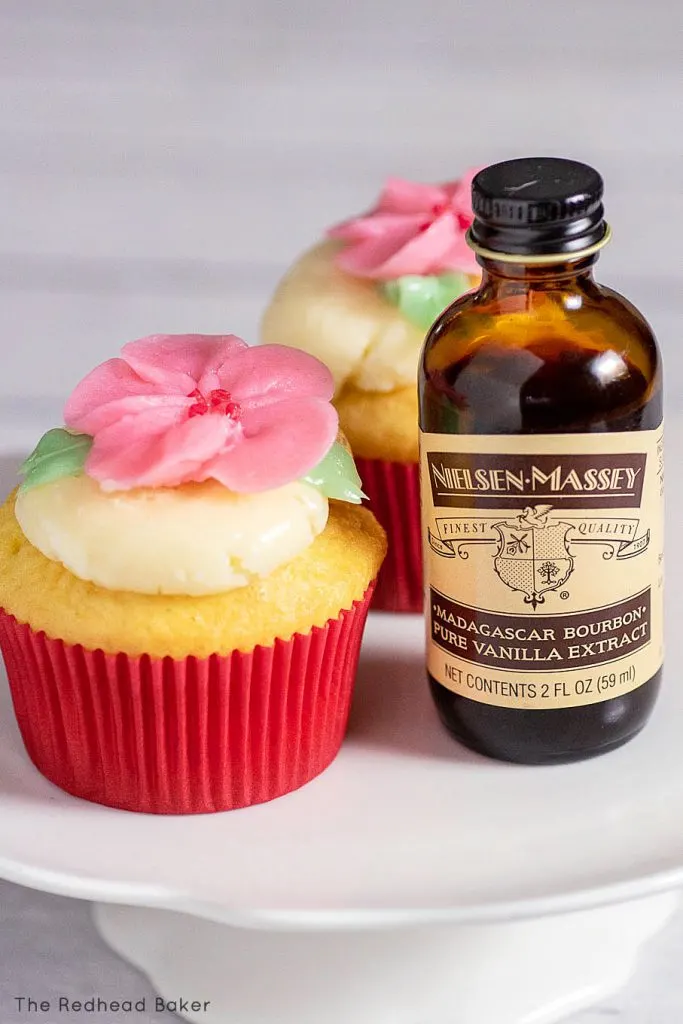 Once you've achieved the desired firmness, feel the bottom of your mixing bowl. If it still feels warm to the touch, turn your mixer on the lowest setting and let it stir the meringue to help it cool down, until it doesn't feel warm when you touch the bottom of the bowl.
If you're not sure, don't worry. If it turns out your mixture is still too warm when you begin adding butter, you won't ruin your frosting. If you start adding butter, and your mixture looks soupy, or looks curdled, pop the whole mixing bowl plus the mixer attachment into your fridge for 15 minutes, then continue with the recipe.
How to Flavor Buttercream
If you make the recipe below, you'll have a delicious vanilla buttercream. But there are infinite ways to flavor it: add white, milk, semisweet or dark chocolate; add fruit curd; maple syrup; liqueur; coffee; flavored extracts; and more. Here are some common flavor ideas:
Chocolate: After you've finished the recipe as written, beat in 4 ounces of melted and cooled chocolate
Fruit-flavored: After you've finished the recipe as written, beat in ½ cup of fruit curd, or ¾ cup melted and cooled seedless fruit preserves
Caramel: After you've finished the recipe as written, beat in ½ cup of homemade or store-bought caramel.
Liqueurs will have a more subtle effect on your buttercream, because you only add so much without affecting the texture of your frosting. They are often used in conjunction with other flavorings.
Piping with Swiss Buttercream
Swiss buttercream is best used for simple borders, writing, and "flat" flowers (as opposed to flowers that stand up, such as tulips or daffodils). I've had mixed success with piping roses, and they often wilt after a little while at room temperature.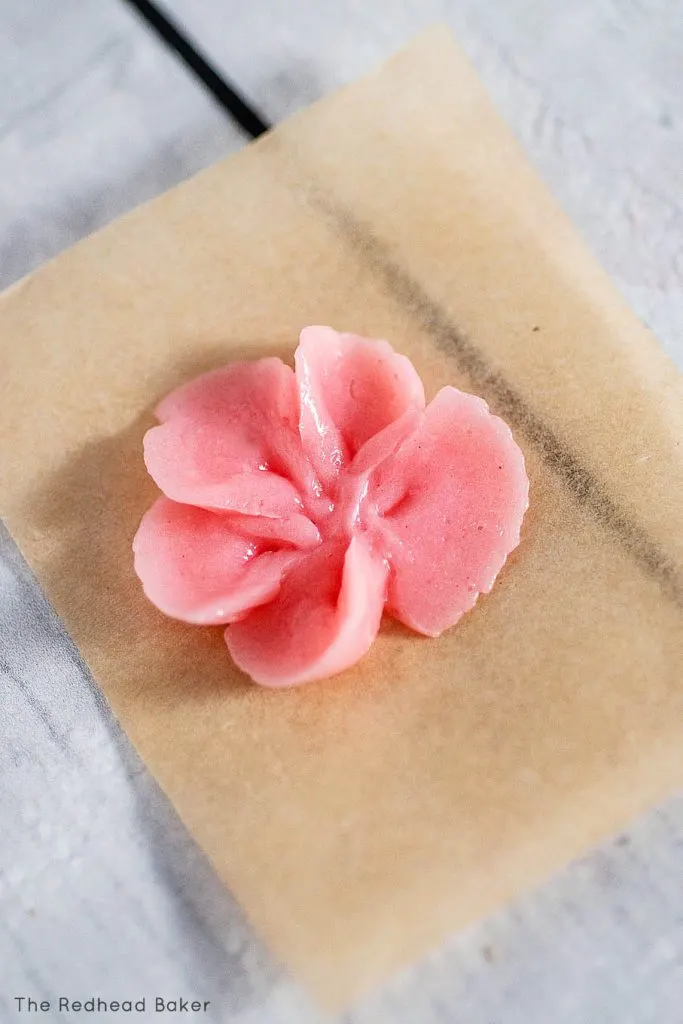 Flat buttercream flowers, such as daisies, cherry blossoms, apple blossoms, and wild roses, are often piped onto a piece of parchment or wax paper that is attached to a flower nail. The benefit of doing this is so that you can make the flowers in advance and freeze them. When your cake or cupcakes are done and frosted, you can take the flowers out of the freezer, easily peel them from the paper, and attach them to the cake/cupcakes.
When you watch flower piping tutorials, you may hear them say to hold your piping bag at "6 o'clock" at a "45-degree" angle. What does mean?
First, pretend your flower nail is a clock face. You're standing at the 6 o'clock position. The 12 o'clock position is opposite you, the 3 o'clock position is to your right, and 9 o'clock is to your left.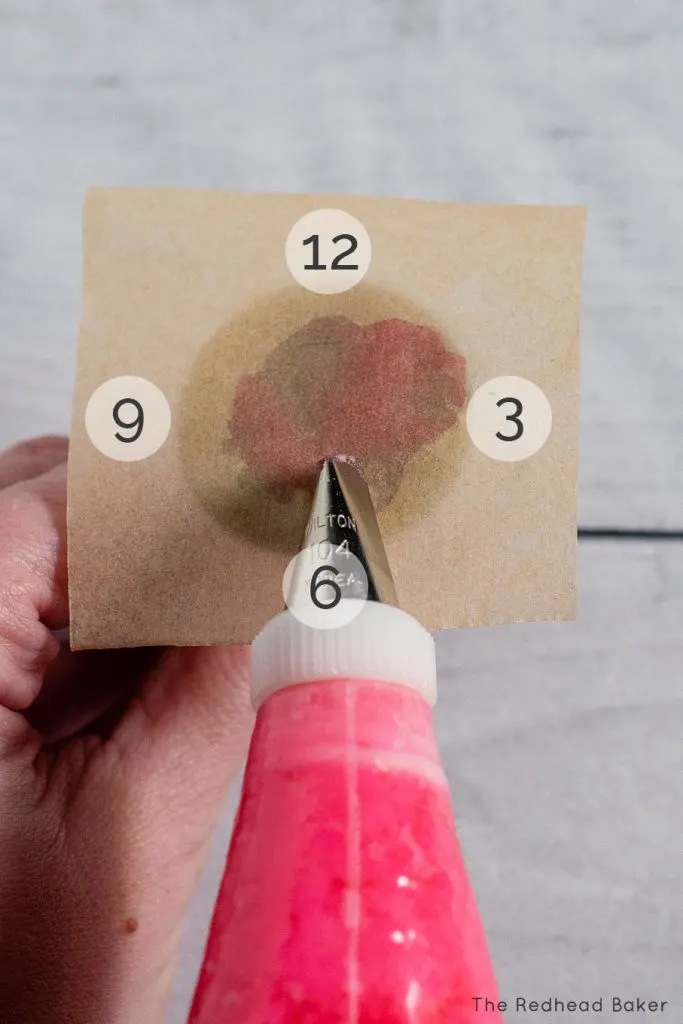 As for angle, picture the flower nail as a floor. A piping tip held at a 90-degree angle would be like a wall. For this flower, the tip is held at a 45-degree angle, so halfway between laying flat on the nail and being held straight up.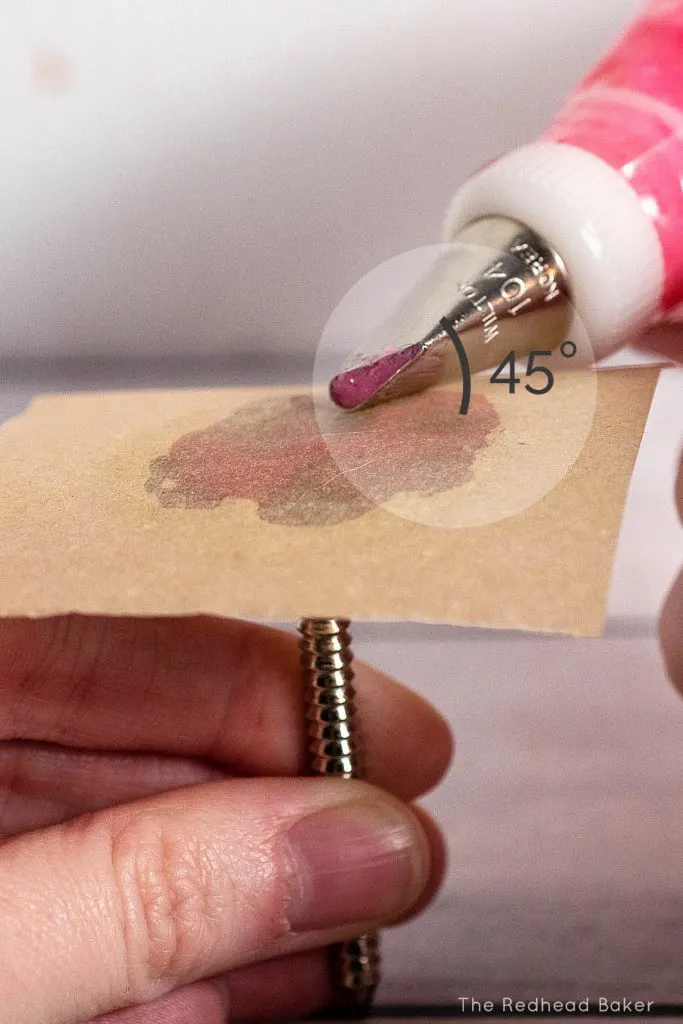 Other tools you will need for piping cherry blossoms are
Swiss Meringue Buttercream Recipe
Because Swiss buttercream uses so few ingredients, I like to use the highest-quality ones I can find or afford, especially if I'm not going to add flavorings like chocolate. Because of the amount of butter needed, I don't go for premium European butter due to the cost, but I do like a fresh-tasting butter made with cream from grass-fed cows.
For vanilla, my go-to is Nielsen-Massey Vanillas. They use as few ingredients as possible when producing their pure vanilla extracts. Their products are all-natural, allergen-free and certified Kosher, gluten-free and Non-GMO Project Verified. Being a baker, I've used a lot of different brands of vanilla, and always have consistent results with Nielsen-Massey Vanillas.
Nielsen-Massey has tutorials for other buttercream flowers on their #BetterYourBake website, including roses and hydrangeas.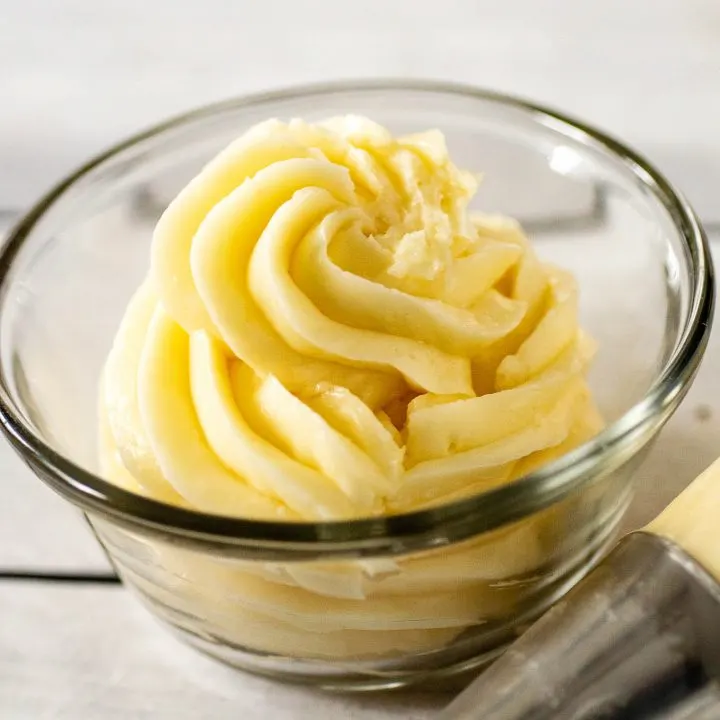 Swiss Meringue Buttercream
Additional Time:
20 minutes
Swiss Meringue Buttercream is my favorite frosting. Creamy and not overly sweet, it spreads smooth and pipes beautifully.
Ingredients
6 egg whites, from large eggs
1 ½ cups (10 oz) granulated sugar
Pinch of kosher salt
1 lb unsalted butter, softened but still cool
1 tablespoon Nielsen-Massey vanilla extract
Instructions
Bring about an inch of water in a saucepan to a boil. Lower the heat to a simmer.
Combine the egg whites, sugar and salt in the bowl of a stand mixer. Set the bowl over the simmering water. Whisk continuously until the sugar dissolves. Turn off the heat.
Transfer the bowl to the stand mixer. With the whip attachment, whisk the mixture until the meringue forms medium peaks.
Switch to the paddle attachment. While mixing on medium speed, begin to add the butter, about a tablespoonful at a time, waiting until the butter is no longer visible before adding another tablespoonful.
If, after adding all of the butter, the mixture looks soupy or curdled, refrigerate the frosting in the mixing bowl uncovered for about 15 minutes. Then continue mixing until the frosting becomes smooth and fluffy.
Beat in the vanilla extract.
At this point, you can use the frosting as-is, or add in flavorings or gel food coloring.
Notes
Optional flavoring additions:
4 oz melted and cooled chocolate
½ cup fruit curd or ¾ cup melted and cooled seedless preserves
½ cup homemade or store-bought caramel (not caramel-flavored ice cream topping)
1 to 2 tablespoons of liqueur
Recommended Products
As an Amazon Associate and member of other affiliate programs, I earn a small percentage from qualifying purchases.
Nutrition Information:
Yield:

24
Serving Size:

¼-cup portion
Amount Per Serving:
Calories:

145
Total Fat:

16g
Saturated Fat:

10g
Trans Fat:

0g
Unsaturated Fat:

5g
Cholesterol:

48mg
Sodium:

24mg
Carbohydrates:

0g
Fiber:

0g
Sugar:

0g
Protein:

1g
I am not a certified nutritionist. This nutrition information is automatically calculated by third party software and is meant as a guideline only.
You might also like