Make an exotic Thai chicken pizza for National Pizza month! Top homemade a pizza crust with sweet Thai sweet chili sauce, shredded chicken and bell peppers. Compensation for this post was provided by Gallo Family Vineyards via Sunday Supper, LLC. The opinions expressed herein are those of the author, and are not indicative of the opinions or positions of Gallo Family Vineyards.
Pizza is one of my favorite foods. It's a good thing there's a whole month dedicated to celebrating it, because I need that long to enjoy all of the different flavor combinations I like on my pizza. Friday is our family's dedicated pizza night, and I love that Liam joins me in the kitchen to help me make the pizza crust dough from scratch. His favorite part is punching down the dough after the first rise.
Homemade pizza crust is so easy to make, and I just haven't found a store-bought version that matches the workability and flavor of homemade. The measurements for the pizza crust ingredients are almost all by weight, because it ensures accurate measurements and ratios of ingredients, which ensures an easy-to-shape dough. I usually make a double batch of dough at a time, so that I have one ball to bake right away, and one to freeze for the following week.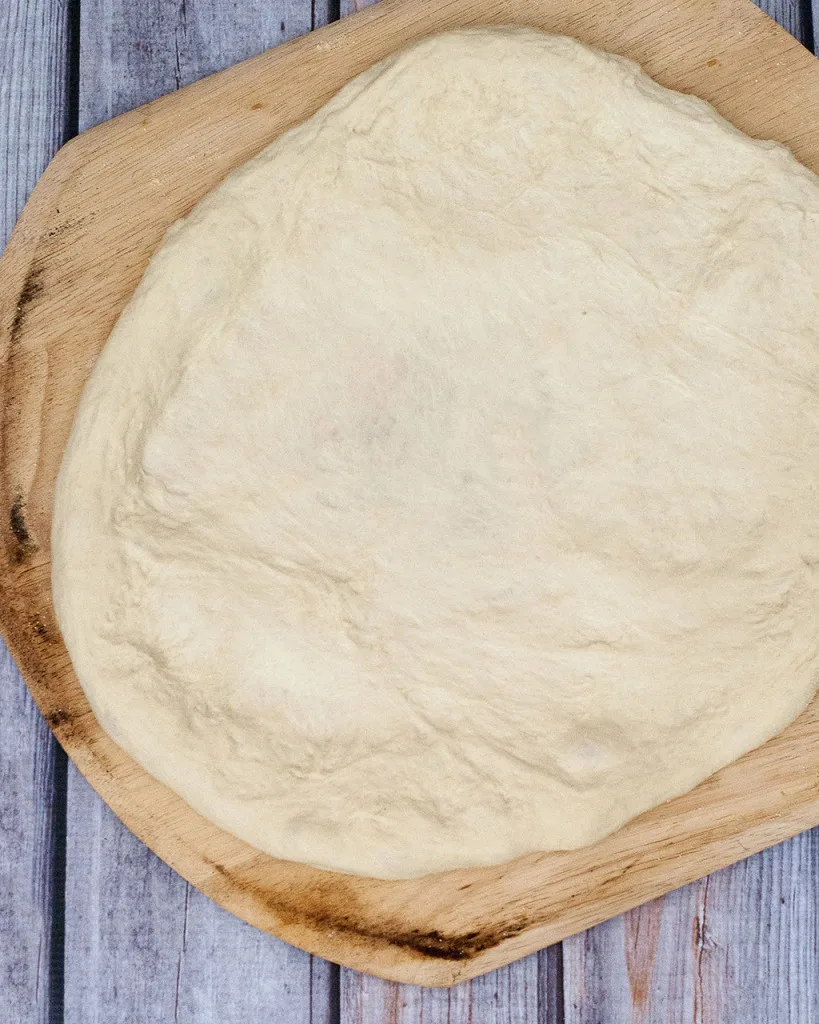 This particular pizza topping combination came about from half a bottle of Thai sweet chili sauce, leftover after I had made Crab Rangoon. What to do with this delicious leftover sauce? It was Friday, our pizza day, and I didn't know what I was going to do for that night's pizza. Then I laid eyes on that bottle of sauce. What if I used the sweet chili sauce in place of tomato sauce?
I hopped online and read about Thai cuisine. If I was going to use sweet chili sauce, I wanted to include a veggie and a meat that is typically found in Thai cuisine. Bell peppers are not typically found in Thai cuisine, though they do use other kinds of peppers, so using bell peppers isn't too much of a departure. Thai cuisine doesn't use much, if any dairy, so fontina is most definitely NOT common in Thai food, but you need something to hold the ingredients on the pizza crust! Chicken and shiitake mushrooms, however, are commonly used in Thai cuisine.
If you don't want to deal with store-bought or homemade pizza dough, you could go really fancy and bake this pizza on a piece of flatbread or Indian na'an bread.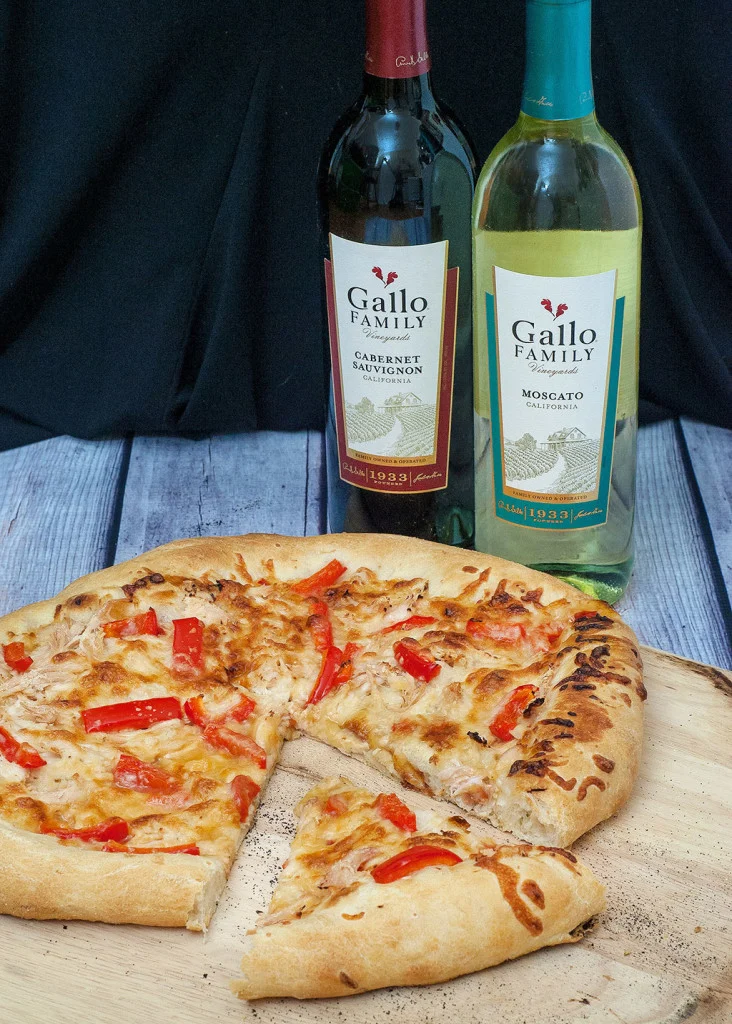 This pizza has made many appearances on our table since the first time I made it. It's even led to Dave asking me on a Friday if it's "regular pizza night" or "fancy pizza night." He teases me about some of the more unusual pizza toppings I've used, but he always seems to enjoy the fancy pizzas just a bit more than the regular pepperoni-and-cheese pizzas. And "fancy" pizzas have been a successful way of getting Liam to try ingredients that he's refused to try any other time.
The typical pairing for pizza is beer, however, fancy pizza calls for wine. If you're a white wine fan, try Gallo Family Vineyard's Moscato. The subtle honey flavors pair well with the mildly spicy sweet chili sauce. Prefer red wine instead? Pour a glass of Gallo Family Vineyard's Cabernet Sauvignon. It complements the chicken and meaty mushrooms.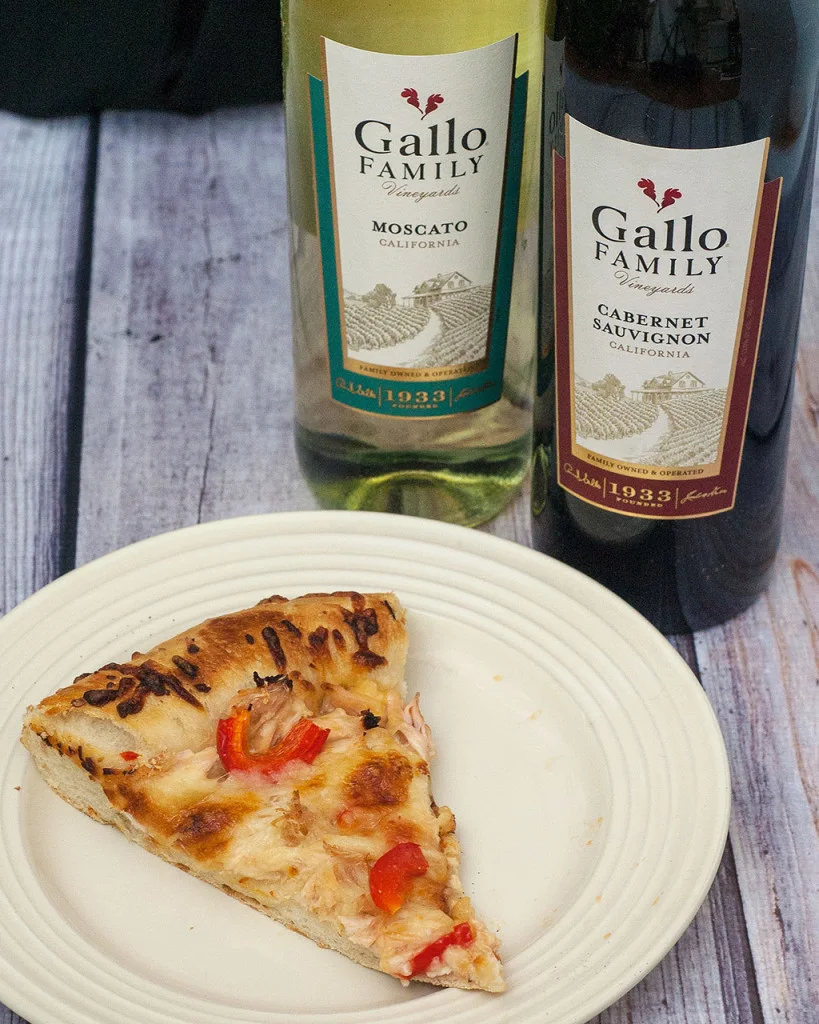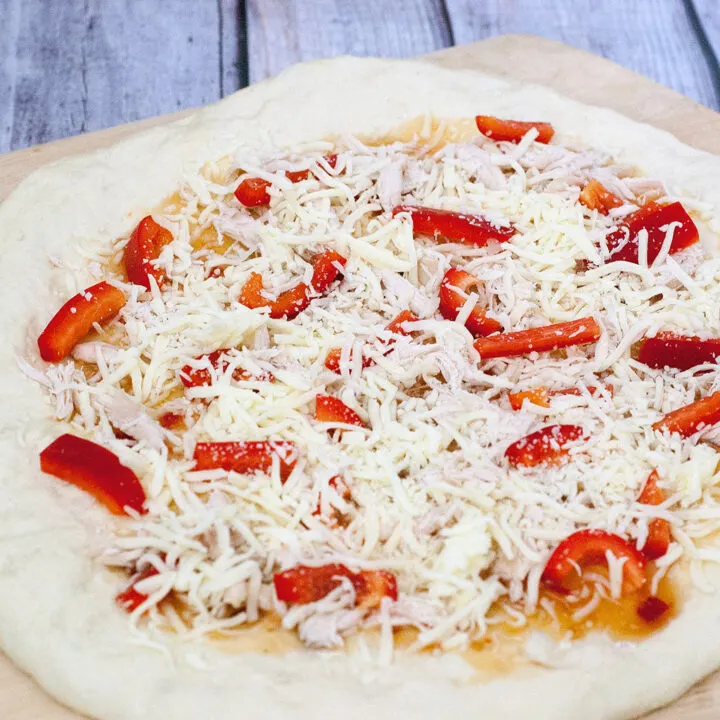 Thai Chicken Pizza
Ingredients
For the crust:
¼ cup warm water, 90 to 100 degrees F
1 ⅛ instant yeast
11 oz . bread flour, plus more for dusting, 2 cups
1 ¼ teaspoon . salt
⅝ cup water, at room temperature (about 70 degrees F)
1 tablespoon . extra-virgin olive oil
Cornmeal, for rolling
For topping the pizza:
2 tablespoon extra-virgin olive oil
4 oz shiitake mushrooms, stems removed and caps thinly sliced
Salt and pepper
¼ cup to ½ a of Thai sweet chili sauce
1 cup cooked shredded chicken
4 oz shredded fontina cheese
½ inch bell pepper, seeded and cut into 1- long thin strips
Instructions
Place the warm water and yeast in a measuring cup, stir to mix, and then let sit for 5 minutes.
Place the bread flour and salt in the bowl of a stand mixer, and stir briefly on low speed with the paddle attachment. Add the warm water/yeast mixture, the room temperature water and the olive oil, and mix on low speed just until combined.
Switch to the dough hook, and mix on medium speed for 5 to 6 minutes, until the dough forms a smooth, elastic ball that clears the sides of the bowl.
Spray a mixing bowl with nonstick spray and scrape the dough into it. Spray the top of the dough with more nonstick spray, cover loosely with plastic wrap, then with a clean kitchen towel. Set in a warm, dark place for 90 minutes to two hours, until the dough doubles in size. After about 90 minutes, start preheating your oven and pizza stone to 450 degrees.
Punch the dough down and flatten into a disc. Let rest for 10 minutes.
While the dough is resting, heat the 2 tablespoon of extra virgin olive oil in a skillet. Add the shiitake mushrooms, and saute for about 3 minutes, until softened. Season with salt and pepper.
Place a large sheet of parchment paper on a pizza peel, and sprinkle the parchment with cornmeal. Place the dough on the parchment. Roll and stretch the dough into a circle 10 to 12 inches in diameter (the larger the circle, the thinner the crust will be).
Spread a thin layer of Thai sweet chili sauce over the crust, leaving a half-inch border around the edge. Top with the cooked mushrooms, shredded chicken and bell peppers. Sprinkle shredded cheese over the top.
Use the peel to transfer the pizza and parchment onto the pizza stone in the oven. Bake 14 to 18 minutes, until the cheese is melted and bubbly and the crust is golden brown.
Use the peel to remove the pizza from the oven and let it rest about 10 minutes before cutting into 8 slices.
Pizza crust recipe from Annie's Eats
Discover more #SundaySupper pizza recipes
Sweet Pizzas
Savory Pizzas