My favorite summer cocktails in frozen form! The flavors of coconut, mango and pineapple mix together with white wine in these tropical sangria popsicles!
While browsing the July 2014 issue of Cooking Light, I came across an article on 5 easy ice pop recipes: strawberry-balsamic, melon mimosa, cappuccino, vanilla yogurt and spiced plum, and cucumber-chili-lime.
I love ice pops almost as much as I love ice cream. When I was a kid, I attended a summer day camp, and ice pops were almost always our afternoon snack. At the local YMCA swimming pool, when the lifeguards called "Adult swim!", the kids all ran to the snack stand to get ice pops.
As soon as I saw that ice pop article, I immediately ordered a set of popsicle molds from Amazon. That ice pop article had given me an idea.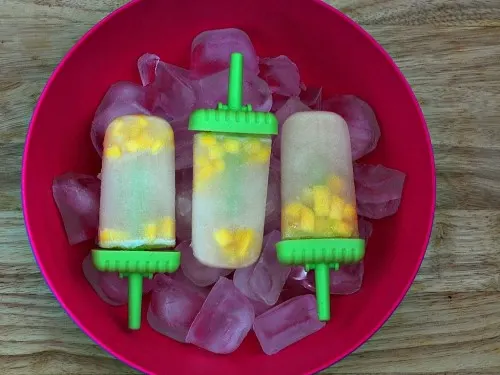 Though popsicles remind me of my childhood, I wasn't going to make a kid-friendly popsicle. Cooking Light's mimosa popsicle sounded really good, but I didn't have any sparkling wine on-hand. I did, however, have white wine. And what cocktail can you make with wine? Sangria.
I remembered that I had recently seen a tropical sangria on The Healthy Maven's site. Flavored with coconut, mango and pineapple — what better beverage for a summer day?? And these flavors translate so well into frozen form. These are a delicious adult treat! But if you do want to make them kid-friendly, use 1 cup of white grape juice instead of white wine.
One thing homemade popsicles have over homemade ice cream is that they are so much easier to make, and they are ready faster. One tip for getting these popsicles out of their molds: fill a bowl with scalding water. Dip the popsicle molds into the hot water for 4 or 5 seconds, then gently ease the popsicle out of the mold.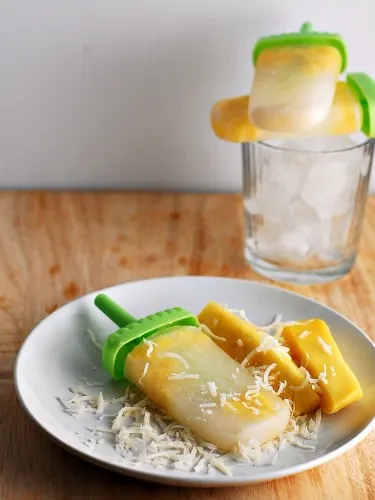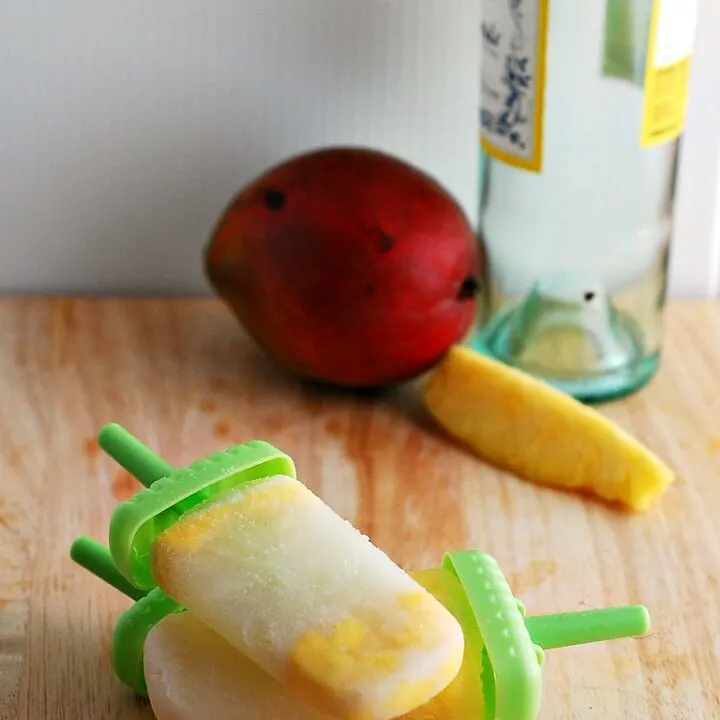 Tropical Sangria Popsicles
Ingredients
2 cups water
4 teaspoon sugar
1 cup sweetened flaked coconut
1 cup white wine (something inexpensive, I used Cupcake Vineyards Sauvignon Blanc)
½ cup diced mango
½ cup diced pineapple
Instructions
In a small saucepan, combine the water and sugar. Place over high heat and bring just to a boil, then remove from the heat and add the coconut. Stir to combine. Set aside for 30 minutes to 4 hours.
Strain the water mixture into a clean saucepan and discard the flaked coconut. Bring the water mixture to a boil and cook for about 5 minutes, or until reduced to a cup of syrupy liquid. Set aside to cool.
Once the coconut syrup is cooled, combine it with the cup of white wine.
Mix together the mango and pineapple, and spoon some of the fruit into each of six (⅓-cup-capacity) popsicle molds. Then pour some of the liquid into each mold. Place the molds in the freezer and let sit for at least four hours.
Nutrition Information:
Yield:

1
Amount Per Serving:
Calories:

148
Sodium:

49mg
Carbohydrates:

27g
Sugar:

15g
Protein:

1g
Inspired by Cooking Light and The Healthy Maven