White chocolate frozen mousse has the texture of ice cream without the need to churn. Top it off with hazelnut whipped cream for a decadent end to a romantic meal.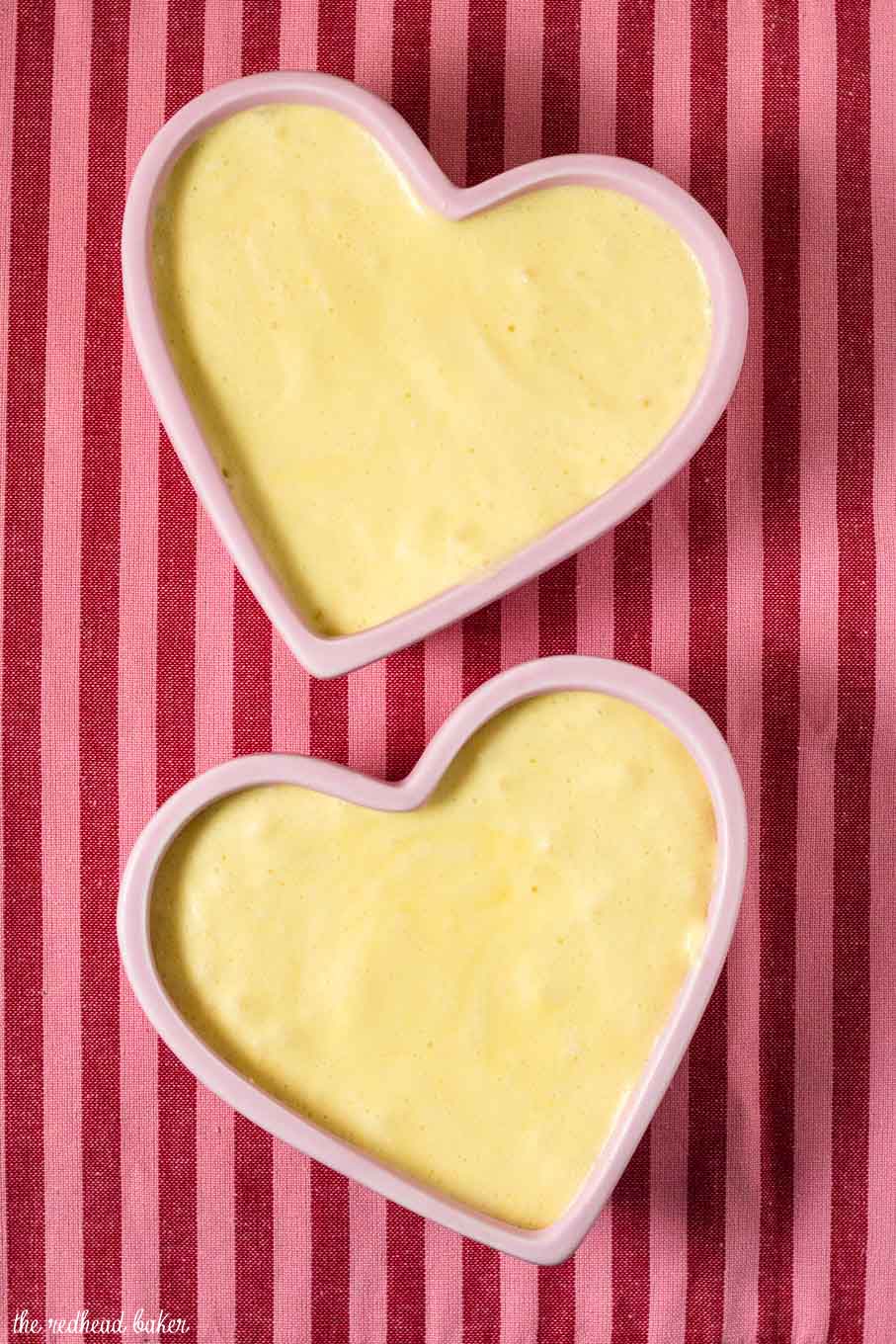 Welcome to Progressive Eats, our virtual version of a Progressive Dinner Party. Our menu this month features romantic foods to inspire love! Hosting this month is Jane from The Heritage Cook. 
Valentine's Day is around the corner! We don't make a big deal out of the holiday in the Redhead Baker house. We exchange cards, and Dave usually gets me a box of my favorite chocolate. I sometimes make a fancy meal. We never eat out, because we don't want to ask anyone to forgo the holiday themselves to watch our kid, and because restaurants are always crowded that night.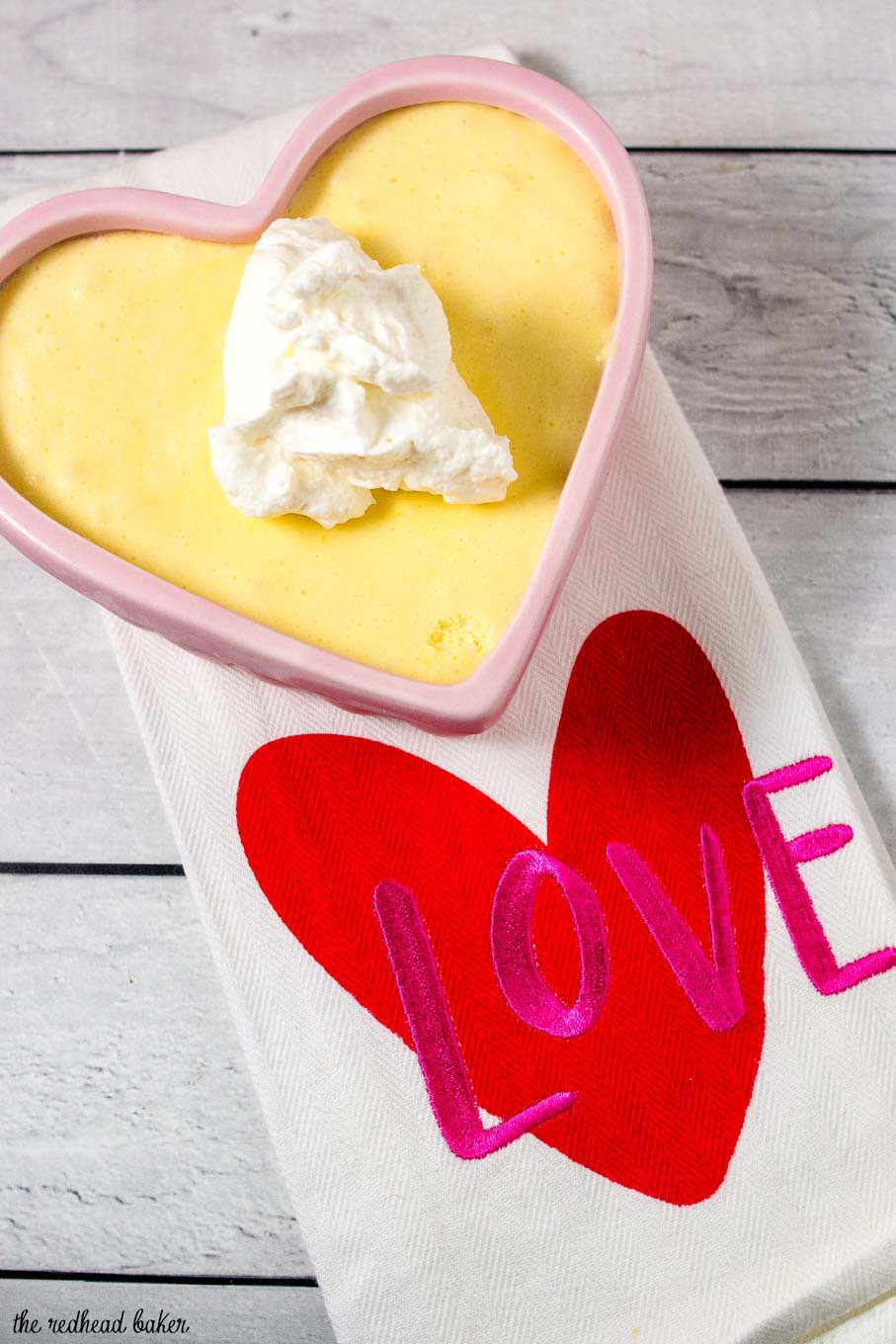 We don't usually have dessert at home on regular nights, but I do make dessert for our Valentine's Day meal. One of my favorite desserts is ice cream, but it's a pain to make space in my freezer for the churning bowl, plus ensuring time to chill the ice cream base, then freezing the churned ice cream.
Did you know you can make a homemade frozen dessert that has the texture of ice cream but doesn't require churning? It's frozen mousse! It's very similar to regular mousse — beaten egg yolks, whipped cream and whipped egg whites are all folded together — but this goes a step further with freezing.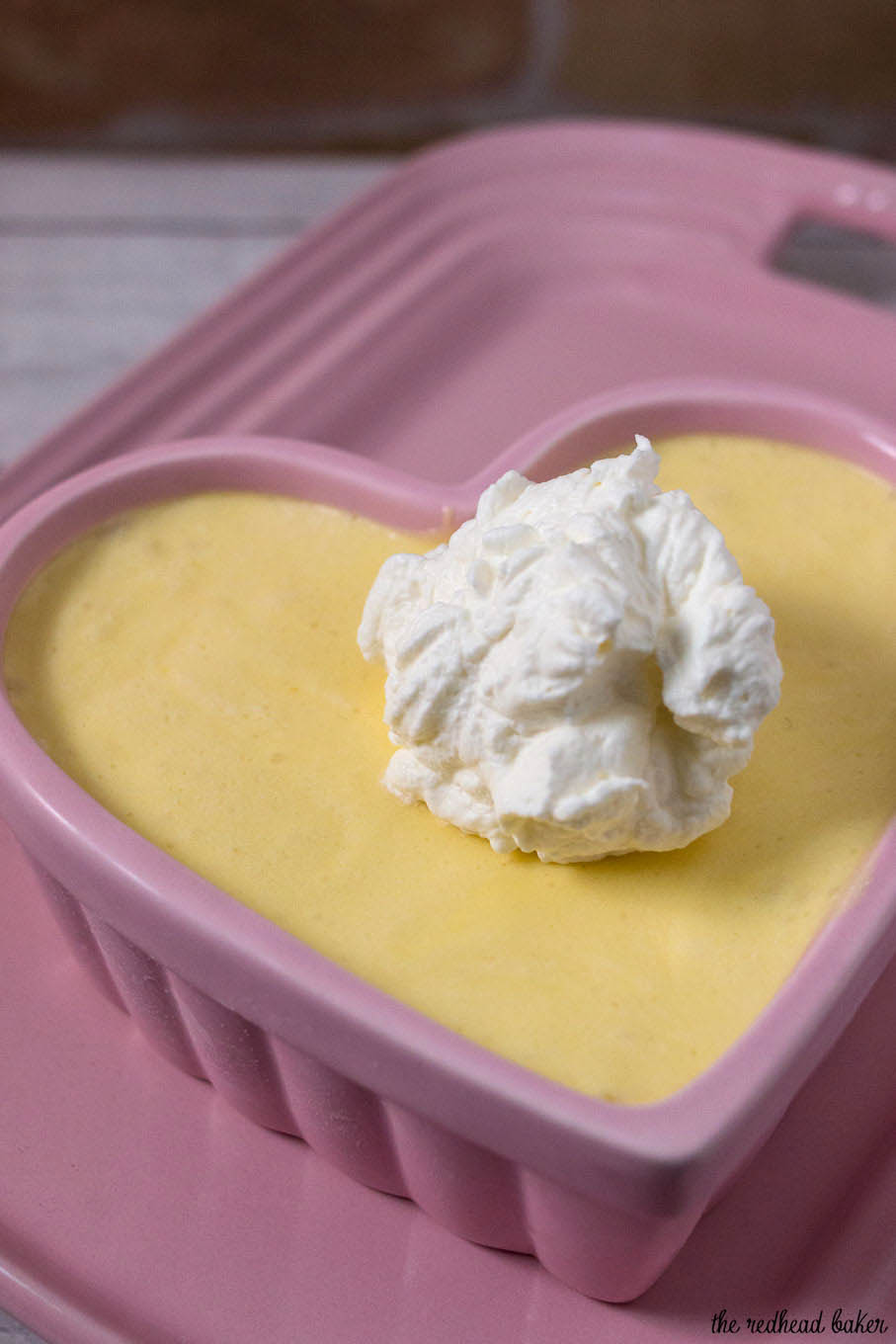 A few tips: have all of your ingredients measured and set out, ready to go (this is called mise en place) before you start the recipe. Definitely have your cream whipped before you beat the chocolate into the egg yolks, because that yolk/chocolate mixture will start to set unless you mix it almost immediately with a portion of the cream.
Unlike regular mousse, the mixture is a bit soupy when all of the parts are folded together, but this is deliberate, so that it doesn't turn into a solid frozen block. The hazelnut whipped cream is a delicious complement to the mousse, and if you want to add textural crunch, add some toasted chopped hazelnuts on top of the whipped cream.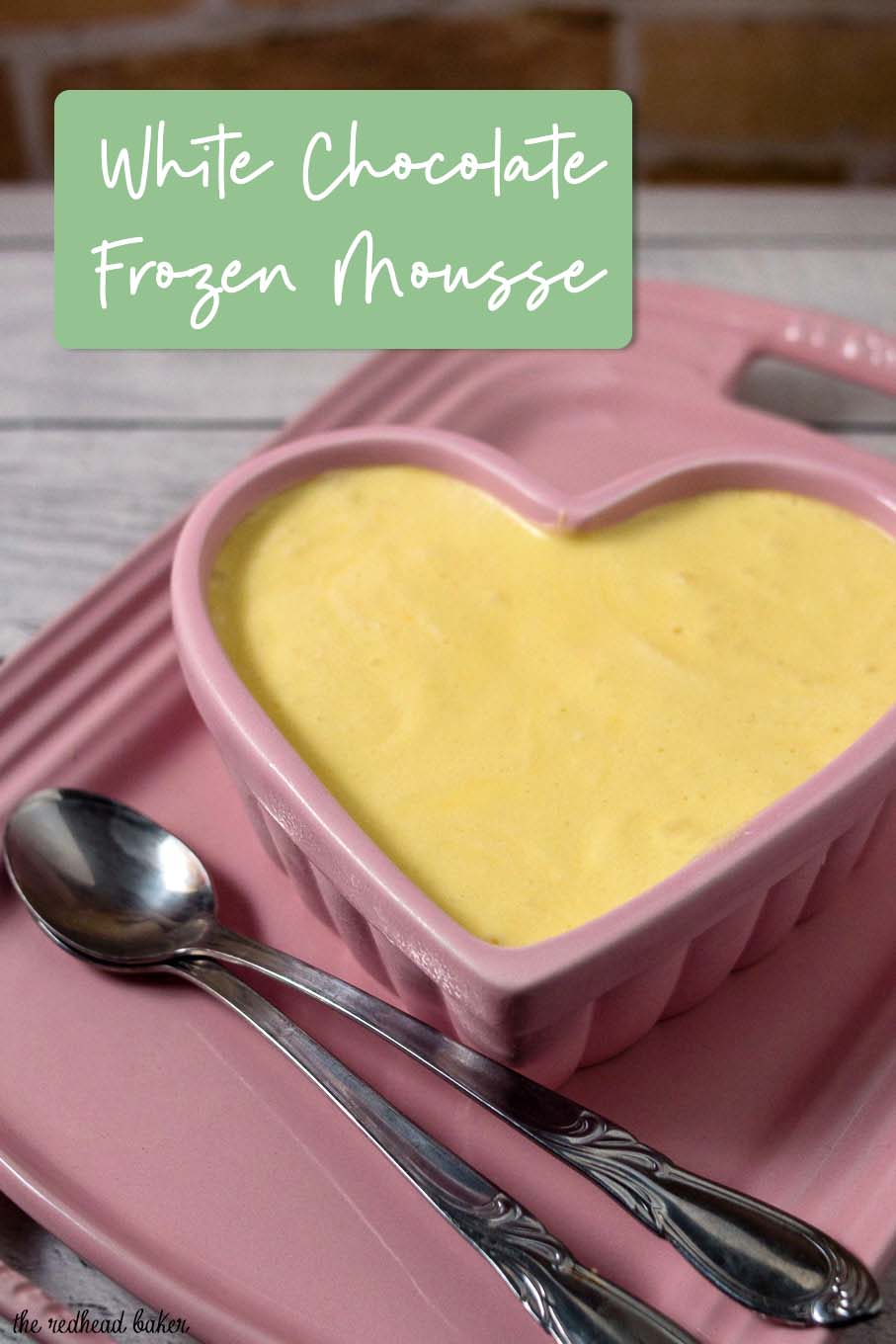 [amazon_link asins='B00YEYL8T0,B010TLTBDQ,B000LEICXM,B00004OCNS,B007HI302S' template='ProductCarousel' store='theredheadbak-20' marketplace='US' link_id='bfa00541-055e-11e8-b2a1-ef50e4744258']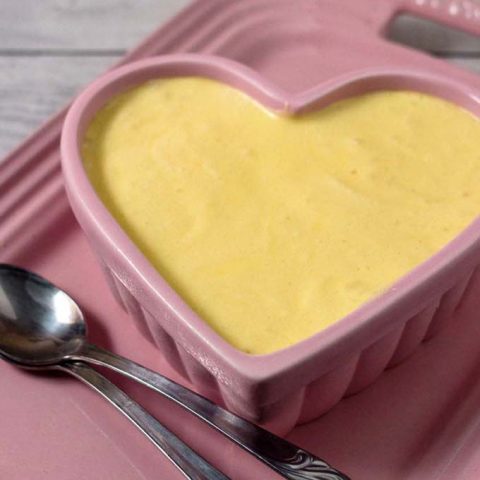 White Chocolate Frozen Mousse with Hazelnut Whipped Cream
Total Time:
4 hours
30 minutes
White chocolate frozen mousse has the texture of ice cream without the need to churn. Top it off with hazelnut whipped cream for a decadent end to a romantic meal.
Ingredients
For the mousse
4 large eggs, separated
7 oz good quality white chocolate, chopped
2/3 cup heavy cream
1 tbsp sugar
1 tsp vanilla extract
For the whipped cream
1/2 cup heavy cream, chilled
2 tbsp powdered sugar
1 tsp hazelnut flavored liqueur
Instructions
Make the mousse
Place the chocolate in a bowl and set over a pot of simmering water. Stir occasionally until melted and smooth. Set aside to cool.
In a chilled bowl, and using chilled beaters, whip the cream to medium peaks. Add the vanilla, then continue whipping to stiff peaks. Refrigerate until ready to use.
In another bowl, beat the egg whites until frothy. With the mixer running, gradually add the sugar and continue beating until the whites reach stiff peaks. Set aside.
In a third bowl, beat the egg yolks until thick and light in color. With the mixer running, gradually pour in melted and cooled chocolate and beat until well-blended.
Add one quarter of the whipped cream to the chocolate/yolk mixture, and beat on medium speed until incorporated.
Add the remaining whipped cream to the bowl, and use a spatula to fold it in.
Add one third of the egg whites and fold them into the chocolate/yolk/cream mixture. Once almost completely incorporated, add another third; fold it in. Then repeat with the last third.
Divide the mousse among four 4-oz ramekins and freeze until set, at least 4 hours.
Make the whipped cream
In a chilled bowl, with chilled beaters, whip the cream until frothy.
Add the sugar and vanilla, then beat to stiff peaks.
Spoon one quarter of the whipped cream onto each ramekin and serve.
Nutrition Information:
Yield:

1
Serving Size:

serving
Amount Per Serving:
Calories:

602
Saturated Fat:

26g
Cholesterol:

269mg
Sodium:

133mg
Carbohydrates:

38g
Sugar:

36g
Protein:

9g
Love Foods: Aphrodisiac Foods / Foods for Valentine's Day
Cocktails
Appetizers
Main Courses
Desserts
If you're unfamiliar with the concept, a progressive dinner involves going from house to house, enjoying a different course at each location. With Progressive Eats, a theme is chosen each month, members share recipes suitable for a delicious meal or party, and you can hop from blog to blog to check them out.