Tired of the same old appetizers? Try this cherry bruschetta — toasted baguette slices are topped with melted brie, beer-soaked cherries and fresh thyme.
Dave and I love date night. It doesn't happen often, for a variety of reasons: money, other obligations (hello, tee-ball season), my parents are our regular babysitters, and they have busy lives of their own.
When we do get to have date night, we might go watch his brother's band play, or go to the movies, but any date night almost always starts off with dinner at a restaurant. I love going out to eat. And I live in the heart of Philadelphia, with hundreds, if not thousands, of restaurants with every kind of food you can imagine. Yet, we will often go back to one restaurant in particular, a wine cafe called Tria.
Tria doesn't have giant plates of food. It's more like snacks. There's a list of snacks, like Olive Oil Rosemary Potato Chips with Truffle-Herb Aioli, salads, sandwiches, and bruschetta. I can order three different things and still not have that overstuffed feeling I get when I eat an appetizer plus a main dish at other restaurants.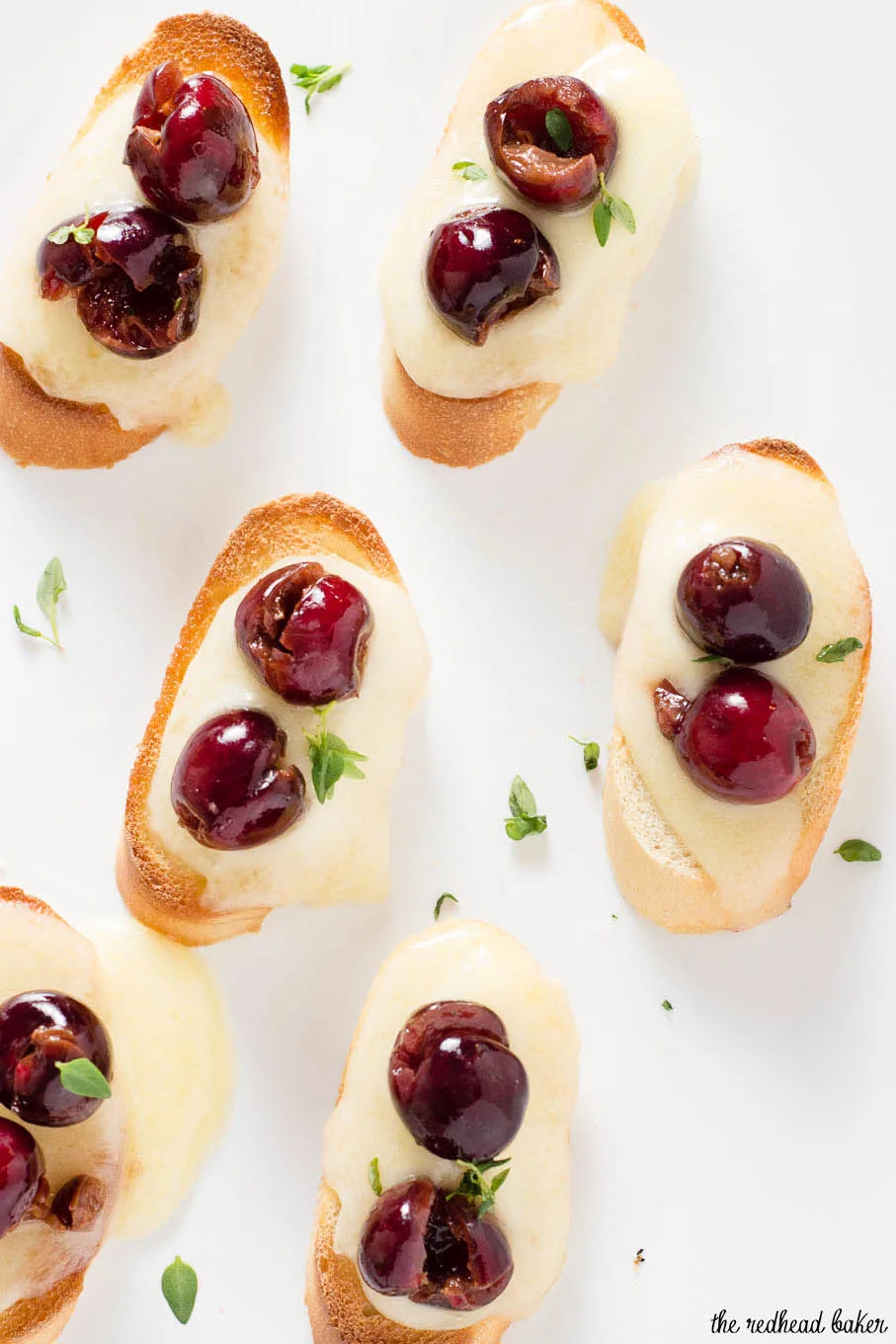 I've tried almost all of Tria's different varieties of bruschetta, but my favorite is the Brie de Nangis and Allagash cherries, which is why I decided to make my own at home. Allagash is the name of a brewery based in Maine, and I love their wheat beer. I'm not sure which type of beer Tria uses in their bruschetta, but since I love the wheat, that's what I used.
Brie de Nangis is an artisanal cheese from the town of Nangis, just southwest of Paris. I used a double cream Brie that I had on hand from Trader Joe's, and it worked just fine. Finally, I topped off my bruschetta with a sprinkle of fresh thyme leaves.
There is no chance that I'll stop going to Tria now that I've made this at home. After all, I don't have to do the dishes when I go to Tria. They also have a delicious Beajolais-Villages red wine from Domaine Andrè Colonge that our liquor store doesn't carry.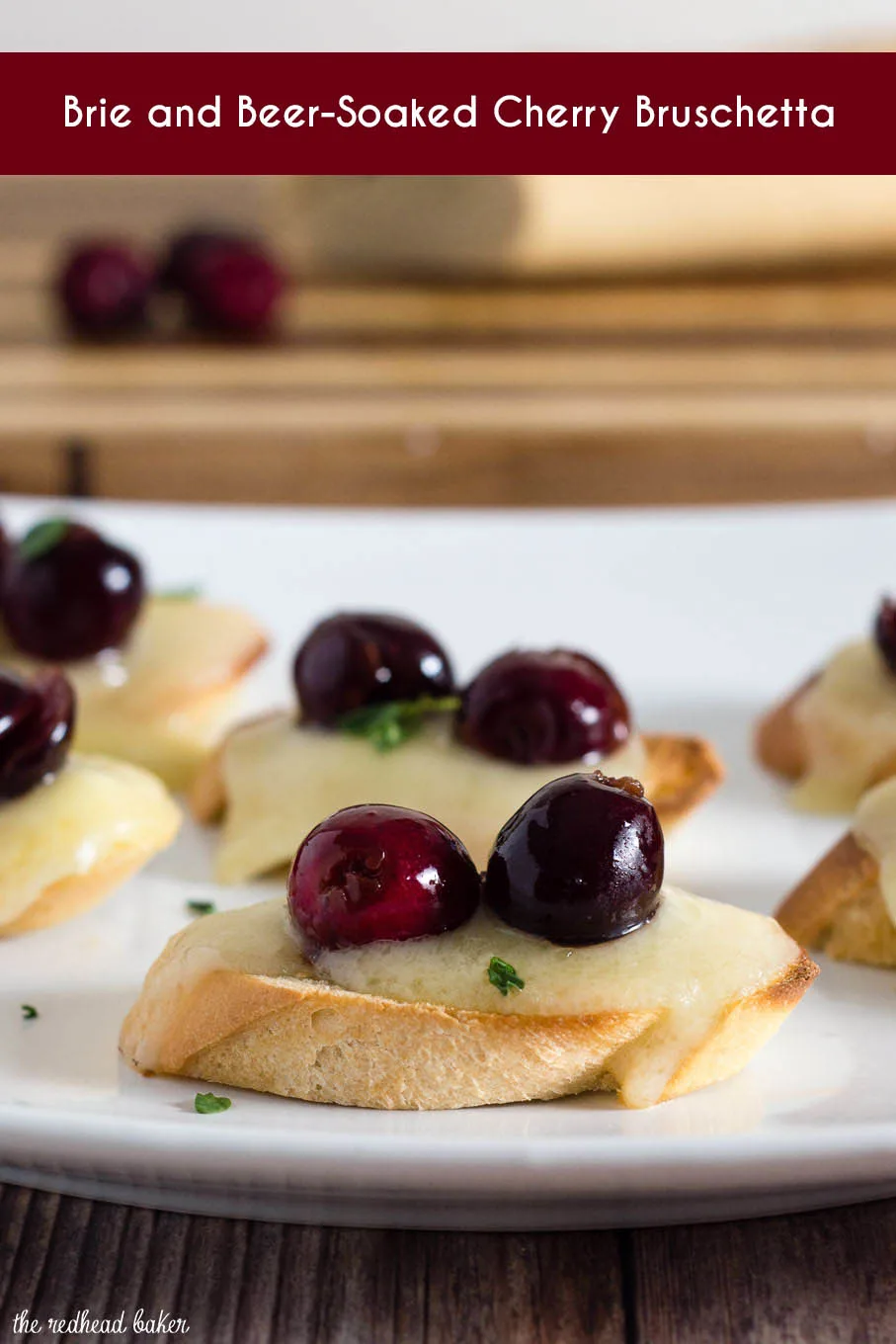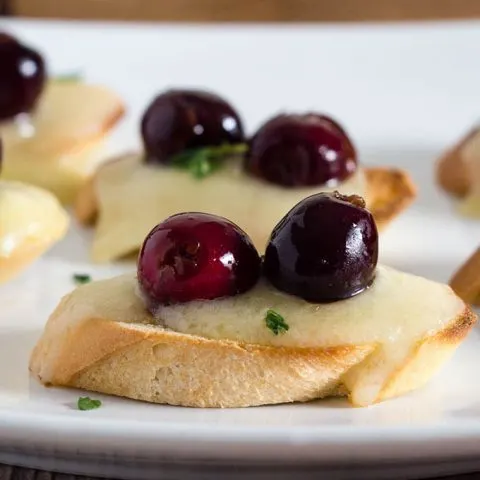 Brie and Beer-Soaked Cherries Bruschetta
Yield:
8 (2-piece) servings
Total Time:
2 hours
10 minutes
Ingredients
2 cups fresh sweet cherries, pitted
12 oz wheat beer
16 ¼-inch thick baguettes slices
1 lb brie cheese, sliced into 16 slices
Fresh thyme leaves, for garnish
Instructions
Place the cherries in a shallow dish, spreading them out into a single layer. Pour the beer over top, cover with plastic wrap and let sit at room temperature for at least 4 hours, and up to 6 hours. Drain the cherries, and discard the liquid.
Place the baguette slices on a baking pan or broiler sheet. Place under the broil until just barely starting to brown.
Top the toasts with Brie cheese and place back under the broiler until the cheese melts.
Top each toast with some of the beer soaked cherries, and a sprinkle of thyme leaves. Serve immediately.
Inspired by Tria Cafe