Cherry red wine preserves combine sweet cherries and malbec red wine in a delicious condiment that you won't find in any grocery store!
Last year, I tried canning for the first time. I was really intimidated, but once I actually did it, I found it wasn't as hard as it seemed to be. Now that I know how to do it, I want to can ALL THE THINGS.
I decided to can homemade cherry preserves this time around because they can be rather difficult to find in local grocery stores. I was browsing Pinterest for cherry preserves recipes, and came across one that included fresh herbs and red wine.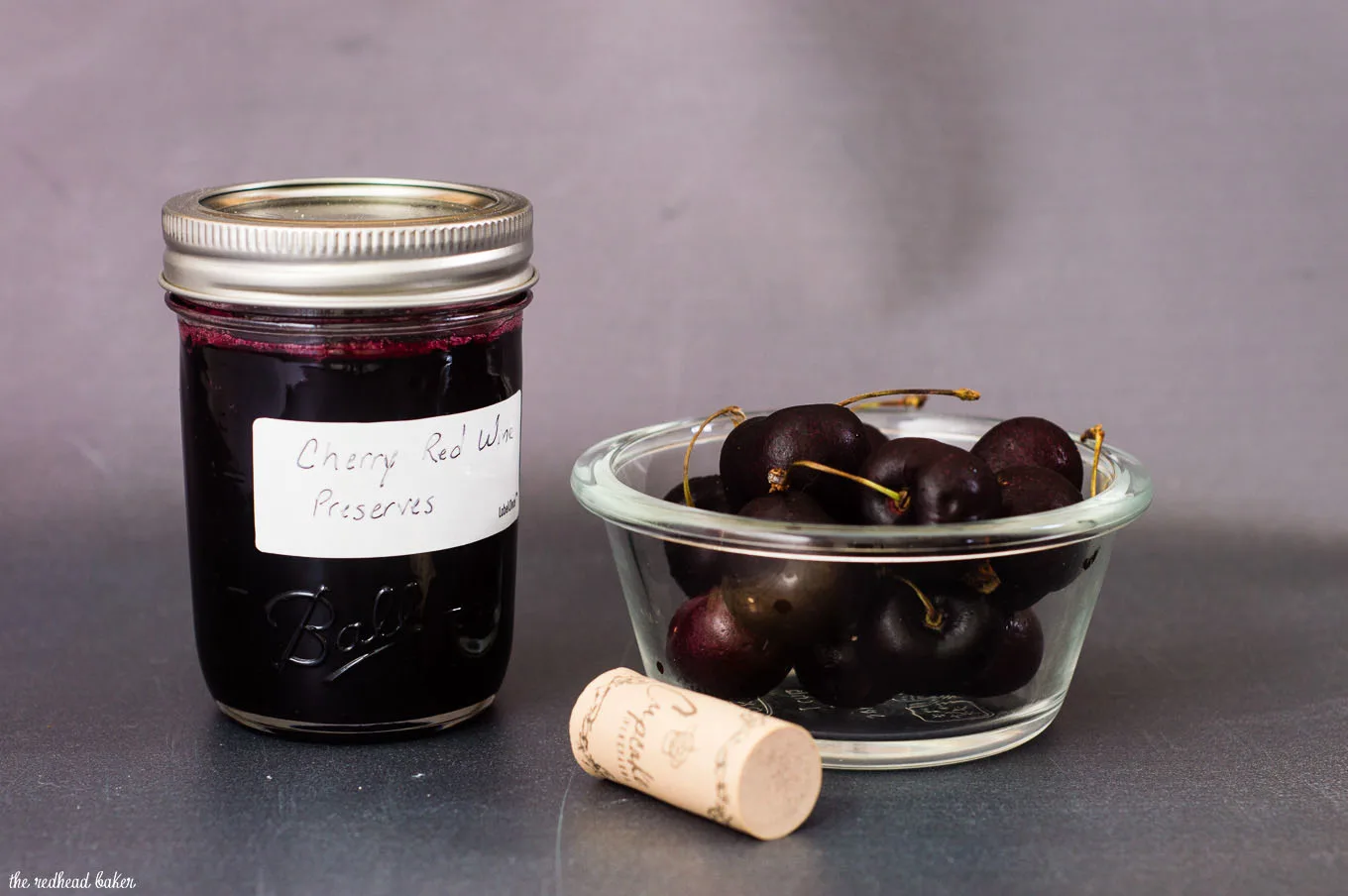 I didn't want a savory jam, but I was intrigued by the red wine. I love just about all kinds of red wine, and at the moment, I'm very partial to Malbec. My favorite (so far) is a budget-friendly bottle from an Argentinian winery called Trivento. However, I prefer to save that one for drinking. Another one that I enjoy, that I used in this recipe, is Cupcake Vineyard's malbec.
If you're a beginner canner, there are some tools you'll need: a really big stockpot (at least 20 quarts in size) for warming the jars (this prevents breakage when the hot jam is poured in) and processing the filled jars; a small round wire rack (keeps the jars elevated, so hot water completely surrounds the jar); tongs; a wide-mouth funnel; a long stick with a magnet attached, to retrieve the lid parts from the hot water after the jars are filled. Obviously, you'll also need some canning jars.
Pectin is what makes the preserves jell. Some fruits have high levels of naturally-occurring pectin, such as apples, pears and plums. Cherries do not, which is why added pectin is needed. It's available at kitchen stores, craft stores, and I've recently seen it at Target.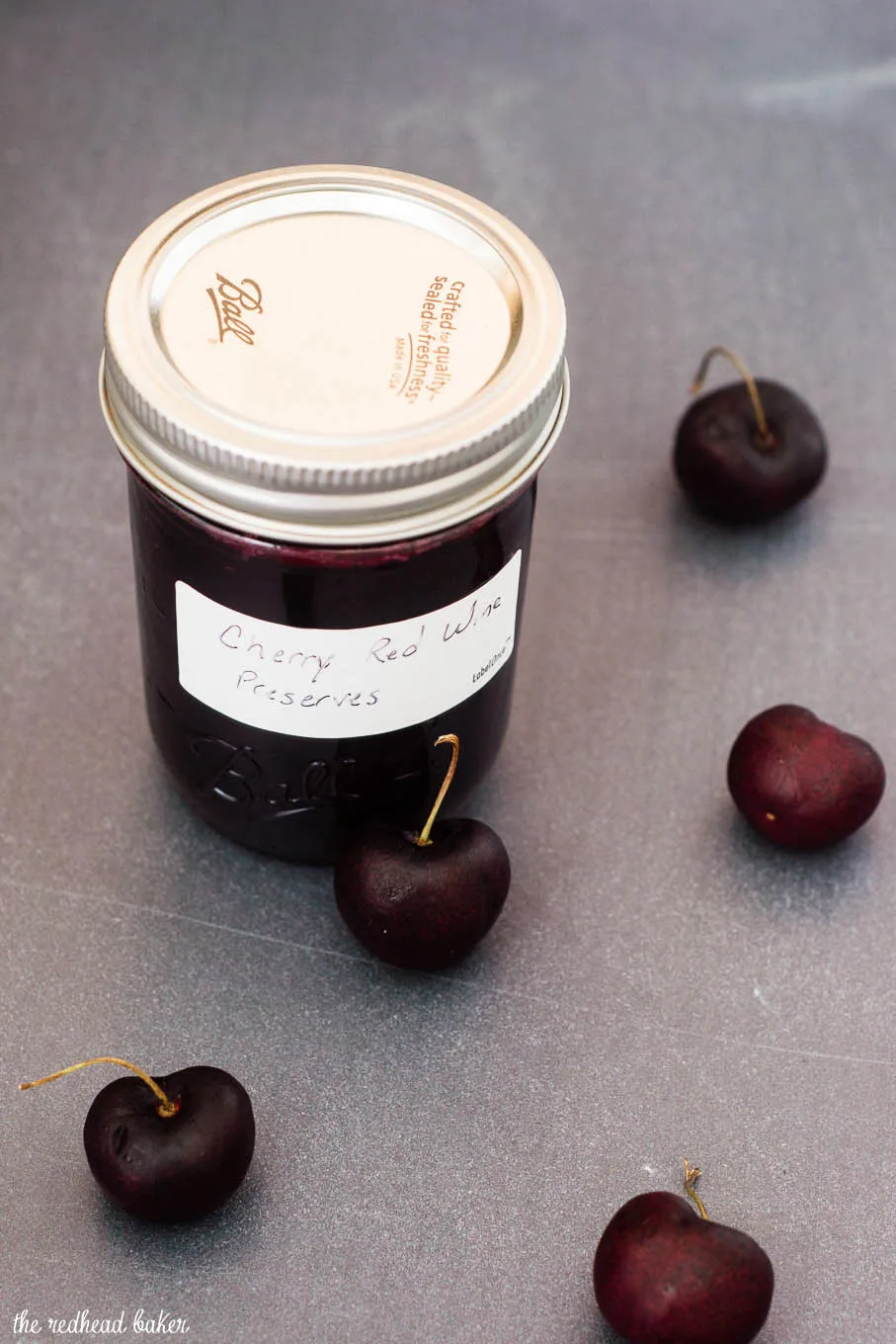 As I said, actually going through the process of canning is much easier than the instructions make it appear. Follow each step and don't skip anything. A toxin called botulism can grow in improperly canned foods.
That being said, I hope you'll give these preserves a shot. Cherry Red Wine Preserves are delicious spread on toast, over ice cream, on top of baked Brie, or even used as a glaze on pork tenderloin.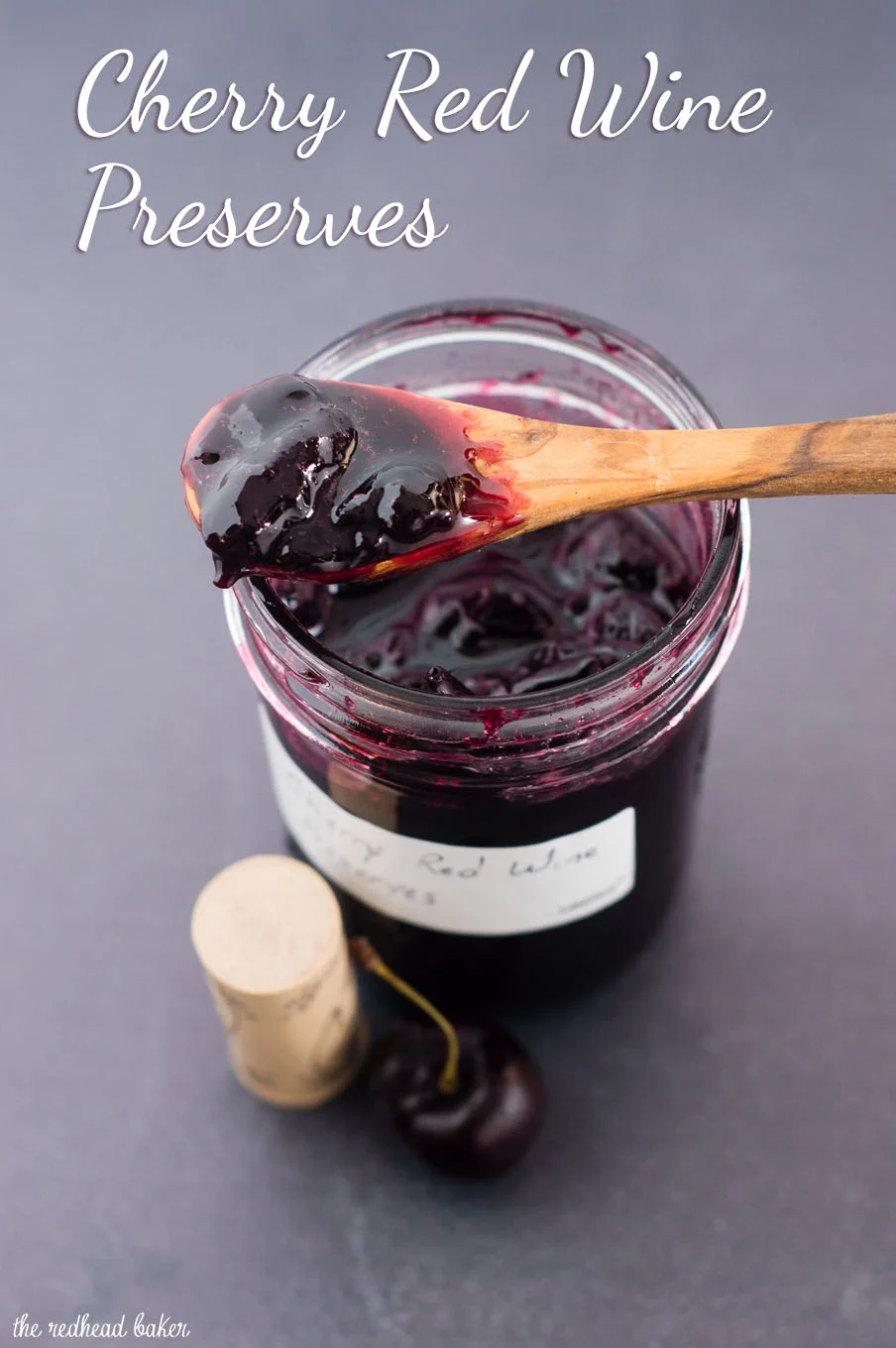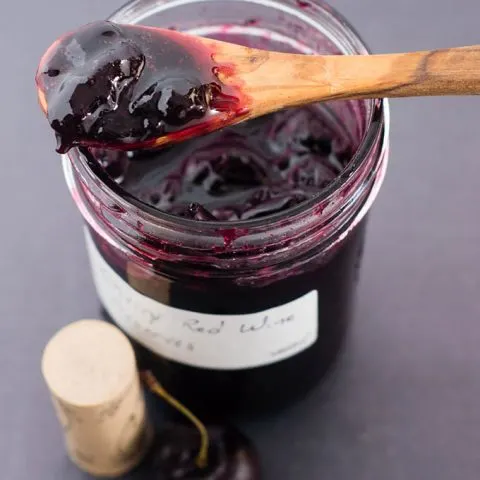 Cherry Red Wine Preserves
Ingredients
2 lbs sweet cherries, pitted and halved
Juice of 2 lemons
1 cup Malbec or other robust dry red wine
3 tablespoon pectin, not instant
3 ¼ cups sugar
Instructions
Fill a very large (at least 20-quart) pot with water. Place a wire rack in the bottom, bring to a boil, then reduce heat to simmer. Wash 4 (8-oz) canning jars and lids in hot, soapy water. Rinse well, then place the parts in the stockpot to keep warm.
Place the cherries, lemon juice, and red wine in a medium saucepan. Cook over medium-low heat for 30 minutes to soften the fruit and reduce the wine.
Add the pectin and sugar, stir to combine, and bring the mixture to a full rolling boil. Cook at a boil for 1 to 2 minutes.
Use tongs to remove the jars and place on a clean kitchen towel. Use a second kitchen towel to dry the jars. Ladle the cherry jam into the jars, leaving a half-inch of headspace in each jar. Use a clean towel to ensure the rims and threads are clean. Retrieve the lid pieces from the hot water, dry with a clean towel, and place the lids on the jars and screw them on.
Increase the heat under the stockpot to high and bring to a boil. Place the jars in the boiling water for 10 minutes. Retrieve with the tongs and place on a cooling rack. Cool completely overnight.
Check the seals. Any unsealed jars should be refrigerated and used within 3 weeks.
Adapted from Savory Notes