Sangria slushies are a fun frozen cocktail — this version blends white wine with frozen strawberries and triple sec for a delicious summer treat!
We just went through a heat wave. Not just a heat wave. A dangerously hot heat wave. There were nights when the temperatures didn't dip below 80 degrees. At night. The days felt like 110 degrees or more. I was sweating while standing still outside.
It's been a balance getting the kiddo outside for some exercise while also staying safe in the dangerous heat. We have frequented just about every "sprayground" in the city. If I had my way, we wouldn't go outside at all, but if he doesn't get some outdoor exercise, he's almost literally bouncing off the walls (as it is, he's bouncing off the furniture). He can't run inside, because we're in a second-floor apartment.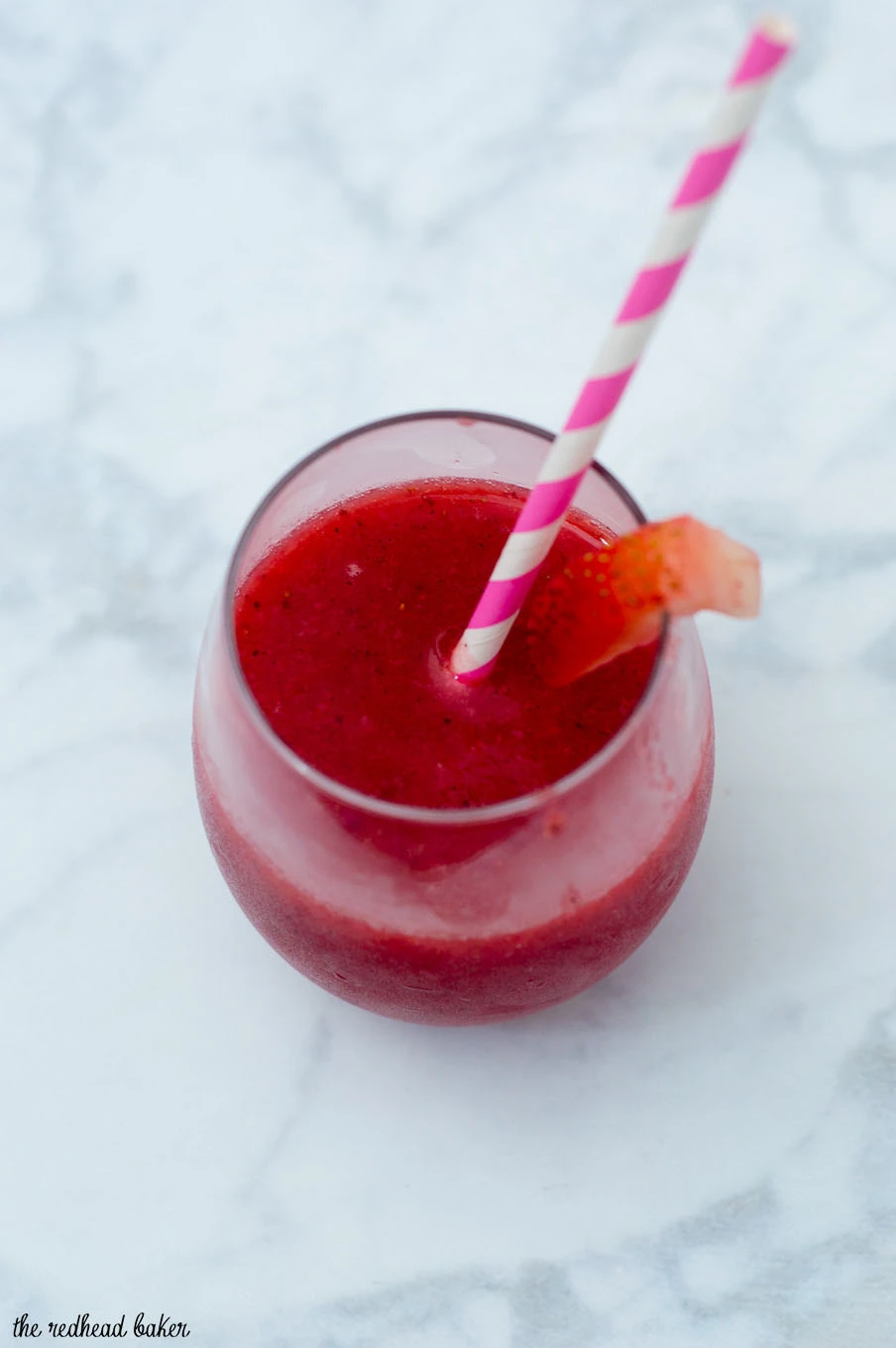 While he's chugging down lots of ice water and popsicles, I've been indulging in some other cool treats. Back in May, my friend Annie shared a recipe for rosé slushies. Frozen wine! Since then, I've noticed various other kinds of wine cocktail slushies on other blogs.
My favorite wine cocktail is sangria, so I decided to try turning it into a slushie. I decided on strawberry because that's what was in my refrigerator. Sangria is hard to get wrong, because you can use any wine, any fruit, pretty much any thing you want!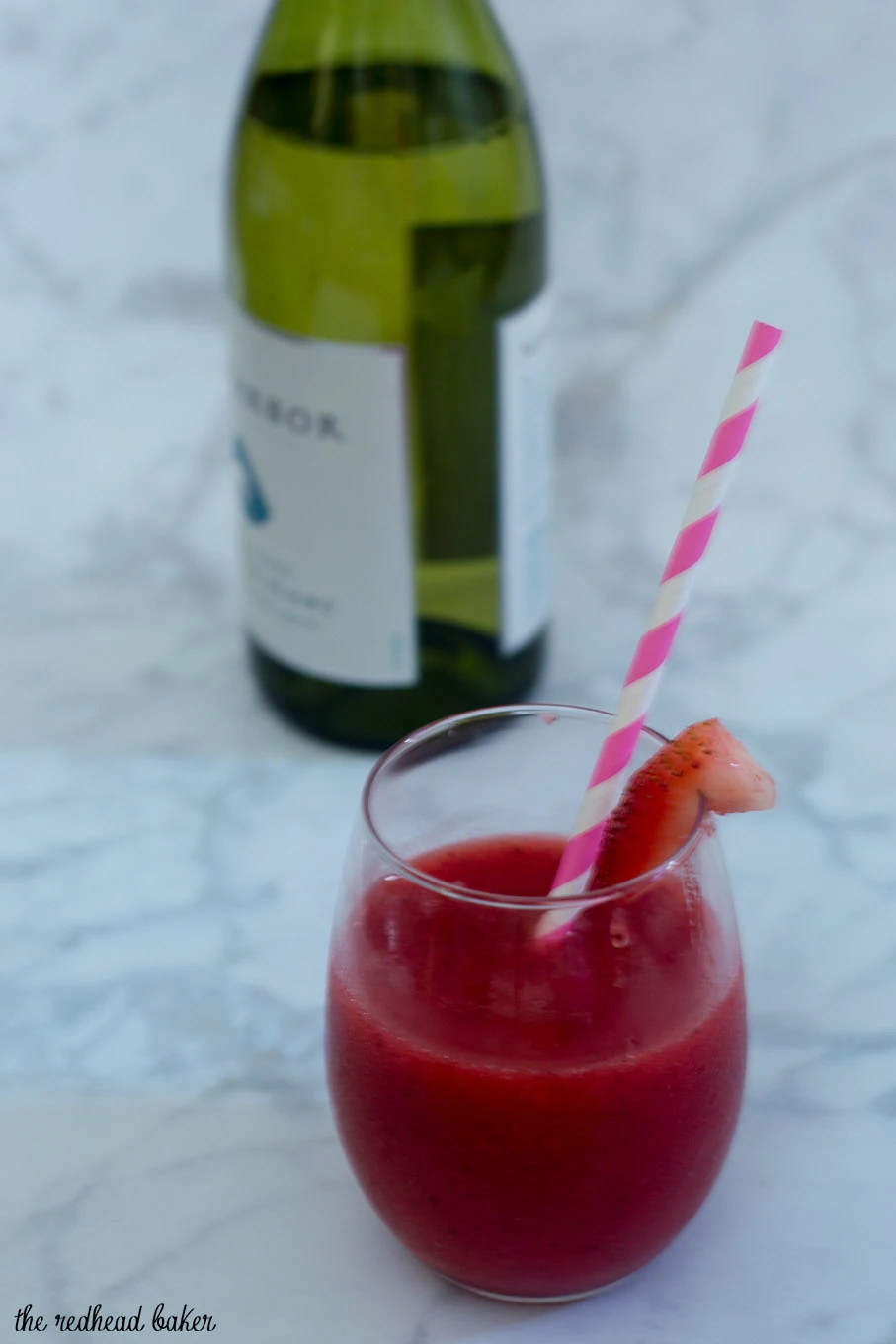 For this recipe, I used a sauvignon blanc. Doesn't have to be top of the line, but it should be one you enjoy drinking. Freeze the fruit before blending, because that helps create the slushie texture without adding ice, which would water down the sangria.
Blending does create heat, so that warm up the frozen berry/wine mixture, so you'll likely have to freeze the blended mixture anyway, but it won't have to refreeze as long as if you had started with refrigerator-cold or even room temperature fruit.
To make these sangria slushies for a party, double (or triple) the recipe, blend and freeze. Let it defrost for 15 minutes, give it a quick pulse in the blender, then serve!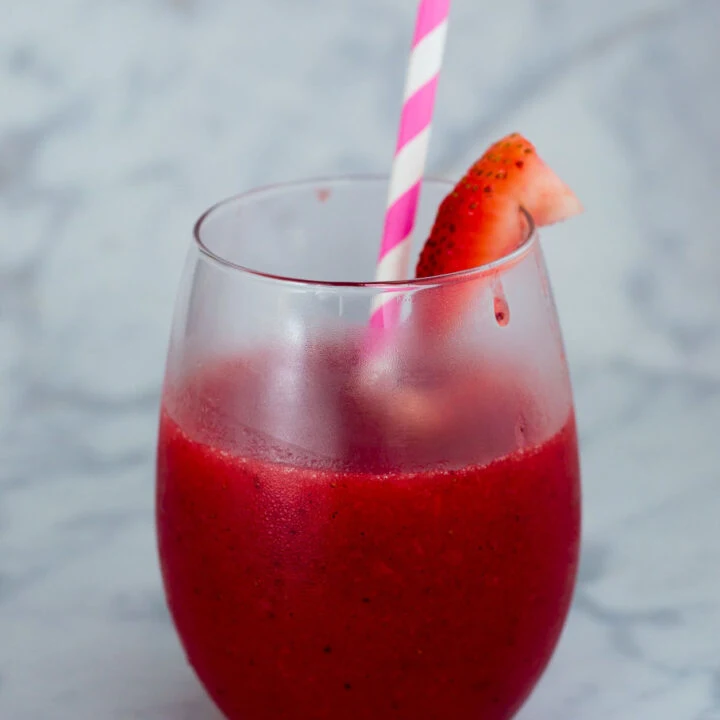 Strawberry Sangria Slushies
Ingredients
2 lbs strawberries, stemmed and quartered (about 6 cups)
750 mL white wine, such as sauvignon blanc
¼ cup triple sec
1 tablespoon vanilla bean paste, optional
Instructions
Place the sliced strawberries in a single layer on two sheet pans, and freeze for about 30 minutes.
Place the frozen strawberries, wine, triple sec and vanilla bean paste (if using) in a blender and puree until smooth.
If the mixture is liquid once pureed, place it in a bowl in the freezer, stirring every 15 minutes, until slushy.
Divide into glasses and serve.
These can be made in advance and stored in the freezer, then defrosted for 15 minutes at room temperature before serving.
Inspired by Everyday Annie