Italian-style chocolate mint biscotti is the perfect accompaniment for your afternoon cup of coffee! This cookie is flavored with dark chocolate cocoa powder and mint-flavored chocolate morsels.
It was my turn to host this round of What's Baking, a group created by Jaida of Sweet Beginnings, and our theme this time around was biscotti, the twice-baked cookie.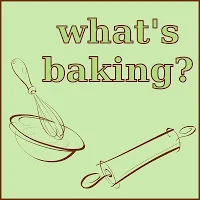 I've made biscotti before, and I love it, so I was excited to make another flavor of biscotti. I chose chocolate mint biscotti because mint always reminds me of Christmastime. Traditional Italian-style chocolate mint biscotti is very dry, as it's meant to be dipped in coffee or espresso, and a drier cookie was able to be stored for longer periods of time. American-style biscotti adds butter to the dough, which makes the cookie more tender.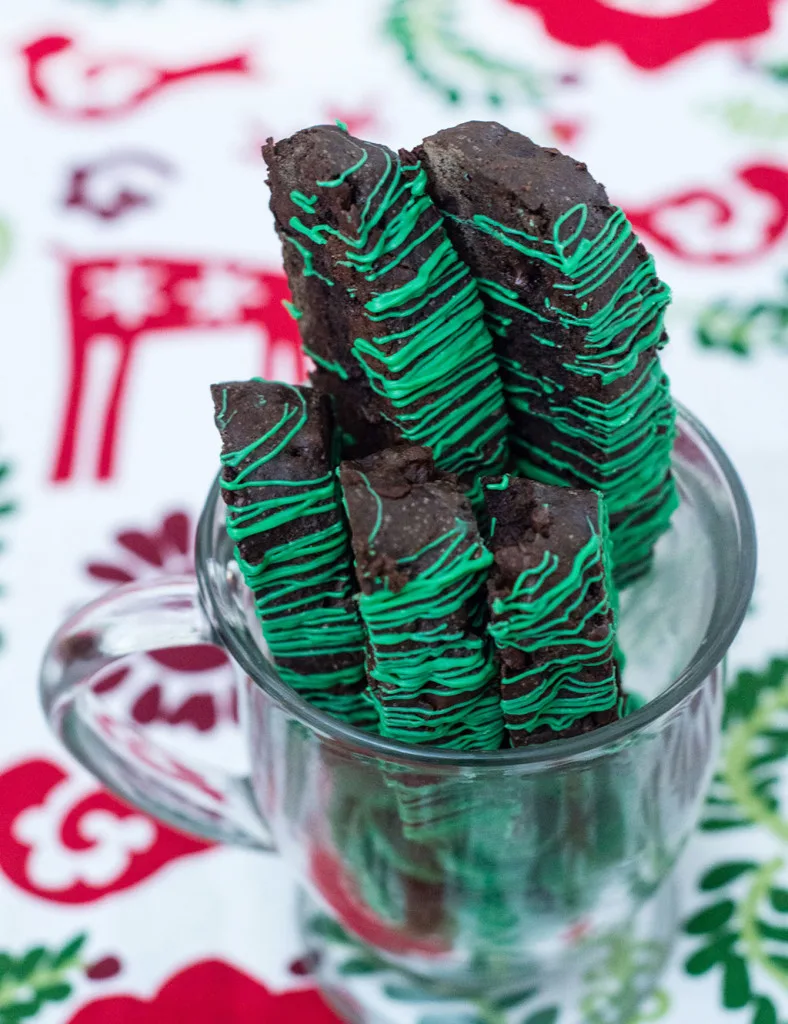 Biscotti isn't like your typical drop cookie. In the beginning stages, then beaten egg and sugar mixture doesn't resemble any other type of cookie dough I've ever seen. Once the flour is added, it becomes very thick and dense.
Run your hands under water and shake off the excess before shaping the dough into a log just before the first bake. This will prevent the cookie dough from sticking to your hands as you shape it. If you have a clean spritz bottle on hand, mist some water over the dough just before you slice it — this will soften the dough slightly and make the cuts cleaner. The steeper the angle that you make your cuts, the longer your biscotti will be.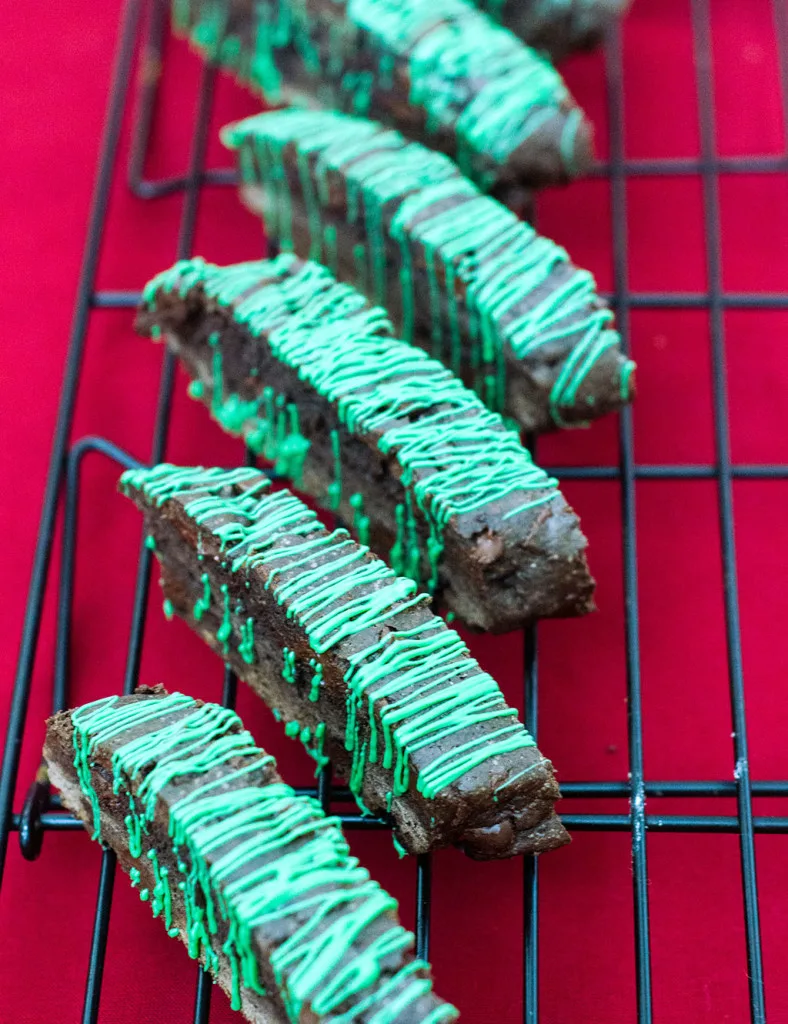 I used Hershey's brand of mint-flavored chocolate morsels
. Nestle makes mint-filled chocolate morsels
that would work equally well in this recipe.
If you don't have a disposable decorating bag to drizzle the candy melts, increase the amount of candy melts to 2 cups, and once melted, dip the bottoms of the biscotti in the candy melts. Sit the dipped cookies on wax paper until the candy sets.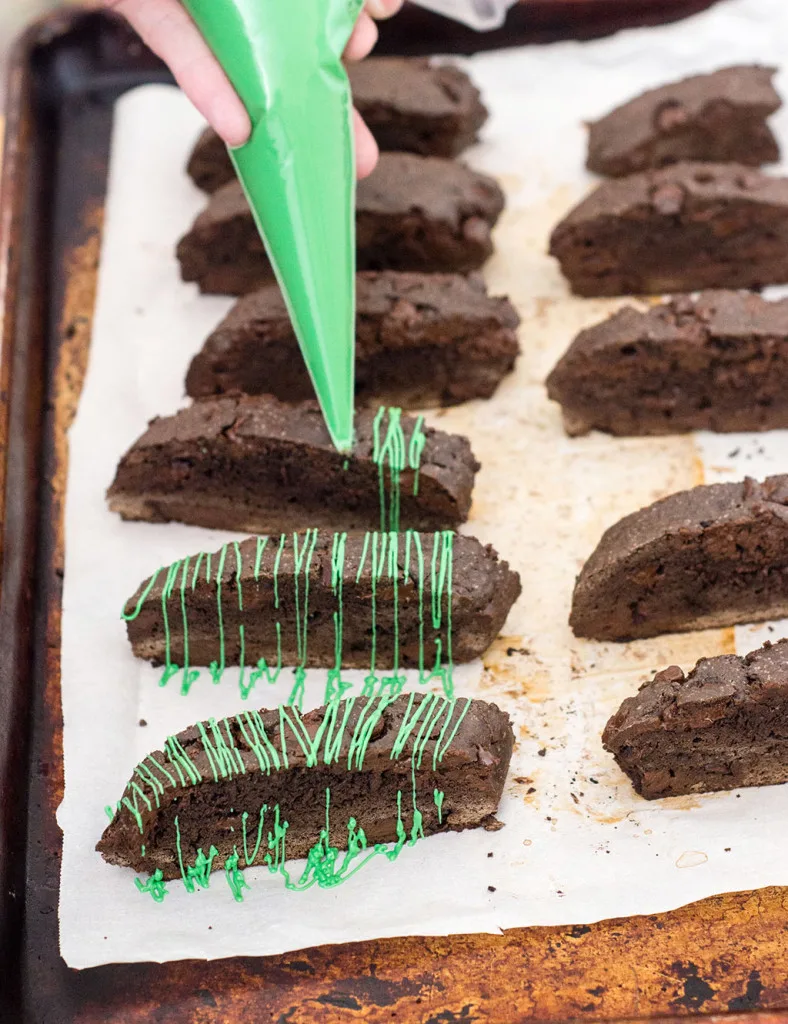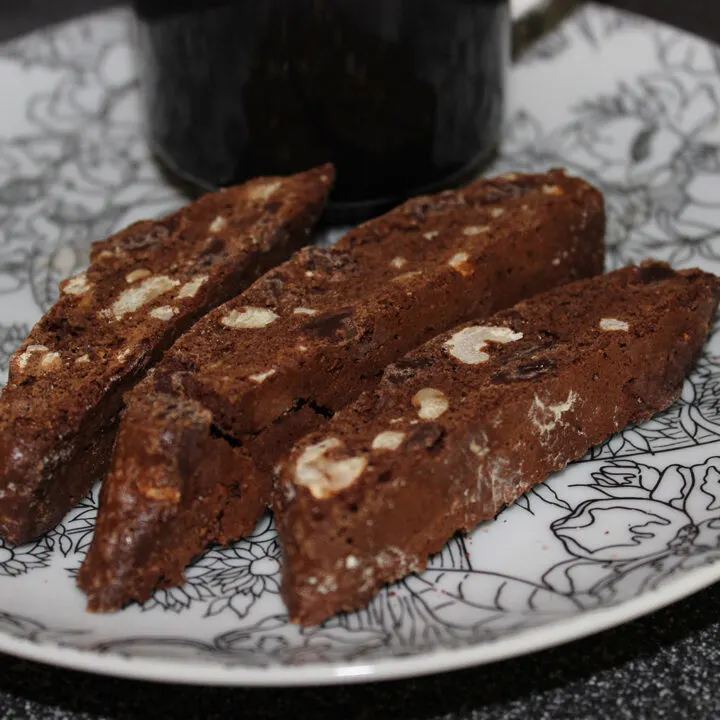 Chocolate Peppermint Biscotti #WhatsBaking
Ingredients
2 large eggs
⅔ cup sugar
½ teaspoon baking powder
½ teaspoon salt
1 teaspoon vanilla extract
1 ⅞ cup all-purpose flour
¼ dark chocolate or Dutch process cocoa powder
1 teaspoon espresso powder
1 cup mint chocolate chips
1 ½ cups green candy melts, for drizzling
Instructions
Preheat oven to 350 degrees and line a baking sheet with parchment paper.
Place the eggs, sugar, baking powder, salt and vanilla in the bowl of a stand mixer fitted with the paddle attachment. Beat on medium speed until thick and pale in color.
In a small mixing bowl, combine the flour, cocoa powder and espresso powder.
Add the dry ingredients to the bowl of the stand mixer and mix on low speed just until combined.
Mix in the mint chocolate chips.
Scrape the dough onto the prepared baking sheet. With wet hands, shape the dough into a log approximately 14 inches long and 2 ½ inches wide.
Bake the log for 25 minutes. Remove from the oven and decrease the oven temperature to 325 degrees.
Let the log rest on the baking sheet at room temperature for about 15 to 20 minutes. Transfer to a cutting board. Using a serrated bread knife, cut the log diagonally into slices ½-inch to ¾-inch thick. Be sure to slice at a 90 degree angle to the cutting board.
Arrange the slices, standing up, back on the baking sheet, spacing about 1 inch apart. Bake at 325 degrees for 25 minutes, or until the cookies are baked through and the centers appear dry.
Remove from the oven. Let the cookies cool on the pan for 5 minutes, then transfer to a wire rack to cool completely.
Melt the candy melts in a microwave in 30-second intervals or over a double boiler. Transfer the melted candy to a pastry bag and snip off the tip. Drizzle the green candy melts over the tops of the biscotti. Let sit at room temperature until the drizzle hardens. Store in an airtight container at room temperature for up to 2 weeks.
Adapted from The King Arthur Flour Cookie Companion cookbook
More #WhatsBaking Biscotti Recipes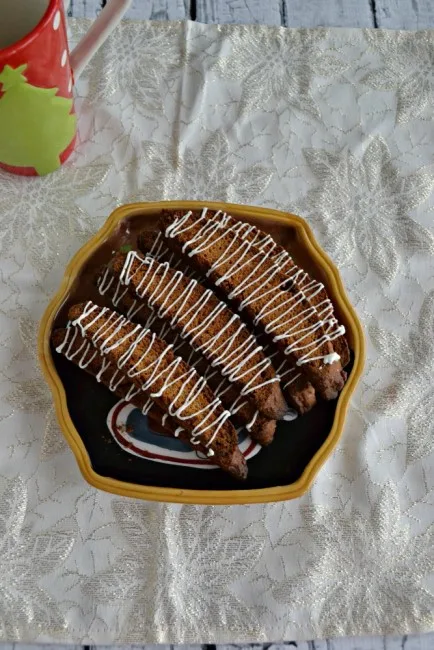 Gingerbread Biscotti from Hezzi D's Books and Cooks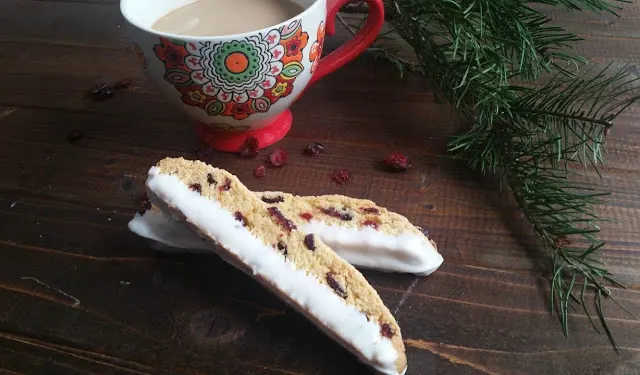 Cranberry Orange Biscotti from Kylee Cooks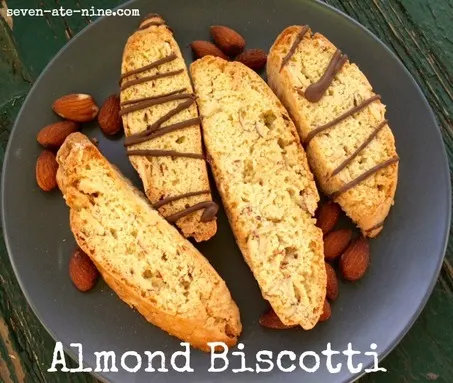 Almond Biscotti from Seven Ate Nine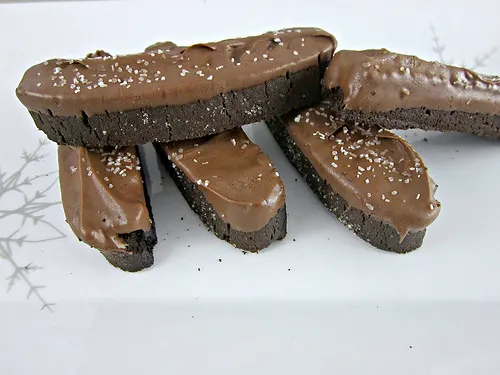 Double Chocolate Biscotti from Sweet Beginnings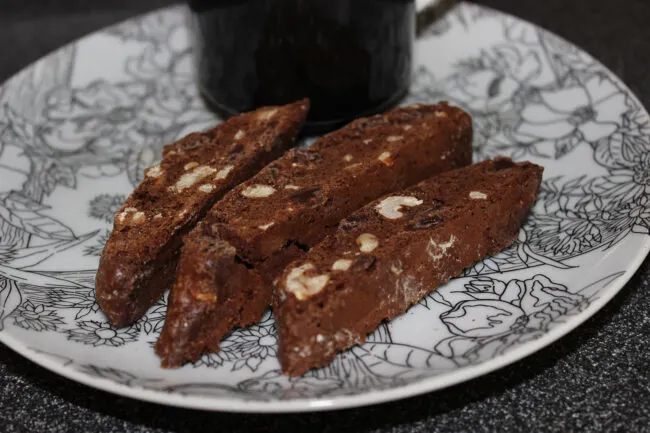 Chocolate Walnut Biscotti from Kosher Kitchen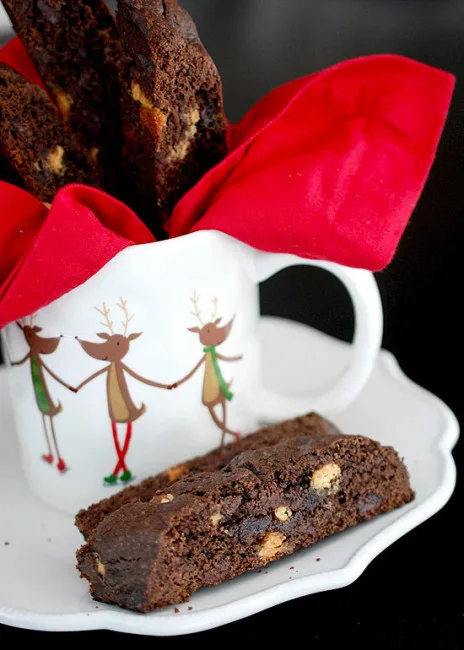 Triple Chocolate Biscotti from Eva Bakes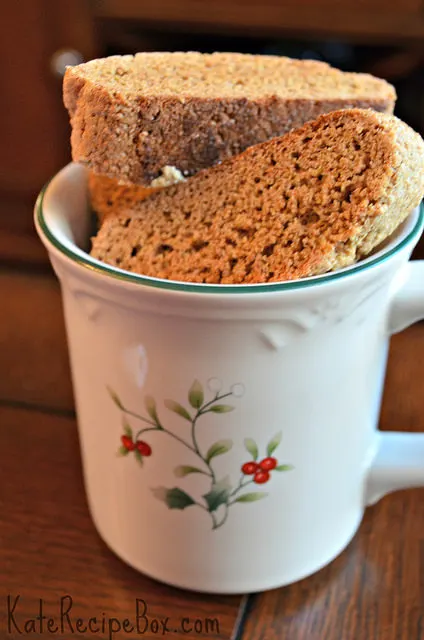 Whole Wheat Biscotti from Kate's Recipe Box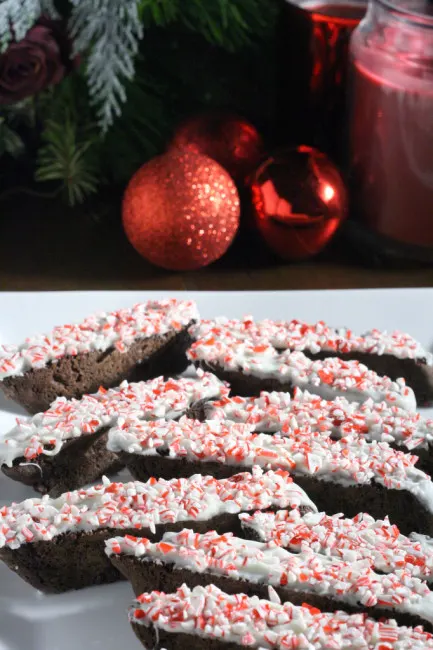 Double Chocolate Peppermint Biscotti from Dough See Dough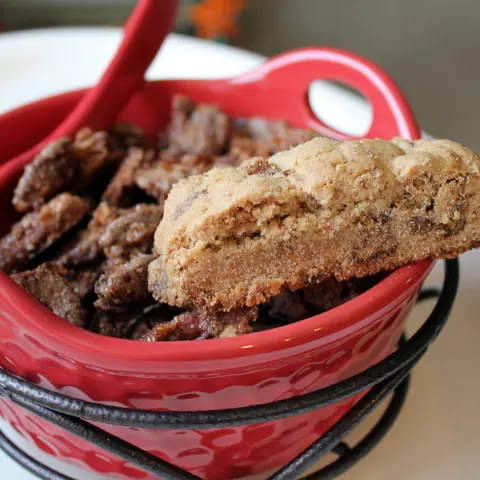 Candied Pecan Biscotti from Books 'n Cooks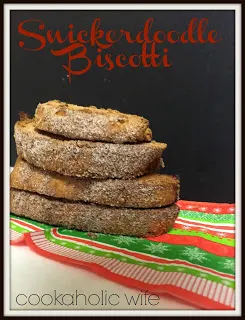 Snickerdoodle Biscotti from Cookaholic Wife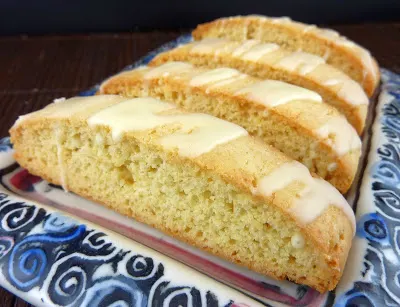 Eggnog Biscotti from Cookies on Friday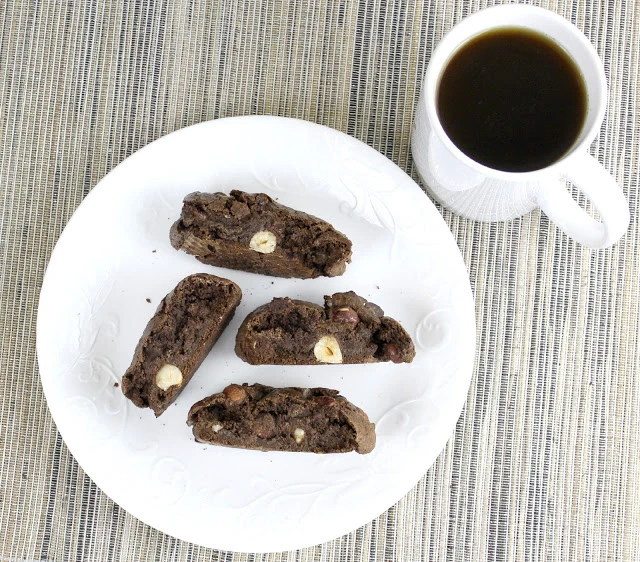 Chocolate Hazelnut Biscotti from Cheese Curd in Paradise
Disclaimer: This post contains affiliate links.