Make your brunch heart-healthy with these cinnamon oat pancakes, made with rolled oats and Greek yogurt, then drizzle on spiced pear-infused syrup.
Welcome to the third annual #BrunchWeek hosted by Terri from Love and Confections. We are so excited to have you join us this year! Celebrate Brunch with us this week as we prepare for Mother's Day. Thirty bloggers from around the country will showcase their best brunch dishes, from cocktails to casseroles, breakfast breads, sandwiches and salads - there is something for everyone!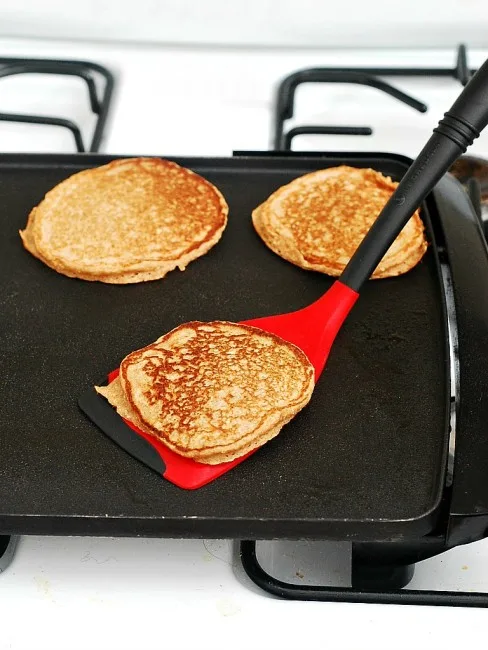 You can be sure that if I'm for breakfast or brunch, I will likely order one of two dishes: pancakes or French toast. What can I say? I have a sweet carb tooth. I was intrigued by the idea of oat pancakes. Oats and a dash of whole wheat flour lend a nutty taste and healthy fiber to these pancakes. Greek yogurt adds tang and packs a protein punch.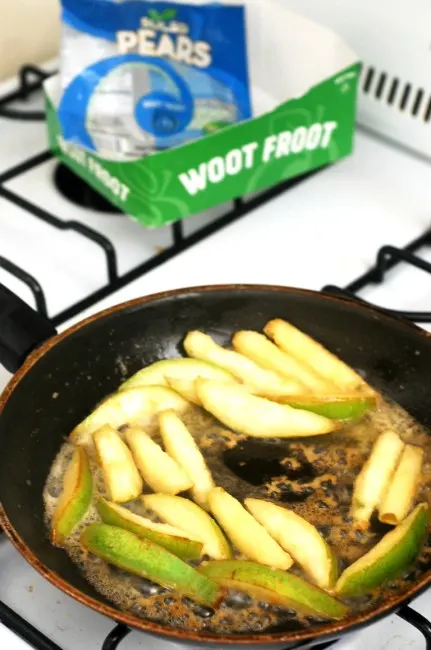 The syrup. Oh, the syrup. It smells SO GOOD while cooking. Cinnamon and cloves pear well with mild pears. Using pre-sliced Woot Fruit pear packages makes the prep go faster. The packages I received from Woot Fruit for participating in Brunch Week almost didn't make it long enough for me to make this recipe, but not because the fruit went bad. Oh no — it's because certain members of my family couldn't keep their hands off of them!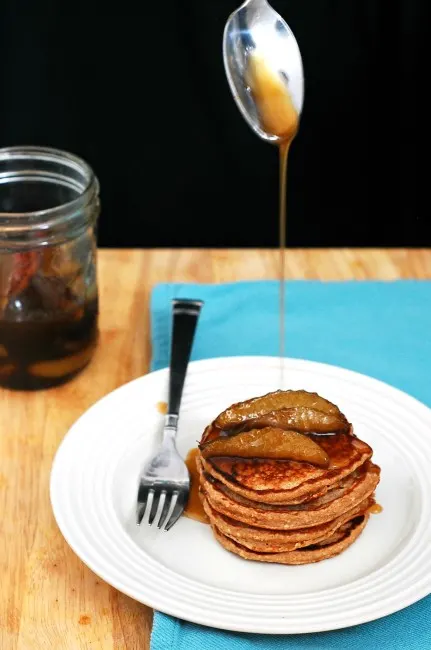 Definitely serve these pancakes warm. They are delicious just off the griddle, but take on a gummy texture when they cool down. Leftovers can easily be refrigerated or frozen. Store the syrup in a jar in the refrigerator, and drizzle it over pancakes, toast, a bagel, or even in your tea!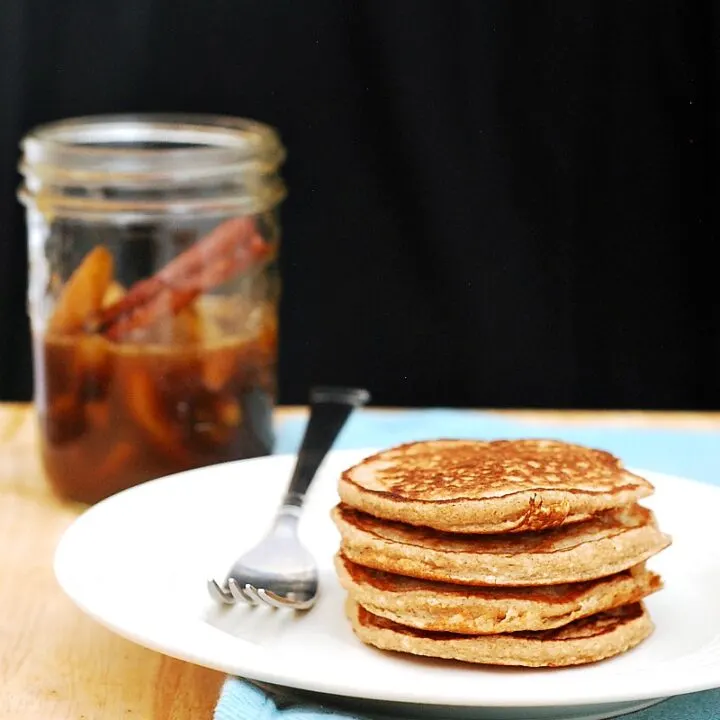 Cinnamon Oat Pancakes with Spiced Pear Syrup #BrunchWeek
Ingredients
For the pancakes:
½ cup vanilla-flavored Greek yogurt
1 cup rolled oats
¼ cup whole wheat flour
1 teaspoon . baking powder
1 teaspoon . cinnamon
½ cup unsweetened applesauce
2 egg whites
2 tablespoon . milk
½ tablespoon . honey or maple syrup
For the syrup:
2 tablespoon unsalted butter
2 oz packages Woot Fruit sliced pears, 3-
½ cup Dixie Crystals light brown sugar
2 tablespoon to 3 water
2 cloves whole
1 inch cinnamon stick, 3-
Pinch of salt
Instructions
Place the rolled oats in a food processor, and process until a fine flour forms. Place the oat flour in a medium mixing bowl. Add the remaining pancake ingredients, and stir just until combined. The batter will still be lumpy. Let the batter rest for 10 minutes.
Preheat a griddle to 350 degrees, or set a saute pan over medium heat. Spoon the batter by the ¼-cupful onto the griddle or saute pan. Cook until golden brown and set around the edges. Carefully flip and cook on the other side until golden brown.
To make the syrup, melt the butter in a medium saute pan over medium heat. Add the pears, and saute for about 3 or 4 minutes, until the pears become tender, but still hold their shape. Add the brown sugar, and cook for a minute to allow the sugar to dissolve.
Decrease the heat to medium-low, and add the water, cinnamon stick, cloves and salt. Allow the mixture to simmer, stirring frequently, and thicken, about another 5 minutes. Remove the cinnamon stick and cloves, pour into a storage jar.
Serve two pancakes per person, with a few spoonfuls of warm syrup drizzled over top.
Nutrition Information:
Yield:

2
Amount Per Serving:
Calories:

124
Carbohydrates:

22g
Sugar:

6g
Protein:

6g
Pancakes adapted from Running with Spoons; syrup slightly adapted from The Original Dish
Nutrition information for plain pancakes without syrup computed with MyFitnessPal recipe calculator and are estimations only. For complete nutrition information, please consult a registered dietitian.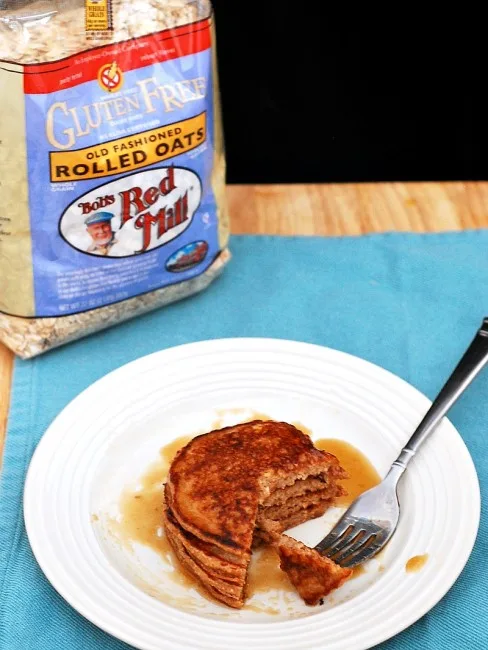 Come see what today's #BrunchWeek Bloggers have made!
BrunchWeek Beverages:
BrunchWeek Egg Dishes:
BrunchWeek Breads, Grains and Pastries:
BrunchWeek Main Dishes:
BrunchWeek Fruits, Vegetables and Sides:
BrunchWeek Desserts:
Disclaimer: Thank you to #BrunchWeek Sponsors: Bob's Red Mill, Cabot Creamery Cooperative, California Walnuts, Dixie Crystals, Grimmway Farms/Cal-Organic/True Juice, KitchenAid, Le Creuset, Nielsen-Massey Vanillas, Pacari Chocolate, Stonyfield Organic, Vidalia Onions, and Woot Froot for providing the prizes free of charge. These companies also provided the bloggers with samples and product to use for #BrunchWeek. All opinions are my own.