Add a kick to your brunch with huevos rancheros burgers! Spicy chorizo and beef burgers are topped with a poached egg and spicy huevos rancheros sauce.
Welcome to the third annual #BrunchWeek hosted by Terri from Love and Confections. We are so excited to have you join us this year! Celebrate Brunch with us this week as we prepare for Mother's Day. Thirty bloggers from around the country will showcase their best brunch dishes, from cocktails to casseroles, breakfast breads, sandwiches and salads - there is something for everyone!
If there's one ingredient that will ALWAYS make me stop and take a closer look at the recipe, it's chorizo. Whether it's fresh Mexican chorizo, or cured Spanish chorizo, chances are, I'll be saving that recipe to try as soon as I get the chance. Chorizo is a pork-based sausage, flavored with either paprika or chili peppers. And it's DELICIOUS.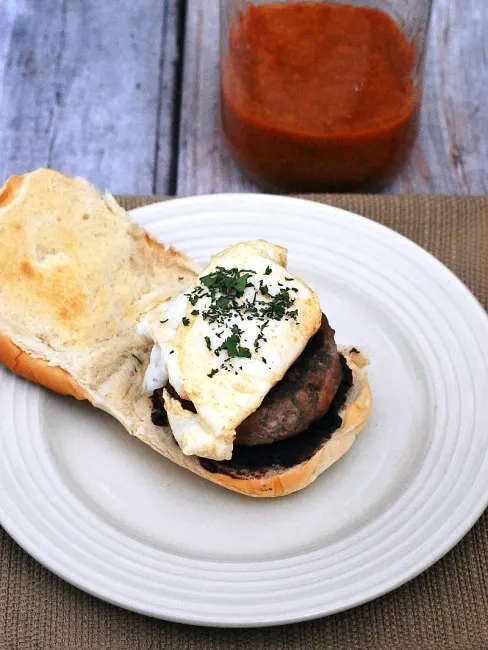 I stumbled across Baker Bettie's chorizo burgers with sriracha mayo while meal-planning one afternoon, and made them that very night. They were deliciously spicy, and I knew I had to make them again soon. Brunch Week turned out to be the perfect opportunity, because chorizo is commonly added to huevos rancheros, a dish usually found on brunch menus. Instead of topping the poached eggs with chorizo, I topped a chorizo burger with poached eggs and huevos rancheros sauce.
This is a sinus-clearing level of spicy, though you can adjust the sauce to your spice comfort level by they way you prep the jalapenos. The heat lives in the membranes that surround the seeds, so the more you remove, the less spicy the sauce will be. Keep an extra napkin or five handy — these are messy burgers!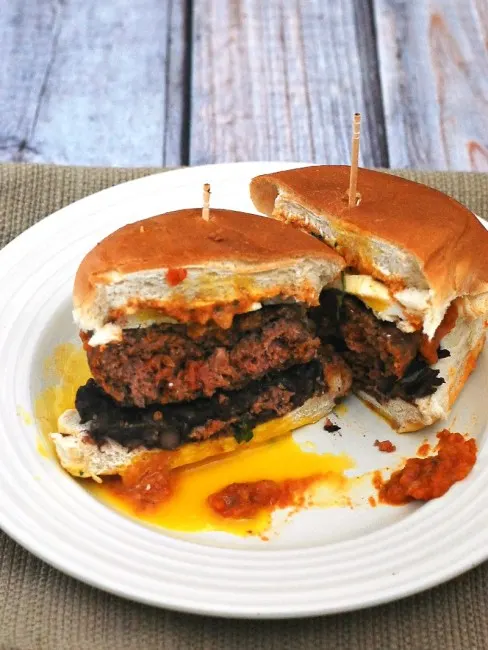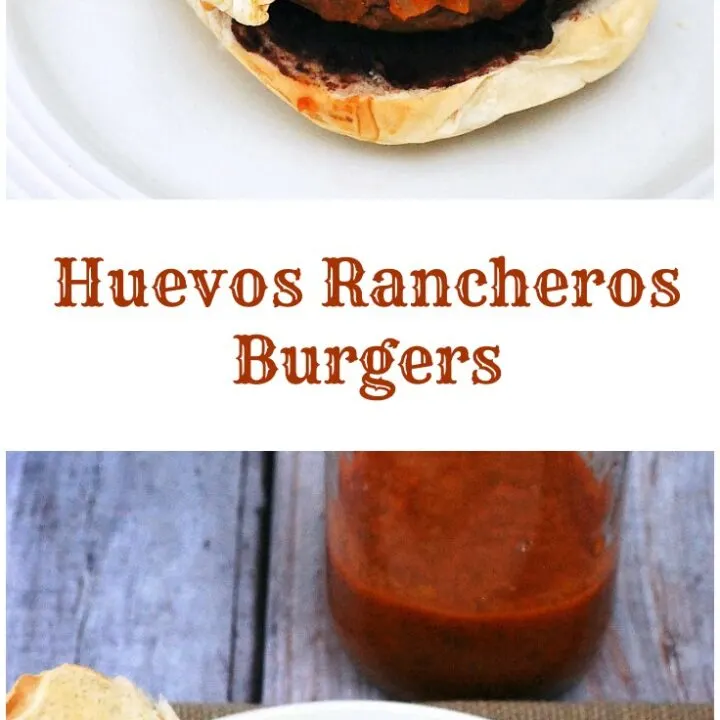 Huevos Rancheros Burgers #BrunchWeek
Ingredients
For the sauce:
1 tablespoon olive oil
1 oz can no-salt-added diced tomatoes, drained, 14.5-
1 small onion, diced
1 medium jalapeno pepper, stemmed and seeded, diced
1 clove garlic, grated
½ teaspoon ground cumin
½ teaspoon chipotle chili powder
Kosher salt and freshly ground pepper
For the burgers:
1 lb spicy fresh chorizo, casings removed
1 lb ground beef, 80-85%
Salt and pepper
8 tablespoon butter
8 large eggs
1 cup refried beans
8 burger buns
Instructions
Make the sauce: pour the olive oil in a medium saucepan. Set the saucepan over medium heat. Add the tomatoes and onion, saute for about 2 minutes. Add the remaining sauce ingredients, and heat, stirring occasionally, for about 5 minutes. Remove the saucepan from the heat and puree with an immersion blender (or cool the sauce, then puree in a countertop blender).
Make the burgers: in a large mixing bowl, gently combine the ground beef and chorizo until uniformly distributed. Season with salt and pepper, and divide into 8 patties. Cook the patties in a skillet over medium-high heat, in batches if necessary, about 5 to 6 minutes per side. Remove from the skillet to a plate to rest.
Make the eggs: melt a tablespoon of butter in a small nonstick skillet over medium-low heat. Crack one egg into the skillet, and cook until the whites are set. Very carefully turn the egg over and cook another minute or so. Repeat with the remaining eggs.
Split the buns and place on a broiler pan. Broil just until the buns begin to turn golden brown.
Spread 2 tablespoon of refried beans on each bottom bun. Place a burger on each bottom bun, then top with a fried egg. Spoon a tablespoonful or two of sauce over each egg, then top with the other bun half and serve.
Burger recipe from Baker Bettie; Sauce recipe adapted from Food Network
Take a look at what the #BrunchWeek Bloggers made today!
BrunchWeek Beverages:
BrunchWeek Egg Dishes:
BrunchWeek Breads, Grains and Pastries:
BrunchWeek Main Dishes:
BrunchWeek Fruits, Vegetables and Sides:
BrunchWeek Desserts:
Disclaimer: Thank you to #BrunchWeek Sponsors: Bob's Red Mill, Cabot Creamery Cooperative, California Walnuts, Dixie Crystals, Grimmway Farms/Cal-Organic/True Juice, KitchenAid, Le Creuset, Nielsen-Massey Vanillas, Pacari Chocolate, Stonyfield Organic, Vidalia Onions, and Woot Froot for providing the prizes free of charge. These companies also provided the bloggers with samples and product to use for #BrunchWeek. All opinions are my own.