This post was supposed to be my submission for the November What's Baking theme, Baking with Cranberries. I missed the submission deadline, but we had this cake for Thanksgiving dessert, and it was so delicious, I really wanted to share it.
I really could not get over how moist this cake is. Though the original recipe called for a drizzle of icing over the cake, it's really not needed (thought it does add some sweetness, as this cake is a little on the less-sweet side).
The cranberry flavor from the whole-berry sauce is also subtle, which I appreciated. Straight cranberry sauce is too much for me; I like just a hint of cranberry flavor.
The original recipe called for half a cup of finely chopped pecans, which would add some textural contrast, however, I can't eat them, so I left them out. Add them back in, if you prefer.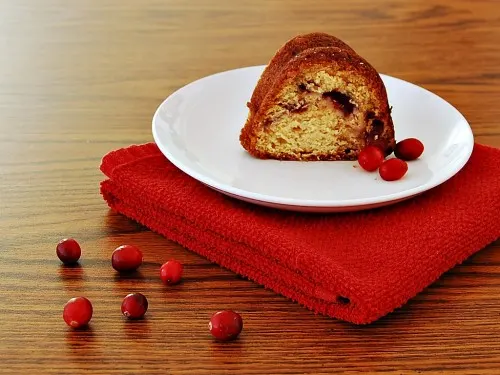 Cranberry Swirl Bundt Cake
Slightly adapted from Taste of Home
Ingredients
¾ cup butter, softened
1 ½ cups sugar
3 large eggs
1 ½ teaspoons vanilla extract
3 cups all-purpose flour
1 ½ teaspoons baking powder
1 ½ teaspoons baking soda
½ teaspoon salt
1 ½ cups (12 ounces) sour cream
1 can (14 ounces) whole-berry cranberry sauce
Directions
In a large bowl, beat together the butter and sugar until light and fluffy, about 5 minutes. Scrape down the sides of the bowl.
Add the eggs one at a time, beating well and scraping the bowl after each addition. Stir in the vanilla extract.
In a separate mixing bowl, combine the flour, baking powder, baking soda and salt.
Add one-third of the flour mixture to the batter and stir to combine. Add half the sour cream, and stir to combine. Add another third of the flour; stir, then the remaining sour cream; stir, and then the remaining third of the flour.
Spoon half the batter into a greased and floured 10-in. fluted tube pan. Spoon the cranberry sauce in the center of the ring of batter. Top with the remaining half of the cake batter. Swirl with a knife.
Bake at 350° for 65-70 minutes or until a toothpick inserted near the center comes out clean. Cool for 10 minutes before removing from pan to a wire rack. Store in an airtight container at room temperature.
Number of servings (yield): 12 to 16 servings