This post contains affiliate links. If you make a purchase through an affiliate link, I get a small portion of the sale.
With just four ingredients, these simple frozen blueberry pops deliver intense blueberry flavor. They're perfect for cooling off on a hot summer day!
Some blogger friends of mine realized that July is National Blueberry Month, so we decided to get together and share some recipes featuring the summer fruit. And what a coincidence that my son and I just went blueberry-picking! OK, maybe not such a coincidence. But anyway ...
I love snacking on the tart little berries (only 80 calories per cup, and a good source of fiber and vitamin C!) and their uses in cooking are nearly endless! They can be used in sweet or savory recipes.
They were also one of my son's first finger foods, and he hasn't lost his taste for them since. He loves all things tart and fruity, and will choose jelly beans over chocolate candy. That trait must come from his dad's side.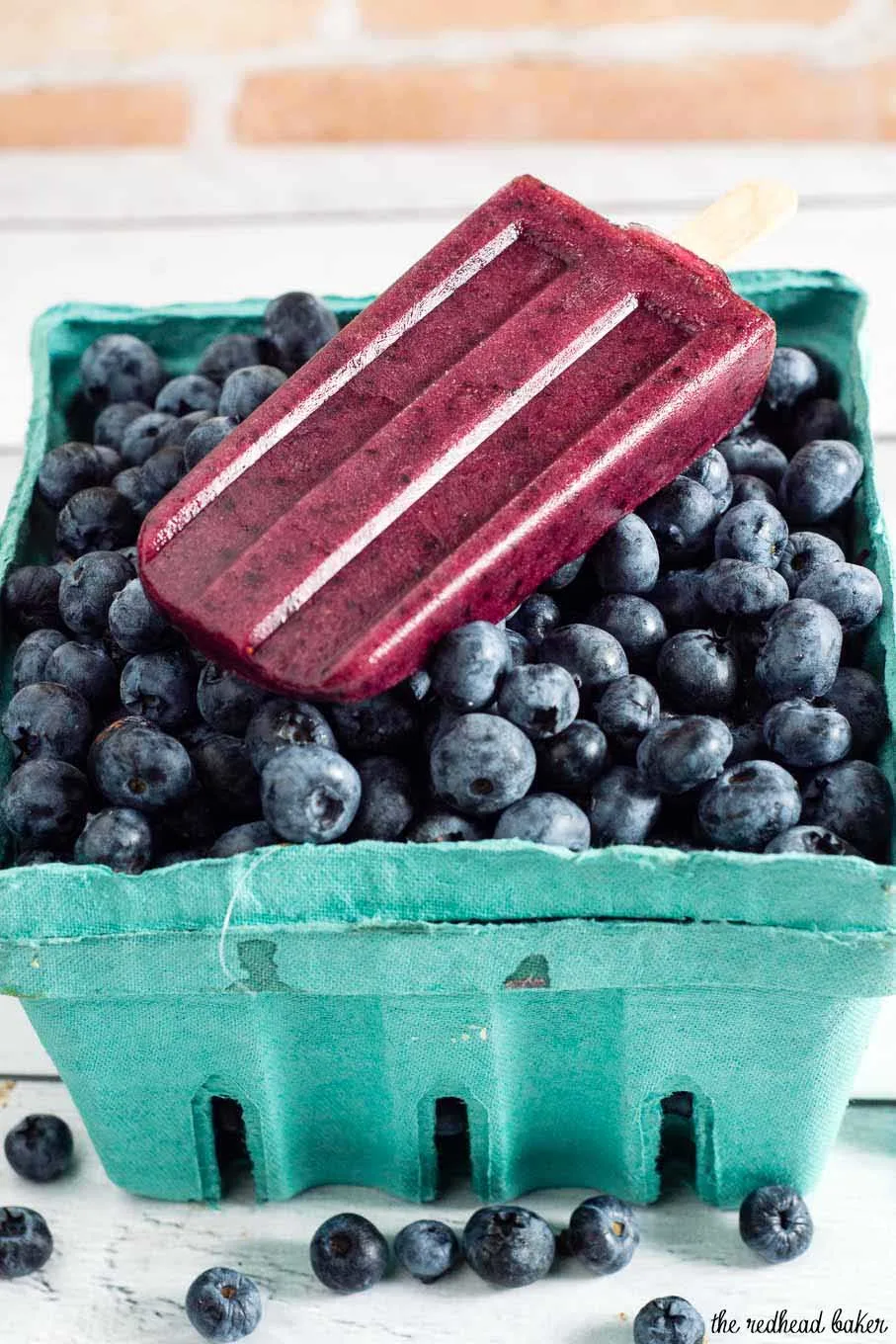 He also loves frozen fruity pops — not the creamy ones, the ones that are more like frozen fruit juice — so it was with him in mind that I made these frozen blueberry pops.
He even helped me make the pops. He poured the ingredients into the blender, and after I secured the lid, he pressed the "puree" button. He could hardly wait til the next day to try one. But they were worth the wait.
They have intense blueberry flavor, and are not overly sweet. The little bit of sugar in the recipe just balances the tartness of the blueberries and pomegranate juice. If you can't find or don't want to buy pomegranate juice, substitute plain water.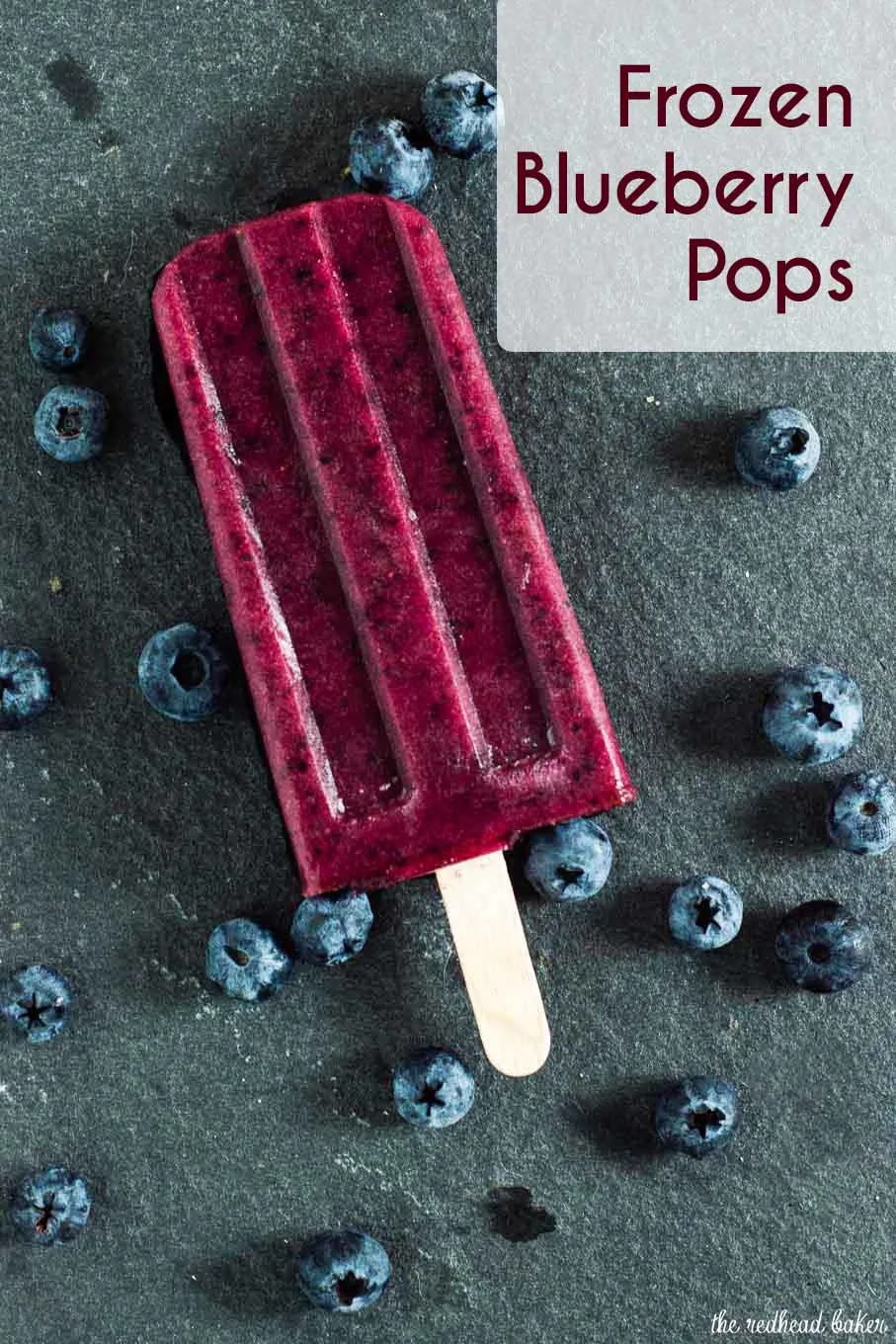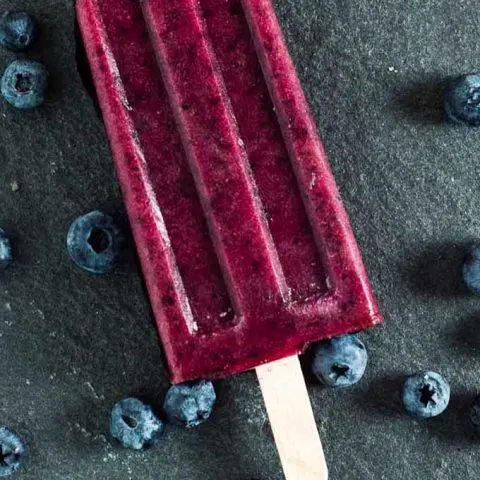 Frozen Blueberry Pops
Ingredients
1 lb fresh blueberries, picked over for stems
½ cup sugar
½ cup pomegranate juice
1 tablespoon lemon juice
Instructions
Puree all of the ingredients in a blender.
Pour the mixture through a fine-mesh sieve into a 4-cup measuring cup, using a spatula to push the liquid through, leaving the skins in the sieve. Discard the skins.
If needed, add water to make 3 cups of liquid.
Divide the liquid into the wells of an ice pop mold. Push wooden ice pop sticks into each well, and freeze for at least 4 hours, until frozen solid.
To remove a pop from the mold, run hot water over the bottom of the mold for 5 seconds, then try to wiggle the pop free. If it doesn't move, repeat running under hot water for another 5 seconds and wiggling until it comes out.
Check out more recipes created for National Blueberry Month: