This post contains affiliate links. When you purchase something after clicking through an affiliate link, I get a small percentage of the purchase.
Rosemary potato chips: you can't get this flavor in a bag of store-bought chips! Dunk these crispy chips in a dip of fresh herb aioli for even more flavor.
A little while back, I shared a recipe inspired by a dish at one of my favorite restaurants, Tria. There's another dish on their recipe that I've been dying to make at home, and this month's Progressive Eats theme, Summer Herbs Every Which Way, presented the perfect opportunity.
You see, this dish that I love is potato chips seasoned with rosemary salt, and served with a herb aioli dip. Can't get much more herby than that!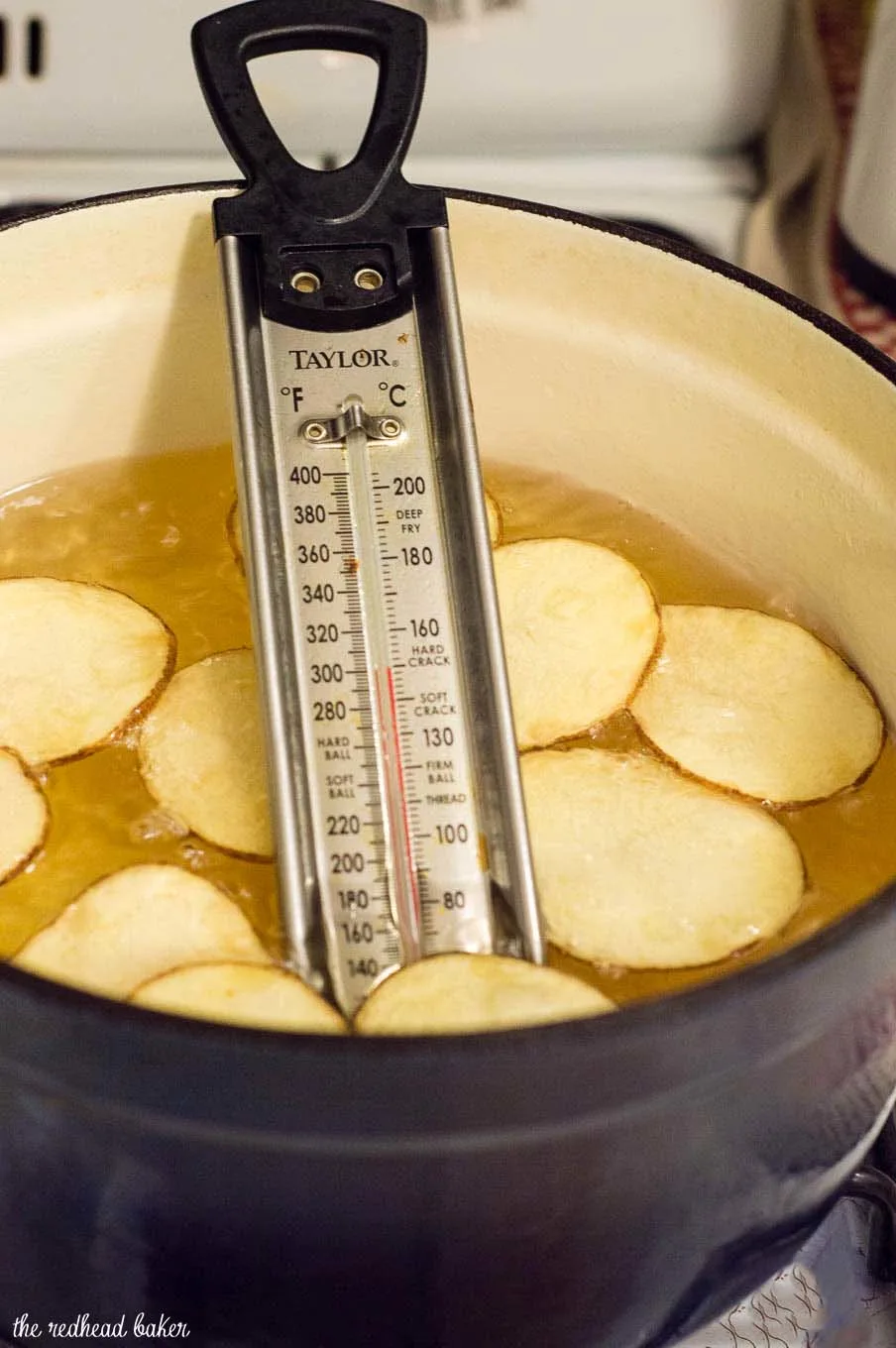 Making potato chips at home is fun, as long as you set everything up ahead of time! First, get yourself a Russet potato or two. I strongly suggest slicing it on a good-quality mandoline. It's really hard to get the thin slices required for potato chips when slicing by hand. Secondly, it ensures even thickness. Evenly sliced chips will cook at about the same rate.
If you don't have a frying appliance, no worries. Heat your oil in a Dutch oven, and keep an eye on the temperature with a deep-fry or candy thermometer. You'll also want a slotted spoon for removing the chips when they're done, and a wire rack set inside a baking sheet for cooling the chips.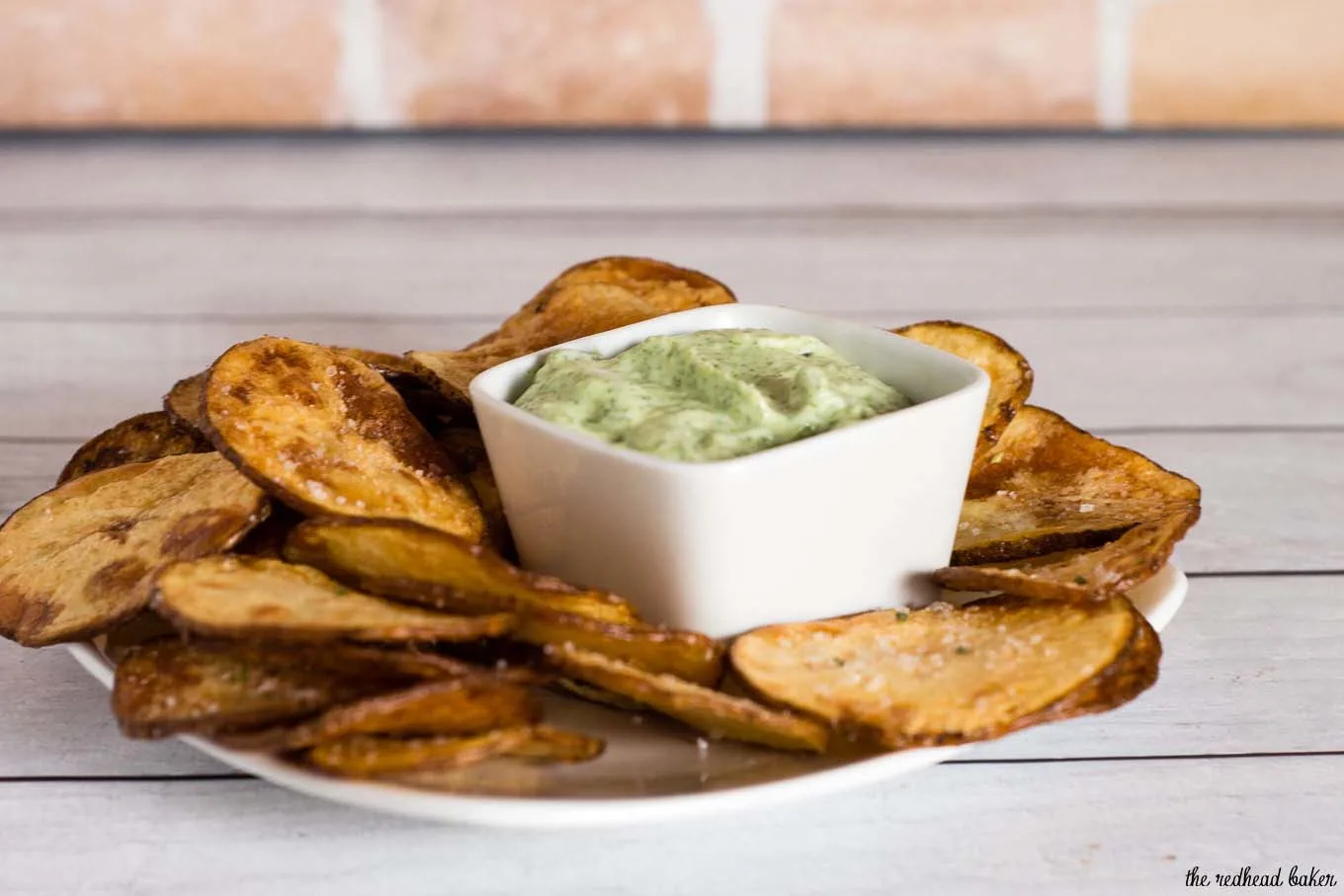 I just love the flavor of these chips. Rosemary and potato are both such earthy flavors, they go together so well. They contract nicely with the bright, fresh flavors of the other herbs in the aoili.
Aioli is a sauce typically made of emulsified egg, oil and garlic. I take a shortcut by starting with prepared mayonnaise (another emulsion of egg and oil) and adding garlic and other flavors.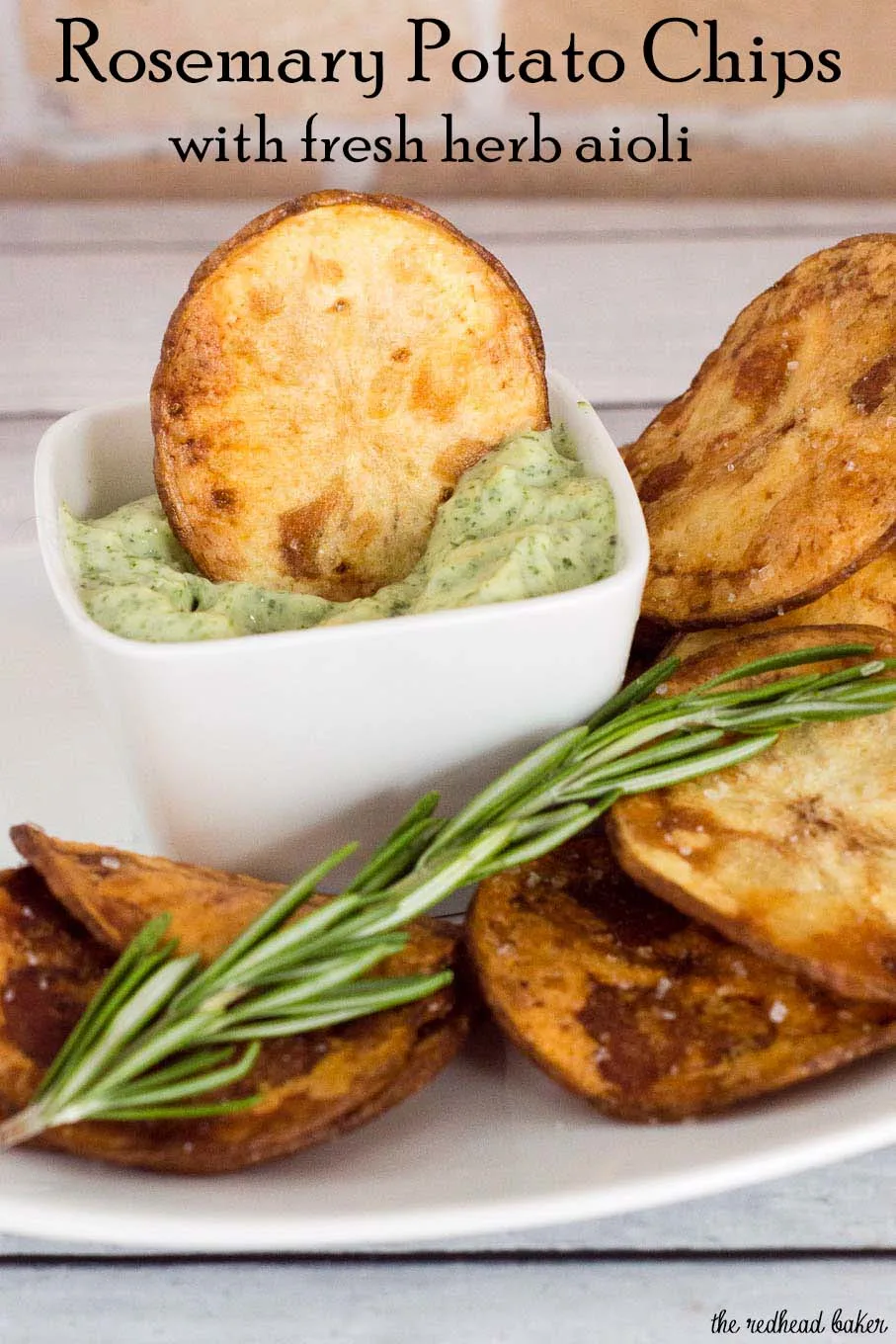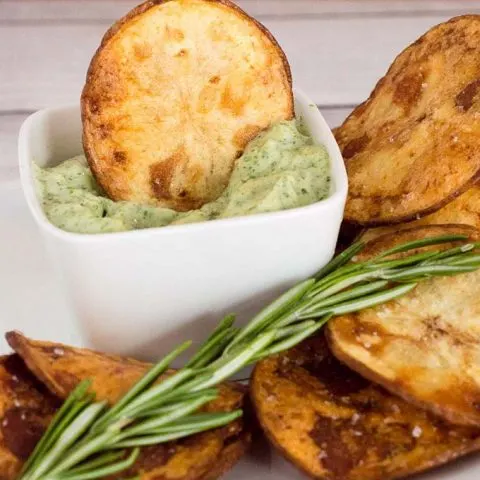 Rosemary Potato Chips with Herb Aioli
Ingredients
For the herb aioli
1 cup prepared mayonnaise
4 cloves garlic, minced
2 tablespoon fresh lemon juice
1 cup fresh basil
1 cup fresh dill
For the potato chips
1 lb russet potatoes, about 2 large
2 quarts water
2 tablespoon distilled white vinegar
2 quarts canola oil, for frying
½ cup kosher salt
1 tablespoon fresh rosemary leaves
Instructions
Make the aioli: place all of the ingredients in the bowl of a food processor. Pulse several times to chop the herbs and combine the ingredients. Scrape into a bowl, cover with plastic wrap and refrigerate at least one hour. Can be prepared up to 24 hours ahead of time.
Slice the potatoes into ⅛-inch thickness with a mandoline. Rinse under running water, the drain.
Fill a large saucepan with the 2 quarts water combined with the vinegar. Bring to a boil. Add the potatoes and cook for 3 minutes. Drain the potatoes and spread them on a paper-towel-lined baking sheet. Allow to dry for 5 minutes.
Meanwhile, heat the oil in a Dutch oven to 325 degrees.
In the bowl of a mini chopper, pulse the kosher salt and rosemary. Transfer to a shallow dish or spice shaker. Set near your deep-fry station.
When the oil reaches the temperature, add about a third of the potato slices. Cook the potatoes in the oil, stirring and flipping the potatoes frequently, until no more bubbles are released from the potatoes (about 10 to 20 minutes). Scoop out with a slotted spoon and place on wire rack set inside a baking sheet to cool and drain. Season with the rosemary salt while the potatoes are still hot.
Repeat with the next third of the potato slices, then the final third.
Serve immediately with the herb aioli or allow to cool completely before transferring to zipper-lock bag.
Adapted from Kenji Lopez-Alt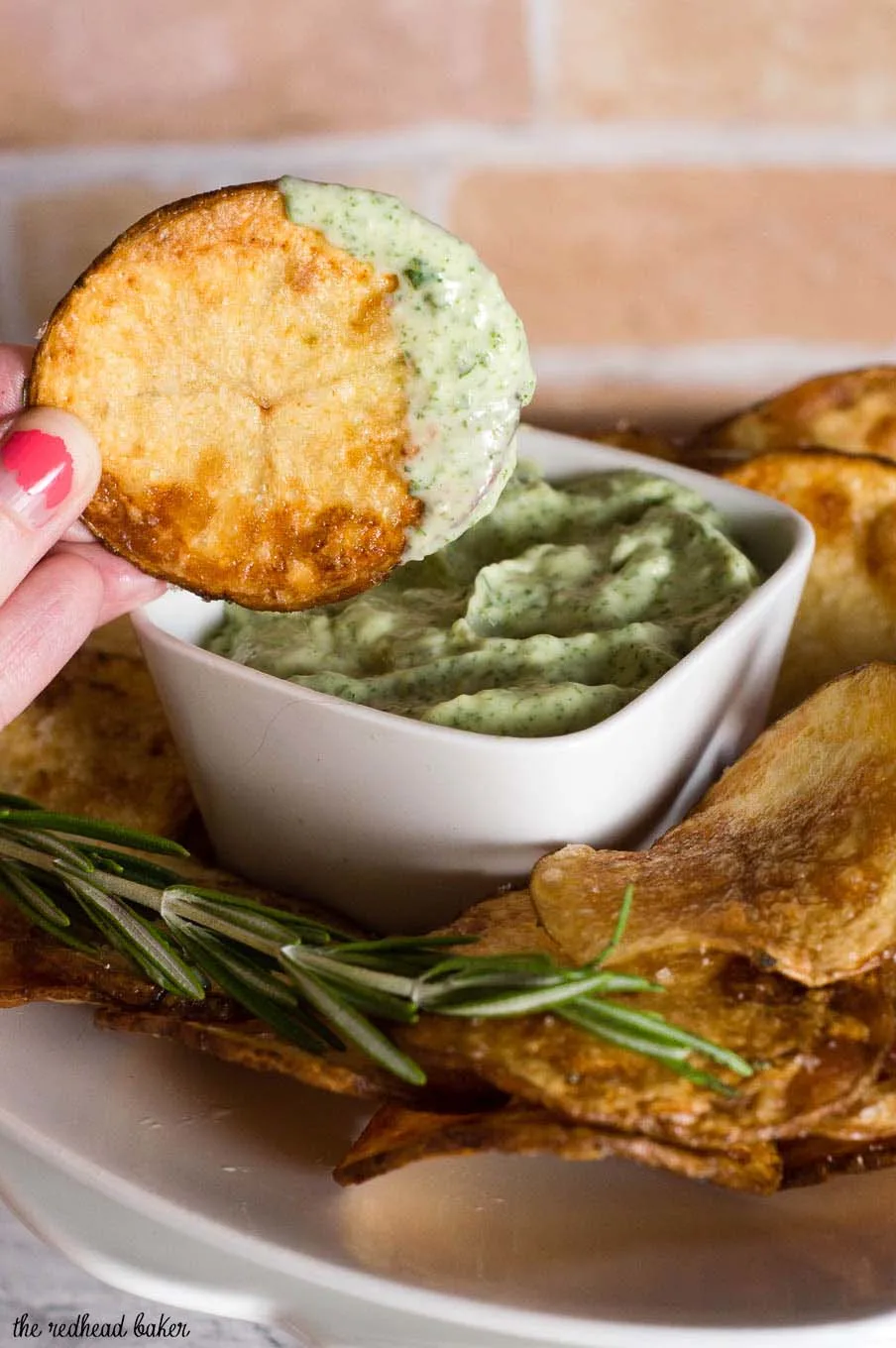 Welcome to Progressive Eats, our virtual version of a Progressive Dinner Party. Our menu this month features all dishes that include our favorite herbs! We've got a great mix from a cocktail to desserts; all recipes showing just how versatile these garden favorites can be! Hosting this month is Laura from Mother Would Know.
If you're unfamiliar with the concept, a progressive dinner involves going from house to house, enjoying a different course at each location. With Progressive Eats, a theme is chosen each month, members share recipes suitable for a delicious meal or party, and you can hop from blog to blog to check them out.
Summer Herbs Every Which Way
Cocktail
Appetizer
Rosemary Potato Chips with Herb Aioli from The Redhead Baker (recipe above)
Main Course
Side Dishes
Dessert