Greek Panzanella Salad is a perfect summer weeknight meal that combines tomato, red onion, cucumber, chicken and toasted bread with a homemade vinaigrette.
I know that, like me, a lot of my readers are busy people with a lot going on in their lives -- full-time jobs, hobbies, kids, kids' activities ... Fast and easy weeknight meals are essential. And, like me, some may get tired of eating the same weeknight meals over and over again.
But planning for new weeknight meals can be time-consuming. One thing that makes it easier is having a collection of core recipe components that can be mixed and matched. Not only can you create new meals, but leftovers can be easily repurposed.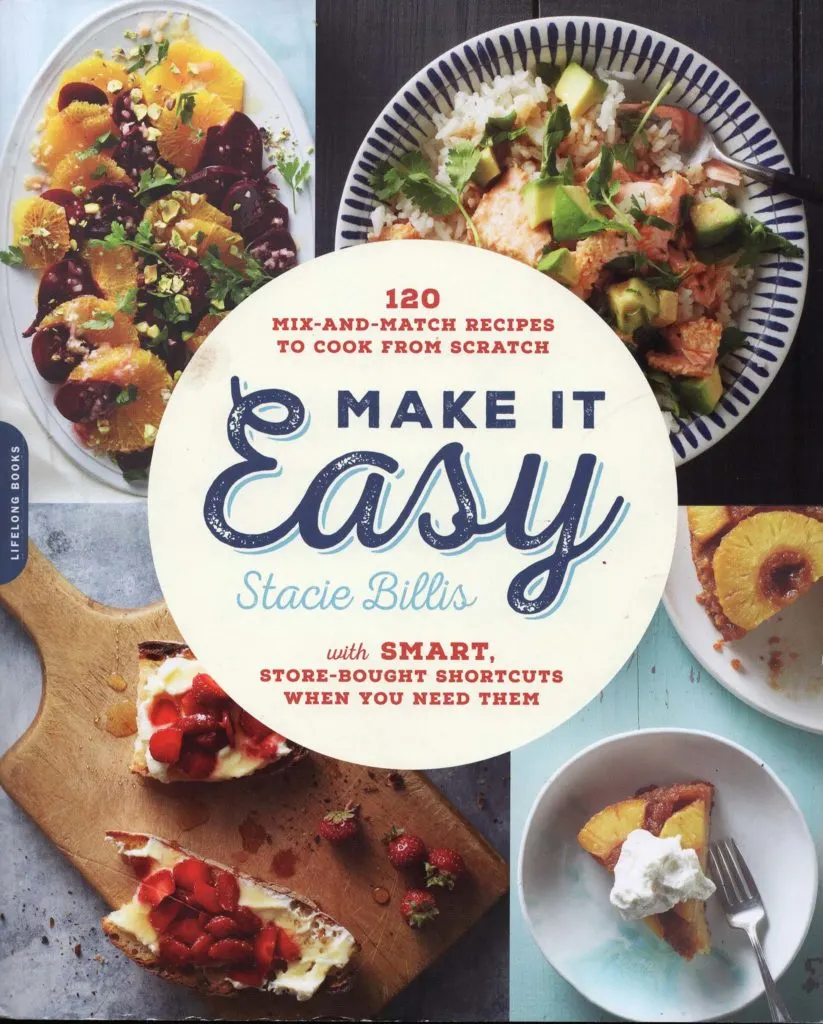 Make it Easy by Stacie Billis combines that core collection into one book. There are recipes for chicken, fish, and meat; for vinaigrettes and other condiments; and yet more recipes that combine these components into complete meals.
I chose to make the Greek Panzanella Salad, which combines sauteed chicken breast, fresh vegetables, toasted bread cubes, cheese, and an easy Everyday Vinaigrette. The meal came together in less than 30 minutes, and was perfect for a hot summer evening.
Here's the stats:
288 pages
120 recipes, from kitchen staples, to breakfast, to entrees, to dessert
43 full-page recipe photos
A shopping guide to help you find healthier products for your family
A judgment-free guide to making home cooking easier on yourself, your schedule and your family
The best part? You can enter to win a copy of your very own. Scroll down to the bottom of this post to enter to win!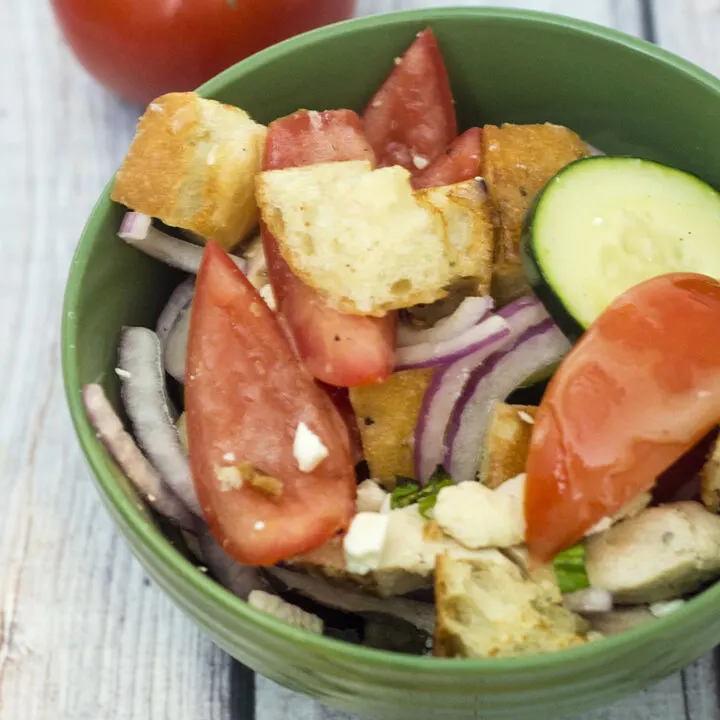 Greek Panzanella Salad and a cookbook giveaway
Ingredients
For the vinaigrette:
1 clove garlic, finely minced
¼ cup white wine vinegar
1 tablespoon freshly squeezed lemon juice
½ cup olive oil
1 teaspoon Dijon mustard
½ teaspoon honey
¼ teaspoon salt, plus more to taste
Freshly ground black pepper, to taste
For the salad:
3 tablespoon olive oil, divided
4 cups cubed Italian bread, cut into 1-inch pieces, I used ciabatta
1 teaspoon ⁄8 salt, plus more to taste
Freshly ground black pepper, to taste
1 clove garlic, thinly sliced
1 pound chicken tenders or breast cut into strips
4 medium-size tomatoes, seeded and cut into wedges
2 cups sliced cucumber, from 1 large English cucumber
1 cup ⁄2 thinly sliced red onion, from about 1⁄2 small onion
4 leaves fresh basil, cut into chiffonade (see Make It Easier)
½ cup crumbled feta
Instructions
Combine the garlic, vinegar and lemon juice in a glass jar with a tight-fitting lid, set aside for 5 to 10 minutes.
Add the oil, mustard, honey and salt to the vinegar. Seal the jar and shake until the vinegar emulsifies. Season to taste with salt and pepper, if needed. Use immediately, or store in the refrigerator for up to a week.
Toast the bread: heat 2 tablespoons of the oil in a large skillet set over medium-high heat. Add the bread in a single layer and sprinkle with the 1⁄8 teaspoon of salt and black pepper to taste. Toast until dark golden brown all around, 8 to 10 minutes, tossing every 2 minutes or so. Transfer the toasted bread to a plate and set aside.
Cook the chicken: carefully wipe out the hot pan and return it to stove, this time over medium heat. Add the remaining tablespoon of oil and garlic. Season the chicken on both sides with salt and black pepper and, once the oil and garlic are fragrant, 30 to 60 seconds, add chicken and cook, untouched, until browned, 4 to 5 minutes. Flip and cook until the other side browns and the chicken is cooked through, another 4 to 5 minutes. Remove the chicken from the pan and allow to cool to the touch before cutting into bite-size pieces.
In the meantime, place the tomatoes, cucumber, onion, and basil in a large serving bowl.
Add the chopped chicken, toasted bread and feta cheese to the bowl as well and toss with dressing. Taste and adjust the salt and pepper to taste. Serve immediately or leave at room temperature and serve within the hour.
Recipe from Make It Easy by Stacie Billis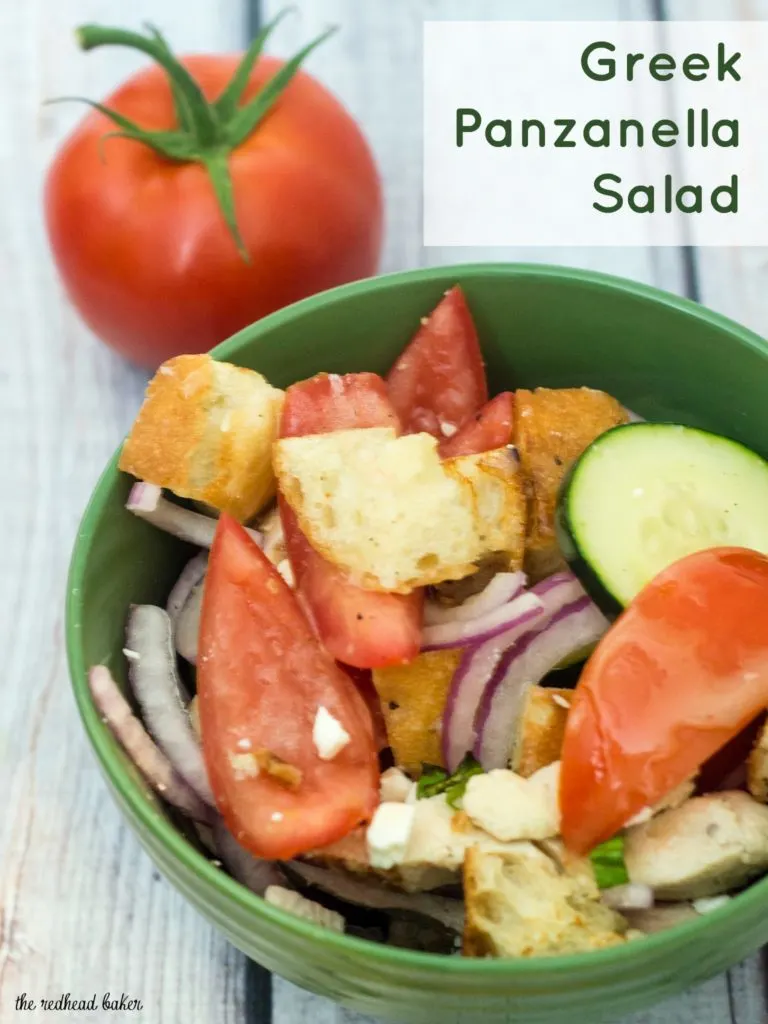 Disclaimer: I was provided a copy of Make It Easy in exchange for a review. All opinions are my own and I was not further compensated for this post.